Last Updated on February 20, 2022
Our editors independently research the best products online to produce this list. We may receive commission on purchases made from the links below but this will never affect our product choices.
---
Top 10 Best Wood Chisels
Identifying the best wood chisel involves more than simply looking at an item and believing that it may very well be the best product for you. Instead, what we are going to do is to take you through a number of the best wood chisels on the market and explain how you identify the correct one for your needs.
The truth is that you have so many wood chisels to choose from that it can become quite complicated as to which one you should go for. So, we aim to make this decision process a lot easier.
If you look at the chisel market, you will see references to all types and sorts of chisels. With this, it's all too easy to get confused as to what you are even looking at. Well, we will help you with this later on.
How we Compared Wood Chisels
To find the right wood chisels we considered multiple factors, including:
Our team independently examined and compared hundreds of products to help satisfy different needs. We spent our time researching wood chisels and consulting customer reviews to ultimately bring you what, in our opinion, are the best options on the market right now.
To find out more about our editorial process, take a look here.
Wood Chisel Reviews
First, we have this Draper Expert 8 piece chisel set, and it's a wonderful set to have at your disposal. You will get six chisels to choose from, a sharpening stone and a honing tool with this set. Basically, this gives you absolutely everything you need.
With the chisels, you are looking at them ranging in size from 6 mm up to 38 mm, so you have something that should cover pretty much any eventuality.
This wood chisel set comes with polypropylene plastic handles, and they are designed to lessen the impact while also being comfortable in hand. This is key, as is the quality grip you get on the handle, as you certainly do not want your chisels to slip in your hand when in use. That alone is dangerous and is something to be avoided.
But then there are the blades. They are crafted from chrome vanadium steel, but they are also hardened, tempered, and contain a protective coating that is designed to stop them from rusting. This is a great addition, as rust will really change your chisels' effectiveness, so anything that stops that is a great feature.
Storing the chisels is easy, thanks to them coming in a sturdy case. Overall, this set gives you everything you could want from a chisel set, and it certainly won't let you down.
Pros:
The range of chisel sizes is perfect for most jobs
The handles are comfortable and won't slip
The rust protection is a nice addition
The case is sturdy, offering protection to your chisels
The sharpening stone is very useful
Cons:
The blades can become blunt quite quickly, so you need that stone
The honing tool doesn't have markings, so getting the angle can be tough
Next, we have these wood chisels by Ezarc, and this time it is a 6-piece set that we are looking at. Starting off at 6 mm and moving up to a maximum width of 25 mm, these chisels come in a traditional wooden box, and it certainly plays a part in making everything look impressive.
The blades in this set are crafted from chrome vanadium steel, so they will last for a considerable length of time. The blades also come with a bevelled edge, which makes a difference when doing those wood carving jobs.
The handles in this 6-piece wood chisel set are also crafted from hardwood. They come complete with a lacquer finish for added durability, and the shape has been ergonomically designed. That means they should fit perfectly in your hands and feel quite comfortable.
Overall, this wood chisel set stands out because its blades and handles are made to such a high standard. Then, the presentation in the protective case just lets you know that this is indeed a quality product.
Pros:
The handles are beautiful and sit nicely in the hand
The range of chisel sizes is perfect for most jobs
The case is wonderful
The bevelled edge helps with those jobs
They are made from the best materials
Cons:
The lacquer covering may be slightly thin
It can take a bit of work on sharpening the edges
This 4-piece wood chisel set by Rolson may be our best value, but don't think for a second that it means these chisels are made to poorer quality. Instead, we see this chisel set as offering a great entry set of chisels. In this instance, the sizes range from 6 mm up to 25 mm.
The blade is drop forged, and the blades are also heat treated. That will help them last for years, even though you will still need to keep your chisels sharp by using a sharpening stone. The blades are also precision ground, so they do start off quite sharp even though they will become blunt over time.
These chisels will also come with a plastic handle, but they do contain a reasonable amount of grip, so the chisel will not be slipping and sliding in your hand.
Overall, what we love about this set is the fact these chisels perform admirably, even though they may not be manufactured from the best materials on the market.
Pros:
The handles perform perfectly well
The range in sizes of chisels covers most bases
The fact they are drop forged means the blades are strong
They are easy to sharpen
The blades are heat-treated, which adds to the strength
Cons:
They will need sharpening on a regular basis
The tips of the blades can chip
Stanley's chisels are different from others in that they feature bevelled edges with the four different chisels. In addition, it comes with an oil stone along with the actual oil, which makes it easier to sharpen your chisels and keep them in pristine condition.
In this instance, the handles are manufactured from Polypropylene plastic, and they are also ergonomically designed to fit perfectly in your hands. They are also designed to not slip, and that's clearly important from a safety perspective.
The blades are then crafted from forged steel, so you know you have something strong and solid in your hands. However, steel can be prone to rust, but this set has counteracted that by covering the blade in a specific lacquer to stop that from happening.
Also, the chisels do come in a plastic case for carrying them around.
Overall, while the chisel handles are nothing special, the razor-sharp edge on these chisels helps make this one of the best wood chisel sets around.
Pros:
These bevel chisels perform well in any situation
The handles are ergonomically designed, so they sit well in your hand
The fact they are forged steel means they last for some time
The oil stone is great at sharpening that bevelled edge
They cover enough sizes to make them useful in different situations
Cons:
The plastic carrying case is a touch on the flimsy side
The handles are effective but could have been slightly better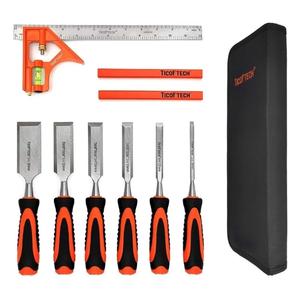 This particular set by Ticoftech is pretty exceptional in what it can offer you. In fact, the thing that stands out is that this is not just a good wood chisel set. Instead, it contains several other woodworking tools that you do not often get with other wooden chisels.
So you do get the common wood chisel types in this set, but what we love is that you also get a combination square along with a couple of carpenter pencils. They all contained a nice carry case, and it does come across as a quality product.
The chisel blade is made from a chrome vanadium steel alloy, so you have something strong and sturdy at your disposal. The chisel blades are also heat-treated, adding extra strength, which can be lacking in other wood chisels.
The bevel edge, in this instance, sits at 25 degrees, and that is enough to get you started with wood carving without digging into the material too much. For control, you are helped with a unique thermoplastic elastomer handle, which is ergonomically designed, and will sit nicely in your hand.
Overall, it's the added extras that make this set stand out. Yes, you do get a good wood chisel, and it's a wonderful starter wood chisel set for anybody who has never bought a woodworking chisel before.
Pros:
The added extras are a nice touch
The handles feel perfect in your hand
The razor-sharp edge will make wood carving a whole lot easier
The bevel edge is at the perfect angle for so many functions
It feels like a well-made woodworking chisel
Cons:
They will still need sharpening over time
While the case is nice, it can be slightly fiddly getting everything in
This 4-piece wood chisel set may appear as if it doesn't give you enough options, but these have to be some of the best wood chisels in the world. This is all thanks to how they are manufactured and the fact that these chisel blades will last for a considerable length of time.
With the blade, this chisel set is made from carbon steel, and that is super strong, while it will also remain sharp for longer. This carbon steel is also hardened and tempered, so that increases the strength yet again.
But then there's the handle on this chisel set. They are crafted from a combination of both plastic and rubber, so you have something that is both durable while it offers exceptional grip. Actually, the grip is one of the stand-out things in this wood chisel set for us.
Overall, you get exceptional value with four quality tools in this chisel set. The carbon steel blade will require little maintenance, which is a huge bonus in our book.
Pros:
The blade is strong and sturdy
The handle offers exceptional grip
It has a lacquered cover to prevent rust on the blade
This chisel set requires little maintenance
The blades can deal with a lot of punishment without becoming damaged
Cons:
A few extra sizes may have been helpful
A carry case would have been a nice addition
This alternative set by Stanley is different from the one we listed earlier in that this chisel set comes with their Dynagrip, but that's not the only difference.
Instead, you also get a steel strike cap with these chisels, which is missing from most wood chisels on the market. It means you can strike with a metal hammer instead of simply a wooden mallet, and it does deliver more force through these woodworking chisels. These metal strike caps will often be more useful than you expect.
The blades on this woodworking chisel are made from carbon steel, so you have both absolute strength and durability. This wood chisel set should be able to last for quite a period of time before you even have to think about trying to sharpen that bevel edge once again.
The handle comes with a soft grip that certainly doesn't feel as if it tires out the hand. That is a nice touch, and it makes this wood chisel set a whole lot easier to use.
In addition, this wood chisel set comes with a protective cover that is designed to care for the chisel blade when it's not in use. This is something we recommend you use, as it will prolong the lifespan of the chisel blade.
Overall, these are just high-quality chisels crafted from the finest materials, which is why we love them.
Pros:
These are not just plastic handles; they are soft, comfortable, and excellent
The blade material is second to none for quality
The steel blades are sharp and durable
You won't feel tired using this chisel set
The protective cover does help care for the steel blades
Cons:
The case is slightly flimsy
Trying to sharpen them correctly may be tough
This chisel knife by Bahco may only come as a single item, but what you have here is a wood chisel that is pretty impressive with its quality. What you have here is something heavy-duty, which means it can put up with a lot of punishment and cope without any problems.
This knife is more about splitting wood as well as creating mortise joints. That alone shows how this is more of a speciality chisel compared to others we have looked at so far.
You have a rubber grip combined with plastic for the handle, so you have a fantastic grip, which is important when paring wood. This rubberized grip also gives you something to hold onto in wet conditions, so you feel safe when using this chisel knife.
As it's a knife, you may want to know the length, and in this instance, the blade measures some 100 mm while it is 4 mm thick.
Finally, this chisel knife comes with a protective sheath, while you can also clip it onto your belt if required.
Pros:
This blade is exceptionally sharp
It has a fantastic grip
It can easily split wood
You can use it to create various joints
It has a great sheath to protect the blade
Cons:
It may not be suitable for a wide range of woodworking tasks
You need to work hard with a sharpening stone to keep it sharp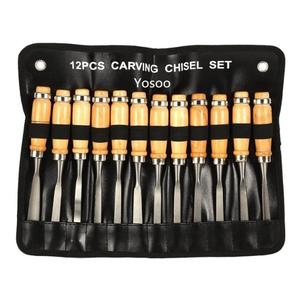 This set is one of the best wood chisels when you look at the array of included chisel blades. It is a 12 piece set, and each wood chisel contained in the set is crafted to the same high quality.
With such a range of chisel blades in the set, it does mean that this chisel set is one of the most versatile on the market.
The blades are crafted from carbon steel, so you have strength and durability right from the outset. However, this set also comes with steel ferrules, and that means it will prevent cracking and chipping. In saying that, we are looking at high carbon steel, so that should not be a huge problem.
Overall, we love the array of woodworking chisels you get in this set, and that is what makes this one of the best chisel sets on the market.
Pros:
These woodworking chisels are made from quality steel
The wooden handles are comfortable and also high quality
The bevelled edges on this set are excellent
The steel ferrules are a nice addition, often missing from other chisel sets
It is a wide-ranging chisel collection
Cons:
The case is not the best but is still adequate
The bevel edge takes time to sharpen, so you need to be patient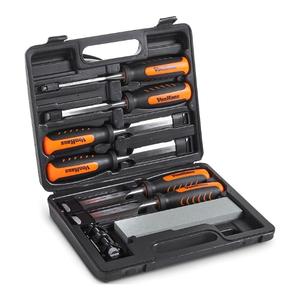 Finally, we have this chisel set by VonHaus, and we are finishing off with a set with some rather impressive chisel blades.
In this chisel set, you receive six chisels, which means you should have the perfect wood chisel for most jobs. In addition, you do receive an aluminium oxide sharpening stone in the set, so you can keep those wood chisels nice and sharp for years to come.
But using a sharpening stone is not easy. However, this wood chisel set does come with a honing guide to help you out. This is something you will undoubtedly use if you want to continually care for your chisel collection.
You will notice this set has plastic handles, but they come with a sturdy grip that is comfortable in your hand. The chisels also come with chrome vanadium steel blades, so that means they are sturdy and perfect for wood carving.
Overall, we love these woodworking chisels are they are just so sturdy. Add in perfect grips, and this set will be ideal for your chisel collection.
Pros:
These straight chisels are ideal for wood carving
This wood chisel has a strong blade
The sharpening stone is brilliant
This chisel set is perfect for precise work
The handles are comfortable and easy to hold
Cons:
The case is easy to break
The inside of the case might not hold this chisel set in place
Choosing the Right Set of Wood Chisels
So the different wood chisel sets mentioned above are all excellent in their own right. However, we know that you may be sitting there wondering how on earth you choose between the various options that we have mentioned.
Well, we can help.
Understand What You Will Be Using Them For
The first thing to do is to think about what you will be using them for. That will help determine the different sizes of chisels that you may need. As you will see, with the different sets, they tend to contain the same sizes, with a few exceptions.
Now, we aren't talking about a speciality chisel. Instead, think about the types of jobs or tasks you will be hoping to perform and the average width of chisel you will be requiring. That will help you to ascertain if the set you are looking at covers those bases or if you need to look elsewhere.
Also, we do recommend you learn more about a paring chisel, tang chisels, mortise chisels and the various other items that could arrive in a chisel set. That way, you know if you have the correct wood chisel for your needs.
Remember the Handles
Check the handles on your wood chisel. Do not be put off with the idea of wooden handles, as they can be highly effective at what they do. Traditional woodworking chisels will often have wooden handles, and if it's good enough for them, then why worry about it?
The main thing about chisel handles is the quality of the grip. Consider rubberized grips if you are worried about your wood chisel turning in your hands.
Consider the Blade
We do also recommend checking the blade on your wood chisel. Typically, they will be made from carbon steel, chrome manganese steel, or a chrome vanadium steel alloy. Carbon steel is often lighter and stronger, but others can be easier to sharpen.
Talking of sharpening, try to get a set that includes an aluminium oxide sharpening stone. It's the best way of keeping your bench chisel sharp for longer.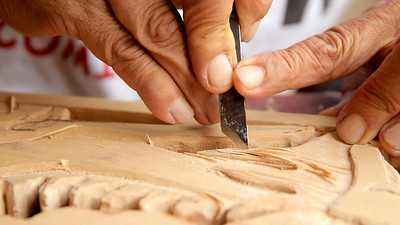 The Best Starter Wood Chisel
If you are new to the idea of woodworking chisels, then you may want to know the best type to get when just starting out. Well, aside from something that is easy to use for wood carving, a bench chisel is the best.
When starting out, it keeps things simple while you want firmer chisels in your chisel collection.
Things to Avoid When Buying a Chisel Set
At the same time, there are several things we recommend you avoid when buying a chisel set. After all, you don't want to own too many that do pretty much the same job.
First, don't allow yourself to be drawn into the variety of chisels too much. That will only complicate matters, and you will only end up with many chisels you will never use.
Next, while the idea of a case is nice, it's not everything. In fact, a number of the cases that come with wood chisel sets are not that good. Do look for chisels with a protective cover for the tip as that can prevent damage.
If you are new to using chisels, then consider the idea that less is more with the numbers. Having a multitude of chisels of varying sizes may sound great, but if you have no idea when you would be using them, then what's the point?
Overall, keep it simple when buying chisel sets. That is what will work out better for you in the long term.
Overall Conclusion
Buying a professional wood chisel set is easy, and the best chisel set is going to undoubtedly be the one that fits in perfectly with your own needs. All of the sets we have listed above are excellent in their own right, and we are confident that any one of them will be able to do a fantastic job for you.
But we do love the Draper 8 piece set, which is listed as our editor's choice. It has such a wide range of sizes, and with carpentry chisels, this can make such a difference. It has everything from a large wood chisel down to smaller sizes for more intricate work. Also, the carry case is robust and can put up with a lot of punishment, and that's just a bonus.
However, we recommend just taking time to think carefully about what you want from your chisels to find the best wood chisel sets on the market. By doing so, we are confident you will love your wood chisels for years to come.
What do you think about our options? Let us know and leave a comment below!
Additional Resources
Nicole has a passion for everything about the home – especially decor. She loves to add new touches and style to every part of the house. Join her as she documents her ideas at Home & Style.