Last Updated on March 1, 2022
Our editors independently research the best products online to produce this list. We may receive commission on purchases made from the links below but this will never affect our product choices.
---
Top 8 Best Integrated Washer Dryers
Choosing the best-integrated washer dryer in the UK is not always an easy task. In all honesty, choosing from the variety of integrated washer dryers on the market involves a clear idea of what you are looking for. To do that, you must also know what washer-dryers can do. Not only that, but customers need to know the value they are paying for. This means that products are better when they are more expensive. At the same time, not all cheap products are of low quality.
Sounds a bit complicated, right?
So, let's make life a lot easier for you by helping you to find the best-integrated washer dryer available on the market right now. However, as there are several, we aim to make sure you can easily identify the suitable washer dryer for you.
So, let's go through the different reviews and see which one stands out from the crowd.
How We Compared Integrated Washer Dryers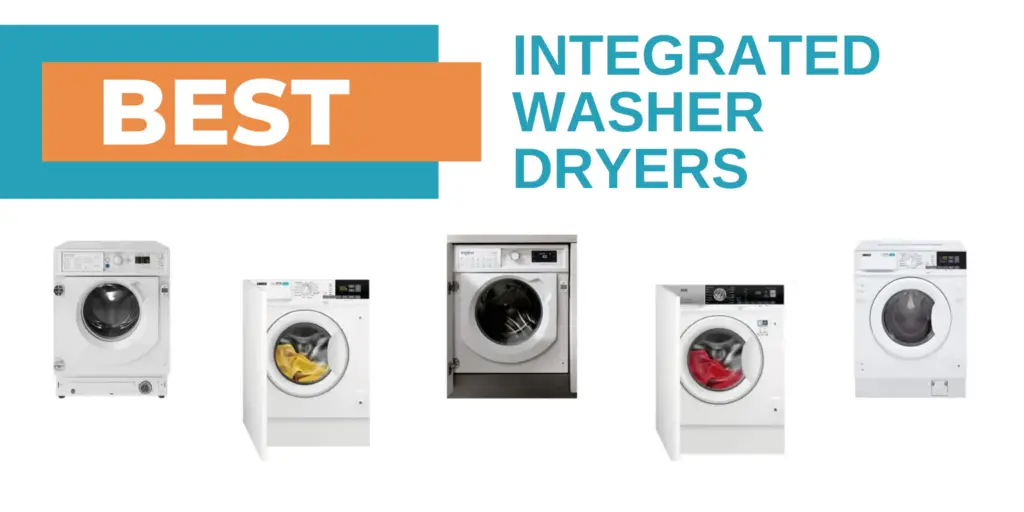 To find the right integrated washer dryers we considered multiple factors including:
Wash Capacity
Feature
Energy and Technology
Safety
Noise Level
Our team independently examined and compared hundreds of products to help satisfy different needs. We spent our time researching integrated washer dryers and consulting customer reviews to ultimately bring you what, in our opinion, are the best options on the market right now.
To find out more about our editorial process, take a look here.
Integrated Washer Dryer Reviews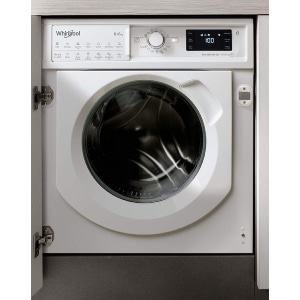 First, we have this integrated washer dryer by Whirlpool, and this is an excellent choice for the best-integrated washer dryers on the market.
What we love about this washer dryer is the way it keeps your clothes fresh for up to 6 hours after it has finished the cycle. So, no need to worry about that stale smell that can appear.
Also, this integrated washer dryer comes with an 8kg or 9kg washing capacity, so it is large while still maintaining a small size. It is also an intelligent washing machine in that the way the drum moves changes according to the clothes, so there should be no damage.
This is an amazing integrated washer dryer, and it's also easy to use, which is why we see it as the best-integrated washer dryer in the market.
However, please note that you may not be able to install this on your own. Also, it may be difficult to use at first, but you will get used to it eventually.
Pros:
It keeps your clothes fresh for hours
It has a large wash capacity
It won't damage your clothes
It is very easy to operate
It is compact in size but big in operation
Cons:
You may not be able to install it on your own
It may take some time to get used to everything it can do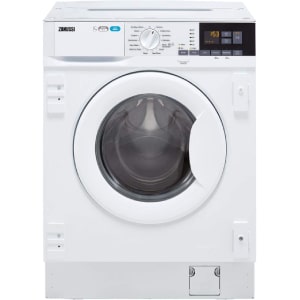 Zanussi has always been a prominent brand, and this washing machine is just another one in a long line of excellent machines. With a range of modes available, this integrated washer will go above and beyond what you would expect from this type of machine.
With a 7kg washing capacity, it may not have the biggest drum. Still, it makes up for it from an operational perspective, with programs set aside for denim, cotton, and various other materials. It means finding the right wash cycle will be a breeze with this model.
This is one of the best-integrated washer dryers because it has created the perfect spin speed for different materials above and beyond what you would normally expect.
Meanwhile, please note that this dryer might be bigger than you have expected and might be difficult to install.
Pros:
Finding the right wash cycle is easy
It offers the right spin speed for a range of materials
Energy efficient (Class A)
It is reliable and will last for years
The wash time is relatively short
Cons:
The washing capacity could be slightly bigger
It might be difficult to install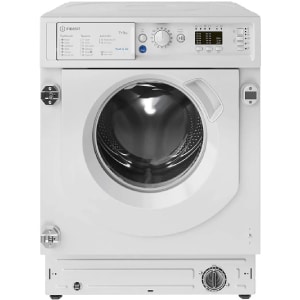 We love the Indesit BIWDIL75125UKN washer dryer because it has a push-and-go function, so if you are looking for something easy to use, then this has to be the winner.
This means that this washer dryer helps you with the correct spin speed and wash instructions according to what you put in the machine. This is not something you get with all of the integrated washer dryers, and there's no doubt it's a cool function.
This model is also exceptionally quiet, and that's a bonus. You can run it at any time, and it won't wake up everyone. Overall, it's the ease of use and functionality that makes this machine stand out.
On the other hand, it may have a smaller drum capacity, which may not be ideal for you if you are used to doing huge loads of laundry.
Pros:
The push and function is excellent
This model is very quiet
It helps with spin speed and other functions on its own
It contains sensory technology
It comes with a 1-year warranty
Cons:
It might be small for your preference with its 7kg drum capacity
It can be disconcerting how quiet it is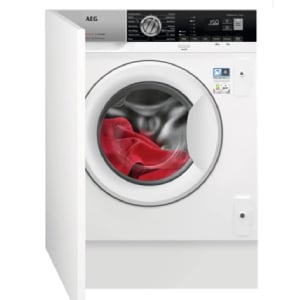 Developed by AEG, this integrated washer dryer comes with a 7kg washing capacity. It also comes with a 1550 rpm speed, and that is quite impressive.
This model does focus on caring for the different fabrics, and it also comes with a reduced wash time if you are finding yourself in a hurry and don't have the luxury of a full wash. Also, this motor will be exceptionally quiet, and not all washer dryers are that quiet.
Overall, this model has ample wash programs, is efficient, and will also be capable of caring for your clothes while it washes.
Unfortunately, this might be the right choice for you if you need to do huge loads of laundry due to its smaller size. Also, it would help if you were careful with this washer dryer as some users have complained about the hinge on the door coming loose.
Pros:
It is extremely quiet

It has a high spin speed
It comes with multiple wash programs
It will care for your fabrics
It has a reduced wash time for faster washes
Cons:
The capacity may be smaller than other machines
The hinge on the door may come loose over time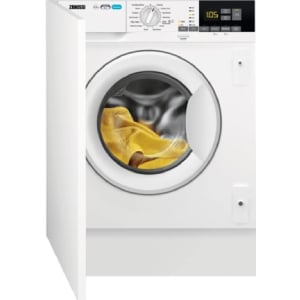 We believe this washer-dryer by Zanussi can be the best-integrated washer dryer in the UK. It comes with a maximum 1600 rpm spin speed, which shows this model's power. 
Furthermore, it comes with an auto-adjust mode along with sensor drying technology. That means it will adjust how it washes depending on what you have included in the machine.
What this machine will then do is ensure your clothes are washed perfectly every time. As a washer dryer goes, this is an intelligent one capable of performing exceptionally well each time.
Overall, it has multiple programs and settings that can wash various materials with ease. Also, it is easy to function, and its energy efficiency is also impressive.
However, it is important to consider that this washer dryer can be noisy.
Pros:
It has an 8kg drum
It has sensor technology
It auto-adjusts its mode depending on what is being washed
It cares for your clothes as it washes them
It has multiple programs
Cons:
Some may feel it is noisier than other models
It might be difficult to install, so help is required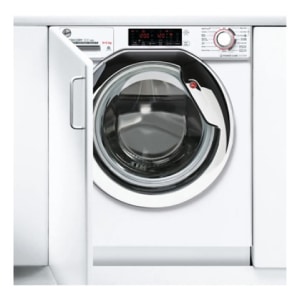 This model by Hoover is what you expect from this brand. This version comes with a huge 9kg drum, which allows you to do a lot of washing at one time. 
This model has a 1600 rpm motor, so spin speed is also impressive. It also has a steam function, which makes a real difference in how easy it is to iron everything. Another cool feature is that the machine can be linked to your smartphone, which is a relatively new feature, but one that is certainly impressive.
Overall, it provides you with the usual programs, but it's the steam function and smartphone capability that marks this model out as being different.
However, this washer dryer might be difficult to use at first. It can also be a bit noisy, so it may take time to get used to it.
Pros:
The steam function does make a difference
Being linked to your smartphone is a nice advantage
It has ample programs for various materials
It has a high spin speed
It can hold a lot of clothes
Cons:
It can be quite a complicated machine to operate
It can be slightly noisy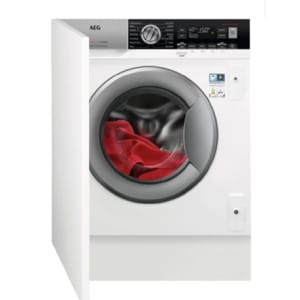 Here, we have another washer dryer by AEG, and it too comes with the same high specifications you expect from this brand. Complete with an 8kg capacity, it also has a 1600rpm spin speed, but it will work at protecting your clothes while it's in action.
With multiple programs, this washer dryer is viewed as being suitable for medium-sized households due to its capacity and wash speeds. It will also weigh out the load and decide on the best wash approach, leading to better results every single time.
Overall, it performs well for the price, and it's a washer-dryer you can certainly rely on.
Unfortunately, it might be difficult to use at first, but you will get used to it over time. 
Pros:
It has an impressive spin speed
It adjusts the wash cycle according to what you are washing
It senses the load with ease
It performs well and is efficient
It has a large enough capacity
Cons:
Some may feel the layout is confusing
It can be difficult to install this washer dryer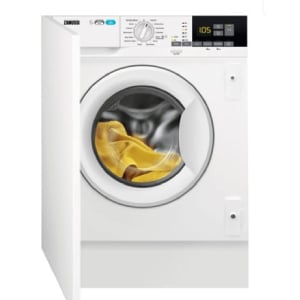 Finally, we have another model by Zanussi, and this model has a 7kg drum and a 1550 rpm spin speed. When it comes to energy efficiency, then this model will not let you down either, but its ability to care for your clothes is out of this world when it comes to a washer dryer.
It also has an auto-adjust mechanism in the wash cycle to deliver better results. Its flexitime function will also reduce the wash time by 30%, where the efficiency comes into its own. If you are looking for an intelligent washer dryer, this could be the perfect machine.
However, it has a small capacity of 7kg, which might not suit you if you often do a lot of laundry in one washing.
Pros:
It is highly efficient
It has an auto-adjust mechanism for washing
It is highly intelligent
It reduces wash time via different functions
It cares for your clothes
Cons:
It has a small drum at 7kg
It can be slightly noisy
Choosing the Right Washer Dryer
So how do you choose the best integrated washer dryer in the UK that suits your needs? You need to follow several steps, and you should keep these steps in mind as you read our integrated washer dryer reviews.
Tip 1: Wash Capacity
Pay attention to the wash capacity, and this needs to be for both the washer and the dryers. They are never the same size, and the drying section is usually slightly smaller.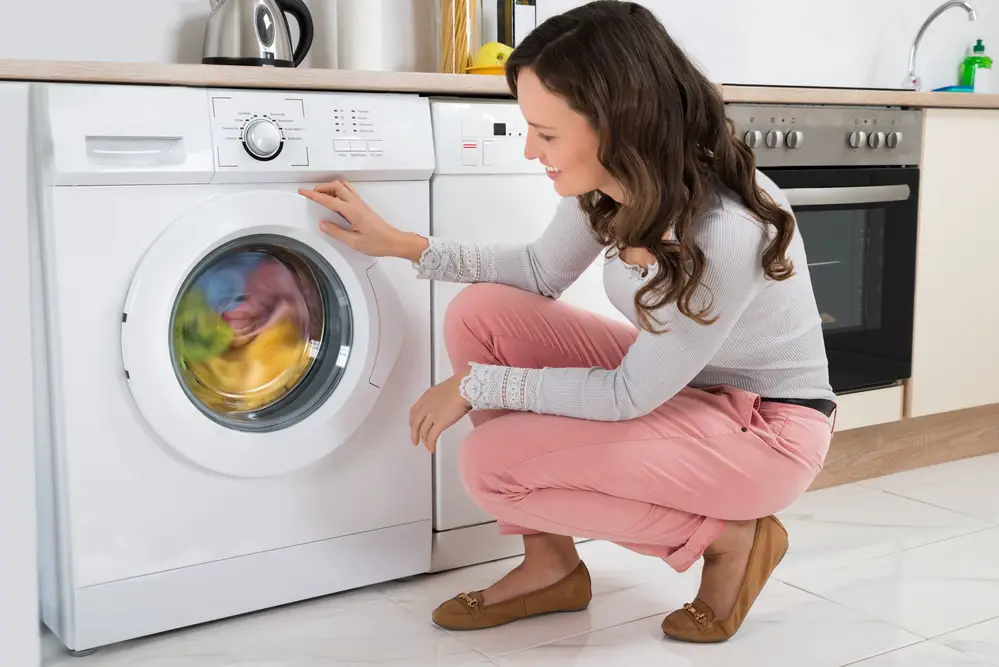 Washing and drying have different weights due to the clothes. Even a small load can have a significant difference when it comes to the wash part. Knowing how much laundry your machine can cope with has to be the starting point.
The drum capacity will vary, but as we have stressed, the drying capacity will be lower even with the best washer dryer on the market.
Tip 2: Features
When it comes to washing and drying, be aware of the different features of the wash cycle. Do the programs include covering your laundry? For example, if you work out, does the machine cope well with sports gear?
Also, keep an eye out for features such as a delay timer and if the machine can produce an easy iron option to make the aftermath much easier.
Features included in the washing machine will involve the spin cycle, a rapid wash feature, the drying cycle being cut according to what is being dried, and the washing cycle is altered in line with the contents.
It all depends on what you want to do with your laundry after it has been washed.
Tip 3: Energy and Technology
Another tip is to look at the machine's energy use and whether or not it cannot waste water on small loads. This is often achieved via sensor technology, where the machine enters into an eco mode to save money.
The best washer dryers will have sensor technology, leading to faster spin speeds depending on washing. It will completely transform how you do your laundry, and it will also help protect your clothes at the same time.
For what concerns energy, always take a look at the energy efficiency ratings. Energy consumption can vary a lot, and energy ratings are far more important than people realise. In the product specification of the washer dryers, you should always find out if it's energy-efficient or not: only be aware that you will need to know the energy efficiency class for the regular washing machine part and the tumble dryer part.
Tip 4: Safety
Safety is key, and all of the best washer dryers do come with a child lock. Also, remember that the best washer dryer will not simply unlock once the cycle is over.
You may also want to lock the cupboard door that your washer dryers sit behind for an added safety feature. A child lock on both the machine and the door could be a great option.
Tip 5: Final Things to Consider
When considering an integrated condenser washer dryer, the final thing to consider is the noise levels. They can vary quite a lot, so look at the decibel level to give you an idea of what to expect.
Dryers will often be quieter with the drying process than you get with the washing part. This is due to the reduced spin cycle with the drying aspect of your laundry.
Aside from the noise, consider if the machine includes items such as an anti-stain mechanism, if it fits into small spaces, and how it needs to be installed. Be aware that you may need some assistance with the installation on most occasions.
Conclusion
For us, the best-integrated washer dryer in the UK has to be the Whirlpool BIWDWG861484UK. Not only is it excellent at drying your clothes without damaging them, but it has enough extra features that make washing even smaller loads a breeze.
Great features are key, and generally speaking, most of these home appliances do come with enough features to make doing laundry easier. Washing and drying clothes should not be a hassle, even if you have a large family. However, do focus on whether or not your desired machine has a large capacity capable of washing and drying everything you need. After all, you want to have a full load of your laundry to make life as easy as possible, even in smaller households.
Additional Resources
Tania is a full-time writer and home product enthusiast. She loves helping readers not only get the most out of their home but to also pick the right products for their needs.