Last Updated on February 28, 2022
Our editors independently research the best products online to produce this list. We may receive commission on purchases made from the links below but this will never affect our product choices.
---
Top 10 Best Ironing Boards
Before the ironing board was created, people used to resort to finding any flat surface. Sometimes this included balancing a board over two chairs! Eventually, the innovative features you need for the best ironing board were invented, making ironing easier by a mile.
An ironing board is a flat board, usually on foldable legs, used for ironing clothes. Heat-safe padding or heat-resistant materials are used so that the clothes and the board do not burn. There are many forms of ironing boards available with collapsible legs for secure storage.
With so many brands and types of ironing boards on the market, it might be a bit confusing to choose which one you should get. You might be thinking, "well, I will get whatever I find first. It is just an ironing board."
As you can see, it's not that simple. Sure, you can get any ironing board if you are not looking for something really special. But, if you want durability, lasts a long time, and comes with other features, it is best to look at several choices.
Wondering what these choices could be?
Check out our list of the top ten best ironing boards in the UK!
How We Compared Ironing Boards
To find the right ironing boards we considered multiple factors including:
Portability
Size
Height
Iron Rest
Our team independently examined and compared hundreds of products to help satisfy different needs. We spent our time researching ironing boards and consulting customer reviews to ultimately bring you what, in our opinion, are the best options on the market right now.
To find out more about our editorial process, take a look here.
Ironing Board Reviews
Our top best ironing board choice is the Minky Expert for many reasons.
First, the dimension of the ironing surface is 122 x 88 cm, which is the perfect size for most households. Minky is known for its long-standing reputation and its Royal Warrant. This means they have sold products to the Royal Household and have also been recognised for their quality.
Second, this ironing board comes with a self-angled rest to prevent the iron from steaming when it is not being used. The ironing board has four legs that help give the unit firm support; the legs also have non-slip rubber feet so that the ironing board does not slip or move while you are using it. 
Third, the foam-backed cover is very efficient and provides a smooth surface for ironing. The steam metal mesh removal helps to remove creases faster, so you can get those shirt sleeves looking crisp. You can correct the crease while ironing the clothes quite easily with the Minky Expert.
Furthermore, the weight of the board is 4.8 kg, and dimensions are 122 x 38cm. You can change the height with the adjustable settings as per your comfort: the height can be adjusted up to 96 cm. The board has been manufactured using high-quality material, and no customer is likely to complain after using it.
However, some reviewers of the Minky Expert have said that the ironing board may rock when using it. Also, the fully extended height was too short for some customers, but this depends on preference.
Pros:
C

ertified by the Royal Warrant

Capped feet for non-slip
Smooth ironing surface with steam metal mesh
Steam safe angled rest prevents steam when you are not using the iron
Cons:
This ironing board may rock slightly
Its full extended height may be short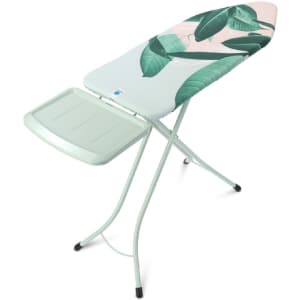 The Brabantia Tropical Leaves ironing board is our luxury choice for its beautiful aesthetic and top-notch features. 
The size of the ironing surface is 124 x 45 cm, which is the ideal size for ironing all types of clothes and linen comfortably. There is a solid steam iron rest attached to the board. Usually, the steam irons that generate steam can be kept here for rest so that the hot surface is not facing you.
The child safety lock and transport locks in this ironing board prevent accidental collapse for extra safety features. The adjustable height of the Brabantia ironing board can be adjusted in the range of 77 cm and 96 cm, with seven settings available. You can iron shirts, skirts, pants, trousers, bed sheets, and other clothes and linen comfortably. The weight of this ironing board is 7.53 kg.
The tropical leaves' colour of the ironing surface makes it beautiful! There are other colours to choose from, too, so you can match them with your utility room. The steel body of this Brabantia ironing board is another useful feature because the strength and durability of this material increase the life of the iron board. The collapsible ironing board can be stored in a small area, with the locks securing it safely.
On the other hand, a low percentage of customers have claimed that the leg lengths are uneven, making the ironing board wobble slightly. This item may be expensive to return, and some customers felt the packaging was insufficient to protect the board during transit.
Pros:
Iron rest for all types of irons
Seven adjustable height option
Child and transport lock available
Easy to store
Cons:
The legs may be uneven if you receive a faulty product
Return price may be high
Packaging may not be enough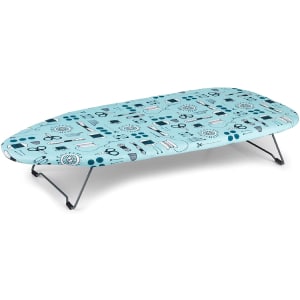 The Beldray Desk Table Top iron board is suitable for those users who have limited storage space. You can use it while sitting or propped up on a tabletop. Also, there are different ways to use this board comfortably.
This lightweight ironing board only weighs 1.08 kg, so it is easily portable and can be carried to any destination. It can be folded easily and stored in a small space. You can fold the legs beneath the board for better space optimisation. The Beldray ironing board can be folded and then stored like the wall-mounted ironing boards, hung up.
The felt pads on this small yet multi-functional ironing board protect where the user is sitting and ironing. The dimension of the ironing board is 73 x 31 x 15 cm. Taking it out and storing it is easy so that users can use it in emergencies. The ends of the board are rounded, which helps in supporting the clothes while ironing. You can tuck the edges of clothes around the rounded edges to help you with the ironing process. Cotton has been used to manufacture the cover, making the surface smooth for ironing.
It is important to note that this board may be quite thin due to its lightweight, meaning you might have to be careful when pressing down. Some customers think the ironing board is good for child-sized clothes but may be too small for adult-sized clothing.
Pros:
It only takes up small space for storage
This allows you to iron while sitting
It is easily foldable
Cons:
The ironing board may be too thin for your preference
It may be quite small for your ironing needs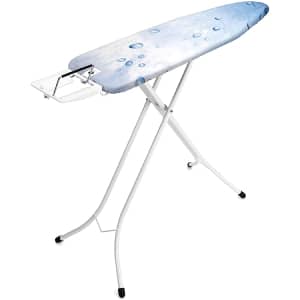 This next model by Brabantia is Size B, which is 124 x 38 cm. It is included in our list of the best ironing boards in the UK for several reasons.
This Brabantia ironing board comes with the feature of multiple height adjustments, which is always handy. There are seven adjustable heights between the range of 69-96 cm.
This is a good ironing board that will provide you with a sturdy and stable worktop strengthened by its solid four-leg frame. The protective non-slip caps will prevent the ironing board from moving. You won't have to worry about the ironing board collapsing with child safety lock and transport locks.
The board is covered with a soft, 100 per cent cotton cover with a water pattern detail. This will give an excellent look at the place where it is installed. 
You can use the steel iron rest to keep the iron, whether it is in use or not. This is suitable for most steam irons. The board can be easily folded and stored comfortably in small areas. The weight of the iron board is 9.07 kg. You can adjust the height of the iron board up to 90 cm.
Meanwhile, customers have said that there may not be much packaging on this product, which may cause damage. Even though this product is designed for steam generator irons, you may find condensation on your board.
Pros:
Adjustable height
Easy storage with safety locks
Beautiful cotton cover
Extra stable worktop
Cons:
It may lack packaging
You may experience condensation on the board
The next on our list is the Minky Apollo, a great choice for your next ironing board.
The ironing surface of this Mink Apollo ironing board is extensive and helps in ironing clothes and linen quickly. The ironing surface has been manufactured using high-quality material, and its dimension is 137.8 x 33 x 83.8 cm. The steam self-angled rest on this ironing board prevents heat exposure from steam generator irons, especially when the iron is not used.
The ironing board has a T-leg design that helps create a firm surface for the ironing process. This board also has protective non-slip caps, which protect the floor too.
A great feature of the Mink Apollo is the superior foam cover: it is steam efficient, which means there will be less chance of condensation, and you will have a smoother ironing surface. You can get the creases out quicker this way and even more so with the steam flow mesh system.
The storage of the board is secure as it can be easily folded and needs very less space for storage. The Minky Apollo only weighs 3.2 kg, so it is easy to set up and move in and out of storage.
When ordering this ironing board, you may get a different design than the one in the image. Some customers think that the ironing board is creaky and that the full height of the Minky Apollo is too short, so they find they may sometimes have to stoop down.
Pros:
Steam safe angled rest
Foam material
Non-slip feet
Light in weight
Cons:
ou may receive a different design than shown in the image
It may be short when fully extended
It might be creaky
Why do we think that the Minky Marine Family Sized ironing board is one of the best ironing boards to own? Let us tell you why.
This ironing board is a wonderful blue and white sturdy ironing board that comes in different sizes. We have chosen the ironing board that has a large ironing surface of 114 x 38 cm for this article. Large ironing boards are useful for all clothes, whether ironing shirts, trousers, baby clothes, napkins, linen, etc.
This ironing board cover is made of foam, which makes the surface smooth for ironing. You can adjust the height of the board for your convenience. The full height of the board is 94 cm. Like the other Minky model in this article, this one has a mesh system that helps you get rid of creases faster.
Like other ironing boards, the legs are designed so that they do not slip while in use. Safe angled rest in the ironing board does not let the iron steam when it is not in use. The dimension of the product is 156 x 42 x 6 cm, and its weight is 4.62 kg.
However, some customers may have had problems with some feet caps missing when the product arrived, so you may want to check your product. A very low percentage of customers found that their product began to rust after a few years, so you may have to replace it if this happens.
Pros:
Backed with foam for smooth ironing
Easy crease removal
It prevents steaming when not in use
Adjustable up to 94 cm
Cons:
Non-slip feet caps may be missing
May rust after a few years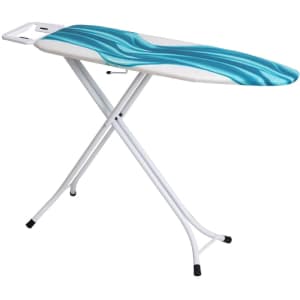 The Mabel Home ironing board is another excellent contender for the best ironing boards in the UK.
It has a deluxe design that has a range of adjustable heights. It also comes with a beautiful blue and white wave design. The board has a steel frame and legs to provide stability while ironing. You can adjust the height up to 97 cm, which is ideal if you are tall. The ironing board cover is made from durable 100% cotton, and there is even an extra cover included. You can iron all types of clothes and linen with the Mabel Home.
The ironing surface is steam-penetrable, which reduces condensation, with a foam, backed cover to help the iron glide. In addition, the iron has a corrosion protective powder coating. The iron rest is efficient with the silicone dots that prevent the iron from moving when positioned on the iron rest. The iron stand is safe, and users can keep their steam irons while ironing the clothes.
Another feature of the Mabel Home ironing board is that it is lightweight and can be transported easily. Like the other best ironing boards in the UK, this ironing board can be folded easily and stored in a small space and has protective leg caps. The ironing board weighs only 5 kg and has a dimension of 132.08 x 5.08 x 33.02 cm.
From the Mabel Home ironing board reviews, this ironing board may be shorter than you think and there may be a slight wobble, and it may be squeaky. One customer claimed that pressing too hard on the surface causes the iron mesh to print on the clothing.
Pros:
Height adjustable
Blue wave design
Strong and durable frame
Corrosion protection coating
Cons:
It may be short for some people
May wobble or squeak
The iron mesh may iron through onto the clothing
The Mink Ergo Supreme Ironing Board is good, especially for the steam generator iron. 
The sturdy iron holder attached to the board is tilted so that any steam passes into the air. There is also a metallic rack below the rest for the iron steam generator machine to rest. This means that the wire connected to the iron and the machine will not be dangling too much.
Even better, the Minky Ergo Supreme has an innovative electric extension socket under the board. This gives you flexibility so that you can position your ironing board with less limitation. Due to these features, the Minky Ergo Supreme is our choice for the best ironing board for steam generator irons.
There is also a loop and clip for the iron's cord to prevent it from tangling. For better manoeuvrability, this ironing board has wheels that are quite different to a regular ironing board!
The wide ironing surface is 122 cm x 43 cm, which is extra wide if you have large materials to iron. Your ironing time will be decreased due to the smooth ironing surface, which is made up of 100% cotton along with high-density thick foam. In addition, the Minky Ergo Supreme has a prozone cover. This means that it is 100% cotton, with a heat reflective metallic coating! This is especially convenient for ironing because the reflective cover allows more heat to be applied to your garments, which will speed up the ironing process.
Steam generators and their irons can provide a lot of hot pressure, and so some customers have found that the iron mesh may start to bend and that you may not get equally level with the ironing board. Also, there may sometimes be an imprint left behind on the clothing after ironing them. 
Pros:
Sturdy iron holder
Easy to move
Reflective coating
It comes with an electric extension socket
Cons:
The mesh may bend over time
There may be an imprint left behind
You may not get levelled equally
This Brabantia ironing board is a large ironing board that is known for its durability and safety.
It has an ironing surface of 135 x 45 cm, which is considered extra-large. You can even use it while sitting, and it will still be comfortable. There is an area of the board called the 'heat resistant parking zone', where you can place the hot iron face down. You don't have to worry about leaving any marks on your clothing or board that way because you can rely on the parking zone and its heat-resistant material. Remember to not leave the iron here for too long, though, because it is a temporary heat-resistant zone.
This ironing board has a child lock that prevents children from reaching the iron board and accidentally causing it to collapse. The transport lock also prevents the board from collapsing, which is useful for putting it away. 
You can adjust the height of the board in the range of 77 cm and 96 cm. The ironing board also comes with anti-slip feet, which prevent the board from slipping while ironing clothes. The ironing board is available in an interesting titan oval colour and weighs 7.55 kg. Steel has been used to manufacture the board. Since steel is an anticorrosive material, the board is likely to have a long life. Brabantia even offers a ten-year guarantee.
Customers have said that the packaging may be poor, so you might want to watch for bent legs or missing leg caps, and this ironing board is also known to wobble. Also, the lever appears to be discrete, so you could struggle at first to find it. 
Pros:
Child and transport lock to prevent collapsing
Heat resistant parking zone
Anti-slip feet
Steel body
Cons:
It may be damaged on arrival if the packaging is poor
The lever may need time to find
It might be wobbly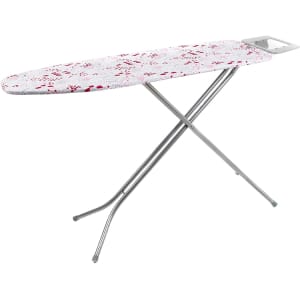 Kleeneze has been developing products for the home since 1923, so their ironing board chosen here would be a great fit for any home! 
The cover design of the Kleeneze ironing board is a pretty flowerbed print. The cover is removable, and the ironing board has a foam-padded top so that you will smoothly iron out your creases.
There are 12 adjustable settings so that you can arrange the ironing board to your desired level. The maximum height of the board is 90 cm. Its ironing surface is a standard board size at 120 x 38 cm. You can count on this ironing board to be stable with the anti-slip feet caps and the strong steel legs.
The Kleeneze is lightweight – only 4.54 kg! – and so it is easy to move around. The ironing board folds away after use so that you can keep it in storage and out of the way. This is an easy-to-store ironing board because it packs up quite thin so that you can fit it into tall thin spaces. As with the most popular ironing boards, the Kleeneze also has a useful steam rest attachment, perfect for you if you are right or left-handed.
The cover may be thin so that you may experience the wire shape pressed through to the clothing. Also, this may be wobbly, but this appears to be a common feature of faulty ironing boards.
Pros:
Comfortable for left and right-handed people
Strong and stable legs
12 height settings
Easy to move around
Cons:
May press through the shape to clothing
It may be wobbly
What to Consider When Buying an Ironing Board
An ironing board is a must-have laundry accessory! To do proper ironing and generate a wonderful pile of freshly ironed clothes, you are going to need the best ironing board. Ironing boards will help you to make your clothing look crisp, polished and professional. You need an ironing board to press trouser legs, remove creases, or even press materials if you enjoy crafting with fabrics. Our list of the top ten best ironing boards in the UK can help you in your search.
There are a few things to consider when looking for the best ironing board, and we have compiled a list below for you to peruse. We hope that it will be useful and save you time when looking for the perfect choice of ironing board for you!
Portability 
The iron board should be foldable and lightweight to make it portable. You should be able to take it to any place for installation and usage. Heavier boards are impractical because you may strain yourself.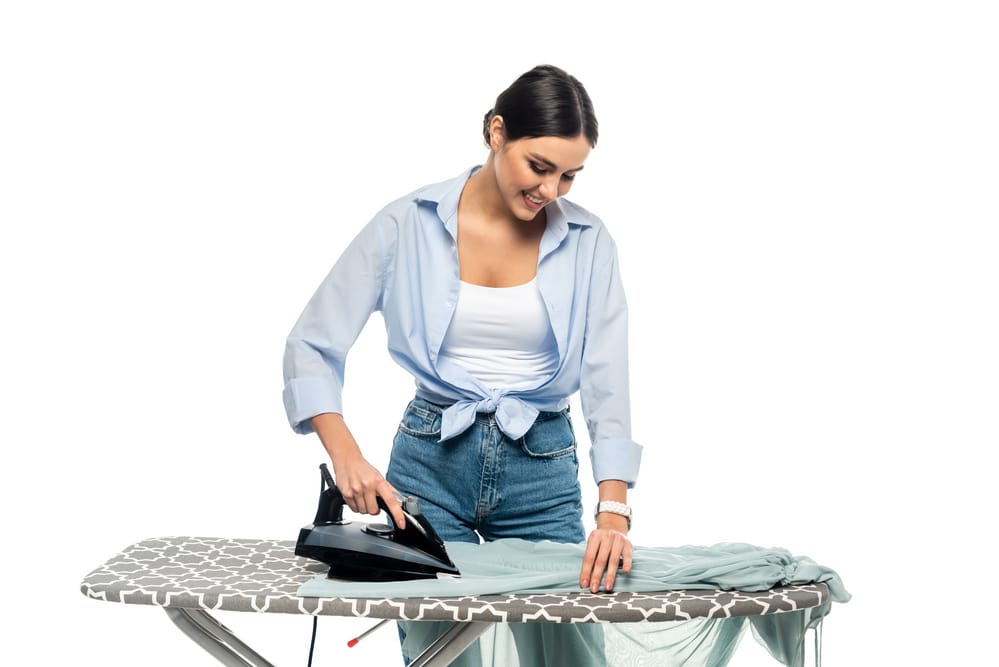 Size 
The size of your ironing board should be big enough to accommodate all types of clothes and linen. A wide or extra-wide ironing board will benefit you if you are often ironing large materials, such as curtains, bedsheets, show fabrics.
You might prefer a small board if you have little space, such as student accommodation, a small flat, etc. It is a lot easier to move around or even place across your lap or on a table.
Height
The height of the iron board should be adjustable so that anybody can use it. Tall people might prefer a good board with a taller than average height to not have to stoop. You might want to sit down and use the ironing boards, so you need to check if the board you are looking for caters to this.
Iron Rest
Ironing boards are used with standard steam irons, so finding one with an iron rest is good. The iron rest ensures that you can place the iron down safely while adjusting the garments on the ironing board. The angle of the rest means that any steam and heat emanating from the iron will be facing away from you, so it is a good safety option.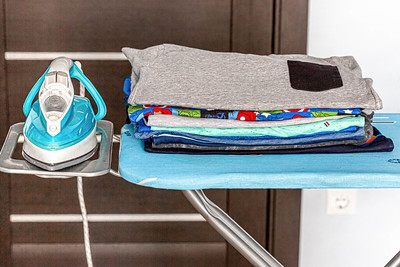 Our Choice
We have decided on the Minky Expert as our top choice from the best ironing boards in the UK. The Royal Warrant attracts us because we think this is a good way to prove the quality and durability of the ironing boards developed by Minky. The angled rest for the iron means that it is suitable for left and right-handed people, and the angle also means that you are less likely to cause strain. This is because the angle is at a natural curve to match the human body alignment.
Non-slip feet, foam-backed cover, and mesh increase the ironing board's efficiency – it is not likely to move, and you can iron faster with the foam and mesh combination. Also, the Minky is lightweight, and the height is adjustable, so again, it is suitable for most people!
Which do you think is the best out of these ironing boards? Do you have other suggestions? What do you look for when looking for iron boards? We'd love to hear your thoughts! Let us know in the comments below!
Additional Resources
Tania is a full-time writer and home product enthusiast. She loves helping readers not only get the most out of their home but to also pick the right products for their needs.