Last Updated on February 20, 2022
Our editors independently research the best products online to produce this list. We may receive commission on purchases made from the links below but this will never affect our product choices.
---
Top 8 Best Squirrel Proof Bird Feeders
So you love your bird feeder, but there's a problem, and that problem is squirrels. This is an issue that affects people all over the UK when they look out of their window and see a squirrel is gobbling up the bird feed left out for our feathered friends.
However, while a squirrel still needs his food, that doesn't have to mean he gets to steal all of the bird food. Instead, there are squirrel proof bird feeders on the market, and we are here to tell you all about the best squirrel proof bird feeder UK companies have to offer.
Now, a bird feeder that is also squirrel proof is going to change things for you completely. Not only will this prove to be an affordable bird feeder, but you will be able to successfully deter squirrels and larger birds, allowing those smaller guys to get some food.
There is something quite pleasant about watching birds feeding on food you have left out for them. At the same time, it's disheartening when squirrels come and spoil everything. But that needn't always be the case. Instead, there are different options on the market, and that is what we will focus on now.
So, onto our reviews to help you determine the best squirrel proof bird feeder for your garden.
How we Compared Squirrel Proof Bird Feeders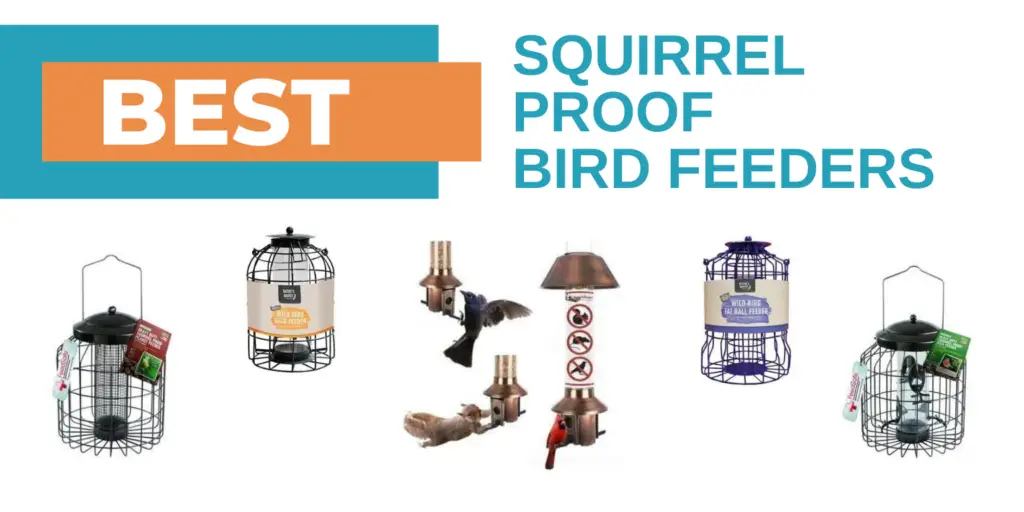 To find the right squirrel proof bird feeders we considered multiple factors, including:
Design
Efficiency
Capacity
Weather-resistance
Material
Our team independently examined and compared hundreds of products to help satisfy different needs. We spent our time researching squirrel proof bird feeders and consulting customer reviews to ultimately bring you what, in our opinion, are the best options on the market right now.
To find out more about our editorial process, take a look here.
Squirrel Proof Bird Feeder Reviews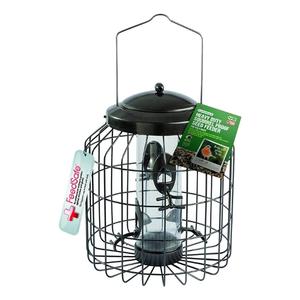 First up, we have this squirrel proof bird feeder, courtesy of Gardman, and we love this model. Not only does it have a heavy-duty cage, which means squirrels and large birds will be stopped, but it still provides ample space for small birds to get into the bird feed and have a feast in peace.
But this model also has the health of garden birds in mind with its design thanks to its special coating that kills bacteria from feed decaying on it. This is a great idea, and it shows an attention to detail that is often missing elsewhere.
From a capacity point of view, it holds up to 500 grams of bird seed, or alternatively, it will hold up to 360 grams of sunflower seeds since they are larger in size. The overall feeder measures some 31 cm in height, so it's a good size for your garden.
Overall, it's the cage and the heavy-duty nature that draws us to this model, along with the fact it works exceptionally well. It presents quite a formidable barrier for squirrels that should make them think twice about trying to reach the food inside.
Pros:
Stops not only squirrels but also rats and large birds
It uses a spring mechanism to block the food
Requires no adjustment or setting up
It has a huge capacity
Looks attractive in your garden
Cons:
It is a bit on the large side for some people
It can get quite heavy when full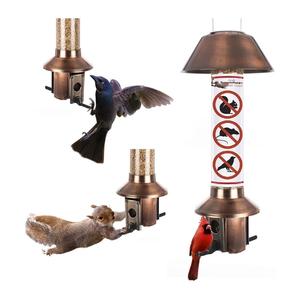 For our luxury choice, we have opted for this squirrel proof bird feeder by Roamwild, and for some obvious reasons. First, it looks amazing with its antique copper finish, and if you feel the perches for the small birds are too in the open, then don't stress as it is specifically designed to deter squirrels.
In this model, the perch moves down and blocks the feeding hole as soon as a squirrel, a rat or a larger bird land on this bird feeder.
This is all thanks to the weight of these animals as opposed to the lightweight nature of the small bird.
This is ingenious, and it works exceptionally well, as it does block off the birds' feed, which is what you are looking for. Also, the spring-loaded perches require no adjustment. It simply works straight out of the box.
For capacity, then it holds up to 1.5L of seed, and that's huge. However, it's the clever way in which it stops squirrels from getting to the bird food that means this product appears on our list of bird feeders.
Pros:
Stops not only squirrels but also rats and large birds
It uses a spring mechanism to block the food
Requires no adjustment or setting up
It has a huge capacity
Looks attractive in your garden
Cons:
It does only allow the smallest of birds to feed
Squirrels will keep on trying time and time again with this feeder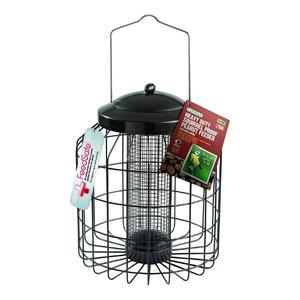 The squirrel proof bird feeder we see as being the best value is yet another one by Gardman, and this time it's their squirrel proof, peanut feeder.
It still comes with the same heavy-duty cage that stops squirrels from reaching the goodies inside, yet small birds can easily hop through the bars on the cage whenever they want. Of course, it also means large birds will also be excluded.
As with the other Gardman products, this version still comes with a bacteria-killing coating to help keep those birds nice and safe. It also holds up to 530g of peanuts, so that shows it is a reasonable size feeder.
Overall, if you want a nice and simple bird feeder that will keep those squirrels away, then this could very well be the answer.
Pros:
Simple and effective design
Stops squirrels getting in with ease
It comes with a special coating for bacteria
It can hold a lot of peanuts
Allows easy access for small birds
Cons:
It is only designed to hold peanuts
It is quite large in size
As squirrel proof bird feeders go, this version by Natures Market is one of the best on the market. Not only will it block larger birds from gaining access, but your smaller garden birds will be capable of getting access to that bird food without having to stress about it.
Capable of holding up to 340 grams of bird food at any given time, it's large enough for a number of birds to gain access without it taking up too much space in your garden. It features the common cage design, allowing small birds to hop through the bars and rest on the perches while they feed. It's a basic design, but it is highly effective.
As squirrel proof feeders go, this one covers everything you need, and while those pesky squirrels will keep on trying to gain access, they will be unable to do so with this squirrel proof feeder.
Pros:
Simple but highly effective design
Holds enough bird seed for a number of birds
Large birds are also going to be excluded
Relatively compact
Easy to hang, and will cope with the weather
Cons:
The bars may be too far apart, allowing smaller squirrels to gain access
You may need to strengthen the bottom to make it harder for squirrels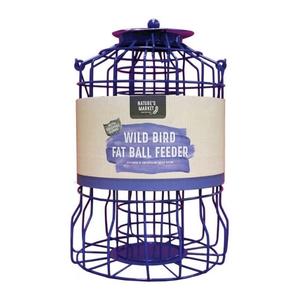 If you prefer to include fat balls as a food source for birds, this is the squirrel-proof feeder you need to buy. It comes complete with the option of including some fat balls in this anti squirrel bird feeder, and then you have the cage on the outside to make it completely squirrel proof.
It is made from metal then coated in plastic to help protect it against the elements. The entire thing weighs only 0.4 kg, and you will notice that it is very easy to hang this feeder in your garden. It will also work well at stopping large birds from gaining access, so while the fat balls will attract birds, only the smaller types will benefit.
Overall, this fat ball feeder will stop larger birds from feeding and stealing all of the food, along with being a real squirrel buster as well. For us, it is one of the best suet feeders on the market.
Pros:
It holds a number of fat balls
It has a squirrel guard covering the entire item
It will stop larger birds
It is lightweight and easy to hang
The plastic coating helps it to cope with the elements
Cons:
It only holds fat balls and no other food
Squirrels could knock it down when it is quite empty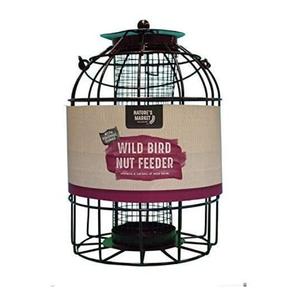 This is one of the best bird feeders on the market, even though it only deals with holding nuts for small birds. However, it still comes with a squirrel guard, which means only small birds will gain access.
This cage is 27 cm long and coated in plastic, which helps protect the metal cage from the elements. It will last for a number of years, even in poor weather, and there's no doubt that the cage will help prevent squirrels from getting to the goodies that sit inside.
It also comes with a built-in rain guard on the top of the cage, and smaller birds will be able to eat in peace and quiet, knowing this feeder is keeping squirrels away. It has a couple of spots for smaller birds to settle down, but make sure it is well attached as determined squirrels will keep trying to gain access.
Pros:
It is strong and sturdy
The cage will work well at keeping squirrels away
It allows smaller birds to gain access with ease
It allows birds to sit and feed on the feeding tray
It is designed to withstand the weather
Cons:
It only holds nuts
While it will prevent squirrels, they will keep on trying to damage the feeder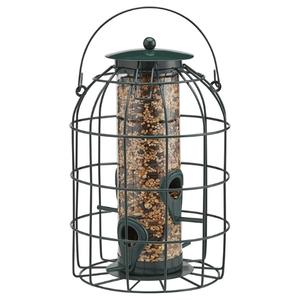 What we have here is another fantastic squirrel proof bird feeder, suitable for hanging from a tree branch. Complete with squirrel guard, it offers an easy way to open the lid and allow you to add in the bird food, and then the bird feeder is good to go.
As with most bird feeders created by this company, it has a cage design that also prevents larger birds from getting to the bird food, and then there's the fact it can hold different types of bird food in the feeder tube.
From nuts to seeds, this model has a built-in rain guard on top of the feeding tube, so it should mean the bird food is safe and dry for some time. This model may not be a heavy-duty feeder, but there's no doubt it will stop big birds and is one of the best squirrel proof feeders on the market because it keeps that feed tube well away from the edges of the item.
Pros:
It offers a safe feeding station for smaller birds via different feeder ports
The feeding tube is easy to fill
It will stop squirrels from gaining access
It can hold seed mixes
It is compact in size, so perfect for a small garden
Cons:
It's not completely immune to squirrel damage if they try hard enough
It would be slightly better with some metal mesh to limit squirrels access
Finally, we have this squirrel buster bird feeder by Simply Direct, and it too uses heavy-duty metal to stop squirrels from getting into the feeder and all of the food that lies inside.
This feeder does focus on peanuts, so if that's what you want to offer in your new feeder, then this model is perfect. Also, it won't only stop those squirrels but also other animals, including bigger birds.
It comes with a metal hanging hoop, which means you can add it to a tree branch or feeding station, even in a small garden. There's no doubt that squirrels will struggle to gain access to this feeder, but as with any squirrel proof bird feeding station, it may not be 100% successful all of the time.
Pros:
It is made from heavy-duty metal
It is a well-designed feeder that stops squirrels from gaining access
It has a metal hanging hoop
It keeps those peanuts fresh
It stops big birds from gaining access as well
Cons:
It only holds peanuts
The plastic will often break off over time
Choosing the Perfect Metal Squirrel Proof Bird Feeder
So while we have covered a number of options, choosing the best squirrel proof bird feeder in the UK for your needs does require some thought. We feel that thinking about these key points should make the decision process significantly easier.
What Do You Want to Put in Your Feeder?
A squirrel is going to try to eat almost anything, but you need to think carefully about what you will put in your feeder. For example, do you need a squirrel proof fat ball bird feeder? How about a squirrel proof nut bird feeder instead? Perhaps you want to include different seeds or food at different times? In that case, you need a different feeder that can deter that squirrel.
Knowing what you are most likely to add to your feeders makes it easier to determine which option you need to purchase to feed your birds and keep out those squirrels.
How Much Should it Hold?
Feeders come in all sorts of sizes, and knowing how much food you can add to the feeder is important. You want it to keep seeds fresh by not storing too much at any given time. So, be aware of how busy your old feeders tended to be, including those where squirrels were stealing so much.
A feeder designed for suet balls will clearly be different from those with nuts or seeds, but how long does it take small birds to work through a number of suet balls?
Be sensible with how much it can hold. It will save you from wasting too much seed with your feeders.
Are They Chew Proof?
You undoubtedly need your feeders to be chew-proof, as that is one way in which squirrels will try to gain access. It's not unusual for a squirrel to seek to chew through any plastic part on a feeder, so you need to make sure they simply cannot get to those parts of your feeders.
You want everything to be metal as squirrels won't be able to chew through it. However, if feeders have a plastic bottom, then you can expect squirrels to knock the feeders down and then chew through the plastic on the feeders to get to the food.
Squirrels really are as intelligent as that.
Which Birds Can Use the Feeder?
Pay attention to the types of birds that can use the feeder before you make your purchase. Remember, squirrels will attack all of the feeders in your garden, but you want to know who you will be feeding more than who you can keep out.
Keep in mind that all sorts of birds feed on items we leave out in our garden, but you don't want the likes of magpies swooping down onto some open feeding ports and scaring off those smaller birds. The same goes for seagulls as well.
Ideally, you want cage feeders to have the bars close enough together to allow those small birds to hop through and get to the feeding ports while larger birds are left on the outside.
How Easy is it to Dislodge the Top?
We mentioned before how squirrels are intelligent, and that is why you need to look at every aspect of the feeder to know each part is safe from squirrels.
One area to focus on is the top of the feeder. Squirrels will seek to exploit any weak part, and they are known to pay close attention to the top of the feeder.
So, whether you are feeding nuts, balls, or seeds, you must make sure the top is easy to close and cannot be dislodged too easily. If it is easy to open, then squirrels will manage to do it, and then the birds will have no food left to feast on.
The Key to the Best Squirrel Proof Bird Feeder
To sum things up a bit for anybody looking to buy the best squirrel buster bird feeder, then keep these important points in mind.
First, be aware of the bird species your feeder can then service. You want to include as many of those little guys as possible, but you can only do so much until those squirrels start to interfere.
Also, garden bird feeders tend to come in metal coated with plastic. Squirrels will chew off the plastic, so make sure the metal is heavy-duty, as all good squirrel proof feeders should be made this way.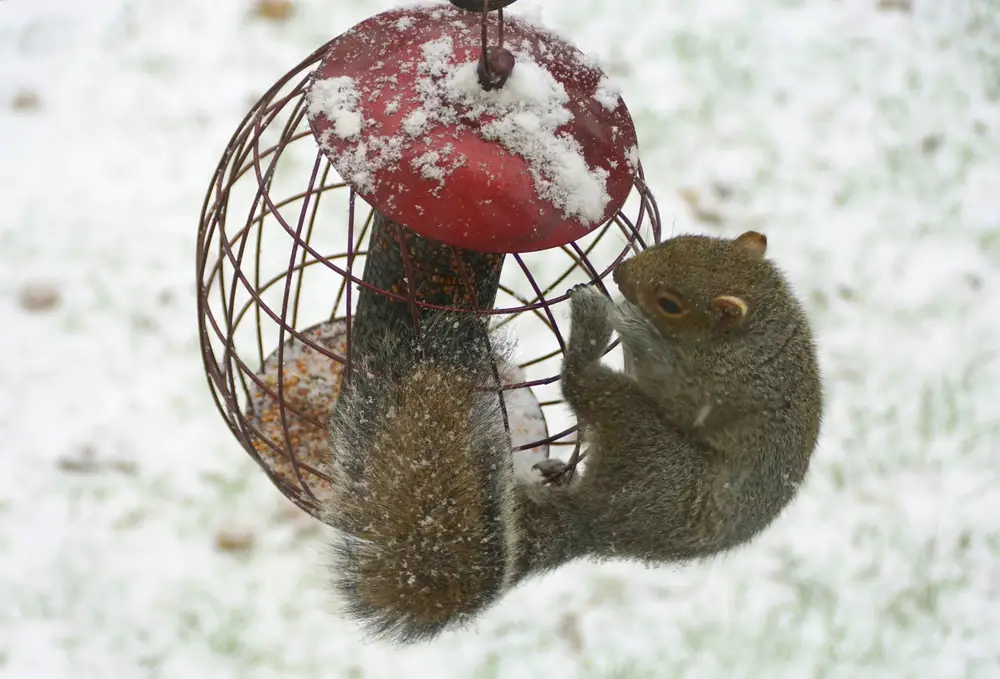 Finally, even the best anti squirrel bird feeders cannot claim to be 100% safe from squirrels. The squirrel proof feeders on the market claiming they are completely effective have clearly never encountered determined squirrels.
What you are hoping for here is to slow them down. You want to make life hard for them to gain access to these seed feeders that they basically give up and move on to something easier to handle.
Things to Avoid
Finally, here are some things to avoid when buying squirrel proof bird feeders.
Be aware of the size. Squirrel proof bird feeders are larger than other feeder options out there because of the protective cage. That may change where you hang the feeder.
Also, if you tend to have relatively few birds visiting, then go for a feeder that holds less food. There's no need to draw extra attention to the feeder when it's not required.
Understand where you will hang it. If you have a small station and a large feeder, then it just won't work that well.
But in short, there are relatively few things you should avoid when it comes to buying a bird feeder that is capable of stopping squirrels from getting to the food.
Overall Conclusion
Finding a feeder that stops that dastardly squirrel from getting to the food should not be a problem with so many options. However, we do feel that the Gardman feeder listed as our editor's choice is the best squirrel proof bird feeder in the UK for various reasons.
First, you can add different types of seed mixes and food to one single feeder. That versatility is something we love, as it means you can use your feeder to help out a number of different birds who perhaps prefer different food. Also, it's an excellent feeder for stopping that squirrel with bars the correct distance apart.
But even those feeders that focus on one type of food are excellent at what they do. They all seek to tackle that squirrel issue in pretty much the same way, so simply think about what you want to place in your feeder, and the perfect squirrel proof feeder will be there for you.
Additional Resources