Last Updated on February 15, 2022
Our editors independently research the best products online to produce this list. We may receive commission on purchases made from the links below but this will never affect our product choices.
---
Top 10 Best Ant Killers
No matter how much you pride yourself on cleanliness and hygiene, you may still be impacted by ant infestations as well as by other creepy crawlies. It's just a fact of life that where there are tiny gaps for access and food preparation or storage areas, there are likely to be ants from time to time. There are no limits to the inventive ways in which they can find their way into your home and if they become a nuisance, then being able to find an effective and quick-acting solution to ants is going to be important to you!
We understand that ant infestations can be incredibly destructive to your home environment, affecting important areas of your house, such as kitchens and areas where you store your food. It is important that any solution you choose to purchase eliminates the infestation in an effective manner so that you can return to having your home, food preparation areas, and the food itself to yourself!
There are many different ant-killing products on the market, and it can be quite bewildering as, from an untrained perspective, you may think they all just do the same thing, which is kill ants?! Well, hopefully, as you read through this review, we will be able to give you some tips and useful information on what the different kinds of products can do, against what types of ants or other insects, for use both indoors and outdoors.
How We Compared Ant Killers
To find the right ant killers we considered multiple factors including:
Pet and Child Friendly
Type of Application
Effective
Long-lasting
Our team independently examined and compared hundreds of products to help satisfy different needs. We spent our time researching ant killers and consulting customer reviews to ultimately bring you what, in our opinion, are the best options on the market right now.
To find out more about our editorial process, take a look here.
Ant Killer Reviews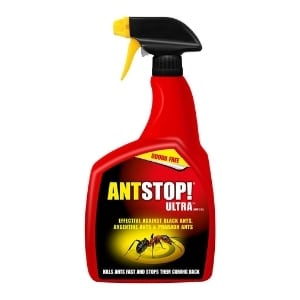 If you are suffering from an ant infestation, then you need to look for the best ant killer UK. We think you have this in this product. The spray bottle contains 800 ml of fast-acting and long-lasting, effective ant killer solution.
It can be used both indoors, and outdoors and because of the spray bottle and its extensive range, it is ideal for hard to reach areas such as corners or under lips of doors or paving stones.
The solution starts to act fast and can work for up to an impressive three months in dry weather or indoors, or two to three weeks if exposed to rainy weather conditions.
This ant killer is particularly effective against black ants, argentine ants and pharaoh ants and works to eliminate woodlice, earwigs, cockroaches and fleas.
Pros:
For both indoor and outdoor usage
Tackles black, argentine and pharaoh ants
Active in hard to reach areas
Instant action
Easy to use, no need to mix solutions
Cons:
It may not be suitable for use all year round
It may not be pet safe
ARDAP Pest Control Spray is a great all-rounder as it can tackle almost any kind of insect (flies and other Diptera, moths, silverfish, woodlice and cockroaches) but is especially effective against ants.
It gives six weeks of long-lasting protection from the first application and gets to work immediately! The can contains 750 ml of ant killer spray.
Another benefit of this product is that it is suitable for indoor and outdoor use and can be used safely around animals and in areas such as dovecotes, kennels and bird cages.
The ARDAP Pest Control Spray is more expensive than other products in this review, but it has an extensive range of usage against other insects and is an effective solution to your pest problem.
Pros:
One application can last up to six weeks

Tackles a large range of insects
Instant action
Easy to use, no need to mix solutions
Easy application
Cons:
It may be toxic to aquatic life
It may cause some irritation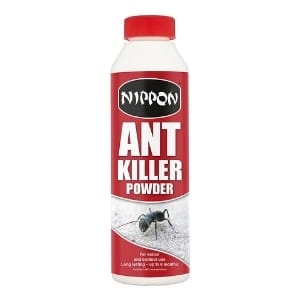 The Nippon Ant Killer Powder is a competitive product in this review, not only for its value for money as a solution to your ant problem but also for its long lasting-properties! For example, one application of this product gives you up to six months of protection against ant infestations and other crawling insects!
It is easy to use, just apply a dusting of powder to the mouth of a nest and along any ant trails, cracks and crevices, and it will kill ants instantly upon contact.
Another key feature of this ant killer powder is that it is safe for indoor use and outside and suitable for application in a household with young children or pets. This is a key feature to consider as you want to feel safe in using a product to repel ants.
This powder can even be used on wasps nests, being careful, of course, to apply it without disturbing the nest! However, please be aware that this ant killing powder is also harmful to bees and should be used carefully.
Pros:
Long-lasting, effective action of up to 6 months
Pet and child-safe formula
Active for both indoor and outdoor usage
Efficient for ants and other pests
Perfect for cracks and crevices
Cons:
Toxic to aquatic life
It may not be suitable for soft furnishings
The top may pop off upon squeezing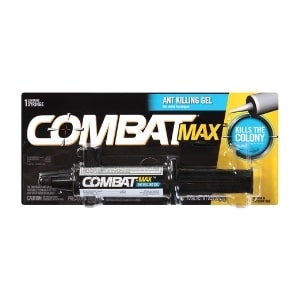 The Combat Max Ant Killing Gel works differently from its competitors. First, you apply the gel to any areas where you see ants entering the property or where there is ant activity. The foraging ants then collect the bait, take it back to the colony and feed it to the larvae and queen ant, effectively eradicating the whole nest. So this is not a product where you will see instant results; it takes three to five days for its full effects to be seen.
The gel is an effective ant control on many different types of ants, from Argentine, Carpenter, Cornfield, White Footed, Pharaoh, Odorous House, Pavement and Little Black ants.
It is easy to use; you just squeeze and apply the gel to wherever it is needed, even hard to reach areas that would be difficult for an ant bait unit or powder to reach. The Combat Gel gives protection from ants for up to one month without you having to have ant traps in your home.
Another key feature of this ant killer powder is that it is safe for indoor use as well as outside; just don't apply to areas that are cleaned frequently or get wet as the bait will be removed. It is also safe to use with small children around.
Pros:
Ready to use
Kills on contact
Child safe
Indoor and outdoor usage
Effective design
Cons:
Toxic to aquatic life
May have to reapply after rain
Because the powder is so fine, it may be blown away in the wind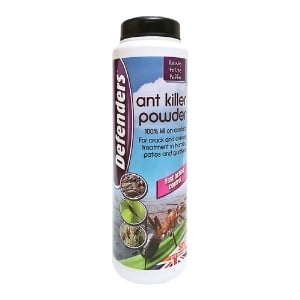 The 450g bottle gives you 25m² coverage, and all you need to do is point the bottle downwards and squeeze. This will release a puff of the powder into any hard to reach area, crack or crevice. The powder gets to work straight away, killing ants on contact.
The Defenders Ant Killing Powder is also effective against other types of insects such as cockroaches, earwigs and woodlice. It is also safe to use in the home as well as outside.
This product works on contact to kill pests, so it will not eradicate ants unless it is applied directly to a nest. Repeated applications may be needed to stop your ant infestation.
Pros:
It has a large amount of ant killing powder
Easy to apply
Immediate effect
Effective on ants and other insects
Indoor and outdoor usage
Cons:
Some may find it difficult to open the lid
Multiple applications may be needed
Some ants may not be killed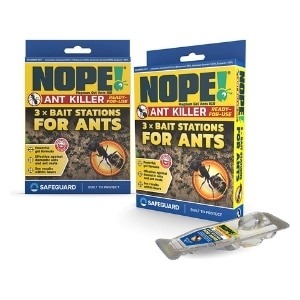 The NOPE! Ant Killer Bait Station has innovation at its core and prides itself on its safe and environmentally respectful approach to ant eradication. The bait contains a systematic insecticide and an insect growth regulator, making it the only product in this review with a two-stage method. The insecticide has a delayed activation which means that the worker ants can ingest it and then take it back to the nest and feed it to the larvae and queen before it starts to take effect. The insect growth regulator also prevents the larvae from reaching maturity, breaking the cycle completely and preventing more ants from being able to continue invading your home.
The bait stations are simple to use; you simply activate them and place them where you have seen ant activity. The ants will be attracted to the bait, and then they will do the rest. All you need to do is check the product regularly to check when it has all been eaten by the ants and replace if there are any ants remaining.
Another feature of this ant killer is that it contains Bitrex, and what is Bitrex, you ask? It holds a world record for being the bitterest substance in the world but is completely non-toxic and so prevents accidental consumption of the bait by either a pet or child were they to somehow come into contact with it. This is extremely unlikely, though, as the bait station is completely enclosed and designed to be completely child and pet friendly and for use inside the home and outside.
The delayed action of the bait means that you will not see as many ants remain around the area where you have placed the station, resulting in less clean-up from you. Because the station uses gel rather than a solid ingredient, the product can last for up to three months after it is opened!
The NOPE! Ant Killer Bait Station is designed to kill ants of the following species, common to UK homes and gardens: Black Garden Ant, Argentine Ant and Pharaoh Ant.
Pros:
Two active ingredients
Environmentally respectful
No mess solution
Indoor and outdoor usage
Long-lasting gel for up to three months use
Contains Bitrex to minimise pet and child risk
Cons:
It can be difficult to get gel into the station

Ants may be able to avoid the bait station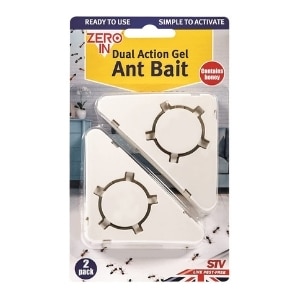 This clever product simply requires you to put down the ant bait stations and leave the rest to the ants! The worker ants are attracted to the poisoned bait, collect it and take it home to the nest where it is fed to the other ants. Each pack contains two of these best ant bait stations so you can position them close to where you see ant activity.
The key benefit of this product is that it is completely safe for both children and pets as the active ingredient is safely enclosed within the station. The two bait stations are also effective for up to three months from first use, so they can continue to attract ants and help eradicate your ant infestations and other insects for all of that time!
Pros:
Safe for children and pets
Ready and easy to use
It kills the whole colony
Suitable for inside and outside
Cons:
Tabs can be hard to snap off
It may be toxic to aquatic life
Ants may be able to avoid
The Zero In Ant and Insect Killer Powder does what exactly it says on the tin, being effective both as an ant killer and against other pests too, such as cockroaches, woodlice, earwigs and other crawling insects.
Compared to other powder products in this review, the bottle has a slim nozzle that allows you to be accurate with the treated areas, targeting cracks and crevices both indoors and outside and is perfect for problem areas such as doorways and windowsills. It also comes with a child-resistant cap so that you can be confident that the highly toxic substance is completely safe.
This powder works on direct contact with ants, killing them instantly, and can be used as a protective barrier from having ants inside your home. The bottle contains 300g and can cover an area of 15m², giving you a lot of ant killer powder for your money when it is a targeted application!
Pros:
Natural and organic formula
It kills a wide range of insects in one go
Safe for pets and children
No scent
It covers up to 15m²
Cons:
The nozzle can detach if the bottle is squeezed hard
It can cause an allergic reaction if it comes into contact with skin
Toxic to aquatic life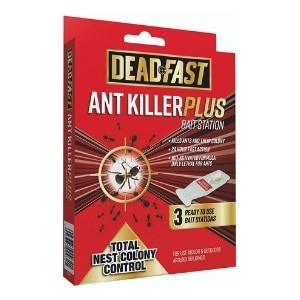 The Deadfast Ant Killer Plus Bait Station is rated our best pet-friendly ant killer. It has an innovative active ingredient called Indoxacarb which only activates when the ants ingest the bait, making it a safer product for getting rid of ants whilst also being safe for children and pets. It is also environmentally kind as it doesn't target other types of insects.
The handy bait stations can be placed either horizontally or vertically, as long as the surface is flat, meaning you can use them on floors, under fridges and sinks, on walls or in kitchen cupboards. You just have to place the bait station near the nest or one of the ant runs, and within 24 hours, the results should be effective. This product is also suitable for outdoor use; usage is the same, just find the ant nest or ant runs and place the stations on a flat surface.
As the worker ants ingest the bait, it is then taken back to the nest and fed to other ants, meaning that the whole colony is infected and killed, ridding you of your ant problem! Another handy feature of this ant killer is that the bait stations are transparent, meaning that you can see the product in action and also when they are low and need replacing.
Pros:
Safe for pets and children
Transparent stations to see when used up
Works within 24 hours
It kills the whole colony
Environmentally friendly
Cons:
It may not be effective for other insects
Ants may be able to avoid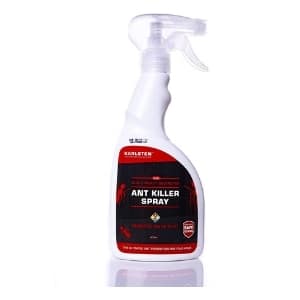 Karlsten is so confident in this fast-acting, best ant killing spray that they are giving a 100% satisfaction guarantee so that you can return the product with no quibbles if, for any reason, it doesn't work for you! It is also fully approved by the Health and Safety Executive (HSE), so you can be comfortable selecting this ant spray.
The product not only works instantly as an ant killer, but it also forms a protective bug barrier wherever it is sprayed that lasts up to six weeks from spraying, so you don't have to keep reapplying. It is also suitable for indoor and outdoor use.
The spray contains super strength cypermethrin, making it really quick and effective at killing ants! The ant killer is also odourless, so you can happily use it to repel ants without being aware of the product being in your home!
Pros:
HSE approved
Provides six weeks of protection
Works instantly
100% satisfaction guarantee
Works indoors and outdoors
Cons:
Spray action may break or leak
It may not be as effective against other insects
What to Look For in an Ant Killer
When you have an issue with insects inside your home, it can be an unpleasant experience, leaving you feeling overrun and frustrated by your failed efforts to get rid of ants. There are also many different products you can buy that tackle the issue in different ways, so how do you know which one is best for you?
Below we have listed out a number of questions for you to consider as you read our ant killer product reviews which will hopefully give you some clarity and enable you to select the right product for the job at hand.
Do You Have Pets and Children?
This is obviously a key question to ask yourself before deciding upon the best ant killer for you! The active ingredients in the sprays and powders can be very toxic on consumption, so it is important to consider where you will be applying the ant killer and whether it is safe for the people and pets sharing your home.
A bait station is a good option for you if you have either children or pets to be mindful of; they are enclosed, so the contents are not ingestible. You can leave the bait station near a nest or where you have seen them indoors or outdoors and then leave it to get rid of ants while not causing any other harm.
Is it Purely an Ant Problem?
Is it just ants that are infesting your home and garden, or are you looking for a solution that will do more than just get rid of ants?
Some products are specifically designed to target ants and others that will also eradicate other insects, such as:
Woodlice
Cockroaches
Spiders
Earwigs
Silverfish
Flies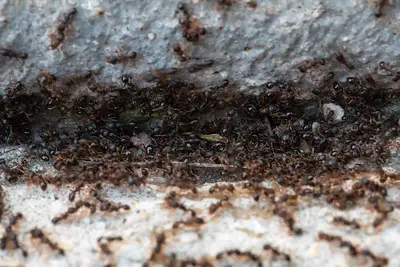 It's worth making this decision upfront so that you get the most from the item you decide to purchase. For instance, a bait station is specifically designed for the bait to be attractive to and be consumed by ants rather than other types of insects. A product with a more general application, such as a spray or powder, will have a wider reach for also eradicating other insects and can be a suitable solution for you.
Do You Know Where the Nest or Main Ant Runs Are?
Sometimes you might not know or be able to find where the house ants are coming from, and in that situation, leaving a bait station may be the best option for you as you can leave it near where you see the ants most commonly.
Spray, powder and gel application products may work better when applied directly to a nest or along ant runs when you are able to see where they are. If you know that ants are coming in through a door or windowsill or under a kitchen unit, for instance, you can apply the product and allow it to do its job. They also tend to work well as longer-lasting barriers as well as killing the ants that are there at that time.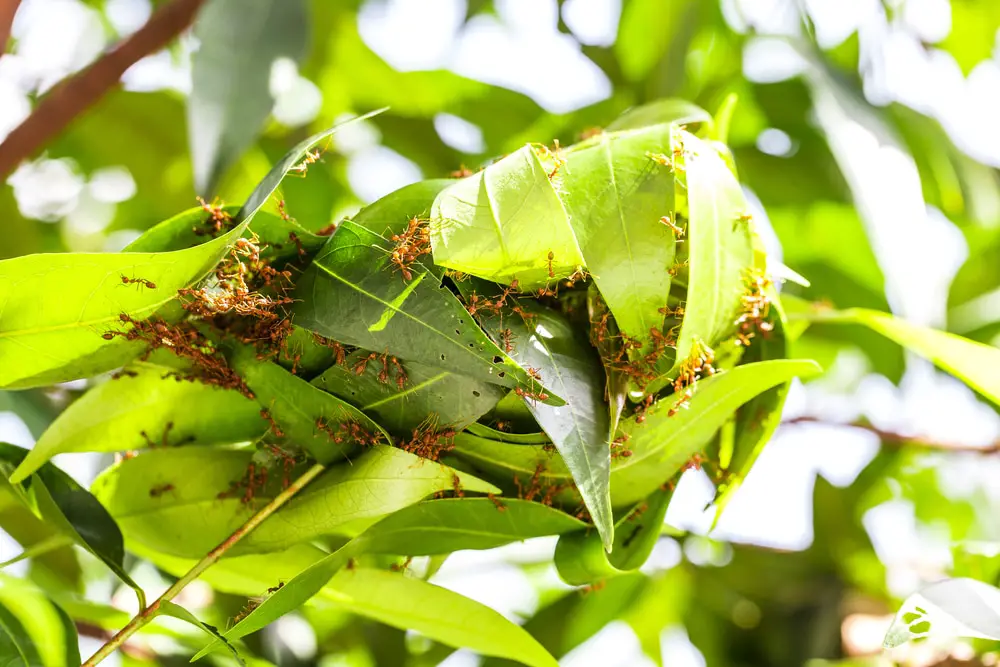 Another thing to consider is, are you looking for the best indoor ant-killer product you can find with the problem of ants inside, or do your ants live outside and therefore you are looking for the best outdoor ant killer? If you have a problem outdoors, then look for a product with a long-lasting, effective action that can withstand weather conditions and continue to kill ants.
Do You Want a Product That Will Act Immediately?
Typically ant killers are split into two ways of working; you have those that kill on contact and those that are ingested by the ants and taken back to the nest to infect the rest of the colony.
The products that are ingested and come in a bait station or a gel are slower to work because they have a delayed reaction in the ant to allow it time to return to the nest before the bait becomes poisonous. So the benefit here is that you will hopefully kill the colony and therefore not require repeated applications to rid yourself of the ants, but it does take anything from 24 hours to a week to be effective.
Using a spray or powder will give you more instant results if you want to be rid of ants quickly.
Conclusion
We're sorry that you're currently in the situation where you are looking for the best ant killer UK, but don't despair as we are confident that once you have read this review and asked yourself a few important questions, then you will be in a position to find the product that is right for you!
Ants and other pests can really unsettle how you feel in your own house, and we want to help you select an ant bait or effective spray to help return your home to how it should be in just a few days; ant-free!
Our aim is that having gone through all of the questions above and read our product reviews, you'll have been able to find a product that ticks all the right boxes for you. However, if you're still undecided about the best ant killer for your needs, then you would be well placed to try our Editor's Choice – the Home Defence Ant Stop Ultra Gun.
The solution acts fast and works for up to three months in dry weather or indoors, or two to three weeks if exposed to rainy weather conditions, in which case you will just need to reapply. It is perfect for use both indoors and outdoors, and it is ideal for hard to reach areas such as corners or under lips of doors or paving stones because of the spray application and its extensive range.
It is a great all-rounder of a product, working against black ants, argentine ants and pharaoh ants, but it also works to kill woodlice, earwigs, cockroaches and fleas.
We hope that we have solved your pest problem and you have found the best ant killer spray in this product – good luck!
Additional Resources