Last Updated on February 16, 2022
Our editors independently research the best products online to produce this list. We may receive commission on purchases made from the links below but this will never affect our product choices.
---
Top 8 Best Knapsack Sprayers
Every homeowner always dreams of owning a weed-free fence, driveway, lawn, or garden. However, these unwanted plants are bound to sprout soil and moisture anywhere. Do you have weeds growing all over your yard or fence? Are they bugging your favourite plants? If yes, the knapsack sprayer is what you need.
These garden sprayers can be used to spray herbicides, pesticides, chemicals, and fertilisers on your lawn, garden, or fence. However, you may be wondering which is the best knapsack sprayer for your gardening needs. Bear in mind that when it comes down to shopping for garden sprayers, you're bound to be spoilt for choice.
But, worry not, we have your back. We have compiled a detailed list of the best knapsack sprayers UK stores have to offer. Read on!
How we Compared Knapsack Sprayers
To find the right knapsack sprayers we considered multiple factors, including:
Holding tank
Pump
Applicator wand
Spray nozzles
Harness straps and padding
Safety
Locking mechanism
Cleaning and maintenance
Our team independently examined and compared hundreds of products to help satisfy different needs. We spent our time researching knapsack sprayers and consulting customer reviews to ultimately bring you what, in our opinion, are the best options on the market right now.
To find out more about our editorial process, take a look here.
Knapsack Sprayer Reviews
Excellent performance and long-lasting comfort are words that best describe the Spear and Jackson 15LPAPS backpack sprayer. It comes packed with an array of features that is ideal for both professional and beginner gardeners.
With a 15L tank capacity, this backpack sprayer comes with three adjustable nozzles that are customised for efficient performance. The three different nozzles give you the flexibility of choosing your desired pattern depending on your spraying requirements. This manual pump boasts PH levels that range between 5-9.
It also comes with metal safety clips with push-lock and adjustable shoulder straps that increase the comfort of its ergonomic sprayer bottle. On the other hand, this Spear and Jackson 15LPAPS is also available in 2L,5L, and 8L capacity. Moreover, it can be used for general-purpose garden jobs.
Pros:
Installed with an easy to use pump action
This sprayer has an adjustable nozzle
It comes with an ergonomic pressure sprayer bottle for enhanced comfort
Features metal safety clips with push-lock
Equipped with three extra nozzles
Cons:
Some users may find the air valve design to be of poor quality
The installed handle may become loose over time
This sprayer might not withstand the test of time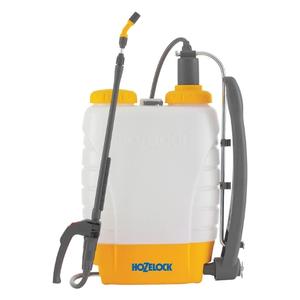 If you're looking for the best knapsack sprayer that UK stores have to offer, then the Hozelock 4716A0000 16L is an excellent choice. Not only does it come with an extra-large capacity that is ideal for covering large areas, but also it is ergonomically designed to fit your back perfectly with adjustable straps. It boasts of an adjustable cone nozzle that can spray from jets to fine mist. These nozzles include a weed killer cone and a fan nozzle.
This pressure sprayer's lockable on/off control feature allows continuous spraying. The Hozelock 4716A0000 16L can be used to spray herbicides, insecticides, and even fertilisers. On the downside, this knapsack sprayer can be quite heavy to lift and position on your back when it's filed to the brim. Moreover, assembling it can be quite challenging for novice users.
Pros:
Features an adjustable cone nozzle that has different spraying patterns
It comes with an ergonomic design to fit your back
Has a lockable on/off flow function for continuous spraying
This sprayer is equipped with adjustable straps
A weed killer cone is supplied
Cons:
Some users may find the assembly instructions to be quite challenging
The pump may be prone to jamming or breakage
Some users may find it to be too heavy and difficult to position on your back when full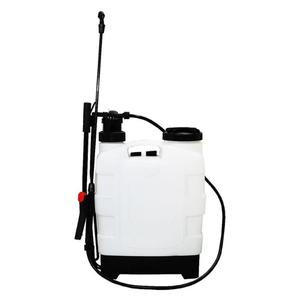 Next on our knapsack sprayer review is the Oypla 16L pressure sprayer. With a capacity of 16L, you can use this versatile garden tool to perform a range of gardening duties. From spraying fences to killing weeds, this pressure sprayer can be used to safely hold pesticides, insecticides, fertilisers, and any other agricultural or horticultural chemicals.
This Oypla 16L pressure sprayer comes with three interchangeable nozzle tips that vary in spray patterns and flow. These nozzles make it ideal for any task needed. Its tanks feature a filter on the filling hole that helps prevent the blockage of this garden equipment.
This garden sprayer boasts a locking trigger for continuous spraying, comfortable shoulder straps. And a long-reach 50 cm lance that is used to spray hard-to-reach areas.
Pros:
Three inter-changeable nozzle tips with varying flow and spray patterns are included
It can be used to perform a versatile range of tasks, from killing unwanted weeds to spraying fences
Its 50 cm lance length allows one to spray on hard to reach areas
Equipped with a locking trigger for continuous use
A filter on the filling hole of the tank is included to help prevent blockages
Cons:
The trigger may be prone to leakage
Some users may find the assembly process to be quite a hassle
The supplied straps may not withstand the test of time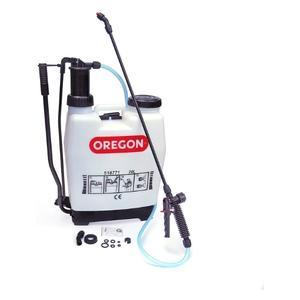 The Oregon Backpack Pressure Sprayer is one of the best garden backpack sprayers in the market. With a 20L capacity tank, you can use this sprayer to spray insecticides and herbicides. It's not only easy to use but also boasts of being fast and effective.
This large capacity sprayer comes with a shoulder strap, a hose, and a spare seal kit for minor repairs. A flat fan spray and an adjustable nozzle cone are also included with its purchase. Its reverse tank is also ergonomically designed to fit against the user's back, thus making it comfortable to wear for lengthy periods.
Moreover, its safe, efficient, and leakproof non-pressurised tank has a maximum working pressure that ranges from between 0.2 and 0.3 MPa. And a max pressure reading of about 1.0Mpa.
Pros:
Features an ergonomic design for easy back fitting
Ideal for use with insecticides and herbicides for weeds, as well as for environmental disinfection
This backpack sprayer comes with an adjustable cone
A pressurised large capacity tank is included
Equipped with two choices of nozzles
Cons:
This backpack sprayer may be prone to leakage
Some users may find the assembly instructions to be too vague
The handle for the pressure settings may not withstand the test of time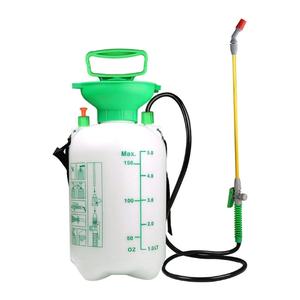 The VOXON 5L Pump Action Pressure Sprayer is one of the best knapsack sprayers for garden maintenance. With a 5L capacity, this manual pressure sprayer can be used to spray pesticides, herbicides, insecticides, fungicides, and fertilisers.
It comes with a wide ergonomic handle that makes pressuring sprayer a hassle-free task, while its translucent graduated bottle allows one to mix the chemicals. Its translucent bottle is clearly marked with graduations in both litres and fluid ounces. So, when using this pressure sprayer, you need not worry about overfilling this bottle.
This garden sprayer also comes with an integrated pressure release valve that is used to control and limit the pressure of the spray. This prevents the spraying nozzles from being subjected to pressures that exceed their design limit. Furthermore, the spray lance comes with a lockable trigger and a water flow control that allows continuous use.
Pros:
Equipped with a lockable trigger mechanism
Features a translucent graduated bottle for accuracy when measuring
An in-built pressure release valve and shoulder straps are included
It comes with fully adjustable nozzles
This sprayer includes a water flow regulator
Cons:
The safety valve and outlet connection may be prone to leakage
Some users might find adjusting to get the desired jet quite challenging
The plunger bit may not withstand the test of time
The Faithfull FAISPRAY 16L is one of the best backpack weed sprayers that are shatterproof and frost-resistant. This large sprayer is ideal for large gardens and vegetable plots. It features a 140 cm hose and a 90 cm lance length that comes with four adjustable nozzles. This nozzle allows one to have the flexibility of using different spray patterns in other garden chemicals. That being said, please note that the lance of this equipment comes with a resistant, lightweight trigger lock for continuous use.
Furthermore, this garden sprayer comes with a large opening that makes it easy to fill. It's also equipped with a removable filter that prevents garden debris from entering the sprayer's tank when being filled. Bear in mind that the ergonomic design of this sprayer is designed to fit comfortably on the user's back. Moreover, this sprayer comes with a handy shoulder harness and a complete shoulder kit.
Pros:
This sprayer is shatterproof and frost resistant
Equipped with trigger lock for continuous use
It comes with a comfortable ergonomic design curved tank
Has twin shoulder straps with a quick release catch for easy sprayer removal
Feature a large filling mouth with a removable filter
Cons:
Some users may find this sprayer to be relatively heavy when filled up to capacity
The straps might become unclipped during use
The sprayer may not hold pressure causing leakage on your back
If you're looking for the best backpack pump sprayer that is specifically designed for spraying water-based liquids such as fertiliser and plant feed, then this is an ideal solution. It is made of durable material, and its sufficiently lightweight nature helps in preventing fatigue. With an 8L capacity tank, this pressure sprayer comes with a long-reach stainless steel lance, an adjustable nozzle, and a trigger-lock function that controls the spray power and volume.
The Silverline 868593 8L comes with a wide funnel opening that easily fills hasher chemical contents. Its comfortable shoulder strap allows it to be carried effortlessly. You can use this pressure sprayer in a large garden, greenhouse, and allotment.
On the downside, this weed killer backpack sprayer may be prone to leakage, and some users may find its components not to be of high-quality material. Last but not least, it's not advisable to overfill this garden sprayer since its adjustable sprayer may not withstand the test of time.
Pros:
Equipped with stainless steel lance length with adjustable nozzle
Fitted with an integrated pressure release safety valve
It has a funnel type opening for easy filling
Features a carry strap and lock-on trigger for continuous spraying
Can be suitable for use in the garden, greenhouse, allotment, or vegetable plots
Cons:
This sprayer may lack a pressure regulator
Some users may find this sprayer to be of poor quality
The supplied straps might not withstand the test of time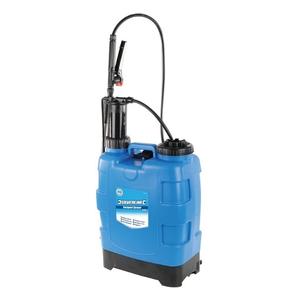 If you have a large garden to maintain, you'll appreciate uninterrupted long working hours with the best garden tools. And this is why you need to have the best backpack sprayer for your spraying duties. This is where the Silverline 633595 20L comes in. Its massive capacity allows one to easily apply diluted herbicides, insecticides, fungicides, and pesticides.
This garden sprayer features a telescopic wand, a reinforced hose, adjustable shoulder straps, an integrated carry handle, and an accessory kit. It also comes with a large integrated filter that helps minimise its blockage. Its trigger lock allows continuous spraying while the pressure release safety valve controls constant pumping.
On the flip side, this garden sprayer may leak if the pipe fittings are not fitted properly. Moreover, the lack of an instruction manual may make assembling this garden sprayer quite challenging for both new DIY enthusiasts and novice users. And it can be pretty heavy when filled to the brim.
Pros:
Equipped with lock-on trigger for continuous spraying
Features a large filling hole with an integrated filter to minimise blockage
It comes with a long reach stainless steel lance
It includes a carry handle, adjustable padded straps, and accessory kit
Can be suitable for spraying water, pesticides, fungicides, insecticides, and diluted herbicides
Cons:
This product may be prone to leakage
This sprayer may lack an instruction manual
Some users may find this sprayer to be quite heavy when filled up
What to Look For in a Knapsack Sprayer
Types of Knapsack Sprayers
Hand-Powered vs Motor Powered
For a knapsack to work, it needs a power source that helps get the liquid into the pipe and onto the nozzle. Bear in mind that the biggest distinction among these sprayers is how they derive that power.
Hand-powered backpack sprayers operate using a pump. They're often pumped continuously to pressurise the chamber and fill up the pipe, and then the pressurised contents are sprayed out using the nozzle. Hand-powered knapsacks tend to be cheaper, and they're also mechanically simpler, but they always require a lot more work when in use.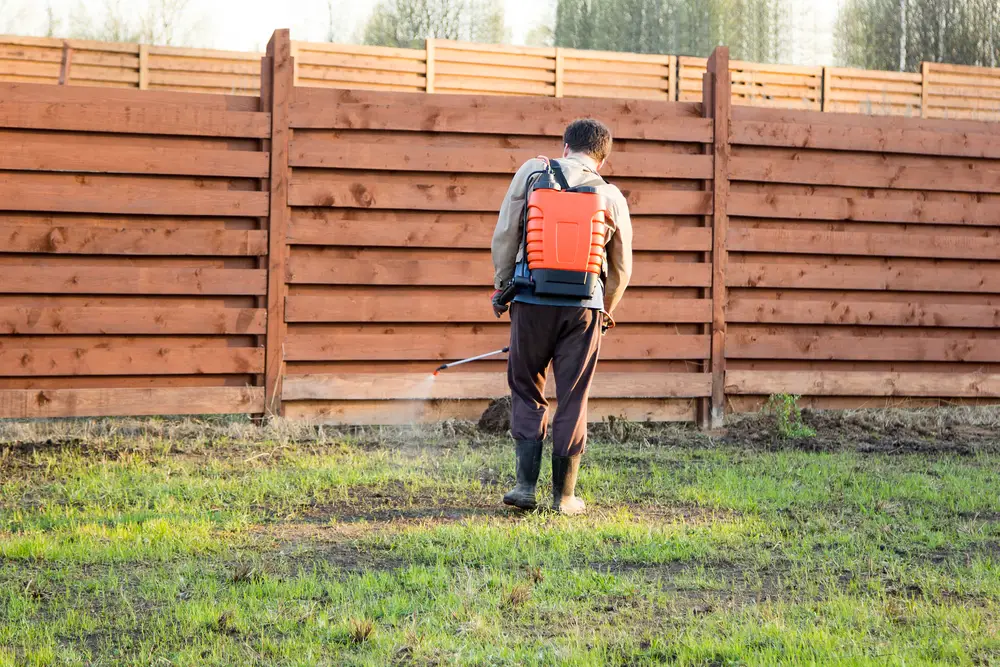 On the other hand, the motor-powered knapsack can run using batteries or gasoline. These knapsacks use a motorised pump to spray the pressurised content in the tank. When using them, all that you're required to do is to squeeze the handle. Despite being easy to use, these motorised sprayers may require a lithium-ion battery or gas tank.
Diaphragm Sprayer
Diaphragm pumps are more durable to use when compared to their piston counterparts. While they're not known to produce too much pressure, these pumps use a diaphragm pump system that is normally found inside the sprayer's tank. Diaphragm sprayers are not only efficient but are also constructed using durable materials that can not only withstand harsher chemicals and direct UV light.
Piston Sprayer
Piston pumps are typically known to produce high-pressure sprays, but their extra sensitive mechanism allows them only to be used with a non-abrasive solution. Piston sprayers are known to produce a steadier flow rate, but they are bulky compared to diaphragm counterparts. Moreover, a piston pump requires frequent maintenance.
What to Consider When Shopping For a Knackpack Sprayer
Here are the five components of a knapsack sprayer that you should familiarise yourself with before settling for one.
Holding Tank
While most knapsack sprayers are lightweight when empty, the amount of liquid its tank can hold adds to its general weight when full. Sprayers with large holding tanks are ideal for covering large areas when compared to their smaller counterparts. Bear in mind that the tank of a knapsacks sprayer is designed using polythene plastic and robust material that can withstand all types of harsh chemicals for gardening. Additionally, the plastic material is also UV-resistant.
That being said, it is important to note that most knapsack sprayers have a holding capacity that ranges between two to four gallons, which is ideal for small-scale and large-scale residential use.
Pump
A pump in any knapsacks sprayer, whether motorised or manual, draws the liquid from the holding tank and transfers it to the pressurising chamber of the unit. The valves and seals keep the liquid in the pressurising chamber until one presses the wand applicator. The applicator then spreads the liquid over a specific area at a specified quantity. Bear in mind that some units come with a pump lever and a wand for easy manual operation.
Applicator Wand
This component makes spraying or applying herbicides and fertilisers a hassle-free task. It also allows the gardener to keep the chemicals at a safe distance while improving the accuracy of the spraying process. An applicator wand also comes in handy when spraying tight or hard-to-reach areas.
Spray Nozzles
The spray nozzle is one of the essential components of a knapsack's sprayer since it's used to control the rate of chemical dispersal through the wand. It's worth mentioning that most units come with adjustable nozzles that allow one to change the diameter and size of the spray pattern. That being said, let's look at the different types of spraying nozzles.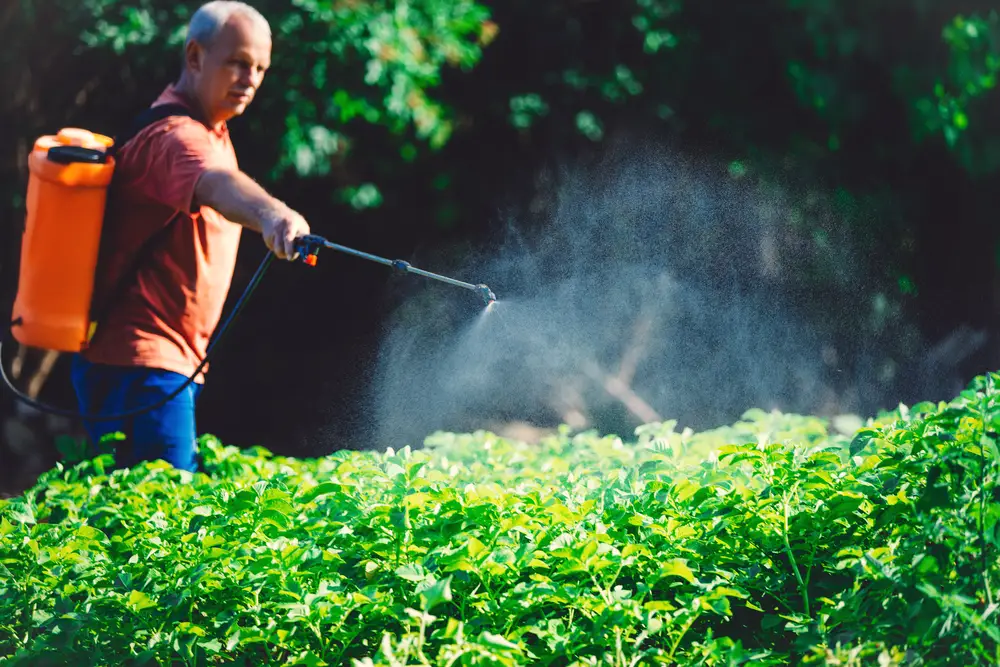 Streaming Nozzle
They're used to spray liquid in a concentrated line. They're ideal for applying liquid fertiliser to the soil.
Cone Nozzles
This type of nozzle sprays out liquid in a circular pattern. The width of these nozzles is also adjustable. Cone nozzles are ideal for applying herbicides to patches of weeds. Or, they can be used to cover a bed of vegetable insect repellants.
Flat nozzle
These nozzles offer the widest and lowest impact spray. They're best for heavy tasks such as misting an entire orchard.
Harness Straps and Padding
These three features are used to determine the user's comfort while using the knapsack for lengthy periods. It's always wise to settle for a sprayer that offers good padding and additional lumbar support. These features help to reduce fatigue and allow one to cover more grounds in short periods.
The harness should also be comfortable and distribute the weight of your sprayer evenly when its tank is full. Bear in mind that the harness needs to provide the same level of support when the tank begins to empty and start weighing less. Proper padding is important when it comes to the extended use of the knapsacks sprayer, but it is not necessarily essential when you're required to spray a small garden area.
Safety
While it's needless to mention that safety is a major concern for every knapsack user, these sprayers' safety is imperative. Normally knapsack sprayers are equipped with tight-fitting lids and straps. This ensures the user has better control of the sprayer. When shopping for a knapsack sprayer, it's always advisable to go for one with an opening of at least four inches in diameter. This allows one to pour the product safely into the container. However, in case of any spillages outside the container, ensure that you clean it immediately. Moreover, it's always advisable to settle for a knapsack sprayer that comes with trigger guards or locking mechanisms. These features can be used to deter any accidental discharge of the chemical products.
Locking Mechanism
When selecting a knapsack sprayer, it's always essential to settle for one that comes with a lockable shut-off mechanism placed on the handle. This mechanism allows the user to control the release of any product, thereby preventing leaking or dripping from the nozzles.
Easy to clean
It's always advisable to settle for a unit that is easy to clean after use. This helps in the avoidance of cross-contamination. Irrespective of the sprayer you will be using, you always have to ensure that it is rinsed with clean water three times after its usage.
Conclusion
That is it on our best knapsack sprayer reviews. Please note that every option will definitely make an excellent choice. However, if we have to choose the best knapsack sprayer in the UK, we would go for our editor's choice, the Spear and Jackson 15LPAPS.
Not only does it boast a 5L capacity that can be used to apply pesticides, fungicides, and herbicides. But it also comes with an adjustable wand nozzle that ensures the user can choose the type of spray pattern when gardening. It also features a water flow regulator, a translucent spray bottle, a lockable trigger mechanism, and a 1.3 m hose.
Additional Resources