Last Updated on February 16, 2022
Our editors independently research the best products online to produce this list. We may receive commission on purchases made from the links below but this will never affect our product choices.
---
Top 10 Best Moss Killers
The best moss killer helps your garden to continue looking its best by getting rid of pesky overgrowth you'd rather not have hanging over your plants. Since it thrives in damp conditions, moss spreads rapidly in gardens and lawns. It is a plant that contains green chlorophyll and covers other plants quickly in the form of a thin mossy film.
The good news is that it's possible to control and eradicate the moss by making changes in the soil and nutrients through fertilizers or water supply. This is where the best moss killers come in. Moss killers stop diseases from spreading among plants and soil beds, thanks to moss. Remember, moss can easily multiply and spread around your garden, as well as on roof tiles, planting beds, and drives.
How We Compared Moss Killers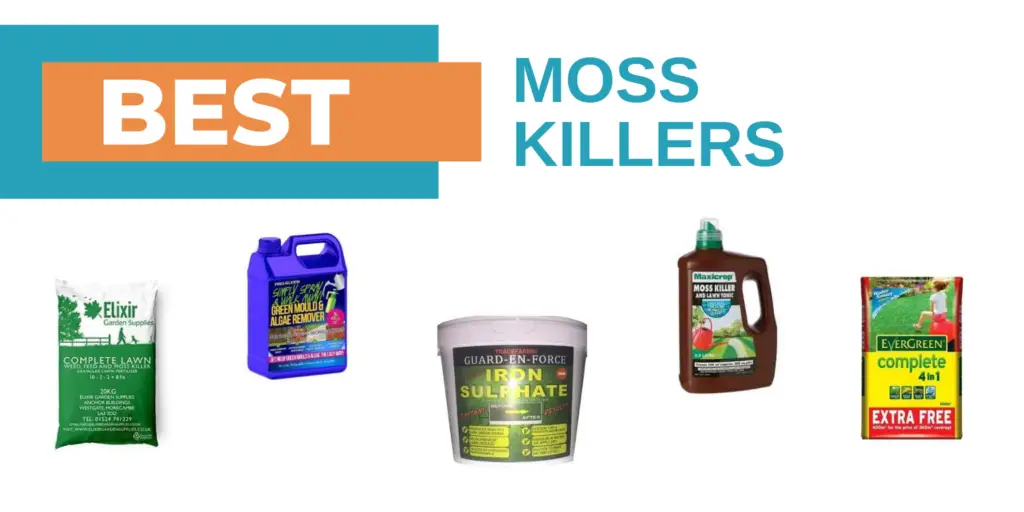 To find the right moss killers we considered multiple factors including:
Area
Easy to Use and Spread
Child and Pet Friendly
Non-Toxic
Formula
Application Type
Our team independently examined and compared hundreds of products to help satisfy different needs. We spent our time researching moss killers and consulting customer reviews to ultimately bring you what, in our opinion, are the best options on the market right now.
To find out more about our editorial process, take a look here.
Moss Killer Reviews
A four-in-one solution for killing moss, supporting grass growth and getting rid of weeds (all at the same time), Scotts Miracle-Gro makes light work of your garden. The Evergreen 4 in 1 Moss and Weed Killer nurtures your lawn while getting rid of unwanted growths like moss and weeds. The resultant grass is dark green, healthy, and stays fresh for more extended periods than others.
This product also contains ferrous sulphate or iron sulphate to help aid plant growth for a healthier lawn. The unique formula ensures the soil can retain water and grow grass quickly while banishing unwanted moss. The nutrients and moisture stay trapped in the ground to help the plants grow faster.
This product can be used in the autumn, spring, or summer but should be avoided during the winter and rainy seasons. You may be able to see visible results within a week after application.
Pros:
Aids lawn growth and plant growth with iron sulphate
Maintains moisture in the soil
Delivers quick results in 7 days
Easy to apply
Excellent for saving time on gardening
Cons:
May struggle with deep-rooted moss
Can stain surrounding patio materials
Tough on weeds but good for your garden, the complete lawn moss killer from Elixir Garden Supplies is a 4 in 1 lawn care product that effectively kills moss, kills the weed, feeds roots, and promotes healthy grass and turf. Delivering results in as little as seven days, Elixir Gardens will get your grass looking and feeling stronger in no time.
A granular product for moss control, it's easy to spread into place, and it gets to work on banishing moss and weeds fast. It's also made in collaboration with some of the top fertilizing manufacturers in the UK. Use this Elixir Garden Supplies Moss Killer routinely every 6 to 8 weeks for a dramatic and drastic change in the grass's look, feel, and texture.
This formula contains 4% phosphorus for healthy roots, 10% nitrogen for green grass blades, 4% potassium that thickens the lawn and fights disease, and 3.5% iron sulphate that kills the moss and toughens the grass. 
Pros:
Tackles four lawn care jobs in one
Visibly healthier grass within seven days
Easy to spread with hand or spreader
Three specially selected weed killers included
Designed to get rid of moss fast
Cons:
Can be difficult to spread easily
May take a while to work in some conditions
Great for removing pesky moss, mould, and algae from your decking, fencing and patios, this moss killer is ideal for keeping your garden looking great. The formula helps revive the furniture, garden, lawn, deck, fence, and outdoor furniture. Plus, the substance is safe for plants and can be applied directly to your garden with a spray nozzle. All you need to do is transfer the liquid into a pump or jet canister.
You can cover a significant amount of space with the Pro-Kleen mixture. All you need is around 5 litres to make around 25 litres of moss killer in total. This much is enough to help cure 200 sq km. However, if algae and moss overrun your garden or lawn, you can spray this directly. There's no bleach or acidic substances, and it's safe to use your moss killer around children too.
The intense fluid can easily revive your patio, decking, furniture, and other hard surfaces, and it's extremely easy to use. 
Pros:
Easy to use for beginners
Good for cleaning hard surfaces and patio furniture
Makes a lot of solution from a small amount of liquid
Quick results on mould and moss
Pet and child safe
Cons:
May not fully clean some patio materials
Can be a little difficult to mix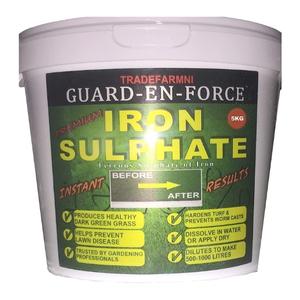 Created by the Tradefarmni brand, this iron sulphate moss killer kills moss while simultaneously fertilizing your lawn. The substance, designed to work as a lawn tonic, also leaves your grass fresh and healthy.  With a full 5kg tub, you'll have no problem covering anywhere up to 5,000 square metres with the easy-to-use substance. You can also clip the top of the plastic tub closed again, so it's easier to store safely too.
When mixed with soil or diluted with water, the product can be used directly in its dry condition and sprayed on the moss with a sprayer or a watering can. The results from the Premium Iron Sulphate Moss Killer start showing within a week. Some customers even begin to see results within as little as two hours.
The unique mixture helps to prevent lawn disease while giving your grass a more attractive colour. You can also use it on the moss that grows on your flower beds and separators; try, first using some edging shears or secateurs to cut the grass back to prevent the shade and dampness, then apply the killer.
Pros:
Suitable for wet or dry application
Supports the healthy growth of your lawn
Prevents lawn disease and kills moss at the same time
Easy to use and store for later use
Massive coverage potential
Cons:
Can require a higher dose for tough moss
It may be too clunky for storage in some cases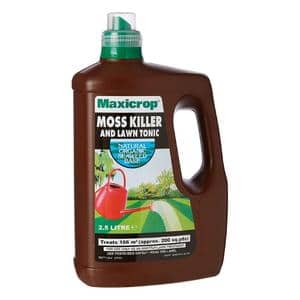 The Maxicrop Moss Killer and Lawn Tonic works fast. This variant from Maxicrop contains the added ingredient seaweed extract. It also comes with a 17 per cent addition of ferrous sulphate and 2 per cent nitrogen for visible results. The natural seaweed and iron in the formula encourage the growth of moss-free grass, healthy and dark green.
The fast-acting moss killer from Maxicrop is great for encouraging green grass growth while getting rid of unwanted moss and weeds. The Maxicrop improves the rooting of the grass and turns the moss black within a few hours after application. Approximately 300 ml works on ten sq. m. For best results, dilute this product with water and spray directly onto the moss and plants.
Pros:
Fast-acting results for a better lawn in a hurry
Improves your lawn health and colour
Seaweed for natural growth support
Easy to apply to the lawn
Cons:
Can stain surrounding furniture
It may be a small bottle for some larger loans
Easily soluble and ready to use, this Pro-Kleen premium iron sulphate powder promises fast action in a range of volumes to suit any garden size. It also doubles as a lawn fertilizer to encourage the growth of dark, healthy, and thick grass. This moss killer comes in powder form. It can be mixed directly into the soil or diluted with water and sprayed onto plant surfaces through a thin hose.
Convenient and effective, the Pro-Kleen sulphate powder is easy to apply when mixed with water. The ideal mixture ratio should be 10 gm of powder to 1 litre of water. You can adjust a few grams less of the powder according to your requirement.
If you wish to use this powder as a lawn tonic, use 4 or 5 gm of powder in 1 litre of water and spray once a month on your plants. The mixture will help to prevent lawn disease and keep your garden looking great for longer when used correctly.
Pros:
Helps to prevent lawn disease
Available for wet or dry application
5kg covers up to 5000 square metres
Quick results and a healthier lawn
Clip closed tub for storage
Cons:
May be difficult to follow instructions
Limited information on how to mix ingredients
The ULTIMA-PLUS XP MY1356 moss killer and algae remover is one of the top products on the market. Potent and fast-acting, it's easy to use the ULTIMA-PLUS product even if you don't have a lot of gardening experience. Just dilute it with water and spray directly on the grass, algae, and moss. Mix 1 part liquid moss killer with ten parts of water before spraying or hosing the plants.
This powerful moss killer is capable of covering over 200 square metres and is 100% safe and biodegradable, with no acid or caustic elements. This means it's safer to use around children and pets. The product even helps to prevent the regrowth of moss and algae for up to 6 months.
You can use this product on a range of services, from lawns and gardens to terracotta pots, driveways, fences, and even your patios and decking. According to the manufacturer, you can also use it on motorhomes, boats, and greenhouses.
Pros:
Suitable for use on a range of surfaces
Prevents regrowth of moss for up to 6 months
Safe for pets and children
Biodegradable with no acid
Max-strength formula
Cons:
It may not cover as much space as some alternatives
Can require some experimentation to work well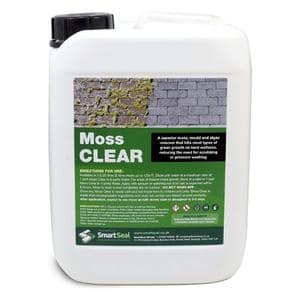 The SmartSeal Moss Remover is an effective moss, algae and mould remover, suitable for patios, walls, doors, and other locations. This fast-acting moss killer is a non-hazardous moss killer that contains no bleach or additional acids. There is no need to scrub or wash the grass and turf repeatedly. Single-use of the Smartseal moss killer gives quick, visible results, and the moss blackens and dies out.
You'll have no problems getting rid of pesky moss and mould around your home with the SmartSeal moss remover. A single 5l can will cover up to 125 square meters. To use, dilute 1 part of the moss killer with six parts of water and spray directly onto the moss and plants or use a watering can. If the moss is very dense, dilute the mixture with 1 part of moss killer with four parts water and spray close to the moss.
Unlike most moss removers, this solution is fully biodegradable and non-toxic, making it ideal if you have pets or children who often visit your garden. There's also less need for high-pressure washing when you apply this substance.
Pros:
Minimizes the need for pressure washing
Inhibits future growth of moss and algae
Removes all kinds of green growths and spores
Non-toxic and safe for homes with families
Extensive coverage
Cons:
May require you to remove the dead moss yourself
May require a second spray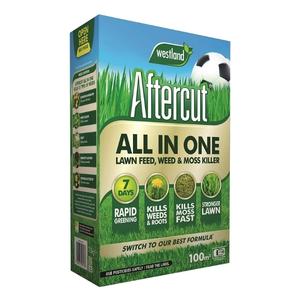 Promising a quick and simple way to tackle multiple lawn care and garden jobs simultaneously, the AfterCut all-in-one system kills weeds and moss while feeding your lawn. The triple-action formula gets your lawn looking its best while controlling unwanted extra growths. The product is effective against a total of 12 different kinds of weeds.
Ideal for getting rid of all kinds of common weeds and moss from your garden and patio, the AfterCut all-in-one formula is easy to use and quick to act. The treatment will not make it dangerous for kids and pets to explore the garden as a natural product with no acidic substances. Just make sure your garden is dry first.
According to the manufacturer, a single box of this moss killer can cover up to 100 sqm, which is the same as about ten car parking spaces.
Pros:
Easy to use with plenty of coverage
Safe around kids and pets
Effective against common weeds and moss
Suitable for helping the grass to grow
Cons:
It may require multiple uses
It may not be friendly for all pets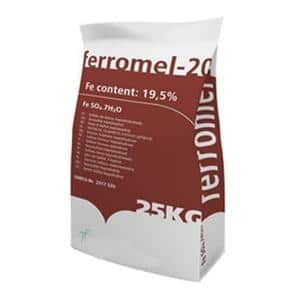 The Ferromel – 20 Iron Sulphate Moss Killer comes in a 25 kg bag and contains almost 20 per cent ferrous sulphate to help nourish the grass and promote a thick, dark green, and firm turf. If you want to get your garden looking great and banish moss simultaneously, this could be the product for you.
It helps kill moss fast and also acts as a turf hardener. To use it as an effective moss killer, dissolve the dry ingredient in water according to the packet instruction and spray directly onto the grass, plants, and soil. To use it as a lawn conditioner, mix directly into the ground using a spreader.
Dissolving the product in water helps prevent the grass from burning out. Usable in all weather conditions except rainy and winter seasons, this all-year moss killer and lawn conditioner works best over a wider area.
Pros:
Works even in large areas
Conditions the lawn and strengthens turf
Kills moss and weeds effectively
Easy to use and spread
Cons:
More effective for moss than improving grass colour
May require multiple applications
When is the Right Time to Kill Moss?
It is challenging to kill moss during the rainy or summer seasons since moss thrives in these climatic conditions. Late winter to early spring is the right season to kill moss and save your plants and flower beds. You should start your moss treatment as soon as you realize that the winter is waning.
Which is the Best Moss Killer?
The best moss killer for your needs will depend on several factors, including what kind of products you're confident using on your lawn and what you want to accomplish (killing moss, weeds, and improving grass health).
Our favourite pick from this list is Scotts Miracle-Gro, which is a four-in-one solution for supporting grass growth, killing moss, and banishing weeds. You can use the product any time of the year too, which is great if you don't have a lot of gardening time around spring.
Additional Resources