Last Updated on February 20, 2022
Our editors independently research the best products online to produce this list. We may receive commission on purchases made from the links below but this will never affect our product choices.
---
Top 10 Best Weed Killers
The best weed killer UK homeowners can get their hands on is a must-have for keeping your garden looking great. Weed killers come in a variety of different formulas and styles, from tools intended to burn deep-rooted weeds to chemicals specializing in the removal of lawn weeds without harming your grass. The question is, which weed killers work best?
Choosing the best weed killers for your needs means considering the kind of pesky weeds you're dealing with and what kind of features matter most to you. If you're going to apply weed killer to a garden, for instance, you might want to focus on selective weed killers, to preserve as many of the plants you like as possible.
In this article, we will explore some of the top tools for getting rid of garden weeds, so you can make a more informed decision.
How we Compared Weed Killers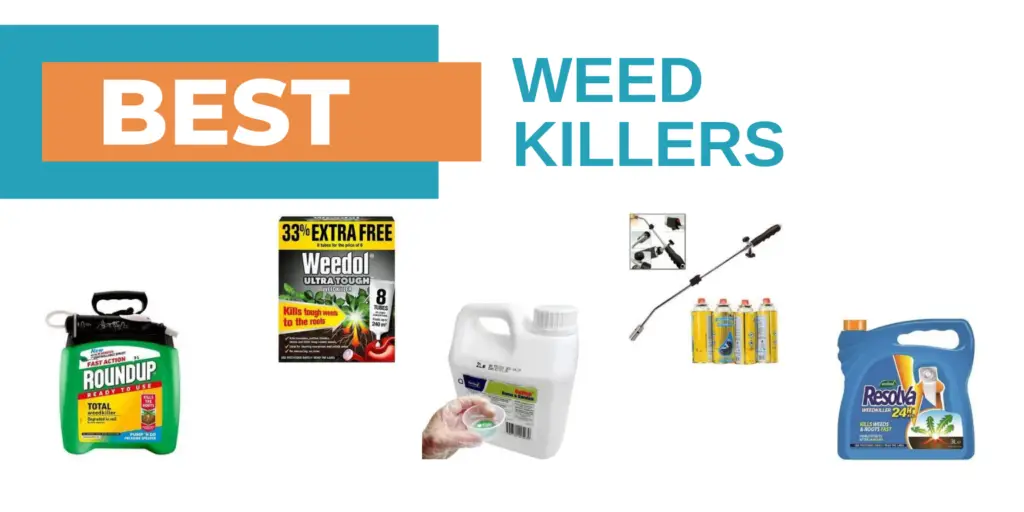 To find the right Weed Killers we considered multiple factors, including:
Efficiency
Safety
Ease of application
Coverage
Our team independently examined and compared hundreds of products to help satisfy different needs. We spent our time researching Xs and consulting customer reviews to ultimately bring you what, in our opinion, are the best options on the market right now.
To find out more about our editorial process, take a look here.
Weed Killer Reviews
Widely regarded as one of the best weed killers for rapid pump and go action, the Roundup Fast Action formula makes it easy to banish most weeds and roots from your garden. The easy-to-use concentrated weed killer can start delivering results within 1-2 days. As the name implies, you can also apply this systematic weed killer in no time.
If you want to get rid of weeds fast, the heavy-duty weed killer from Roundup is a great choice. The pump design can spray like a watering can over your garden for up to 10 minutes of continuous spray. You can also rest assured that you don't have to keep children and pets away from the garden when you're done spraying weeds.
Unlike many weed killers, this weed killing solution doesn't give off any harmful residue when dry. The Pump-n-Go pressure sprayer is even suitable for refilling if you want to use it again later. The one-touch trigger minimizes hand fatigue while you work on the treated area. With no leftover chemicals, you can even start planting again a few weeks after treatment.
Pros:
Fast-action and ready-to-use in a matter of minutes
Starts killing weeds within 1-2 days
Easy to refill the pump with extra strong weed killer
No toxic chemicals to leave bare soil ready for planting
Helps to get rid of the whole plant and root systems
Cons:
Can sometimes affect nearby plants
May take a while to get rid of more robust weeds
If you're looking for the strongest weed killer to get rid of as many unwanted plants as possible, a glyphosate-based product is usually the best choice. This Elixir Gardens Barclay professional weed killer will get rid of garden weeds in no time, so you can have your garden looking perfect again in a matter of weeks. A single litre can treat over a 4th of an acre in your watering can.
This extra-strong weed killer will start killing unwanted weeds in no time, promising the same high-performance you can expect from the glyphosate-based weed killers professionals use. The product can remove all kinds of broadleaf weeds, perennial garden weeds, and various grass forms. So it's best to keep it away from anything you don't want to get rid of.
Suitable for killing a wide range of plant life, the Gallup weed killer deactivates on contact with the soil, so you can begin to plant again up to four weeks after killing weed growths and root systems. Do keep in mind that you will need to dilute this commercial weed killer yourself. Make sure you follow the instructions carefully when using chemicals.
Pros:
Great for removing tougher weeds
Suitable to use when you want to replant in the future
One of the best heavy-duty weed killer options
Fast-acting weed killer with easy application
Comes with a measuring cup and gloves
Cons:
It may require double strength for some kinds of grass
It can be challenging to dilute and mix yourself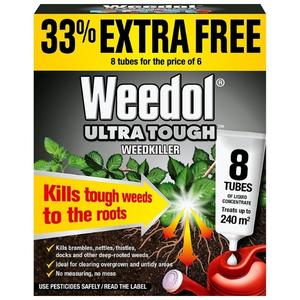 If you're searching for the best weed killer spray to get your garden looking great fast, the Weedol Ultra-tough formula offers excellent value. The Weedol formula easily digs deep into the ground in your garden to get rid of weed growth and is designed to remove a wide range of weed types, including sunflowers, nettles, and brambles.
Ideal for the treatment of untidy areas where weeds have begun to overgrow, the Weedol Ultra Tough formula can help to kill all kinds of smaller weeds, dormant seeds, and deep-rooted weeds too. The unique dual-action formulation kills tougher plants faster than many weed killers. There's also no need for extensive measuring or mess; you just add water.
For a quick and convenient way to banish weeds from your garden without a watering can, this weed killer from Weedol could be a great choice. The selective formula can even be used safely around the base of various hardwood saplings, rose bushes and other plants. What's more, you don't have to keep children and pets out of the garden after use.
Pros:
Safe weed and moss killer
Good at banishing unwanted plants fast
Controls weeds around the base of other plants
Unique dual-action formula
Easy to mix and apply
Cons:
It may take a while to have significant results
It does require manual mixing before application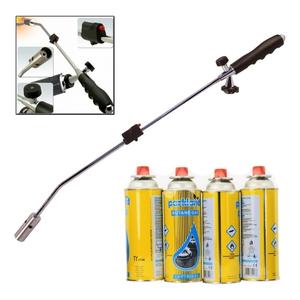 If you're eager to get rid of weeds other killers won't budget, it might be time to try something a little more heavy-duty. When spray bottle formulas don't work, a weed burner can be an excellent way to blast plants with instant heat and banish them as quickly as possible. With this Onkruidbrander weed burner, you don't have to endlessly reapply to make weed killer work; the results are fast.
With this weed burner, you can kill even the toughest weeds with no problem. It is ideal for people who have had enough weed killer sprays. All you do is apply a quick stream of heat to the weeds in your garden, and there's no clean-up to worry about. Only ensure you stay away from any woody weeds and tree stumps that might catch fire.
This top of the range weed burner also has various other applications. You can use it to burn ice away from your driveway or light the grill in Summer. Just remember to follow the instructions carefully to keep yourself and your loved ones safe. Another bonus is that there's no residual substance left behind to kill grass in your garden or put your family at risk, unlike chemical weed killers.
Pros:
Works where other weed killers fail
Can kill weeds and de-ice your driveaway
Easy to use with no waiting around for results
Lightweight design easy to carry around the garden
No chemicals like with some systemic weed killers
Cons:
It can be difficult to use if you want to kill weeds over a large space
It may be difficult to fully get rid of weed roots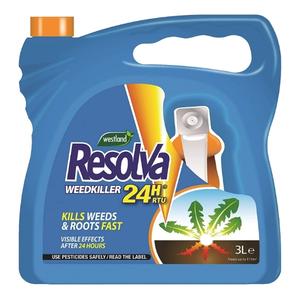 If you always wish the strongest weed killer was easier to use, the Resolva product might be ideal for you. This product comes ready to use, so there's no need to spend ages experimenting with adding water and mixing formulas. All you need to do is spray the liquid onto your perennial weeds and unwanted plants, and the substance gets to work within 24 hours.
Capable of delivering results within a day, the Resolva nonselective weed killer is ideal for rapid application with a simple stream spray head. There's also a wide-angle spray option if you want to cover more of your garden as quickly as possible. The pack can cover up to 10 car parking spaces worth of garden, so you'll have plenty to cover your entire home.
Following contact with the soil, this weed killer will easily be broken down by the organisms in your garden, so you don't have to worry about lasting chemicals stopping you from planting a few weeks later. You can also allow your kids and pets out into the garden after you use your spray bottle to remove weeds with the Resolva liquid.
Pros:
Safe formula doesn't leave any chemicals
One of the fastest soluble weed killer options
Safe for pets and children after it's dry
Covers a huge amount of space in a short time
Comes ready to use
Cons:
May kill more than just the weed plants in your garden.
May not be the strongest weed killer for deep-growing weeds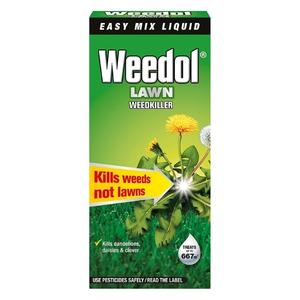 One of the worst parts of having a weed problem is spending hours applying the best lawn weed killer UK companies can offer to your garden. Even if you invest in a spray product and the best weed killer for large areas, it can take quite a while before you see some results. Fortunately, the Weedol easy mix solves this problem. This weed killer is selective in the plants it kills, so you don't have to worry about damaging your grass when removing tough weeds.
If you usually find it takes forever to use weed killer in your garden, the Weedol Easy Mix could be the best solution for you. This simple formula is much easier to mix than most weed killers, so you can start applying it as soon as it arrives. The product comes with easy-to-follow instructions to help you get the most out of each application too.
If you need to cover a large area fast, this systematic weed killer can banish all kinds of moss and perennial weeds in no time. Plus, you can plant new flowers again later when you're done removing the weeds. Just be careful to keep pets away until the formula is dry.
Pros:
Easy to apply fast with a quick mix formula
Removes pesky weeds but doesn't kill grass
Suitable for common small weeds, with quick results
Comes in a value pack of three
Covers a large surface area
Cons:
Not the best weed killer for woody weeds and deep-rooted weeds
May require you to keep pets and family out of the garden after application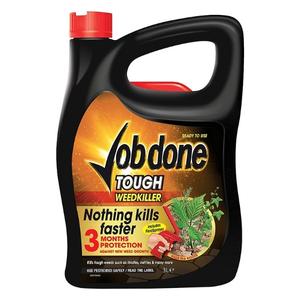 If your idea of the best weed killer is one that can cover a lot of space fast, this reliable, strong weed killer from Job Done might be the right pick for you. This powerful weed killer can easily kill a wide range of pesky weeds and even prevent them from coming back too. You can simply mix your weed killer using the instructions provided and see results within 24 hours.
Not only does this weed killer from Job Done start delivering results with the toughest weeds in a matter of hours, but it can also keep weeds away for up to 3 months. All you need to do is mix one of the strongest weed killers in the market with water and apply it to the areas of your garden you want to treat. This product can even act as one of the best patio weed killer products too.
For homeowners in search of the best weed killer for large areas, the Job Done product can cover a large amount of garden space in minimal time. However, when you're spraying, you will need to make sure you direct the weed killer away from other plants, as the contents can damage your other plant life.
Pros:
Excellent for high volume application to a large space
An easy to use weed killer with instruction
Works on tough weeds
The systemic solution prevents weeds from coming back
Provides results within 24 hours
Cons:
It may not be the right weed killer for lawn treatment
You'll need to check you have enough weed killer to cover the whole garden first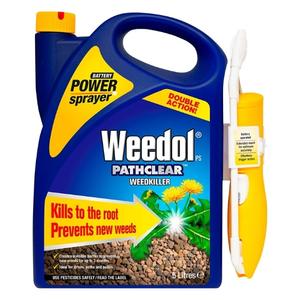 This is another excellent choice if you're looking for the strongest weed killer that takes minimal effort to use: this Weedol Pathclear product is popular among a range of homeowners. The strong weed killer formulation helps to banish weeds by killing the plant down to the root. The product can also stop weeds from growing back over time, unlike other contact weed killers.
The Weedol weed killers work with a battery-operated spray applicator requiring no pumping for excellent ease of use. Just push the trigger button on the lance, and you'll get a constant spray in seconds. The unique dual-action formula means you get both a systemic weed killer and the benefits of residual weed killers in one.
Ideal for drives, paths, and patios, the Weedol weed killer doesn't harm artificial grass and can help to create a barrier to stop other weeds from growing in the future. If you want the best weed killer for gardens that takes minimal effort from you, this could be it. Just remember to clean the equipment after use.
Pros:
Very easy to apply with battery-powered spray
Unique formulation stops weeds from growing back
Children and pets can play in the garden after the spray is dry
Doesn't harm thick weed control fabric
Suitable for pavements and patios
Cons:
Requires regular maintenance to keep the equipment clean
You may run out too quickly if you have a larger garden
Roundup Total Gel could be the perfect solution if you're looking for a more precise solution to help with killing weeds. This weed killer is great for tackling growths in areas where other reed killers can't touch, such as in tree stumps and around other flowers. The gel texture simply sticks to the weed and kills it gradually, stopping the roots from regrowing.
Designed to provide homeowners with a controlled way of getting rid of weeds, the high-performance gel weed killer from Roundup is an excellent investment. This is one of the safest weed killer options if you want to avoid affecting other plants around the garden. Plus, you don't have to keep pets and children away from the lawn when the gel is dry.
When the Roundup formula comes into contact with the soil in your garden, it's naturally degraded by microorganisms, so you can safely plant other flowers in the future. Just don't plan on using this product for large-area applications.
Pros:
Excellent for targeted application to small areas
Safe for other plants, children and pets
Easy to use for small weed problems
Gel texture to help stick to the plant
More controlled than most weed killers
Cons:
Can cause slightly patchy weed killing results
The applicator may be a little difficult to use for some
If you're sick of searching for the strongest weed killer UK companies can offer, then the Bond hardware butane blowtorch could be the perfect alternative. Though you'll need to be cautious about using this product around flammable products, you can rest assured it will get rid of weeds without the need for any dangerous chemicals.
Glyphosate-free and easy to use, the Bond hardware wand doesn't rely on substances like acetic acid to get rid of plants. There's no residual chemical left behind to stop you from planting in the future or causing damage to your other plants. The Bond hardware butane wand makes it easy to speed up the process of killing weeds in no time.
As a simple selective weed killer, the bond hardware wand doesn't require you to keep kids or pets out of the garden after use. Plus, this product couldn't be easier to use. All you need to do is press a button, and you can burn the weed away in seconds.
Pros:
Quick results for immediate garden improvement
Kills weeds internal cell structures
Environmentally friendly and safe for animals and children
Easy to use with no mixing
No chemicals left over
Cons:
Requires extra caution with use
The ignitor can become less reliable over time
What's the Strongest Weed Killer Available in the UK?
For the toughest weeds, most people will have different preferences for the strongest weed killer. While some people say the most effective weed killer is glyphosate, this chemical can also make it difficult to protect other plants in your garden against damage. This means it's not the best option if you're looking for lawn weed killers.
If you're struggling with the removal of deep-growing weeds or weeds you can't access in hard-to-reach areas, you might find it more helpful to use a weed burner instead.
What Weed Killer Kills Everything?
There's no guarantee that any weed killer will kill every weed in your garden and make sure it stays gone. The strongest chemical killer in the UK is usually glyphosate, a systemic weed killer that kills virtually every plant it touches. However, this can be difficult to use around plants you don't want to destroy. Alternatively, you can try using things like blowtorches to remove some growths.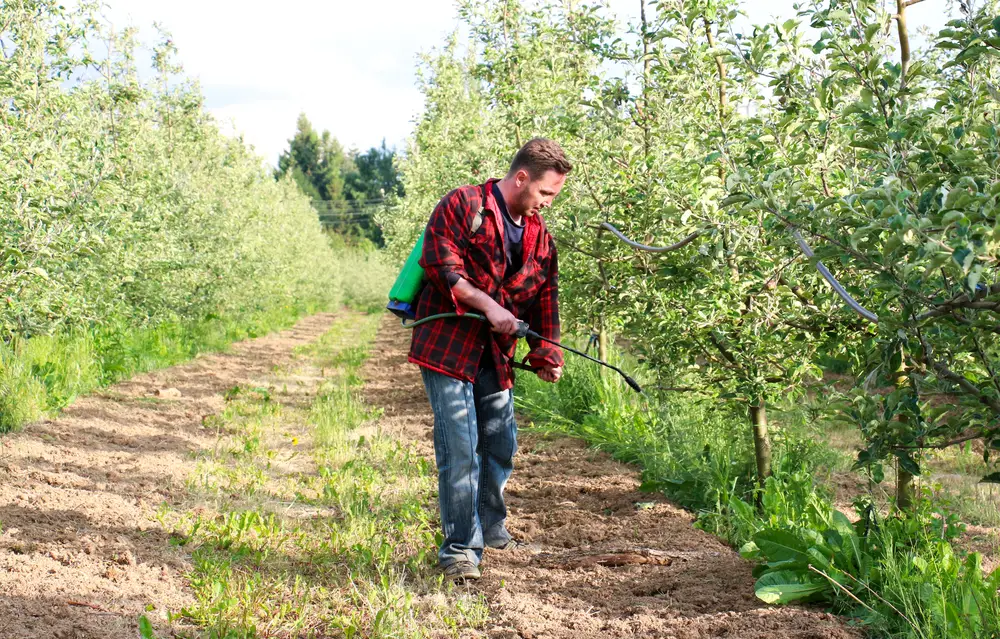 What is the Strongest Homemade Weed Killer?
Just as different people have different preferences when it comes to the safest or quickest weed killer on the market, there are also arguments about the best homemade weed killer. One particularly strong formula involves using white vinegar.
There are different kinds of white vinegar that come with up to 30% Acetic acid, which makes them extremely effective if you want to kill weeds. Keep in mind that this homemade weed killer can sometimes stain patios and other furniture.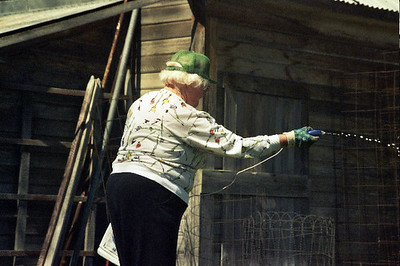 What is the Best Weed Killer to Buy?
The best weed killer UK customers can get will depend on the kind of weeds they're trying to remove and the other features they need. For instance, you might need a weed killer that won't harm your grass or one that keeps your patio looking great.
Our favourite product in this list is the Roundup fast action weed killer. The concentrated formula can start showing results within two days, and it helps to stop your weeds from growing back in the future too. Even better, the systematic pump system makes it easy to apply your weed killer to a large area in a small amount of time.
Additional Resources