Last Updated on February 15, 2022
Our editors independently research the best products online to produce this list. We may receive commission on purchases made from the links below but this will never affect our product choices.
---
Top 10 Best Artificial Grass
There really is no greater feeling than really soft fresh grass under the soles of your feet in the summertime. However, this utopia may be out of reach for many, for so many different reasons, and no matter how hard you try, you just cannot achieve that perfect garden you so want.
Lawns can become waterlogged in autumn and winter during periods of heavy rainfall and may not return to full health if the ground has become thick with mud. Or, during hot or dry periods, your lawn can develop yellow patches and dry out. Then there are weeds and moss to contend with. Sometimes no matter how hard you try, your garden simply feels like it is fighting you.
Perhaps you are proudly a non-gardener, and you want something that looks good but does not require regular maintenance; with synthetic grass, no cutting, weeding or edging is required! You can buy artificial grass in so many different size combinations that you can lay it in almost any location you can think of, from a roof garden, small gardens, large gardens, even balconies!
Or maybe you are someone with pets, and you are looking to buy the best artificial grass for dogs available on the market. Or have the muddy footprints being brought into the house finally decided your mind for you, and the children are getting a new lawn for their play area. If you read artificial grass reviews about products that are non-toxic and also soft underfoot in design, you will find one just right for you and your family and furry friends!
Artificial grass is also an excellent substitute for natural grass for people with allergies since most artificial turf is hypo-allergenic. It is not subject to weather changes, does not dry out or burn, and will remain green throughout the year. Drainage holes ensure that you will never again have a waterlogged lawn and artificial grasses are extremely durable if you select the right one.
All of the above are just some of the reasons you might be reading the best artificial grass reviews, looking to find the perfect artificial lawn that meets all of your needs.
Once you have chosen the best artificial grass UK for you and it is installed, it can easily be hosed down with a water pipe or wiped clean with a floor cleaner and plain water. Other than that, all you need to do is sit back and enjoy your new lawn, without any maintenance, risk of allergies, and the perfect lush look, all year round!
Add a paragraph that explains how we compared the different products. Copy and paste the following and place it after the intro and before the top 10 reviews. Be sure to change the heading to the relevant products and change the comparison criteria based on what the products are (you can find ideas in the buyer's guide section). Use H2 for the heading.
How We Compared Artificial Grasses
To find the right artificial grasses we considered multiple factors, including:
Environmental credentials
Colour and appearance
Height and density
Our team independently examined and compared hundreds of products to help satisfy different needs. We spent our time researching artificial grasses and consulting customer reviews to ultimately bring you what, in our opinion, are the best options on the market right now.
To find out more about our editorial process, take a look here.
Artificial Grass Reviews
This product comes with our Editor's Choice accolade, and very well deserved it is too! The Tuda Grass Luxury 30 mm grass is a superior quality, luxurious feeling turf. At an incredibly affordable price per meter, it offers such great value too. If you have been looking for the best artificial grass, you will do well to look at this one.
The materials in this grass have UV protection, meaning it won't fade or discolour in the sunlight, staying a lush green colour all year round. One of the real benefits of an artificial lawn is that you can enjoy its appearance and texture whatever the season; whether summer or the middle of winter, this lush green lawn will look fabulous for you.
Importantly, this grass lawn has no lead in it, making it completely child safe. It is also extremely easy to clean, so perfect for if you own pets. All you need to do is a quick spray of the hose or wait for a downpour, and any mess will be gone.
The Luxury 30mm grass has a high-quality backing that is the key to an artificial lawn keeping its long-term appearance and durability throughout the seasons. This turf also comes with drainage holes to help water seep out without causing moss and fungus growth at the bottom of the artificial grass.
There are many different size options you can choose from for installation, making this a high-quality and versatile option for your garden. The price per square meter when you can buy with such size accuracy makes this product more appealing!
Pros:
30 mm height to make the turf look real
UV resistant
Child and pet friendly
Drainage holes
Many size options to select from
Cons:
Different batches can vary in colour
Density isn't as high as some grasses available
This product really has luxury at its heart! It has a thick, luxurious feel achieved by a pile density of 19,950 blades of grass per m²! This artificial grass will feel wonderfully cushioned underfoot and has two longer pile heights of either 30 or 40 mm to achieve the ultimate fake lawn. For higher foot traffic areas and a shorter grass appearance, there are three pile heights to choose from, 15, 20 or 25 mm, which are more resilient due to their short pile.
But luxury isn't where this product's advantages end; Ashdown Ellerston fake grasses come with four different coloured blades of grass to create a realistic appearance. They also come with a double-lock thermal fusion technology that attaches each blade to the backing for maximum durability and prevents the loss of grass blades into the environment, making it an environmentally responsible option for your outdoor space.
The backing is extremely robust and designed to stand up to the everyday rigours that a lawn goes through, so much so that this best quality artificial grass comes with a 15-year guarantee, demonstrating the manufacturer's confidence in its product!
The artificial grass has drainage holes built-in and is easy to clean and maintain, and it comes in 1 m by 10 m strips, making it flexible for installation in different sized projects.
Pros:
15-year guarantee
Four colour blades
Different pile height options
Environmentally respectful
Drainage holes
Cons:
The upper end of the price range
Some reviews say that the colour is too dark
The Berlin 26 mm artificial grass has been designed to have a natural look by containing two shades of green alongside a curly brown blade. At the low price it is offered, it is the best value artificial grass in our review.
Like the other Tuda artificial lawn products, this grass is water-resistant with a latex backing containing drainage holes. The fake grass has UV protection to prevent it from fading or discolouring with sunlight and will not be spoiled by your pets playing or toileting on your lawn. Simply wash it down with water, and it will be back to its original condition.
The Tuda fake grass comes in many options of sizes, so it is completely flexible for any type of project without leaving you with any unneeded surplus, making it even better value!
Pros:
Budget-friendly lawn
Real appearance
UV and water-resistant
Pet and child safe
Easy to cut and fit
Cons:
Not particularly thick
Different batches can vary in colour
The turf from GardenKraft can be laid on top of lawn, soil, tarmac, and even paving. Excellent for sloping areas and a great option to consider for roofs and terrace balconies, this artificial grass has a 20 mm high pile and is a high-density turf. It also has heavy stitching for extra durability and does not easily bend or flatten, making it an excellent option for children's play areas, sports clubs, home gardens, and outdoor hospitality settings.
The colour of the grass is achieved through a mixture of lime, emerald green, and a green bi-colour that makes it look very realistic. GardenKraft artificial lawns also come with the maximum rated UV defence protection to protect them from fading or discolouring, so you needn't worry about the durability of this product.
Easy to clean and maintain, this turf can just be hosed down. The water drainage holes between the blades help keep the grass free of fungus and mould. Additionally, it is also pet and child-friendly.
Something to note that is mentioned in reviews of this product is that it is probably a two-person job to stick and lay it effectively using the tape supplied.
Pros:
Three mix colour
Pet and child-friendly
It can be used for sports turfs
Different colour options of this grass
It can be fitted on a sloping surface
Cons:
Tape can be difficult to use and can stick to itself
Seams can come apart or gape when using tape to secure
Short pile height
This grass from Green has a thick and hardwearing backing made from latex. It comes with drainage holes in the backing so that water can just drain away, meaning you no longer have to be at the mercy of the Great British weather and suffer from a water-logged lawn!
You can lay this artificial grass on top of concrete, decking and even use it for balconies and rooftops, giving you the option to make any space green. The grass comes in several combinations of widths and lengths, meaning it is easier to get better value and use out of this product, whatever your project.
The grass comes with different shades of green and even light brown plastic fibres to give it a natural appearance. It is child and pet friendly, and easy to cut and install, so a perfect grass for your garden!
Pros:
Good drainage
Realistic appearance
Different size combinations
Hardwearing latex backing
Easy to lay with pins or tape
Cons:
Short pile means it is not a cushioned texture
Quality may vary between batches
This is high-quality artificial grass from ARKMat, designed for your garden or landscaping. It has a pile height of 30 mm, which is among the highest in this review and also has a great density at 12,600 tufts per metre squared.
It is designed with multiple colours running through the dense grass to give it a realistic appearance, and with the blades at 30 mm height and manufactured in a C shape to stand up well, it is soft and cushioned underfoot.
The backing is made from water-permeable material so that any rain or water drains away quickly and the turf dries, ready to be enjoyed once more. The grass is made from UV resistant material, and it also won't discolour from animal urine, making this a great option for dog owners. You simply spray it down with water, and it will be good as new. It is also completely child friendly.
Please be aware that if you select this product for your artificial grass installation, it has a 'pile direction', so you need to make sure that you lay all of the pieces in the same direction to ensure good colour matching and a similar appearance.
Pros:
Pet and child friendly
No discolouration
UV protection for seven years guaranteed
Natural-looking grass
High density
Cons:
Not huge size range
Some reviews mention blade length is not 30 mm
The artificial grass from ARKMat stands out for three things. The first is that it has a very high density of tufts per m². At 80,640 per square metre, this is the highest density artificial grass pile in our review. It also has a high stitch rate which means that the backing is not visible through the blades of artificial grass. Thirdly it is highly recommended for being easy to install. You can buy it in many different size combinations to suit your needs. Lay it on top of any surface without needing sand beneath, and with simply a pair of scissors or a craft knife to cut through it, you can have fantastic artificial grass to complete your garden look!
At 6 mm, this is a very short pile, but it is still soft enough to walk on and will keep looking fantastic all year round. It is child and pet friendly and also very straightforward to clean and maintain. Just hose down with water, and any mess will be gone. In addition, it is UV resistant and water absorbent, so you will not have to put up with soggy grass any longer.
This grass is competitively priced in our review and comes in a number of different roll sizes, so it is easy to select one that is right for your next DIY project!
Pros:
Easy to install
High-density grass
Lighter strands of grass for a realistic colouring
Water permeable
UV resistant
Cons:
Very short grass blades so may not resemble real grass
Some reviews report the lawn fraying at the edges
Thinner than some other products in this review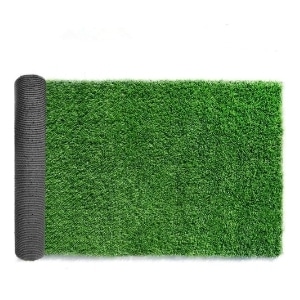 The Premium Synthetic Artificial Grass from LITA has been designed for a very natural and realistic look. Its pile lengths are shorter than many in this review, but this, plus the high density of the grass, means that it stands up straight with a manicured appearance. The natural look in this synthetic grass is achieved through four colour tones, designed to resemble fescue grass, and makes it a great product for your garden and lawn area.
This grass is fire resistant and non-toxic, making it safe for the environment. It is also non-abrasive and soft, so perfect for children to play on. There are, however, all sorts of different options for you to use this grass; on roof gardens, balconies, by the side of the pool, in an area for your dog, it is completely down to personal taste, but rest assured you will be pleased with your artificial grass.
The backing is made from athletic-grade made polyurethane, so it is also extremely durable. High-grade UV polyethene and polypropylene fibres are used to make this grass, so it does not change colour over time through sunlight or mark if you have dogs or cats. Drainage holes are made in the backing, so water drains away quickly, and you do not end up with a waterlogged garden.
Lita is so confident in this artificial lawn that they back it with a 100% satisfaction guarantee.
Pros:
High pile density
Fire resistant
Soft plastic fibre
UV resistant
100% satisfaction guarantee
Cons:
Only two sizes of the roll are available
Some reviews say pile length is shorter than advertised
If you want a fake grass product that looks like a natural grass lawn and are concerned about its environmental impact as well as the safety of children and pets, then this is the recommendation from our artificial grass products review. It is non-toxic and lead-free, making it extremely child and pet-friendly.
This artificial grass from Petgrow is ideal in backyards, lawns, children's play areas or beside a swimming pool. It can also be used indoors for interior decoration. The grass is approximately 10 mm in height and is perfect for cultivating a well-maintained yet straightforward look and feel. The grass is high density and very natural, thanks to the four colour tones in the grass blades.
The UV resistant polyethene and polypropylene materials are of excellent quality and completely heat-resistant. The rubber backing contains holes for excellent drainage so that it dries very quickly and does not allow fungus or mould to develop at the base or water to pool.
It may be worth ordering a sample of this product if you consider laying new turf in a large garden or area, as many people who have purchased were looking for a safe product for their dog to use rather than as a decorative faux grass.
Pros:
Safe for pets and children
Non-toxic
Four colour tones
UV resistant
Latex backing with drainage holes
Cons:
Only two sizes of the roll are available
Many reviews come from pet owners rather than those looking for the best artificial grass
The AGD Budget Artificial Grass is a short and hardwearing product. The fake grass is tufted and has a very short pile height of 6 mm. It is ideal if you require durable grass for your garden, perhaps for a children's play area or for an area with high footfall or for a dog run.
If you are looking for a fake lawn but have pets, be reassured that this grass will not spoil or discolour. It is also UV protected for five years and will keep looking green and fresh all year round. This astroturf has latex backing and drainage holes, so you will no longer have to battle with waterlogged grass or muddy areas.
You needn't worry about laying artificial grass if you haven't done it before; this grass is easy to cut and install. It is also non-toxic and completely safe for children and pets and gives you that fantastic benefit of no more muddy paws or footprints being brought through the house!
Pros:
Durable
UV resistant
Different size combinations
Child and pet friendly
Easy to lay and cut
Cons:
Colour is not like real grass
The short pile is not soft
Buyers Guide
There are so many reasons to decide to go to an artificial lawn, so it really makes sense to think through your key reasons and what you are looking for from synthetic turf.
You may have a problem area of grass where perhaps it gets a lot of wear or not a lot of water or sunlight. Or perhaps you can no longer cope with the maintenance of a large lawn and are looking for artificial grass products that will still look fantastic but will be much easier to maintain.
Then there are reasons such as having a rental or holiday property where you don't have the time or access to keep a real lawn looking neat and tidy. Or you may simply not enjoy the time and effort it takes to keep a real lawn looking great, or the size of the area for grass may be so small that it may not make sense to have real grass. For any of these reasons, there is an artificial lawn that will meet your requirements.
The cost of the best artificial turf can vary wildly, as can its quality, and we always recommend that you get a sample of the turf you want to buy to ensure that the appearance, texture, and quality are what you expect after reading the product description and reviews.
We have listed out below a few of the key things you might want to consider before making an artificial grass purchase:
Environmental Credentials
Have you worried that installing an artificial lawn will not be environmentally friendly? If so, here are a few things to consider:
Natural grass will emit carbon throughout its lifetime, but artificial grass only emits carbon during the manufacturing process. And while grass will naturally absorb carbon from the atmosphere in its lifetime, this is often offset by maintaining your lawn through the energy used to water and mow it, for instance. A petrol lawnmower can emit as much pollution in one hour as the equivalent of four hours driving in a car does.
Additionally, an artificial lawn does not require watering. It's amazing how much water is consumed in keeping a lawn looking its best during the summer months!
Almost all artificial grass is also non-toxic and completely safe for children and pets to play on and enjoy. And although you might not have the creepy crawlies that live in natural grass, so much money is spent on chemicals and pesticides which are applied to natural grass areas to keep those very same bugs and insects at bay.
So, there are a number of pros and cons to weigh up when considering this question in your quest for the perfect artificial lawn.
Colour and Appearance
One important factor to look into while purchasing artificial grass is the tone and hue of the green and yellow colours. Good quality artificial grass includes strands of dark and light green, some yellows, and a range of browns to give the look of a real garden. Dark or bright green can be fake looking and does not resemble the look of real grass.
You can also now buy fake grass, which has been designed for the blades to be C shaped rather than straight, to help it stand up better and feel more cushioned underfoot. And some artificial grasses also have curly yellow or brown strands included to more closely resemble real grass.
Height and Density
It is definitely worth paying attention to the details given for the product's blade height and density. This will guide you to how thick the product feels, how soft and luscious it may be underfoot and also how hardwearing.
Where you want to lay artificial grass and for what purpose will probably also feed into the decision about pile height and density. A shorter pile height but with high density will likely be hardwearing and suitable for children's play areas or high footfall areas. Whereas if you are looking for the best artificial grass products for lawns in your garden, it may be worth investing in one with realistic grass height and appearance that feels soft underfoot.
Reason for Purchase
Remember the reasons we gave at the beginning of the review about why you might be looking for the best looking artificial grass; well, all of these will lead you down a certain route for purchase.
If you are looking for something suitable for your dog, there are many products that will not discolour over time like real grass can.
If you have a problem area that gets many usages, like under a swing, for instance, then a durable turf is what you need to narrow your search down. Look at what material the artificial grass backing is made from; polyurethane is much more durable than latex and may help you enjoy your purchase for longer.
Is there other grass that this product needs to match closely to, or do you care about a realistic appearance for your lawn? Then it makes sense to look at grass pile, density and colouring to make sure that you find the right artificial lawn for you.
Conclusion
Deciding to revamp your garden and taking the decision to buy artificial grass is an exciting prospect! But then you start looking at all the products out there, and suddenly it becomes a daunting prospect to select the right artificial turf from the dazzling array of options.
But don't worry, as we are confident that once you have read this review and asked yourself a few important questions, then you will be in a position to find the product that is right for you!
Our aim is that having gone through all of the questions above and read through our best artificial grass reviews, you'll have been able to find a product that ticks all the right boxes for you. However, if you're still undecided about the best artificial lawn for your needs, then we recommend that you give our Editor's Choice a go – Tuda Luxury 30 mm. It is a superior quality, luxurious feeling turf. At an incredibly affordable price per meter, it offers such great value too.
The material is UV protected, meaning it won't fade or discolour in the sunlight, and importantly, this grass lawn has no lead in it, making it completely child safe. It is also extremely easy to clean, so perfect for if you own pets. All you need to do is a quick spray of the hose or wait for a downpour, and any mess will be gone.
It also comes with a high-quality backing which is the key to an artificial lawn, keeping its long-term appearance and durability throughout the seasons and has drainage holes to help water seep out without causing moss and fungus growth at the bottom of the artificial grass.
We hope that we have helped you navigate through the types of artificial grass available on the market and that you find and buy one which fits perfectly into your home and garden – enjoy your new enviable lawn!
Your perfectly optimized content goes here!
Additional Resources