Last Updated on February 15, 2022
Our editors independently research the best products online to produce this list. We may receive commission on purchases made from the links below but this will never affect our product choices.
---
Top 10 Best Fence Paints
If you have been gazing out of your window at the faded and peeling paintwork on your fence panels or shed, then you have probably come to the decision that it is time to spruce up the appearance of your garden without spending a great deal of money, by giving things a lick of paint.
It's a job that you can do without needing to bring in the professionals and is as straightforward as choosing a colour, picking up your paintbrush, and off you go! Well, nearly. Many DIY mishaps happen because the right product isn't selected at the start of the project.
Painting the fence panels around your garden or the garden shed isn't a 5-minute job, and it would be extremely frustrating to spend time and effort, let alone money, in finding out that you need to redo all of that work because of the quality of paint chosen.
But we are here to help, so we have set out our top 10 fence paints along with our buyer's guide's tips and considerations for you to understand the different types of fence paints on the market and what the pros and cons are to each.
How We Compared Fence Paints
To find the right fence paints we considered multiple factors including:
Stain or Paint
Type of Wood
Application
Long-Lasting
Environmental Friendly
Our team independently examined and compared hundreds of products to help satisfy different needs. We spent our time researching fence paints and consulting customer reviews to ultimately bring you what, in our opinion, are the best options on the market right now.
To find out more about our editorial process, take a look here.
Fence Paint Reviews
The Johnstone's 309278 Garden Colours fence paint has great reviews, and we have selected it as our Editor's Choice in this top ten review. You are getting great value for your money as it is inexpensive but designed to be fade-resistant, so that you should only need to repaint the surface once every 2 to 3 years.
You can use it to add a beautiful injection of bright colour to your garden furniture, fence, shed or garden house whilst at the same time protecting the wood beneath. The fence paint is easy to apply and has a quick drying time of 2 hours. Once applied, you can still see the natural wood grain beneath the rich colour.
One litre of this fence paint should cover 12 m², and usually, one coat of paint is sufficient, although if it is rough sawn timber that you are painting, it may require more than a single coat, so bear that in mind. The finish is smooth and almost waxy, and it is excellent at covering a darker shade beneath.
Pros:
Great colour range
Long-lasting finish
Drying time of 2 hours
One coat is usually sufficient
Protects as well as colours
Cons:
It may be thicker to go on than other paints
Images of the colour on the tin may not be completely accurate to a one-coat finish
May require several coats of previously painted surfaces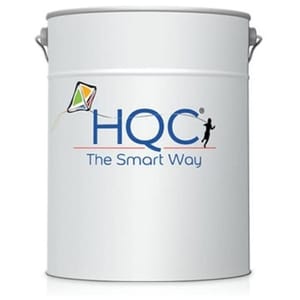 This is a versatile fence paint as it is suitable for all types of wood and masonry, such as brick, terracotta or stone, and can be used on metal as well if a primer is also used! In addition, the paint is wax enriched, which means it not only beautifully coats your garden furniture or wooden fences in colour but also protects them as it is weatherproof and will allow water to run off the surface simply.
It is quick-drying, dry to the touch after 2 hours and ready for a second coat after 4 hours. The fence paint can be applied using a brush, roller or a paint sprayer, and it has a thick consistency so it will not drip or run as you apply it. Once applied, the natural grain of your wood is still visible through the impressive range of colours available in this brand of quality paint.
Another positive about this paint is that it is water-based, so it will not cause any harm to the environment and is easy to clean from brushes or rollers after use!
It is worth noting that the manufacturers do recommend that two coats are applied for the perfect finish. It is also worth getting a sample of the colour or looking at the paint in an open tin to check that the colour matches your expectations.
Pros:
Wax enriched paint
Weather and waterproof
Water-based so environmentally friendly
Suitable for masonry and metal as well as wood
Easy to apply with brush, roller or sprayer
Cons:
4 hours drying time before reapplying the next coat
Colour may not closely resemble the colour swatch on the tin
It may not be suitable for use on high traffic areas such as decking
This long-life paint is extremely good value and as it provides protection for 5 years on both rough sawn and smooth planed wood. In addition, the fence paint protects wood from all weather conditions and has UV protection to prevent the colour from fading over time.
The Ronseal Fence Life Plus paint can be applied by brush or spray gun, and 1 litre of it will cover up to 6 m². Additionally, it is possible to apply this paint to damp wood, and it will still coat well. The fence treatment will be showerproof within 1 hour of applying it, giving you plenty of opportunities to reapply.
This is water-based paint and applies easily, but you may need to apply two or three coats to get full, even coverage, as the paint may be watery compared to some other fence paints.
Pros:
Dries very quickly
Safe for pets and plants
15 available colours
Suitable for rough sawn timber and smooth planed wood
5-year protection
Cons:
Smooth planed wood may require three coats
There may be differences in batches of the same paint colour
It may require more than the two or three coats advertised
This fence paint by Ronseal is showerproof in just 1 hour after applying and gives you great colour and protection in just one coat! 1 litre of paint will cover 6 m², and a 5-litre tin will be sufficient for six fence panels.
It is suitable for rough sawn wood and smooth and can be used on sheds and fences. Additionally, this paint will keep your shed and fence protected and the same rich colour for 2 years before you will need to reapply. UV protection in the paint prevents the colour from fading or becoming grey over time.
This one coat of paint can be applied using either a brush or spray paint and can be applied over the top of previously stained wood without needing to sand it down fully! It also comes in a choice of six different colours so you can find the perfect one for your garden.
Pros:
Showerproof within 1 hour
Only one coat required
Six colour options are available
UV and weather protection for 2 years
Suitable for sheds and fence panels
Cons:
It may not be efficient at covering previously painted surfaces
It may need more than one coat where wood absorbs the paint at different levels
It may cause splashing or running as it is a thin product
This wood preserver by Timbashield enhances the natural appearance of wood as well as protecting it. It is water-resistant and offers UV protection, so the colour does not fade over time. It can also protect rough sawn timber from dry-film fungal growth.
This paint is suitable for shed and fence panels as well as other garden furniture. One coat is usually sufficient, but more can be applied to enhance the natural colour. The stain can be applied with a paintbrush, sprayed or you can even dip items where this is possible.
The paint is solvent-based and mixes special pigments of colour with wood preservatives made from oils, waxes and resins. It also contains a biocide to prevent mould from growing on the timber. One litre of the paint will cover 12 m² of smooth planed wood and up to 8 m² of rough sawn wood. You need to allow 8 hours of drying time between coats.
It is worth noting that the wood protection comes up a lot darker when applied to protect rough sawn timber than when applied to a smooth surface. It is always best to do a sample test of the colour somewhere inconspicuous before painting the main section.
Pros:
Enhances the natural appearance of wood
Water repellent
It can be used on all types of timber
Can brush, spray or dip to apply
Prevents mould and fungus
Cons:
Eight hours drying time required between coats
High VOC content may be toxic to wildlife and people if it comes into contact
It may not be long lasting
The Fenceguard fence treatment is specifically targeted at rough sawn timbers and dries to a waterproof film which prevents water ingress and protects fences. The colours are also UV stable and will not discolour or fade over time in bright sunlight.
It has a low odour, so it is not unpleasant to work with and is water-based, so kind to the environment and easy to apply and clean up afterwards. It is designed to be applied to garden fences or sheds with a brush rather than a sprayer.
The fence paint comes in six different colours, and one coat is usually sufficient coverage. If more than one coat is required, it has a drying time of between 2 to 6 hours. One thing to note is that this fence paint is not suitable for use on hardwood furniture or decking or to go over painted or waxed surfaces.
Pros:
Low odour
Environmentally friendly
One coat
Waterproof
Colour fade prevented
Cons:
Not suitable for decking of hardwood furniture
May need more than one coat for even coverage
Not suitable for covering painted fences
King of Paints is a versatile product as the fence paint can be applied using a paint sprayer, brush or roller. It is also suitable for rough sawn wood as well as smooth planed items.
This fence paint also offers an impressive 5 years worth of protection from the winter months of rain, snow and frost. Not only that, but it will also protect against UV damage, meaning the colour won't fade. Additionally, the manufacturers have added fungicides and algaecides to the paint to protect against mildew growth! All of this helping to towards increasing the lifespan of your garden furniture, sheds and fences.
This fence paint is water-based and is environmentally friendly; it also becomes rainproof in just one hour! However, it is worth noting that this is not a single coat paint, with two coats being required on rough sawn and three on smooth planed wood.
Pros:
Prevents mildew
Winter weather and sun resistant
Environmentally friendly
Quick dry
Can be applied with roller, brush or spray gun
Cons:
The paint may need regular stirring while in use
The paint may peel off if scraped
This quick-dry garden shed and fence paint is dry to the touch after just 25 minutes and is water repellent within 1 hour, perfect for working in the autumn or winter months or if you live somewhere where rainfall is common! Additionally, the finished coverage will not peel off or crack.
It can be applied by brush, paint sprayers or roller and is suitable for almost all garden timbers, including furniture, fence panels and sheds. This garden fence paint can be applied over the top of creosote and other paints; you may just need more than one coat to achieve a solid finish.
1 litre of this best fence paint can cover 7m², or a 5 litre tin of paint can complete seven standard size fence panels with one coat. It is water-based and child and pet safe.
When using the paint to cover already painted surfaces, more than a coat may be required, and the end result may be a darker colour than the colour swatch shows.
Pros:
Touch dry in 25 minutes!
Water repellent in 1 hour
Does not peel or crack
It can be applied on top of other finishes
Child and pet safe
Cons:
It may need more than one coat over already treated surfaces
The paint may be watery
This paint by King of Paints is perfect for protecting rough sawn timber as well as smooth planed wood and can be applied to pretty much any wood in your garden. The fence paint offers up to 5 years of protection against rain, frost and snow and is also fade resistant to sunlight! In addition, the paint can be applied even to damp wood and is rain-resistant in just one hour!
You can paint a fence using a brush, roller or sprayer, and the black is a stand-out rich colour against which you can grow plants for bright colour pops.
Additionally, King of Paints manufactures their paint with a blend of fungicides and algaecides to prevent mildew from developing, all helping to extend the lifespan of your fence or shed. You will need to apply two coats on rough or three coats on smooth planed wood to get the finish you require.
Pros:
Quick-drying
Mildew resistant
It can be applied with a brush, roller or spray gun
Suitable for all timber types
5 years protection
Cons:
It may look tacky or oily when applied
The paint may not be suitable for decking
This is a quick-drying, one-coat, wax enriched paint by Johnstones. It is easy to apply with a brush and dries quickly. If more than one coat is needed, you only need to wait between 2 to 4 hours for this best fence paint to fully dry.
Being wax enriched makes the fence paint water repellent and protected against UV rays. It is also safe to plant and animal life, although the paint may stain foliage if left, so it is better to clean any splodges.
Johnstones are so confident of its performance that this paint comes with a 3-year guarantee! The fence paint protects rough sawn wood, such as fences, sheds and trellis, and comes in a choice of five colours. One litre of paint will cover 6 m², and it comes in either 5 or a good-sized 9-litre container.
The guidance provided does say that the one coat advice is for new, good condition timber and that if the wood is older or has been exposed to the weather, then two coats may be required. It is worth knowing when you are placing an order and need to work out quantities!
Pros:
3-year guarantee of protection
Wax enriched for water protection
Safe for plants and animals
Quick-drying
One coat on good condition wood
Cons:
It may not be suitable for smooth planed woods
Old or porous wood may require two coats or more
Thin paint so it may be messy to apply
Buyer's Guide
There are a number of things to consider when purchasing the best fence paint for you out there on the market. It is not quite as simple as finding a colour that you like and getting started.
There are fence paints and stains, which achieve totally different finishes, but both protect the wood beneath. There are also fence paints that are suitable only for certain types of wood, and then others that can be applied to metal and masonry, as well as to the wood. Some paints are quick-drying, some will last for up to 5 years, some will protect against mildew and fungus. As you can see from just this initial set of features, there are many things to consider before buying that best fence paint!
Below, we have set out some of the key questions to answer to help you choose the right fence paint for you.
Stain or Paint
There are two main types of the best fence treatment, stain or paint. With a stain, you are retaining the natural colour and appearance of the wood but maybe enhancing the tones by selecting a coloured stain. With paint, you will see less of the natural wood beneath, although some do retain the appearance and texture of the wood grain.
Each has its pros and cons; with a stain, it is not possible to go over a fence panel or shed that has previously been painted as it won't cover it, but they are easy to apply, and there is less issue with colour matching or coverage, as you are enhancing what is already there.
With modern fence paints, you can go for a striking colour such as black or slate grey to set your wooden fence apart from your neighbours, and green foliage takes on a wonderful vibrancy when in front of dark colours! But with paints, you have to ensure even coverage and may suffer more from colour fade and wear and tear as time goes by.
Type of Wood?
Some stains or fence paints are only suitable for rough sawn wood, such as fence panels, sheds or trellis, and not smooth paned wood. Or they may say they can be used for both but will take more coats for smooth timber. It is something to take into account when selecting the best garden fence paint.
Application
How many panels do you have, or how big is that shed you want to paint? Why? Because not all paints and stains are suitable for spray application, and if they are not, you will be painting by brush or roller, which will be time-consuming if you have a large area to do.
Long-Lasting?
Are you someone who likes to mix up the colour of your shed or fence panels at regular intervals, or is this a maintenance job that you hate and want to do it as infrequently as possible? Well, some of our top 10 paints will last for up to 2 years, some are guaranteed for 3 years, and one or two are for up to 5 years before you have to repaint them! So just choose the one that works for you.
Environmentally Friendly
Water-based paint is environmentally friendly and will not harm plant or animal life. However, some paints have high levels of VOC and are toxic to the environment and to people. Therefore, it is worth reviewing the VOC levels of paint before you purchase.
Conclusion
Hopefully, this review has helped provide the information and advice you need to find the best fence paint for your needs. However, if you're still struggling to choose the right one out of the many fence paints on offer, you can try our Editor's Choice – the Johnstone's 309278 Garden Colours paint.
It gives excellent long-lasting fence paint colour, up to two years or maybe even more, and comes in a range of colours for you to choose from. It dries quickly, just 2 hours, so if you do need to do more than the recommended one coat, then you are not waiting for very long at all before you can apply that next fence treatment. The fence paint is also fade-resistant, so you should not lose the vibrancy of the colour over time.
It is one of the best fence paints for coverage, giving an impressive 12 m² per litre of high-quality paint and providing great weather protection! It is also a pretty thick paint, providing you with less mess fence care! Another benefit of its thick consistency and depth of colour is that it gives good coverage over previous paint colours. So if the previous house owners favoured an orange shade of wood, now you can confidently apply this fence paint over the top and move into the sleek grey shades or pops of colour that are now more popular.
With the vibrancy of colours on offer and how much it can protect the wood beneath it, this paint will give you the best fence panels on the street!
We hope your sheds and fences will be the envy of all of your neighbours!
Additional Resources