Last Updated on February 28, 2022
Our editors independently research the best products online to produce this list. We may receive commission on purchases made from the links below but this will never affect our product choices.
---
Top 10 Best Hotpoint Washing Machines
The best hotpoint washing machine in the UK is a crucial tool for many households. Though various washing machines are available for today's homeowners to explore, Hotpoint often ranks as a better-known and more popular choice.
Hotpoint washing machines come in a range of shapes and sizes to suit various needs. Over the years, many consumers have developed their preferences when choosing the best Hotpoint washing machines. Some concentrate on things like spin speed, while others prefer to invest in environmentally friendly performance.
If you're planning on purchasing a new washing machine from your favourite washing machine brand, you're in the right place. Today, we're going to look at some of the top Hotpoint washing machines on the market, rated for their performance and features.
How we Compared Hotpoint Washing Machines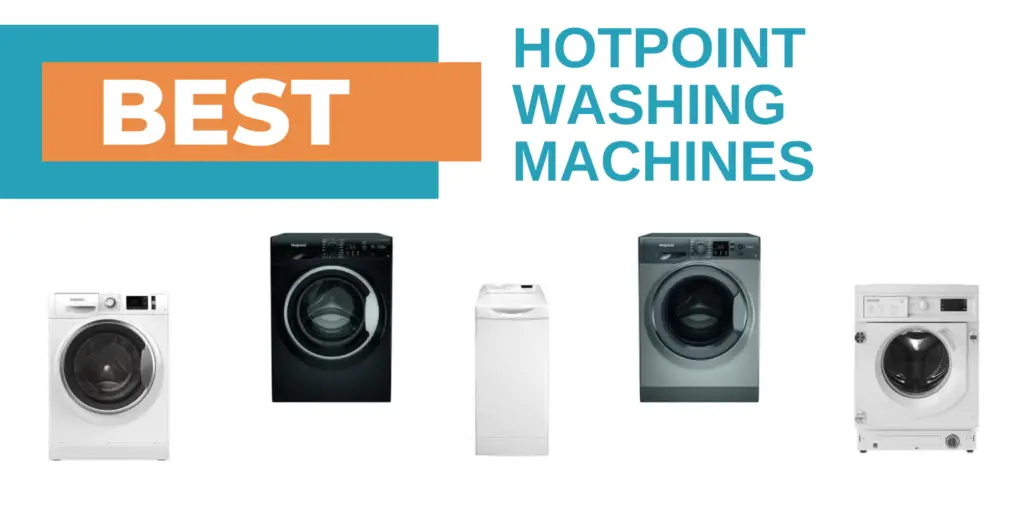 To find the right Hotpoint washing machines we considered multiple factors, including:
Cycle options
Drum size or capacity
Spin speed
Energy efficiency
Special features
Our team independently examined and compared hundreds of products to help satisfy different needs. We spent our time researching Hotpoint washing machines and consulting customer reviews to ultimately bring you what, in our opinion, are the best options on the market right now.
To find out more about our editorial process, take a look here.
Hotpoint Washing Machine Reviews
Stylish and effective, the Hotpoint 9kg 1600RPM washing machine is a high-performance and energy-efficient Hotpoint washing machine for the modern household. 
Like many Hotpoint machines, this product comes with a range of wash cycle options, adjustable spin speed, and a great capacity for families. There's even an inverter brushless motor for quiet operation.
The Hotpoint 9kg washing machine comes with a range of great features, including a massive capacity with enough room for up to 45 t-shirts, as well as bed linen, towels, and more. The range of wash cycle options includes a rapid 30-minute wash for quick washes when you need items in a hurry. There's also a 24-hour delay, so you can run your washing machine when you're not around.
Unlike most washing machines, this Hotpoint device comes with fantastic energy consumption and a great energy rating. There's also a 10-year parts and labour warranty and a convenient stain removal cycle for removing common household stains.
However, it does come with some disadvantages. It does not have that many program options, and it might be challenging to install, especially on your own.
Pros:
Low energy consumption
Looks great alongside other kitchen appliances
Brushless motor for quiet operations
Stain removal cycle
A quick wash and delay timer
Cons:
Some limitations in program options
Maybe a little difficult to install on your own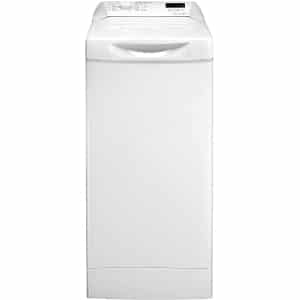 Another phenomenal option for the best Hotpoint washing machine with a high energy rating of A++ for lower electricity bills, the Hotpoint Aquarius will keep your clothes clean in style. 
This high-capacity washing machine comes with a larger drum to help with double duvet cleaning and washing other complex items. The top-loading design means it's wonderfully easy to use.
This Hotpoint washing machine has everything homeowners need to manage large loads of washing quickly. The Hotpoint machine can remove stains easily and offer a range of rinse and spin cycles, depending on your needs. There's also an extra rinse cycle if you think you need to remove remaining stains and excess water.
For those who want to minimise noise levels during family time, you'll also get a delay timer, so you can start your wash going at the time that best suits you. Plus, this slimline washing machine also fits well into a range of kitchen environments. You can get the capacity you need for a smaller family without having to spend a fortune on a compact but reliable device.
On the other hand, you may find that it only has a few washing cycle options. Also, it may not be a great option if you have a large household.
Pros:
Excellent energy efficiency
Very easy to use design
Large drum for a small family
Delay option for starting washes whenever you choose
Helpful display included
Cons:
May have too few-cycle options for some families
Not intended for very large households
There is a huge range of great Hotpoint machines on the market today, offering excellent aesthetics and ease of use. 
This simple but effective 7kg washing machine can hold up to 40 shirts simultaneously, with an easy access front-loading drum. This convenient washing machine also has a rapid 30-minute wash to help you get the clothes you need faster.
With laundry cycles to suit a range of needs, this Hotpoint brand washing machine can get all kinds of clothes looking as good as new in no time. There's steam hygiene technology built-in to enhance your wash's performance, remove allergens, and kill unwanted bacteria. The high-speed rapid wash also gives you access to the clothes you need in 30 minutes or less.
For a more intensive wash, the anti-stain cycle will remove common laundry stains from your clothes without the need for pre-treatment. There's also a delay timer with up to 24 hours of delays, so you can set your cycles to run when it suits you. This is great if you want to wait until after you're done entertaining or hanging out with loved ones before you start a wash on high spin speed.
Meanwhile, you may find that this washing machine does not have that many heat and wash control options. Also, it might be quite hard to install.
Pros:
Easy to use design
Plenty of room for a small family with decent amounts of clothes
Rapid cycle option with good spin speed
Excellent stain removal wash
Delay timer included
Cons:
Maybe lacking in some heat and wash control options
Maybe a little challenging to install
Sometimes, the best washing machine is the one well-suited to fit with the rest of your kitchen design. 
That is certainly the case with this BI WMHG built-in washing machine from the Hotpoint brand. One of the best models to consider if you want to hide your washing machine in your kitchen, the Hotpoint BI is easy to use and comes with a range of great features.
A great alternative to a freestanding washing machine when you don't have a lot of room in your kitchen or laundry room, the Hotpoint BI integrates into your existing kitchen cabinets. This device comes with intelligent anti-stain technology to help remove dirt and allergens from your clothes without pre-treatment. There's also a set of 15 different programs to choose from.
You can switch from rapid cycles for washing your clothes in 30 minutes or less to washing machine cycles designed specifically for delicates. It is given the Woolmark Platinum care apparel green certification, so you know your woolen clothes are protected too. Plus, easy operation means anyone can enjoy this device without having to read through endless instructions.
Like other washing machines, this equipment also has its flaws. One common problem users have with this is that it does not work well when using washing powder.
Pros:
Excellent for integrating into existing kitchen
Anti-stain technology included
15 cycle options, including rapid cycle
Woolmark platinum care for clothes
Decent compact design
Cons:
It might be complex to install for some
May work better with capsules over washing powder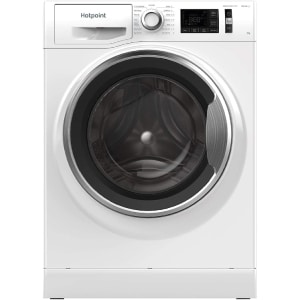 With 9kg of capacity for all your washing needs, the Hotpoint NM11 is a Hotpoint freestanding washing machine that can also be considered the best.
It is suitable for a large family looking to reduce energy use. This stain-busting washing machine has everything you need for a simpler life. Like many different models from Hotpoint, the product comes with stain removal technology built-in.
The Hotpoint NM11 might be just what you need for your family, with a great drum size and plenty of cycle options. The ActiveCare technology built-in can remove over 100 stain types at just 20 degrees, so you can reduce your energy consumption and get the clothes you need with quick washes. There's also access to steam hygiene and refresh cycles for better protection when keeping laundry clean and fresh.
Steam refresh offers a dedicated cycle for homeowners hoping to freshen clothing without a full point. The cycle only takes 20 minutes, and the wash settings help reduce creases for easier ironing. If you're looking for eco-friendly and easy-to-use Hotpoint models, the NM11 freestanding washing machine could be a fantastic choice.
However, you may notice that it only has a few advanced washing machine control options compared to the other models. Also, some users think that the design is not that appealing.
Pros:
Excellent energy efficiency
A range of wash settings to choose from
High-performance washing machine with steam stain removal
Removes 99.9% of common bacteria and most stains
Simple and straightforward design
Cons:
May lack some advanced washing machine control options
May not have the right colour for some kitchens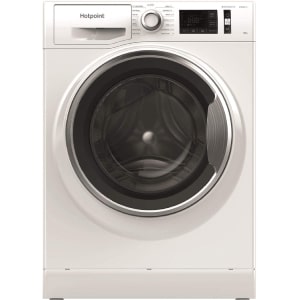 An advanced Hotpoint washing machine designed for the modern household, the Hotpoint NM11 1044 version has all the features you need for exceptional washing. This product has a capacity of 10kg, excellent for larger families, and it's ready to tackle a range of complicated stains fast. Like some of the other best Hotpoint washing machines, this device will make washing cycles easier than ever.
NM11 1044 Hotpoint washing machines offer an excellent combination of environmentally friendly performance and simplicity. The ActiveCare technology in this high-performance washing machine will rapidly and effectively remove 100 different stains at no more than 20 degrees. The device also comes with a steam cycle to help improve freshness and hygiene.
Ideal for speeding up your washing process while minimising your impact on the environment, there are both rapid and eco-friendly wash cycles to choose from. Another great feature is the "stop and add" button, which allows you to stop your cycle at any moment and add in an item you've missed without having to start from scratch.
It is important to note that this washing machine can be noisier than others. Also, its spinning function may not have the advanced features that you were looking for.
Pros:
Convenient stop and add function
Rapid and eco-friendly cycles for saving money
Steam functionality for hygiene and freshness
Excellent stain removal at 20 degrees
Great capacity for larger families
Cons:
It can be a little noisy
It may have some limitations on spinning functions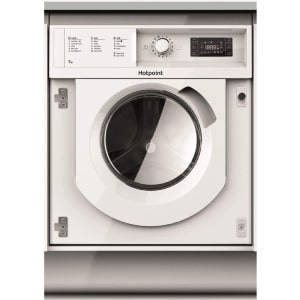 One of the reasons Hotpoint washing machines are so popular is that there are so many different model types. 
You can find freestanding washing machines or washing machines that build into your existing kitchen design. Most Hotpoint washing machines offer excellent efficiency and simple performance, too, like this 7kg integrated model.
One of the most appealing Hotpoint washing machines for those searching for a washing machine for their fitted kitchen, this 7kg integrated device seamlessly fits your home design. All the standard wash settings and features are available, including a convenient detergent drawer, a range of spin cycle options, and an anti-stain cycle to remove more than 30 stains at 40 degrees.
There's Woolmark protection built-in to protect your more fragile items with delicate wash programs. You also get a decent drum capacity in a washing machine that's small enough to reduce energy consumption and take up minimal space in your home. With a digital display and LED cycle phase indicators, you can also easily track the progress of your washing cycles.
However, if you have a large family, this washing machine may not be a great choice for you. Also, the installation process might be complicated and time-consuming.
Pros:
High energy ratings for eco-friendly homes
Digital display with cycle phase indicators and 24-hour delay timer
Woolmark function for protecting delicate items
Quick cycles and anti-stain cycle
Decent drum capacity for smaller homes
Cons:
Drum size may be a little too small for bigger families
Integrated models can come with complex installations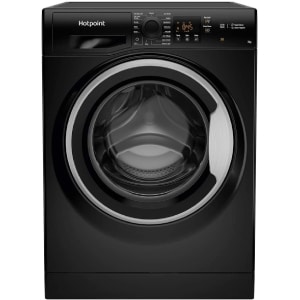 This washing machine is a sleek and eye-catching Hotpoint washing machine with a 7kg drum capacity. An A+++ rating means you know every laundry session is kind to the environment and great for your energy bills. This high-performance washing machine also comes with a rapid maximum speed cycle so that you can reduce the time to drying.
Great for quick washes and more intensive wash settings, this Hotpoint washing machine can tackle all kinds of cleaning tasks. A total of 16 programmes to choose from, depending on your chosen fabric and how quickly you need your clothes. The super eco-friendly design will keep your energy bills as low as possible no matter which cycle you choose.
An LCD helps you to sort through your options, and the Hotpoint machine comes with plenty of guidance to assist you too. The large front-opening door makes it easy to load and unload your clothing with minimal headaches.
While this is a great option, this washing machine may not be the best choice if you have a large family. 
Pros:
Attractive design for a modern kitchen

Range of 16 washing cycles available
Eco-friendly design with great energy ratings
Highly rated among Hotpoint washing machines
Great spinning speed for enhanced drying
Cons:
May not fit into all kitchens
It may not have enough drum capacity for some families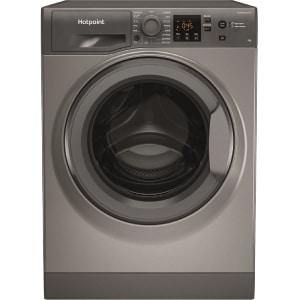 Offering an amazing energy rating of A+++, the Hotpoint NSWM843CGGUKN is one of the more efficient washing machines on the market, with a one year warranty and 10-year parts guarantee. With the same dimensions as most 8kg washing machines, this device should fit easily into the majority of kitchen environments too.
If you're looking for washing machines with a slightly higher capacity and a great spin speed, this freestanding hot point is a great choice. There's an anti-stain cycle to remove many of the most common household stains with minimal effort or pre-treatment. According to Hotpoint washing machine reviews, the brushless motor also helps to reduce noise, even during high spin speed cycles.
This convenient Hotpoint washing machine has enough capacity for around 40 shirts, and it features a 24-hour delay timer, so you can wait until you're ready to start washing your clothes. On top of that, you can rest assured everything on these Hotpoint machines will be easy to use too.
While this can be the best Hotpoint washing machine in the UK, it does have its disadvantages. This washing machine may lack some advanced settings, and it may not be suitable for large households.
Pros:
Easy to use washing machine design
One year warranty and 10-year parts guarantee
24-hour delay timer for washing when you choose
Hotpoint brand stain removal technology
8kg capacity
Cons:
May lack some advanced settings
It may not be large enough for some bigger families
If your idea of the best Hotpoint washing machine is a solution with high spin speed, eco-friendly performance, and an integrated design to fit perfectly into your kitchen, this could be the product for you. These 8k integrated Hotpoint washing machines save space in your kitchen by slotting easily into an existing cupboard or cabinet. There's even an ultra-quiet motor to reduce the sound of the spin cycle.
This affordable washing machine from Hotpoint comes with a range of the top features from modern Hotpoint washing machines, including an anti-stain cycle to tackle common stains. There's a 10-year parts warranty and a one-year labour warranty for peace of mind in your investment. You'll also get an excellent energy rating, so you don't have to worry about wasting excess water or electricity.
The 24-hour delay timer on this Hotpoint machine also means you can pause your laundry load until you're ready to start it running again. This could be ideal if you don't want the noise of a washing machine distracting you while you're doing something in the next room.
However, this washing machine might be difficult to set up. Also, some have expressed concerns that the 30-minute wash is not enough for heavy laundry loads.
Pros:
Integrates easily into the existing kitchen environment
Anti-stain setting to get rid of unwanted marks
Fantastic energy rating
8kg load capacity for small families
24-hour delay timer included
Cons:
It may be difficult to install without professional guidance
The fast 30-minute wash may not be enough for all laundry load
Choosing the Best Hotpoint Washing Machines
Hotpoint washing machines are well known for their fantastic spin speed, efficient performance, and ability to offer a wide range of cycle options. If you've decided to upgrade your washing machine but want to stick with a brand you can trust, you may want to focus on just the most successful products available from Hotpoint.
When sorting through the reviews above, remember to think carefully about the features that matter most to you for your washing machine.
Cycle Options
Most Hotpoint washing machines come with special stain removal cycles or cycles specifically dedicated to getting your clothes clean and dry faster. However, there are some models with even more options than others. For instance, a more expensive model might include an anti-allergy programme for removing allergens and dust mites. If an anti-allergy cycle or something similar is important to you, check for this feature before investing in a new washing machine.
Drum Size or Capacity
Your washing machines need to be big enough to handle the regular loads of laundry you need to deal with. Most washing machines start with a capacity of around 7kg. The bigger the internal drum, the more you'll be able to wash at once without putting your machine at risk. A larger machine can be ideal for doing a large amount of family washing at the same time.
Spin Speed
Spin speed is an important consideration because it means your washing machines can dry off your clothing slightly before you remove them from the device. Faster spinning means your clothes can spend less time hanging up on a line or spinning in a tumble dryer, which can be ideal if you want to get through chores quickly. Remember that high speeds can make a device a little noisier too.
Energy Efficiency
Good energy efficiency is an important consideration for many households today. You'll need to look for a device with a good energy rating of A or above to ensure you're not wasting cash on expensive washing cycles. Look for other ways to save money with your washing machine, too, like an economy cycle or quick wash modes when you only need to give your clothing a quick rinse.
Special Features
Many modern washing machines from Hotpoint can include special features, like an extra rinse mode for sensitive skin or a hand wash mode. You may also need to look for special wool protection modes, so you can avoid damaging the more delicate items in your clothing collection.
The decision of which Hotpoint washing machine to choose will differ according to your needs. There are plenty of options out there, from a Hotpoint super silent washing machine to products great for when you need to remove allergens.
Exploring Popular Hotpoint Washing Machines
The best hotpoint washing machine in the UK will depend on your situation. Everything from the amount of laundry you do each day to the kind of cycles you need will impact your purchasing choice.
For this review, we've chosen the NSWM963CBSUKN 9kg 1600rpm Freestanding as our top choice. This freestanding washing machine combines excellent stain management with a range of washing settings and a high capacity for the whole family.
There's a range of features to explore to help remove allergens and dirt, and prices tend to be quite affordable compared to other products with similar functionality. You even get the benefit of a Hotpoint brand freestanding washing machine that looks great in any kitchen.
Additional Resources
Nicole has a passion for everything about the home – especially decor. She loves to add new touches and style to every part of the house. Join her as she documents her ideas at Home & Style.