Last Updated on February 17, 2022
Our editors independently research the best products online to produce this list. We may receive commission on purchases made from the links below but this will never affect our product choices.
---
Top 10 Best Rotary Tools
Rotary tools, also known as multi-tools, are some of the most versatile tools made. If you are looking for a great tool to help you accomplish a huge range of craft projects as well as heavier duty construction tasks, a rotary tool may be just what you need. Many people believe rotary tools are a must-have in the workshop of every tradesman.
With this in mind, it is not always easy to find what you are looking for in rotary tools due to the wide range of options available on the market today. That is why we are here to help. If you want to know the best rotary tool in the UK that will be suitable for your light and heavy-duty work, go through this review of the best rotary tools. We think you will find what exactly you need.
How we Compared Rotary Tools
To find the right rotary tools we considered multiple factors, including:
Torque and power capacity
Variable speeds
Type of power supply
Accessories
Our team independently examined and compared hundreds of products to help satisfy different needs. We spent our time researching rotary tools and consulting customer reviews to ultimately bring you what, in our opinion, are the best options on the market right now.
To find out more about our editorial process, take a look here.
The Best Rotary Tools: Our Top 10 Picks
If you want a beautifully carved structure or a well-adorned project, you should consider Dremel 8220 Cordless Rotary tool with an integrated EZ twist nose cap. It is a great all-around choice that comes with a variety of accessories to help you accomplish a wide range of tasks, and thanks to the EZ twist nose cap, the accessories will be easy to switch out without the need for a wrench.
The Dremel tools are at the forefront of the rotary tool market due to their outstanding performance. This rotary tool has a separate on/off switch for precision control and accessory functionality. Also, it has an adjustable variable speed control for fluid control when engaged in project execution.
It comes with cutting, cleaning, polishing, sanding, and sharpening accessories. In total, this rotary multi-tool comes with two attachments plus 45 accessories. A convenient 360-degree LED light lights up your workspace, giving you better results in the end.
The Dremel 8220 Cordless is very light, weighing just a little more than half a kilogram, and features a soft-grip ergonomic handle. Hence, it is quite easy to manoeuvre. The collet is extremely flexible to attach accessories to and is quite effective, therefore affording you a smooth, seamless operation. The strong lithium battery charges up to 2 years with no memory effect.
With these Dremel tools, replacement batteries could be expensive and difficult to find, and the speed control is separate from the power switch, making it somewhat less intuitive to use. We also think the tool kit case could be better organised, but overall, this makes an excellent choice for most people.
Pros:
Lightweight and ergonomic design
360-degree LED light
Strong lithium battery for longer run time
Two attachments and 45 accessories
E-Z twist nose cap  
Cons:
The poorly organised accessory case 
Trickier speed control  
Replacement batteries can be difficult to find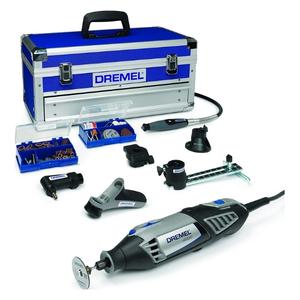 Simply put, the Dremel Platinum Edition 4000 Rotary Tool is a fantastic rotary tool. Whether you intend to carve or engrave any hard or soft material, this rotary tool's high-speed cutter allows easy hollowing, grooving, slotting and shaping.  
The slim ergonomic design of the Dremel Platinum Edition 4000 Rotary Tool makes it compact for working in tight spaces. Also, with this design structure, you can easily handle it, even for extended periods of time. 
It comes with a box of accessories that has in it an engraving cutter, high-speed cutter, fibreglass-reinforced cut-off wheel, silicon carbide grinding stone, polishing wheel, polishing compound, grit sanding band, wrench, and a mandrel. All in all, this rotary tool kit contains six attachments and 128 accessories that seriously increase its versatility and usability as a whole.
The speed of the Dremel Platinum Edition 4000 Rotary Tool can be adjusted between 5,000 and 35,000rpm. It also has a separate on and off switch for proper control. It is designed to be held with ease like a pencil between the thumb and forefingers. The brilliantly moulded high-density plastic tool comes with a docking station for charging and automatically stops when the battery capacity is full.
We wish this rotary multi-tool kit came with more thorough instructions that explain all of the accessories. In addition, it can be a bit noisy, and it may heat up quite a bit when used for lengthier periods of time. However, we still think it makes a great, highly versatile luxury choice.
Pros:
High capacity rechargeable battery
Sleek and ergonomic design structure
Wide range of speed settings
Range of accessories included
High-speed cutter 
Cons:
It can be a bit noisy 
Lacks thorough instructions 
Might heat up on lengthier projects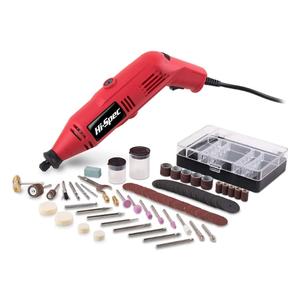 The Hi-Spec DT30304 Corded Multi-Purpose Rotary Tool is a powerful motor rotary kit with the excellent feature of adjustable speed from 8000 to 30,000 RPM.  
This device is powered by a motor with a power rating of 130 watts powers. However, a more powerful 170-watt model is also available. This rotary multi-tool device is equipped with an anti-slip rubber cover that supports easy grip and enhances smooth operation. It is not heavy; therefore, it is very easy to operate and handle as a whole.
When it comes to rotary tool kits, this makes a great option for DIY enthusiasts and anyone looking to explore all the things that can be accomplished with this type of tool. Thanks to these corded models, you won't have to worry about charging either. Simply plug one into a mains power outlet and get started.
Besides, the Hi-Spec DT30304 Corded Multi-Purpose Rotary Tool gives value for its price as it has about 120 accessories that can be used for a different project. The spindle lock allows easy removal and replacement of accessories. With this rotary kit, you can do a lot of different home projects without stress.
When it comes to accomplishing heavier or large scale jobs, this may not be the best rotary tool kit on our list. It also has the potential to be less durable, and it might be too powerful for completing smooth sanding jobs but considering its excellent value and other features, we still recommend it for lighter work projects.
Pros:
Variable speed adjustment
Anti-grip rubber for easy handling.
Charging indicator for charging monitoring
Variable speed settings 
Excellent value 
Cons:
It could be less durable 
Not the best for heavier or large scale jobs 
Not ideal for smooth sanding projects
Cordless rotary tools are a great option if you are looking for a bit more freedom of movement while you work. This is what you will get with the Ginour 3.7 V Cordless: the freedom to complete 360-degree tasks and the ability to move around your workstation uninhibited by power cords.
The Ginour cordless rotary tool is an excellent choice for completing smaller jobs and DIY tasks. It is equipped to help you complete a variety of polishing, cleaning, engraving, and drilling tasks. To help you accomplish these jobs, this particular model comes with a 32 piece accessory kit contained in a small plastic box.
Overall, this rotary tool kit is lightweight and compact enough that some would consider it a mini rotary tool. It is designed to be pen-sized with a comfortable grip making it easy to use, highly portable and easy to store.
This rotary tool features variable speed settings with three options: 5,000, 10,000, and a maximum speed of 15,000 rpm. The cordless design uses a rechargeable battery with convenient USB charging for a power source. The battery takes two hours to fully charge, and Ginour estimates it will last for approximately 90 minutes at full power when fully charged.
Potential drawbacks to this cordless rotary tool include it coming with fewer accessories than other top models and the drill bits possibly being less durable. Also, the battery life may not last as long as expected, but we still think it does a pretty good job considering its more compact size.
Pros:
Great for DIY tasks 
USB charging
Variable rotary speed  
Convenient cordless rotary tool design 
Lightweight and compact 
Cons:
The drill bits may be less durable 
Fewer included accessories  
The battery charge may not last as long as expected
The VonHaus 170 W Rotary Multitool is a superb heavy duty rotary polisher. Without mincing words, it is an excellent option for anybody who prefers the convenience of using a specific tool as opposed to a multi-functional tool.
This rotary tool's motor is brushless for efficient and quiet performance. While it will obviously produce some noise, unlike some other models, it should not cause a disturbance in your workspace. This rotary tool is also equipped with a rubber gearcase to reduce imperfection for an easier grip and enhance the user's safety and the tool overall.
This reliable device operates with a motor that has a power rating of 170 watts. More so, it comes with a 120-piece accessory. These accessories are easy to keep and locate whenever you need them, thanks to the carry case that comes with the product as well.
Like most rotary tools, the speed of this device can be adjusted using a variable speed dial. The speed variation range is quite impressive, running from 8,000 rpm to 30,000 rpm. To top it off, the VonHaus 170 W Rotary Multitool comes with a two-year manufacturer's warranty.
Regretfully, the chuck could start to loosen a bit as you use this rotary tool, especially on lengthier jobs. Othe potential cons include the cutting disks possibly breaking somewhat easily and it potentially being somewhat less durable overall when compared to other top options on our best-of list.
Pros:
Very fast and efficient motor
Variable speed control
Suitable for all types of polishing applications 
2-year manufacturer's warranty 
120 piece accessory kit 
Cons:
The chuck could loosen with extended use 
It may not be the most durable option 
The cutting disks could break easily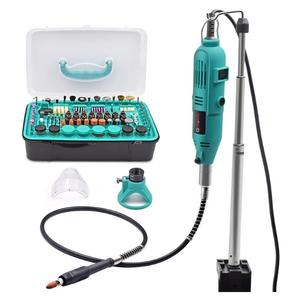 Next up, the GOXAWEE Multipurpose Rotary Tool Set enters this review of the best rotary tool on the UK market today. Durable, lightweight and affordable, this rotary tool is a great option for any homeowner looking for a powerful, high-performance rotary tool. 
The GOXAWEE Multipurpose Rotary Tool Kit is a speed-adjustable electric tool that helps you cut, grind, engrave, and sand easily. It offers optimum control and precision with six variable speed settings – the lowest of which is 8,000 rpm while the highest is 30,000 rpm.
One great advantage of this tool is that it has a universal collet that accepts every standard rotary accessory on the market. It also comes with a whopping 288 pieces in the kit and a convenient storage case to help you keep track of and easily locate all the different parts. It has a high-torque motor which is twice as powerful as the torque of the leading competitors.
Therefore, it does not matter whether you are a DIY enthusiast or a tradesman. As long as you require a quality rotary tool for your work, this device will reliably serve your needs adequately. It also comes with a handy tool stand.
Regretfully, the cable extension for this device may prove to be less durable, and the sanding bands leave something to be desired as they are less rugged. Lastly, some of the attachments lack in quality when compared to the actual rotary tool itself.
Pros:
Very versatile and reliable tool kit
Ergonomically-designed for handling support and balance
Variable speed with six settings 
Good for all types of work 
Complete 288-piece set with universal collet
Cons:
The sanding bands are less rugged 
Cable extension could be less durable 
Attachments may lack in quality somewhat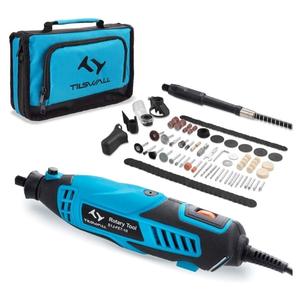 Another spectacular option to make our best-of list is the Tilswall 160 W Corded rotary tool. With this option, you get a continuous, uninterrupted power supply and a whole spectrum of accessories to help round out your collection of tools.
The Tilswall rotary tool features a 160 watt powerful motor with a variable speed setting ranging from 8,000 to 33,000 rpm. This speed range provides you with six different speed options so you can customise the tool to suit your specific workload.
This handheld rotary tool has a flexible shaft to enable comfortable and effective use. This rotary multi tool kit comes with 145 accessories, including a durable sanding ring reinforced with a dense emery material to prevent cracking. All accessories and the tool came easily be stored in the convenient zip-up storage bag included with your purchase.
The entire body of this rotary tool is covered in rubber, providing you with the option for a soft-grip feature anywhere on the tool that you like. In addition to holding it by the shaft, it also has an additional handle for more control over the device and the ability to complete precision work with ease. To top it all off, it also has a built-in LED work light on the tip.
We think you should know that some of the accessories included with the Tilswall rotary tool kit may not be of the highest quality, and there are reports indicating some kits could arrive without all of the pieces. Lastly, the directions are not very thorough and leave something to be desired.
Pros:
Large comfortable grip handle 
Six variable speeds 
LED work light 
145 accessories included 
Highly durable sanding band 
Cons:
It could be missing parts 
Some accessories might be less durable 
Less thorough directions 
The CHOKMAX MRT22DC Cordless rotary tool kit is another superb option for the DIY enthusiast or anyone looking to accomplish smaller jobs. The rotary tool itself is also highly portable and, paired with the cordless design, gives the ability to use it in any location you want.
CHOKMAX rotary tools are ultra-compact and super lightweight, making them very easy to use and hold, regardless of the task. They are powered by a 3.7-volt rechargeable lithium-ion battery meaning there is no need for a bothersome power cord. Instead, you get an unrestricted 360-degree range of motion.
These tools feature three variable speeds with a minimum speed of 5,000 rpm and a maximum speed of 10,000 rpm. The power button is also conveniently recessed somewhat to help minimise the chance of accidentally powering it down while you are trying to hold the device and get work done.
Aside from the ability to control the power and speed level, a 40 piece accessory kit is included with these rotary tools opening up the variety of jobs it can be used for. For charging, a USB cord is also included.
This rotary tool is excellent for DIY jobs, but it is not necessarily ideal for larger jobs, and it has a relatively shorter battery life when compared to other top cordless options. The only other thing we think you should know is that it possesses a lower level of torque which means you can not apply a significant amount of pressure to the tip without it stopping.
Pros:
Ultra-compact and lightweight 
Three variable speed settings 
Cordless design with USB charging 
40 piece accessory kit included 
3.7 V lithium-ion rechargeable battery 
Cons:
Not ideal for larger jobs 
Lower torque ability 
Shorter battery life is possible
Basic convenience and versatility are easily achieved when you use the Vastar 3.7 V Cordless rotary tool. It has an ergonomic design and is relatively small in size, making it easy and comfortable to hold. Choose this rotary tool if you wish to execute special arts and crafts projects and a range of DIY creations.
Each Vastar rotary tool features overload protection and three variable speeds. The power has a range of 6,000 to 21,000 rpm. Simply switch between the three speeds to enable precise and efficient tasks on a variety of surfaces.
The Vastar rotary multi tool kit comes with a soft zip-up case containing 51 different accessories. The included accessories make grinding, carving, cutting, drilling, manicuring, and polishing easily attainable. The rechargeable battery eliminates the need for a restrictive power cord and only takes between one and one and a half hours to fully charge.
A LED light on the tip of this rotary tool illuminates your workspace making it easier to use for precision work and also in darker environments. The handle is also covered in rubber and has an anti-skid function to reduce fatigue, improve your ability to control the device, and make small adjustments.
Interestingly, there are some reports indicating the chucks are oddly sized, making them trickier to use. You may also experience this rotary tool being somewhat less powerful overall, and it isn't necessarily the best choice for lengthier jobs. However, we still think it could make a great addition to a DIY tool kit.
Pros:
LED light on the tip 
Rapid charging time 
Three adjustable speed settings 
Powerful rechargeable battery 
Organised storage case with 51 accessories 
Cons:
Issues with the chucks have been reported 
It could be less powerful 
Not great for lengthier jobs 
The TECCPO TDRT03P 12 V Cordless Rotary Tool is another great option for lovers of quality rotary tools. It has a cordless rotary design for convenience and the ability to complete work at any angle as well as a rapid one hour charging time.
Equipped with four attachments, a 12 V 2.0Ah Li-ion power pack, and 84 different accessories, this cordless rotary tool is cost-effective and highly durable. It is ideal for any DIY sharpening, cleaning, grinding, polishing, cutting, trimming and drilling jobs.
This cordless rotary tool has a variable speed control from which you can select different speeds. This allows you to cater the tool to the specific task you need to accomplish.
If you want a rotary tool with less noise, TECCPO TDRT03P 12 V Cordless Rotary Tool offers great value and less than 65 dB noise. The collet diameter is around ø 0.8mm to ø 3.2mm. A special feature that is peculiar to it is the air outlet design for aeration during use. The design enhances cooling, heat dissipation, and reduction of surface temperature overall. 
We love a cordless tool but be aware; this means you will have to make sure you keep it charged, and even so, it will restrict the amount of time you can use it per job. In addition, the instructions included with this cordless rotary are not very detailed, so you may have to look up some videos online, and TECCPO does not make or sell replacement batteries.
Pros:
Cordless rotary for 360 convenient rotational work
Large capacity battery with 1-hour charging time.
Six variable speeds ranging from 5000 to 25,000 rpm
Highly durable design 
Four attachments and 84 accessories 
Cons:
Cordless drill design isn't for everyone 
Less thorough instructions 
Spare batteries are not available 
Choosing the Best Rotary Tools: A Buyer's Guide
What Are Rotary Tools?
After reading through all of our rotary tool reviews, you may still be left with a few lingering questions. To start answering these potential questions, let's begin with the basics. What is a rotary tool?
A rotary tool is a fast-rotating hand tool that is motor-connected to a spindle for fastening or unfastening a device. It has a various range of accessories for specific duties which are attached to the spindle.
The accessories include sanding bits for cleaning, cutting wheels or cutting discs and polishing tools. It is versatile, portable, power-packed, and can be simply referred to as a do-it-all tool. You can use a rotary tool for several types of projects, including grinding, cleaning, light cutting, carving, drilling, sanding, polishing, and glass working. 
What to Look for In a Rotary Tool
Finding and picking the best rotary multi-tool is a bit easier to do if you know what to look for. The following sections explore what we think are the most important traits found in rotary tools. Look for and compare these traits to narrow down your options and choose the best possible rotary tool for your specific needs.
Torque and Power Capacity
Depending on the size and power capacity, a typical rotary tool spins at about 20,000 rpm. The amount of torque a rotary tool can deliver is based on the power capacity. More power equals the ability to perform heavier duty tasks. If you anticipate the need to perform heavy-duty tasks with your new rotary tool, choose a more powerful option to get the best results.
The only drawback of choosing a more powerful rotary tool is that it will most likely be more cumbersome and also heavier in weight. While this may not make a big difference to many people, the larger and heavier your tool, the harder and more uncomfortable it will become to hold, especially when used for longer periods of time.
Variable Speeds
The ability to use a rotary tool at different speeds helps you adjust it according to the specific task you are doing at the time. That's why almost every rotary tool on the market today features adjustable speed control. Usually, high speeds are best used on harder materials, and slower speeds are best used on softer materials. Most rotary tools feature between three and six different speed settings. For added versatility, choose an option with more speed settings.
Type of Power Supply
There are two main types of rotary tools: ones with a power cord and ones without.
Cordless rotary tools are great for portable use. Cordless options also give you an uninhibited range of motion and do not restrict you to being nearby a mains power outlet. Cordless options also enable you to execute 360-degree tasks easier and more efficiently.
The main drawback to cordless rotary tools is that they require you to charge them to keep them up and to run. The fact that it uses a battery also means that it imposes a time limit on how long it will work before you need to charge it again. Look for shorter charging times for the added convenience and the ability to get more use out of it in a shorter amount of time.
Aside from not needing to be charged, the main benefit to using corded rotary tools is that they are almost always more powerful than their cordless counterparts. This means you will be able to perform heavier duty tasks easier and without a battery imposed time limit looming in the background. If you think the cord might restrict you or get in the way while you work, simply choose a cordless option instead.
Accessories
Most rotary tools come with several attachments and various accessories included. Typical accessories include sanding pads or sanding paper, grinding wheels, cutting discs, drill bits, and more. This may go without saying, but the more accessories you have to use with your rotary tool, the more tasks you will be able to tackle.
If you are familiar with rotary tools and all of the things they make possible, you may want to choose a rotary tool that comes with a greater number of accessories. Adversely, if you are new to using a rotary tool or simply want to perform a few basic tasks, you may not need or want a lot of unnecessary accessories.
The rotary tool kits on our list contain anywhere from 30 to 300 accessories. We recommend only getting what you need, especially if you only want to complete a DIY task or two.
Type of Work
Ultimately, the best multi-tool for you depends on what kinds of tasks you want to accomplish. In general, rotary tools are best used for craft DIY and craft projects. However, they are also great for precision work and use on softer materials, so they provide you with what seems like a limitless amount of possible uses.
If you know what you want to use a rotary tool for, choose one that caters to your specific needs and tasks. If you are using it for sanding purposes, choose a rotary tool with a durable sanding disk or pad. If you want to cut, choose one with top-quality cutting wheels. You get the idea, right?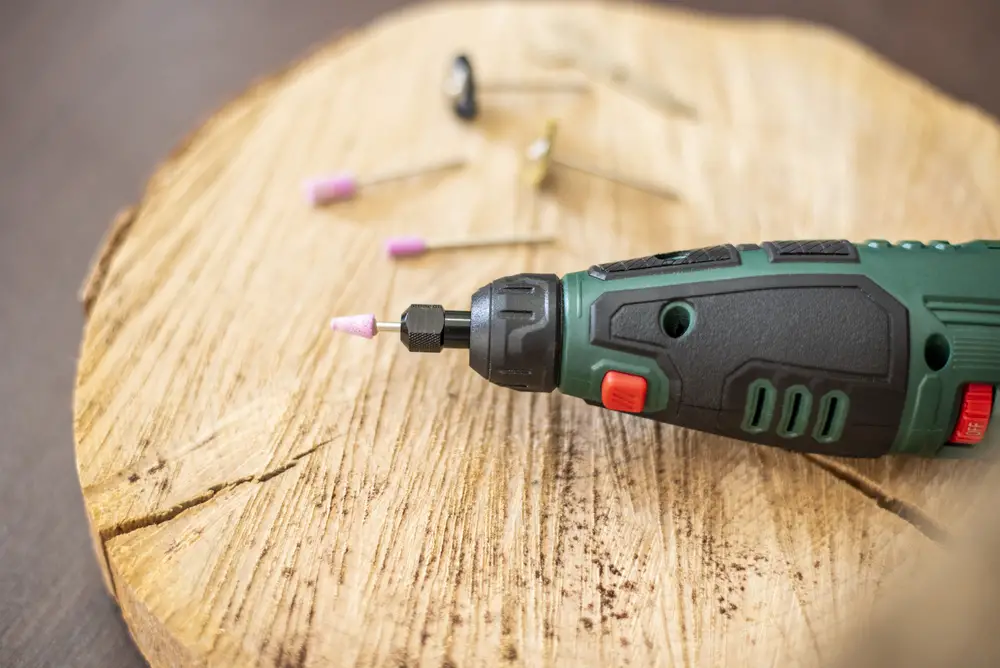 If you want to perform high precision work, you may want to look for a non-slip comfort grip as well as an LED light on the tip to give you a better view of your workspace and materials.
The Best Rotary Tool for Your Needs
Soon, you should be the proud new owner of the best rotary tool in the UK for your work and project purposes. All that is left is for you to determine which one you want.
Our number one Editor's Choice is the Dremel 8220 Cordless Multi-Tool Kit. This ergonomically designed rotary tool is lightweight, has a strong lithium battery, and features an EZ twist nose cap with a 360-degree LED light to help light up your workspace. This Dremel tool also comes with two attachments and 45 accessories, allowing you to accomplish a wide range of specialised tasks with ease.
Our only complaints about this rotary tool kit are that it has a less intuitive speed control function, and replacement batteries can be expensive and possibly difficult to find. If we are being picky, we think the accessory case could be better organised.
If you prefer a corded rotary tool or this Dremel tool just isn't for you, one of the other options on our list may be better suited to your needs.
What do you think about our options? Let us know and leave a comment below!
Additional Resources
Nicole has a passion for everything about the home – especially decor. She loves to add new touches and style to every part of the house. Join her as she documents her ideas at Home & Style.