Last Updated on February 17, 2022
Our editors independently research the best products online to produce this list. We may receive commission on purchases made from the links below but this will never affect our product choices.
---
Top 10 Best Tile Paints
Tile paint is such an inexpensive and less labour intensive way of bringing freshness and a contemporary look to your bathroom and kitchen tiles. In fact, you don't need to stop there; the best tile paints can be used on floor tiles, fireplaces, or even outdoor tiles!
You can now buy these high-quality paints in many different colours, so you are not constrained to the best white tile paint if you are feeling more adventurous!
You can work with oil-based paint, or you can also get water-based tile paint. But whichever you use, look out for features such as one coat or universal paint, so you know you are getting flexibility and a lot of paint for your money!
There are tile paints for all tile surfaces, so why not take a look through our best tile paint list and our buyer's guide for some tips and advice on the best tile paint UK stores have on offer right now!
How We Compared Tile Paints
To find the right tile paints we considered multiple factors including:
Durability
Waterproof and Weatherproof
One coat or more
Oil or Water based
Gloss, Satin or Textured Finish
Our team independently examined and compared hundreds of products to help satisfy different needs. We spent our time researching tile paints and consulting customer reviews to ultimately bring you what, in our opinion, are the best options on the market right now.
To find out more about our editorial process, take a look here.
Tile Paint Reviews – Top 10 Picks
This best tile paint in the UK by Rust-Oleum is a universal surface paint, but it is perfect for both your floor and wall tiles. The gloss finish is waterproof, weatherproof and scratch-resistant and can be applied to interior and exterior tiles, making it completely flexible, and the white will revive the look of your kitchen and bathroom! The high opacity of this paint makes it paint and primer simultaneously, so unless you are going over a particularly stained area, you are unlikely to need a separate primer. It is easy to apply and can be done with either a brush or roller.
The 750 ml Rust-Oleum tin will cover an area of 6.75 m². The high-quality paint will be touch-dry in 2 hours and ready for a second coat, if needed, after 16 hours.
Another advantage is that this universal paint is available in sixteen different colours, so you have plenty of options. However, one thing to note is that it doesn't get completely dry for a full seven days and may smell strongly for that period.
Pros:
Touch-dry in 2 hours
Scratch-resistant and waterproof
Universal paint
Sixteen colour options
Primer and paint in one
Cons:
It doesn't dry fully for seven days
May smell strongly of chemicals and needs a well-ventilated room
The paint may drip or gather, so it needs careful application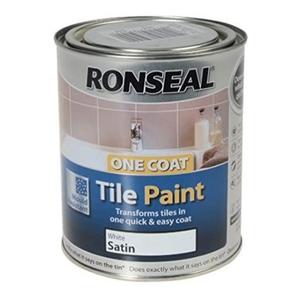 If you are looking to transform an old tiled surface or room into one with a clean, modern finish, then the Ronseal RSLTPWS750 One Coat Tile Paint is the perfect paint. No primer is required with this one-coat tile paint.
Once applied, the water-resistant one coat paint is durable and resistant to mould, making it a great option for kitchen and bathroom tiles where water contact is likely. It is also highly resistant to scuffing and marks, again making it a perfect paint for kitchen tiles where there is a lot of activity and tiles might get knocked.
The 750 ml tin of Ronseal tile paint will cover 6m² and can be touch dry in just one hour! If painting over a significantly different colour, a second coat may be required. If it is needed, a 4-hour drying time is needed before more paint can be applied. It is best to apply using vertical strokes rather than horizontal ones and to also not get the paint wet for the first 24-hours until it is fully dry and waterproof.
Pros:
Waterproof
Mould-resistant, so perfect for your kitchen and bathroom
Durable and tough
No primer needed
Satin finish
Cons:
May need more than one coat if applying over a different colour tile
The paint may go off quickly
Fumes may be strong and require good ventilation to a room
If you are eager to revamp the appearance of your brick walls or roof tiles, the Rustins BRITW500 Quick-Dry Brick & Tile paint is just what you need. This tile paint is highly adhesive, meaning that there is unlikely to be any flaking or peeling once it is applied.
Usually, a single coat is enough to get the desired finish, and the paint is touch dry within 30 minutes. If a second coat is required, it is a 4-hour wait to be ready for a recoat. Additionally, a 500 ml tin will provide seven m² coverage.
The pigmentation is from micronized red oxide, which makes it durable and completely suited for exterior tiles. To apply, use a large brush and long even strokes. It is not recommended to apply it outside if the temperature is cold or if wet weather is imminent.
Pros:
High opacity
Very fast drying time
Excellent coverage
Durable finish
A single coat is usually all that is required
Cons:
The colour may be quite a strong deep red, especially when first applied
The paint is quite thin
Brush marks may still be visible when the paint dries
You may be forgiven for worrying about a term like 'multipurpose' in case it is a jack-of-all-trades master-of-none, but the Bedec BEDE2KA0002/29 Gloss Multi-Surface Paint works brilliantly well on ceramic tiles. The paint is water-based and easily washes off from your brush with washing up liquid and water. The gloss paint is also non-toxic and has a low odour that makes it safe to use indoors without needing significant ventilation or needing to wear a mask.
This gloss finish paint can be applied over other paints and varnishes, eliminating the need for a primer. It is also a flexible paint that won't flake or peel easily. The quick-drying property of the paint allows you to make use of the tiled area in no time at all, with it being touch dry within 2-4 hours and fully dry within 4!
When purchasing this paint, one thing to be aware of is that it is not suitable for areas that frequently come into contact with water.
Pros:
Low odour and non-toxic
Resistant to flaking and peeling
Water-based and easily washes off your brush
Soft glossy finish
It does not require a primer
Cons:
The paint is not suitable for areas that come into frequent contact with water
The paint may be quite runny and prone to dripping
May require more than one coat to cover coloured tiles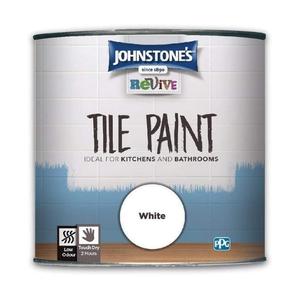 The Johnstones Revive best bathroom tile paint has a gloss finish to give your bathroom and kitchen tiles a fresh and appealing look. You do not need to apply an undercoat as the paint's pigment is highly concentrated and adheres well to tiles.
A 750 ml tin of this gloss-finish Johnstone's Revive Tile Paint will cover 8m². Additionally, it makes a great shower tile paint as it has a low odour, making it perfect for use in bathrooms without the need to fully ventilate the room.
The Johnstones Revive tile paint is touch dry within 2 hours and can take a second coat after 16 hours, which might be needed if the tiles you are painting over are a significantly different or darker colour.
Pros:
Impressive coverage 
Does not need an undercoat
Low smell
Glossy finish
Extensive coverage
Cons:
The Revive tile paint may run when being applied, so you need to be careful of drip marks
More than two coats may be required if painting over very dark tiles
The paint may still have a strong odour despite being marketed as low-odour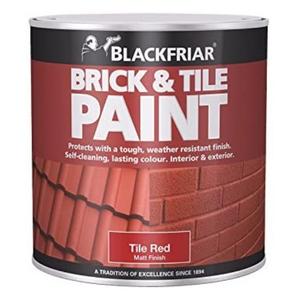 Roof tiles add aesthetic value to your house, which is why it is worth refreshing their appearance over time, saving a considerable amount of money against replacing them if they are not damaged, simply weathered. The Blackfriar BKFBTMR500 Brick & Tile Paint is perfect for exterior tiles as it is waterproof tile paint.
This masonry paint creates a microscopically textured surface that does not allow water droplets to permeate, and it is self-cleaning. The paint is weather resistant but can be used on interior and exterior tiles.
The tile paint dries to touch-dry within 2-4 hours, and it is ready for a further coat after 16 hours. The Blackfriar BKFBTMR500 has a coverage of 7 m² to a 500 ml tin of paint. The matt red colour gives the roof tile a realistic colour match.
The colour is quite a strong red, and although it will revive old tiles, it may be quite a stark colour difference between the old and new appearance until it has settled and weathered a little bit.
Pros:
Dries quickly
Weatherproof
Self-cleaning
Suitable for bricks, masonry and tiles
You can apply it with a roller, brush or spray gun
Cons:
The paint is quite a strong red colour
Quite a small-sized tin for painting tiles outdoors or exposed brick walls
16-hour drying period to do a second coat
Are you bored of the coloured tiles in your kitchen and bathroom but can't afford to replace them? Well, the Dulux Brilliant White Tile Paint effortlessly transforms coloured and faded tiles into brilliant white ones. The paint is very tough, and no primer or undercoat is necessary.
This tile paint has an impressive coverage capacity of 18 m² for a 1 l tin of paint but may need two to three coats to cover old tiles, especially darker coloured ones. The Dulux tile paint is ten times more water-resistant than their traditional waterproof paints, making it perfect for kitchen and bathroom tiles.
This Dulux tile paint can be applied using a brush or a gloss roller and is fast drying and ready for a second coat in just 4 hours which is significantly quicker than many other tile paints. You can quickly and cost-effectively achieve a pure brilliant white finish to your old and tired tiles.
Pros:
Attractive satin finish
Tough and strong adhesion
It does not require a primer
Shower, heat and steam resistant
Quick-drying
Cons:
It may be hard to achieve a smooth finish without brush strokes being visible
Not suitable for applying in temperatures lower than 10° C
At the upper end of the price range
This black gloss tile paint by Rustins can be applied to tiles, bricks and concrete and provides a shiny, sleek finish. You may require two coats to cover the base surface fully, but the paint's opacity is good and will cover well.
The paint is quite thin but applies easily with a good quality paintbrush and is suitable for exterior and interior tiles. Additionally, the paint is touch-dry in half an hour, and you can apply a second coat within four hours, meaning you can finish a project in just half a day if it is not too big. One 500 ml tin of this tile paint will cover 7m².
It is recommended that this paint is applied outdoors when the temperature is above 10° C and not when rain or wet weather may be imminent.
Pros:
You can wash the brush with water
Quick-drying time
Opaque tile paint
Weather-resistant
For interior and exterior use
Cons:
This paint may not be suitable for glazed and quarry tiles
May chip or peel
It may not be suitable for applying in temperatures under 10° C
If you want to bring your kitchen into a more modern colour scheme and banish old fashioned tiles, then this best paint for kitchen tiles is the paint for you! It has a satin grey finish which looks really contemporary, and it is suitable for interior and exterior use.
The paint has a flexible quality which means that it won't chip or flake easily, and it is very quick-drying, touch dry in 30 minutes and ready for a further coat in 4 hours. Another benefit of this paint is that it doesn't need a primer, and it will give good coverage.
There should be limited strong odour when painting tiles, making it suitable for use indoors where ventilation is limited. It is worth noting that this paint is in a 250 ml tin and therefore at the upper-end expense wise if needed for a large area.
Pros:
Touch dry within 30 minutes
It doesn't require a primer
Flexible finish preventing flakes
Low odour
Contemporary colour with a mid-sheen finish
Cons:
It may peel over time
It may streak if painted with a paintbrush
It may be expensive for a small quantity
This is a great floor tile paint by Rustins and includes a textured finish, like fine sandpaper, to make it non-slip.
Another feature that we love is that it is water-based, making it easy to clean paint brushes and any spills. The paint provides good coverage and is weather-resistant, and the textured element makes it perfect for steps, floor tiles or brick paths. It could also be used for interior floor areas and would be great for bare tiles in an outbuilding.
The tile paint takes between 4 and 8 hours to dry and needs 6-8 hours between coats, and one 1 l tin will provide 14 m² coverage.
Note that this paint is not suitable for use on glazed tiles and needs to be applied at temperatures above 10° C.
Pros:
Textured finish
Suitable for exterior use as weather-resistant
Water-based and easy to clean brushes
Good coverage
Non-slip
Cons:
Not suitable for glazed or wall tiles
It may be difficult to achieve an even finish
The paint may dry quite a dark red
Buyer's Guide
Tile paints come in a few different varieties; some are specifically designed to be waterproof and therefore perfect for bathrooms or a tiled worktop in a kitchen, whereas, at the other end of the spectrum, some are designed to be weatherproof and durable and perfect for outdoor tiles or bricks.
Another key feature might be whether or not your tile paint is a one-coat or requires more than one, as this will increase the time and effort it takes to update your tiles. Oil or water-based is also a differentiating feature. Water-based tile paints make life easy as you are able to wash your brushes in water, but they may not be as thick as oil-based paint.
You can get gloss, satin or textured finished tile paints, so it is always worth considering what finish works for the type of tiles you are looking to paint.
Conclusion
We hope that you have found the best tile paint UK stores have on offer for that paint job you have been promising to do, but if you are still undecided, why not try our editor's choice – Rust-Oleum Universal Paint.
This is the king of versatile tile paints; the gloss finish is waterproof, weatherproof and scratch-resistant and can be applied to anything from interior bathroom tiles to exterior doors, tiles or metalwork. The bright white porcelain tile paint will immediately refresh your kitchen or bathroom for a fraction of the cost of new tiles.
You don't need a separate primer, and the 750 ml Rust-Oleum tin will cover 6.75 m². Your bathroom tiles can be touch-dry in 2 hours, and this universal paint is available in sixteen different colours if you fancy something a bit different from white!
Good luck reviving your old fashioned tiles!
Additional Resources