Last Updated on February 15, 2022
Our editors independently research the best products online to produce this list. We may receive commission on purchases made from the links below but this will never affect our product choices.
---
Top 10 Best Exterior Wood Paints
An exterior wood paint can bring new life to your garden or outdoor furniture. Over time, exposure to the unexpected weather of the UK can wear away the finish on the wood in your garden, causing it to look old and unattractive. With the right exterior wood paint, you can make your yard look as good as new, without the extra expense. So, what's the best exterior wood paint in the UK, and how do you choose the right one for your exterior surfaces? We've put together this list of leading exterior wood paints to help you make the right choice for new or previously painted wood.
How We Compared Exterior Wood Paints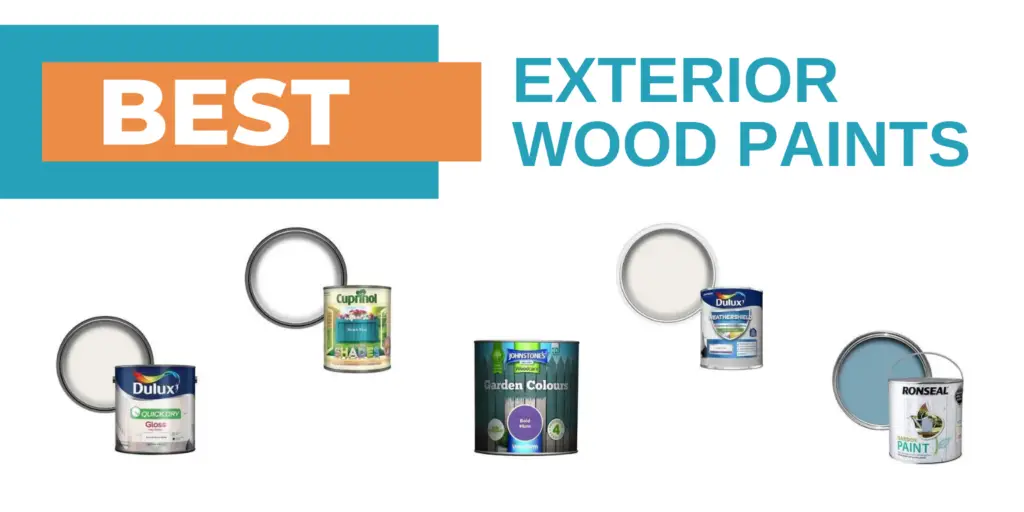 To find the right exterior woor paints we considered multiple factors including:
Application
Colour Options
Durability
Our team independently examined and compared hundreds of products to help satisfy different needs. We spent our time researching exterior wood paints and consulting customer reviews to ultimately bring you what, in our opinion, are the best options on the market right now.
To find out more about our editorial process, take a look here.
Exterior Wood Paint Reviews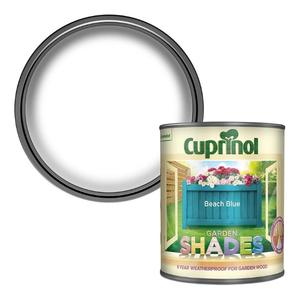 An exterior wood paint designed specifically for the garden, this popular paint from Cuprinol is available in more than 50 colours. If you're looking for the best exterior wood paints with the widest range of options, it's hard to go wrong with this Cuprinol option. There's even a selection of sizes to choose from.
This weatherproof wood paint from Cuprinol will coat exterior wood surfaces evenly, ensuring long-lasting colour, specially formulated to stand the test of time. The opaque matt finish gives you a finish similar to translucent wood stain, so you can maintain your wood grain. What's more, because this wood paint is water-based, it's safe for animals too. Depending on how you prefer to apply exterior paint, the Cuprinol garden paint works with sprays or brushes. You can also use these exterior paints on stone and brick too.
Pros:
Has a wide range of attractive colours
Suitable for all kinds of exterior woodwork
Spray or brush for easy application
Water-based to protect the environment
6-year weather protection
Cons:
Some colours aren't available in all sizes
Can be costly to finish an entire garden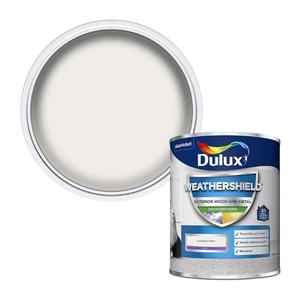 If you're not a fan of conventional gloss paints, but you want something with a natural gloss finish, the Dulux Weather shield satin paint could be the ideal choice. The weatherproof paint comes in a variety of colours, has a mid-sheen finish, and provides up to 10 years of UV and water protection.
Mould resistant, the Dulux weather protection paint will stand the test of time to help reduce the risk of your garden fence or furniture losing its appeal. You can use one or two coats for the perfect paint job, but unfortunately, there's no option to use a spray if you prefer that. This garden wood paint will usually last longer than other stain block options on the plus side. Whether you're updating your summer houses or upgrading the look of your benches, this self-priming wood paint will adhere well to both metal and wooden surfaces.
Pros:
Resistant to cracking thanks to its durable formula
Range of colour options to choose from
Satin finish for a great look
Easy to apply with a brush
Protects against weather and mould
Cons:
Can be harmful to some animals and people (allergic reactions)
Not suitable for quick paint application with a spray gun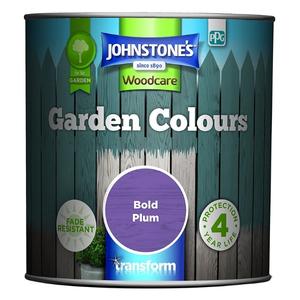 If you're looking for a great colour choice and excellent bold colours, then Johnstone's Garden colours could be the perfect pick. This outdoor paint provides up to four years of protection against various forms of weather and UV light. As one of the best outdoor wood paint options, it only takes around 2 hours to dry.
The quick-drying Johnstone's garden colours paint is water-based, so you can still see the grain of the wood through the protective barrier of paint. With around 20 colours to choose from and a range of sizes to suit your garden, you'll have no problem making the most of this outdoor paint. The colours will remain beautiful for years to come.
With an easy-to-apply formula, this outdoor paint goes on smooth, with lasting colour protection and excellent coverage for all kinds of outdoor wood.
Pros:
Bold colour options to choose from
Smooth application for easy painting
Water-based formula maintains the wood grain
Suitable for four years of protection
Protective barrier against moisture
Cons:
May not cover the wood fully the first time around
May require multiple cans of paint for the full garden
If you're looking for a range of beautiful colours from cream to white and a fantastic professional finish, Dulux could have the best outdoor gloss paint for wood. This glossy paint dries with a delightful shine to help grab attention when people relax in your garden or pass by your house.
The Dulux Quick dry gloss paint requires no undercoat, thanks to the thick and durable paint film you'll leave on your indoor and outdoor services. A single can of 750ml should cover about 40 metres squared of smooth planed wood with one coat, and you can even cover metal surfaces too. The gloss finish will be totally dry within 6 hours or less. If you want a host of colours from racing green to spring green, you might struggle to find them with this Dulux paint, which focuses mostly on creams and whites.
Pros:
Excellent for interior or interior wood
Multiple colours to choose from
Quick-drying and ready to touch in 6 hours
No undercoat is required for the wood
Good durability
Cons:
May not have the widest range of colours
The gloss finish may be too shiny for some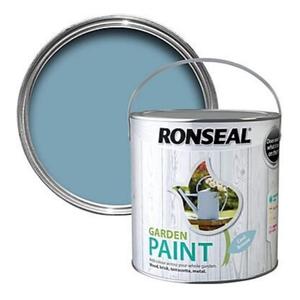 The garden paint collection from Ronseal is another top contender for the title of best exterior paint. Like the other market-leading products we've covered so far, the Ronseal paint can cover wood surfaces in no time, and there's a range of fantastic paint colours to choose from (more than 20).
If you want to coat your exterior wood windows with a new lick of paint or update exterior surfaces like your benches and decking, this paint from Ronseal works great on bare wood. You can even use the paint for interior and exterior surfaces because it's suitable for metal, brick, stone, and wood. However, you may need a primer before applying your wood paints.
The high solid content of this wood paint helps to reduce the need for a second coat while protecting your wood from the elements with a thick paint film. However, you will need to use a synthetic brush to apply this paint, as it doesn't work with a sprays system.
Pros:
Can withstand unpredictable weather
Great for stain blocking with more than 20 colours
High solid content for a strong paint film
Can be used on all kinds of surfaces
Quick-drying and rainproof within an hour
Cons:
May require more than one coat
May require an additional primer for exterior wood and other materials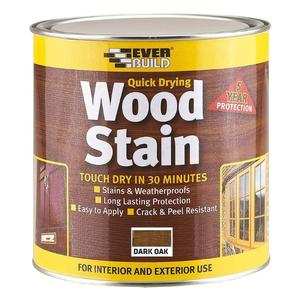 If you want to maintain the beautiful natural look of your exterior wood, the best exterior wood paint for you might actually be a stain. This wood stain from Everbuild is a high-quality option for treating and protecting your exterior surfaces. Available in colours like dark oak, the stain will make your outdoor furniture look great without hiding the natural grain.
Great for maintaining the natural beauty of your exterior wood, this stain from Everbuild is a low-solvent option for bringing your garden back to life. The stain can be touch-ready within one hour, and you can apply it with a brush or a damp cloth. The stain can provide up to 5 years of protection against the elements when properly applied. If you want to give proper protection to your wood, but you don't like the look of the standard white outdoor paint for wood, this could be the best alternative.
Pros:
Quick-drying stain ready to touch in 30 minutes
Protection lasting up to 5 years
Range of natural wood colours available
UV and weather resistance
Covers plenty of wood at once
Cons:
It may be difficult to apply for some
It can be difficult to mix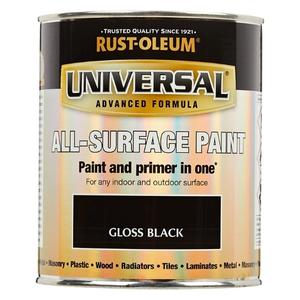 If you're looking for the best outdoor paint for wood furniture that requires no initial priming or work, this Rust-Oleum paint could be ideal for you. You can apply the colour straight to wood, plastic, metal, and ceramic. The unique paint comes with a primer built-in to help deliver the best exterior results.
Though you might need to consider some additional preparation for certain forms of metal, the Rust-Oleum exterior wood paint reviews note that this is one of the best products for application to bare wood. The paint can cover over 9 metres square per litre, which isn't as high as some products but should be enough for most small gardens. The weatherproof wood paint from Rust-Oleum can also be ready to touch within 2 hours, although the company does recommend applying at least two coats for the best results.
Pros:
Good for all kinds of surfaces with included primer
Easier to use than some wood paints
Touch dry within 2 hours
Suitable for use indoors and outdoors
Advanced formula for durability
Cons:
It may not have the best coverage
It may require two coats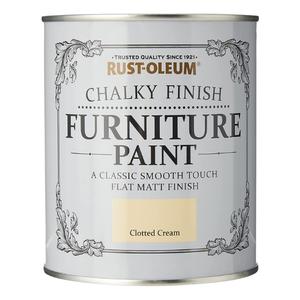 Ideal for those in search of a unique matt exterior wood paint, this chalky finish paint from Rust-Oleum is an interesting alternative to the bold colours offered by other water-based paint options. Safe for the environment and animals, the Rust-oleum paint also has a very minimal odour.
This chalky style water-based paint has almost no odour, making it ideal for both indoor and outdoor painting. The unique, high-quality formula ensures you can get a great result without having to use a second coat. There's also no sanding or priming required on most surfaces, which is great if you're used to working with wood stain. Unfortunately, this chalky finish product doesn't have any protection against the elements, but it should last a decent amount of time with proper care.
Pros:
Great for creating unique garden furniture
The best matt paint formula
Water-based exterior wood paint is safe for animals
Easy to use with good coverage
Range of colour options to choose from
Cons:
It may not have the best exterior wood protection
It may require multiple coats to get the right effect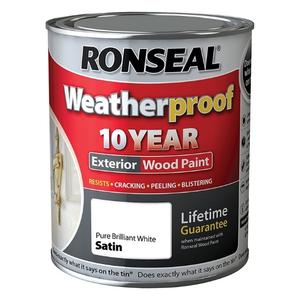 When it comes to choosing the right exterior wood paint, finding something capable of standing the test of time is important. Ronseal has a range of paints available, including this powerful exterior wood paint which can last for up to 10 years.
Unlike other exterior wood paint options, Ronseal's weatherproof formula is designed to be touch-proof and safe from rain within an hour. This means you don't have to spend as much time planning when to apply a wood stain or paint. The weather-resistant finish stays strong for up to ten years, and it has decent coverage of about 13 metres squared per litre. You may need a second coat of this outdoor paint to get the best results, and you will need to apply the product with a brush rather than a spray.
Pros:
Excellent ten-year protection
Suitable for a wide range of outdoor surfaces
Decent amount of coverage per tin
Quick-drying formula
Cons:
It may not be suitable for spray application
It may require multiple coats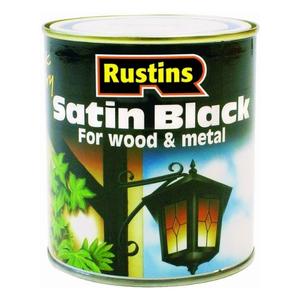 Promising a slick and smooth finish on exterior wood, the satin black paint from Rustins is great if you want to bring new life to your garden furniture. This universal paint is far thicker than a standard wood stain, so it's great for both wood and metal. The water-based formula also helps to protect the environment.
Suitable for all kinds of outdoor furniture, including wood and metal, this paint from Rustins goes on smooth for a slick finish. The low VOC solution is a great alternative to traditional wood stain and wood paint options, and you get a decent matt finish too. Thanks to a water-based formula, you'll be able to clean stains off your hands quickly too. Although this paint from Rustins is quick-drying, you will need to apply more than one coat to get the best-finished look.
Pros:
Excellent for all kinds of outdoor furniture
Low VOC and water-based formula
Good for easy and smooth application
Easy to wash off your hands
Cons:
May require multiple coats
May not have the best coverage
Choosing the Best Wood Paint
Choosing the right exterior wood paint can be tough, particularly if you're repainting your garden furniture for the first time. A few of the things you can consider when sorting through your options include:
Application
How easy is the paint to apply, and can you use both a brush and a spray system? It's also worth looking at the coverage. The thicker the paint, the less furniture you'll cover, but you may not need as many coats.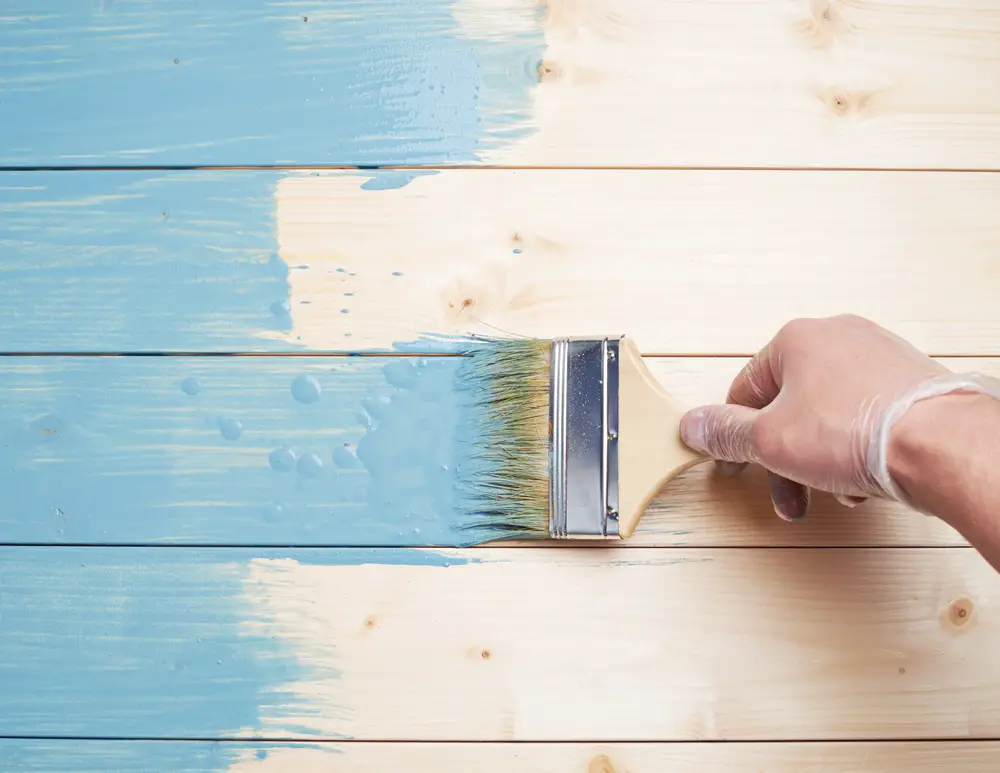 Colour options
If you want more than just the standard white or black paint, then it's best to check for your colour choices in advance. You should also look at whether the finish is glossy, satin, or matt.
Durability
Good outdoor paints need to stand the test of time, which means being resilient against all kinds of weather and other elements. Look for something with guaranteed durability and staying power.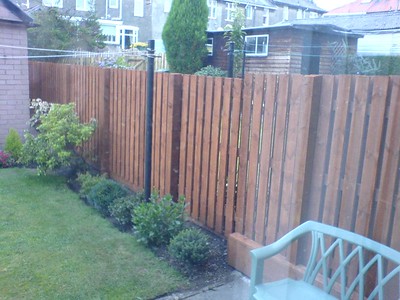 The Best Exterior Wood Paint UK
Our favourite option for the best exterior wood paint is the Cuprinol Garden Shades product, which comes in a wide range of more than 50 colours. If you're looking for versatile paint that can stand the test of time, this is it. You can even apply the paint with a spray.
Additional Resources