Last Updated on February 20, 2022
Our editors independently research the best products online to produce this list. We may receive commission on purchases made from the links below but this will never affect our product choices.
---
Top 10 Best Shed Paints
The best shed paint UK companies have to offer provides a fantastic layer of protection for your outhouse or storage system. More than just a tool for improving the aesthetic appearance of your garden shed, shed paints are designed to defend against excess moisture and the damaging impact of the elements on exterior structures.
Similar to fence paint or standard outside wood paint, a good shed paint will coat your exterior surfaces with special materials to minimise rot and other issues. Of course, not all shed paints are made alike. Some products are better suited to rough sawn wood, while others are designed to transform your shed to suit the current trends.
Today, we're going to cover just some of the best shed paints on the market to help you protect against the threat of damp wood.
How we Compared Shed Paints
To find the right shed paints we considered multiple factors, including:
Range of use
Colour options
Ease of application
Weather-resistance
Drying time
Our team independently examined and compared hundreds of products to help satisfy different needs. We spent our time researching shed paints and consulting customer reviews to ultimately bring you what, in our opinion, are the best options on the market right now.
To find out more about our editorial process, take a look here.
Shed Paint Reviews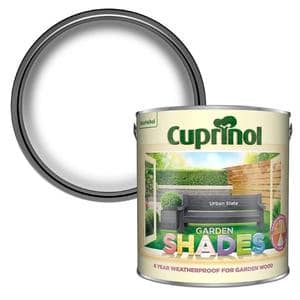 Available in a range of attractive colours, the Cuprinol Garden shades collection promises to make your garden shed look great while offering crucial protection for smooth planed wood. This wood treatment is ideal for painting your shed, fence, and other wooden garden furniture. The product can even be used with a sprayer for exterior paint.
The Cuprinol garden shades collection will allow you to paint a shed in no time using a brush or a power sprayer. The product is specially formulated with weatherproof protection for long-lasting colour and excellent defence against unwanted damp.
Unlike most paint for sheds, the Cuprinol collection also complements the natural grain of your garden wood, so the texture of your fence or shed can show through. What's more, this shed painting product is water-based, so it's not harmful to pets or plants.
Pros:
Safe for plants and pets
Suitable for a range of wooden structures
Ready to use with brush or power sprayer
Specially formulated to show the grain on your shed, fence, or other wood
Range of colour options
Cons:
May require additional coats for a strong colour
Can take a while to dry between coats
With more than 30 shades to choose from, the HQC garden shed paint offers fantastic colour and long-lasting protection against detrimental weather. The garden paints from HQC are suitable for a variety of wooden products, whether you're painting a fence, outdoor furniture, or your new shed. The water-based formula ensures your garden paints won't harm the wildlife.
This HQC paint for garden wood makes exterior painting easy. You can transform any wooden structure with a range of colour options, and you can apply this superb paint via brush or sprayer. The water-based formula applies well to bare wood and doesn't put your pets or plants at risk.
Remove any flaky paint leftover from your previous paint jobs and apply primer to improve the vibrancy and longevity of your paint colour. Shades range from natural wood shades to bright blue. Just keep in mind the shades can change slightly between batches.
Pros:
Water-based formula means you can rest assured pets are protected
Easy to apply to rough timber and bare wood
Weatherproof paint in a range of more than 30 colours
Suitable to apply with a sprayer
Cons:
Can be some differences between batches for certain colour options
May require a second coat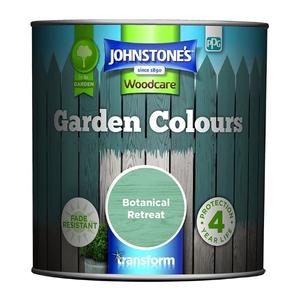 Promising fade-resistant colour from the first coat, Johnstone's woodcare garden colours paints are excellent for transforming an old shed. This high-performance shed fence paint product can easily cover your entire shed with a host of colour options. You'll also get to preserve the wood's natural grain for a more natural texture.
Suitable for protection against both moisture and hot, humid air, Johnstone's woodcare paint is an excellent investment in the long-term beauty of your shed. This product isn't just painted for wooden sheds, and it can also deliver a UV resistant coating to all kinds of wooden structures too.
Easy to apply with a brush or roller, this paint for wooden sheds has a convenient non-drip formula and can try within 2 hours, making it easy to apply additional coats when necessary. The fantastic range of colours is particularly appealing with this paint, but keep in mind the formula is quite thick.
Pros:
Excellent variety of vibrant colours
Quick-drying time
Preserves the natural texture of the wood
Protects against UV and moisture
Suitable for all kinds of exterior wood
Cons:
Can take multiple coats for full coverage
May be difficult to match the colour you need to the shades shown online
Great for bringing life back to a tired shed, the Ronseal one coat product is a popular pick for any exterior painting project. Though not technically a "paint" in the same way as some of the other items on this list, the Ronseal one coat system can transform the look of your paint and sheds just as easily as any water or oil-based solution.
If you're new to painting sheds and other exterior wood, but you don't like the look of old paint in your garden, Ronseal has you covered. The one-coat formula allows you to apply crucial weather protection to your shed, fence, and other products without relying on thick exterior paints. You can preserve the natural look of rough sawn wood and planed timber.
This high-performance paint for sheds will stop your garden furniture from looking worn out while preserving the natural appeal of the wood. This solution is also safe for plants and pets. The Ronseal one coat paint is best for new or previously stained wood.
Pros:
Suitable for rough sawn timber and smooth planed wood
Ideal if you don't want to paint a shed with thick paint
Protection against UV rays and moisture
Suitable for all kinds of exterior surfaces
Range of shades for exterior wood
Cons:
It may not be as protective as some thicker shed paints
Can take a while to apply
Promising excellent performance with just one coat, the Johnstones fence paint delivers quick-drying performance for a range of garden furniture and exterior wood items. Available in various shades, this exterior wood paint is one of the best shed paints for versatility. You can easily use the Johnston wood paint on rough sawn timber and smooth planed wood.
Get rid of any old and flaky paint on your old shed, or transform the appearance of new wood when you paint your shed with the Johnstone woodcare paint. The Johnstone formula, which is designed to protect against UV rays and other weather conditions, will easily transform shed, fence, and garden furniture products. The treatment paint covers all kinds of wood.
This coat of paint is great if you want to maintain the natural texture of your wood when updating your garden appearance. You can also rest assured that the product is suitable for exposure to pets and plants.
Pros:
One-coat paint formula for quick results
Covers 6m squared per litre
Range of natural shades to choose from
Protects against various forms of weather
Shows more texture than a standard painted surface
Cons:
It may be a little watery or thin for some users
Can require multiple coats for a solid colour
Simple but effective, the UK Paint company's water-based paint is ideal for when you want that fresh paint looks for your exterior wood. You can paint your shed in no time with the large 20-litre tubs, providing excellent coverage for all kinds of painted surfaces you might find in your garden. There are also various colour options to suit your needs.
Designed to allow for a smoother paint application, you can apply this exterior shed paint with one or two coats to get the finished result you like best. You might want to use a second coat if you want a more opaque matt finish.
This water-based shed paint helps to protect your wood structures against the elements with a weather-resistant formula. At the same time, the water-based design means this shed paint won't be damaging to the pets in your home or the plants in your garden.
Pros:
An excellent alternative to oil-based paint for sheds
Weather resistance shed fence paint
Available in various colours
Quick and easy coverage
Great value
Cons:
Not suitable for use with a spray gun
Can be difficult to apply due to thickness
All kinds of shed fence paint generally promise a weather-resistant performance to make your wood structures last longer. However, the Drybase damp-proof paint is particularly unique in its ability to defend against damp and rot. The high-strength paint comes with an in-built membrane barrier to help take weather protection to the next level.
When you paint your shed with the Drybase Damp proof shed paint, you get more than just an excellent update to your exterior wood. This unique exterior paint comes with a special damp proof membrane which makes it excellent for brick and even rough sawn timber. A two-coat application will give you excellent protection against all kinds of weather.
Great for painting your shed fast, the quick-bonding shed paint from Drybase can be ready to paint over in an hour- ideal for when you need multiple coats. There are also no special curing requirements to worry about. Just make sure you have a good brush available for painting, as you won't be able to use a power spraying device.
Pros:
Excellent weather protection against damp and UV rays
Quick-drying with an extra-strong bond
Suitable for brick and wood
Low odour thanks to water base
Excellent drip resistance
Cons:
Can take a while to apply for some users
May require multiple coats for some garden sheds
One of the best shed paints on the market for maintaining the natural appeal of your outdoor wood, the Ronseal fence life plus formula is ideal for protecting your investment. Ready to use with both rough sawn wood and prepared, planed wood, this paint can enhance all kinds of wooden structures around your garden and home.
Features:
Widely regarded among the best paint options for all-weather protection, this Ronseal fence life product is showerproof within 1 hour, so you don't have to worry about applying it in the unpredictable British weather. The stain-style treatment is also thin enough to apply using a power sprayer, which can help to save you a lot of time.
If you're looking for the best paint for all-weather protection and defence against UV rays, this product from Ronseal could be a great pick.
Pros:
Preserves the natural appearance of your wood
Suitable for rough and planed wood products
UV protection preserves colour
100% showerproof within a single hour
Power spray or brush application
Cons:
May require multiple coats
It may not have the widest range of colours to choose from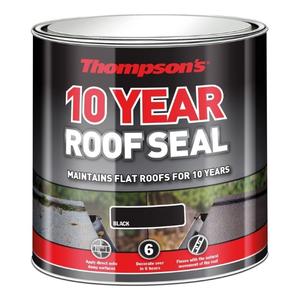 The Thompsons high-performance paint from Ronseal is one of the best waterproof shed paint options available, designed to protect against all kinds of weather. This solution is specifically designed for the roof of your shed or wooden building. The formulation is designed to last a full ten years before cracking or splitting.
The Thompsons Roof seal shed paint isn't your standard exterior paint for wood and metal surfaces. This product is specially designed to protect the roof of your shed against damage over time. The unique ten-year formula can flex and move naturally with the roof of your shed. This means the membrane doesn't crack and split with time.
Thanks to a unique formula, including UV light stable iron oxide pigments, the Ronseal paint is ideal for providing unique protection against harmful UV rays. Ronseal promises its product will keep your shed looking great alongside your choice of the best shed paints for up to ten years.
Pros:
Flexible, long-lasting performance for the roof
One of the best paint options for shed roofing
UV light protection and weather protection
10 years of weatherproofing performance
Suitable for quick application
Cons:
May be difficult to apply for beginners
Only suitable for roof application
Another top contender among the best shed paints, this Aquashield shed paint provides an elastic and acrylic water-based coating for your shed. Competing with the best wax enriched formula paints, this one coat formula can easily waterproof sheds and other exterior structures in no time. If you're looking for the best paint for your shed roof, this could be it.
The highly durable and flexible shed paint from Aquashield is an environmentally-friendly water-based formula great for repairing cracks and leaks in outside wood. You only need to apply one coat to start seeing results and minimising leaks. Although it can take some effort to apply, this paint works well on all kinds of shed roofing.
Thanks to the low odour and instant waterproofing capabilities, the Aquashield Eco paint is suitable for both indoor and outdoor use, depending on your unique needs.
Pros:
Highly flexible paint formula stands the test of time
Good for repairing cracks and leaks
Excellent for various types of shed roof
Safe for use inside and outside of the home
Water base for pet and plant safety
Cons:
Only suitable for roofing
It may not have the best variety of colours
What Paint is Good for Shed Use?
The best paint for your shed depends on what you need. If you're looking for the best shed paint for smooth wood, you may want something very different to someone searching for the paint to protect their shed roof. Water-based paint is usually a good choice for safety and environmentally-friendly protection, as it's not dangerous to animals or plants.
It's also worth looking for one which is easy to apply. An option that supports application with a brush or sprayer may be helpful if you want to finish painting as quickly as possible. You can also think about factors like the colour of paint you want for your home structures, how many coats you might need to apply, and how much coverage you get from each pot of paint. Take your time to carefully look at all of your options before making a choice, there's no ultimate paint choice, and you may even find you preserve a stain or treatment to a full paint option.
Is it Better to Stain or Paint a Shed?
The answer to this question is largely dependent on your preferences. Staining a shed means you maintain more of the organic wood texture and grain. You get a more natural finish, but the protection doesn't last for nearly as long as paint. You may need to re-apply your stain more often.
Paint gives you a lot more versatility when it comes to colour options, with various red, blue, and green shades to choose from. The paint can also stay on your shed for longer, as it's much thicker, but it can crack and flake over time, which means you need to remove the paint and start again every so often. Still, you should be able to maintain the same paint on your shed for longer than a stain.
Do I need to Prime a Shed Before Painting?
Most experts will recommend priming your shed before you start painting. Even the best shed paint will show up better on a properly primed shed. Primer can help cover old colours and areas where you need to replace or repair your shed parts. A good primer also offers excellent protection against the elements when combined with the best shed paint UK brands can offer.
If you're not sure how you need to prepare your wood before you begin painting, it's best to check the instructions on the label for the treatment you choose. Most paint and stain products will come with guidance on how much priming you'll need to do to get the right results. In most cases, a primer will be necessary unless your wood is new with a primer pre-applied.
Which is the Best Paint for Sheds?
Finding the best shed paint UK companies can offer means taking the time to think about what you want to accomplish with your shed revival. Hopefully, our shed paint reviews have given you a number of reliable options to start with as you begin looking for the ideal shed paint option.
Our preferred paint for sheds is the Cuprinol garden shades collection for overall performance and appearance. This paint is suitable for application with a sprayer, which can mean applying the paint is much quicker and easier. There's also a wide range of weatherproof colours to choose from.
As an added benefit, the Cuprinol paint is also water-based, so you don't have to worry about causing damage to your garden or wildlife when you update your shed's appearance.
Additional Resources