Last Updated on February 23, 2022
Our editors independently research the best products online to produce this list. We may receive commission on purchases made from the links below but this will never affect our product choices.
---
Top 9 Best Decking Paints
Decking can be a smart and stylish addition to your garden, providing you with a dedicated area to relax and entertain. Separated off from the lawn, you can make a decked area look as modern or as traditional as you like, and there is a myriad of products to help you with your project.
But it has to be said that a tired, old, cracking decking area can give your garden a run-down appearance that you will not want to share with friends and family. So, unfortunately, to prevent your decking from this occurring, it is necessary to maintain it, perhaps yearly, or if you choose a long-lasting decking paint, maybe only once every few years.
It's the kind of DIY project that you can do without needing to bring in the professionals and is as straightforward as choosing a finish, dusting off your paintbrush or roller, and off you go! Well, nearly. Many decking mishaps happen because the right product isn't selected at the start of the project.
Preparing your decking, getting rid of all the old paint and then applying the new decking paint isn't a quick task. It would be highly frustrating to spend all that time and effort, let alone money, and then find out that you need to redo it all because you didn't select the best decking paint UK stores have to offer!
That's why we are here to help, setting out our top 10 best decking paints along with our buyer's guide's hints and considerations for you to understand the different types of deck paint on the market and what the pros and cons are to each.
How We Compared Decking Paints
To find the right decking paints we considered multiple factors including:
Colour and finish
Solvent or water-based
Long-lasting?
Type of decking
Application
Our team independently examined and compared hundreds of products to help satisfy different needs. We spent our time researching decking paints and consulting customer reviews to ultimately bring you what, in our opinion, are the best options on the market right now.
To find out more about our editorial process, take a look here.
Decking Paint Reviews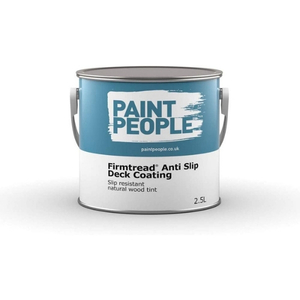 This is our best decking paint for several different reasons, as it is a great all-rounder. As a non-slip decking paint, it is manufactured with fine particles that offer a safe surface to walk on even when wet. It is also designed to enhance the decking's natural colour and texture and not to cover it. Once dried, this coating has a matt finish but gives new life to old decking.
With this decking stain, you also get excellent value for money as it can cover an impressive 20 m² per 2.5 litres container. Additionally, the non-slip coating will be touch dry within 2-4 hours and ready for a second coat after 8 hours. There are nine different colours and finishes in the range to choose from, and you can easily apply the paint with either a brush or roller.
One thing to be mindful of is that it is advised not to walk on the surface for up to 12 hours once applied and that two coats are recommended.
Pros:
Anti-slip particles
Nine colour options
Great coverage
Enhances the natural beauty of wood
The stain can be applied by brush or roller
Cons:
It may flake off after some time
The coverage may not be as far as stated on the tin
It may be possible to see the non-slip particles on wood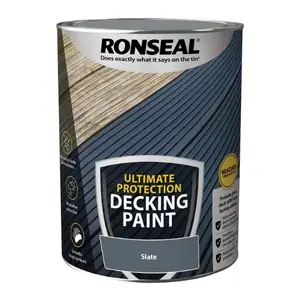 This coloured decking paint comes in a slate grey, perfect for reviving tired looking wood decking, and is a much more cost-effective way of achieving that modern look than paying to install composite boards! As a decking rescue paint, it works by coating the surface of the wood, smoothing uneven finishes and filling cracks. As a result, splinters are locked down, and the paint works to protect the garden decking from all weather conditions.
The Ronseal Ultimate Protection paint is water-based and has a low VOC content, so it is environmentally friendly, and you will not get the nasty chemical smell when applying it. If two coats are required, 4 hours between them is recommended.
One drawback to this decking restorer paint is due to how thick it is: it takes a long time to dry. It can be 48 hours before it is fully dry and ready to walk on or return furniture to.
Pros:
Water-based and environmentally friendly
Modern colour
Revives old and tired wood
Protects in all weather conditions
No chemical smell
Cons:
It covers two m² per litre
The paint may peel
48 hours for full drying time
This is a great value, all-rounder anti-slip decking paint. There are tiny particles in the paint that adhere to the decking and provide a slip-free surface. It also contains a fungicide that prevents mould from growing.
The paint is semi-transparent, so you don't lose the natural wood appearance, but it colours it beautifully and provides long-lasting protection against all weather conditions. It can be applied with either a brush or roller and dries within 4 hours. Additionally, the paint can be applied to both hard and softwoods.
At least two coats of this Cuprinol Anti-Slip Decking Stain are needed, so bear that in mind, but one litre will cover up to 12 m², giving you good value for money from a tin!
Pros:
Semi-transparent stain
Contains a fungicide
Weatherproof
Low VOC level
Easy to apply
Cons:
Coverage may not be as stated on the tin
It may not be durable for the long-term
May peel after time
Another fantastic product from Cuprinol makes it our list. The Garden Shades Decking Paint is ideal for decking, but it can also be used on brick and stone too! Not only that, but it protects wood for up to 6 years!
You can use this paint as a spray which sets it apart from some of the other best decking paints in this review. A brush or roller can be used too, and the paint is water-based, so it is safe for wildlife, pets and children.
Wood keeps its natural appearance through this paint, so it is perfect for garden furniture as well as decking, and the matt finish is perfect for giving a traditional look to your garden.
The decking paint will cover up to 12 m², and one thing that does need thinking about is that two coats of paint are recommended, and it has a drying time of 8 hours in between.
Pros:
Good coverage
It can be used on other surfaces such as brick and stone
Very long-lasting
Matt finish
Water-based and safe for wildlife, pets and children
Cons:
Very thin and may drip easily
May need more than two coats to achieve the finish you require
Colour may not be significantly different to a standard white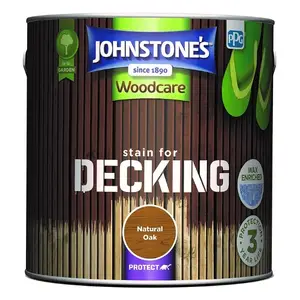 This decking stain is wax enriched to repel all weather conditions that may be thrown at it. It also contains properties that prevent mould and green algae from growing on your decking surface, spoiling the new decking appearance in time.
The Johnstone's Woodcare Stain also provides UV resistance that will prevent your decking from fading or greying over time. Additionally, it protects the wood and is resistant to peeling or cracking for up to 3 years, making it a great value purchase.
The decking stain is suitable for both hard and softwoods and should be applied with a brush. More than one coat is usually required, and drying time is around 1-2 hours in good conditions. One 2.5 litre tin should provide 30 m² coverage.
Pros:
UV protection
Three-year protection
Anti-fungus and mould
Cracking and blistering protection
Good coverage
Cons:
Not suitable for roller or spray
Not a large colour selection to choose from
This decking protector does an excellent job of providing protection for your decking from various elements whilst maintaining a matt and natural wood finish. In addition, the wax enriched properties in the decking protector make it weather resistant and stop the garden decks from swelling and twisting when they become wet.
The UV filters in the stain will stop your wood from fading in sunlight, and it will also protect against heavy footfall scuffing the surface. Usefully, the waterproof decking paint can be applied using a brush, roller or sprayer, and you only need to wait up to 2 hours before it will be dry enough to apply another coat.
Ronseal recommend waiting 24 hours before putting furniture back onto your protected decking, so that is something to keep in mind before starting renovating your garden!
Pros:
Natural result
Waterproof
Quick-drying
UV protection can be applied with a sprayer, brush or roller
Cons:
May begin to peel after a year
It does have an element of colour and is not clear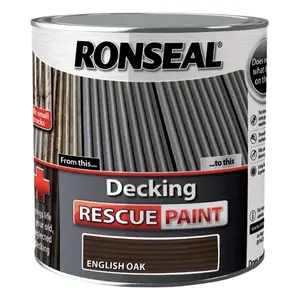 The Ronseal Decking Rescue Paint provides a protective covering to your tired decking, filling cracks and smoothing down where the wood has started to splinter. In addition, painting decking with this rescue formula provides colour that won't fade over time, and there are several shades to choose from.
Use a brush to paint this onto your timber decking; it is too thick to use in a sprayer, and do two applications for the best results, leaving 4 hours in between.
This is not a quick-drying paint due to its thickness and needing to coat and protect your wood, so you need to ensure your decking paint dries properly by allowing it 48 hours of drying time before furniture can be returned to the decking.
Pros:
Seven colour options
Water-resistant
Smooths uneven and rough old decking
Cons:
Eight m² per litre coverage
Not suitable for spraying
Long drying time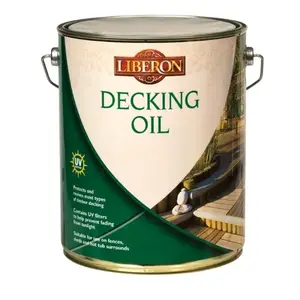 The Liberon Decking Oil has UV filters to prevent the wood from fading. It is versatile and can be used on wooden decking, garden furniture and sheds. It provides protection against the elements, making the wood weather-resistant and accentuating its natural colour and appearance.
You apply decking oil using a brush, spray or a roller, and because it is quick-drying, you can reapply with just 15 minutes between the coats. Additionally, it will fully dry within 24 hours once you stop applying coats. One litre of this decking oil will cover between 8 and 10 m² depending on how thickly it is applied.
Once you have completed applying it, brushes need to be cleaned down with white spirit as this is not a water-based product. Please note that this should only be used in well-ventilated areas, and it may cause irritation if it comes into contact with the skin.
Pros:
Easy to apply
UV filters to prevent the wood from fading
Can apply another coat within 15 minutes
Suitable for use on lots of different wood surfaces
Water-resistant
Cons:
Not water-based, so it requires white spirit to clean brushes
May darken the appearance of wood even when using the clear version
Recommended to reapply every year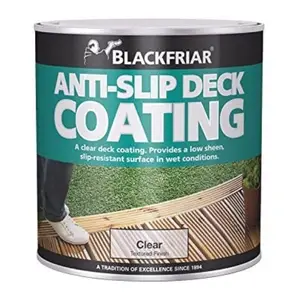 The Blackfriar is one of the best anti-slip decking paint: it offers anti-slip protection by mixing tiny aggregate particles into the paint which stick to your decking.
The non-slip properties of this paint don't detract from its other features, though, as this is a clear paint that allows the appearance of natural wood to shine through and has a low shine finish.
Additionally, this anti-slip paint protects your decking against the weather and can be applied over the top of previous decking stains or to untreated timber. You should get nine m² from 1 litre of the stain, and it is best applied using a roller, although you can use a brush in hard to reach places or into corners.
The non-slip paint takes 4-6 hours to be touch dry: be aware that the next coat is not recommended until 12-hours have passed.
Pros:
Anti-slip grip
Clear finish
Allows natural wood appearance to show through
It can be used over the top of other decking paints
Protects against heavy footfall
Cons:
12 hours to be left between coats
May not dry completely clear but slightly darken the colour below
May sometimes go a white-ish shade in rain
Buyer's Guide
There are several things to consider when purchasing the best decking paint for your timber decking area. It is not quite as simple as finding a colour or finish that you like and getting painting.
Factors such as the type of wood you want to treat should be taken into account, i.e. is it hardwood decking or softwood and what condition is it in? You may need to consider deck prepping products and ensure that there is no oncoming cold weather that might prevent the wood decking paint from drying.
You also need to consider the colour and finish you are looking to achieve and how long you want it to last. We have set out some of the key questions to answer to help you choose the right deck oil for you.
Colour and Finish
The best decking paints come in a wide variety of finishes, ranging from clear with anti-slip properties to an urban slate grey decking paint. You can go as modern or as traditional as you fancy; some decking paints even come in vibrant colour, so you can really make your decked area stand out from the crowd!
Some paints are designed to enhance the appearance of the wood's natural grain, whereas others are applied in a beautiful thick coat and are good for protecting wood and reviving the look and feel of the old deck.
If an anti-slip finish is important to you, as decking can become very slippery in winter months, then look for the right decking paint for the job. In our best decking paint review, we have several anti-slip products that would be suitable to protect you from falling on smooth planed boards in icy weather!
Solvent or Water-Based
Decking paint comes in two main types, water-based or solvent. Oil-based decking paint requires a white spirit to clean, and it is likely to have a high VOC level, which can be harmful to the environment and wildlife. On the other hand, water-based decking paint is more environmentally friendly and tends to be easier to apply as it is easily cleaned up if splashes occur, and brushes or rollers can be washed in water and washing liquid.
Solvent-based decking paint tends to take longer to dry fully but may give longer-lasting protection to the wood.
Long-Lasting?
Do you love the idea of trying out different colours and finishes to freshen up your decking every year, or is this a maintenance job that you detest and want to do as little as possible? Well, some of our top 10 oils will last for just one year, and some are good for up to 10 years before you have to redo them! So just choose the one that works for you.
Type of Decking
Some decking paint may only be suitable for certain types of wood, hardwood or soft, so it is always worth checking what wood your decking is made of before you start on your decking project.
One of our decking paints, Cuprinol Garden Shades, is also suitable for brick and stone, so you can use it for multiple projects in your garden!
Application
Do you have a large area of decking to stain? Why do you ask? Because not all paints and stains are suitable for spray application as they are too thick. If they aren't, you will need to paint with either a brush or roller, which will be time-consuming if you have a large area to do.
Conclusion
Hopefully, this review has provided the details and recommendations you need to find the best decking paint in the UK market for you. However, if you're still struggling to choose the right one out of the many timber decking paints on offer, you can try our Editor's Choice – the PAINTPEOPLE Firmtread Anti-Slip Deck Coating.
It is a great all-rounder as it has anti-slip properties making it safe to walk on even when wet. It is also designed to enhance the decking's natural grain and not to cover it. The decking paint can cover an impressive 20 m² per 2.5 litres container, and it will be dry within 2-4 hours and ready for a second coat after 8 hours. This outdoor decking paint comes in nine different colours and finishes in the range to choose from, and it can be applied with either a brush or roller.
We hope you will soon be enjoying your decking in all seasons!
Additional Resources
Nicole has a passion for everything about the home – especially decor. She loves to add new touches and style to every part of the house. Join her as she documents her ideas at Home & Style.