Last Updated on March 1, 2022
Our editors independently research the best products online to produce this list. We may receive commission on purchases made from the links below but this will never affect our product choices.
---
Top 10 Best Pocket Sprung Mattresses
It's no secret that temperature and ventilation play a vital role in sleep. Ordinary foam mattresses don't allow enough air circulation for many people, leading to a sticky and uncomfortable night's kip.
This is why you need a mattress with pocket springs. This type of mattress offers more support and ventilation than traditional foam models do. Pocket sprung mattresses are very popular as they feature a more open structure that allows air to circulate more freely.
The individual springs that make up this type of mattress are housed in their own little pockets and work independently. Therefore, when compressed, any movement is isolated to that specific area of the mattress so that you can enjoy a cooler, quieter and restorative night's sleep.
Opting for a pocket sprung model makes most people a great and supportive choice if you need a new mattress. Though there are many options available, we'll help you find the best pocket sprung mattress in the UK for your needs right here.
How we Compared Pocket Sprung Mattresses
To find the right pocket sprung mattresses we considered multiple factors, including:
Size
Cover material
Comfort layers
Double-sided
Our team independently examined and compared hundreds of products to help satisfy different needs. We spent our time researching pocket sprung mattresses and consulting customer reviews to ultimately bring you what, in our opinion, are the best options on the market right now.
To find out more about our editorial process, take a look here.
Pocket Sprung Mattress Reviews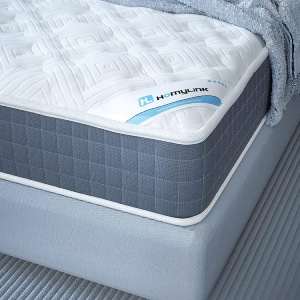 Our editor's choice is the Blacktree Double Mattress by HomyLink. Featuring a combination of pocket springs and memory foam to ensure that you get the best night's sleep, it is easily the best pocket sprung mattress in the UK if you're on a tight budget. 
Measuring 23.5 cm deep, its high carbon independent pocket springs provide targeted support for correct spinal alignment and all-over comfort. Rated medium-firm, the support from the individually packed pocket springs is softened with three foam layers. A lower high-density foam layer to cushion the springs and provide additional support, followed by a high elasticity layer of foam to give you sink-in comfort, topped with a memory foam layer.
It is encased in a breathable, soft knitted fabric for greater comfort. This pocket sprung double mattress is both hypoallergenic and fire retardant. Relatively lightweight (14.8 kg) and vacuum roll packed for your convenience, this model is a highly popular choice and recommended if you are looking for a fairly firm mattress.
Depending on your bed base style, you may find that this pocket spring mattress leaves a slight gap at the sides – if you have an enclosed bed frame, measure it before you buy. You may wish to use this mattress with a mattress topper, as the memory foam layer is a little thin and the upper fabric quite fragile.
Pros:
23.5cm depth
Three upper foam layers
High carbon independent pocket springs
The soft knitted upper fabric 
Vacuum roll packed
Cons:
It may leave a slight gap in some bed frames
Memory foam could be thicker
The Silentnight 1200 Eco Comfort King features an eco comfort fibre layer made from 100% recycled plastic bottles that allow maximum airflow for a comfortable night's sleep. This UK handmade medium firm pocket sprung mattress is our top luxury choice for sustainability and extreme comfort.
Thanks to its 1200 individual springs, this is the best mattress for extra support, recommended for both back and side sleepers to relieve pressure points. Free from foam and chemical treatments, this hypoallergenic pocket sprung mattress boasts a soft, smooth touch knitted cover for a cosier sleep surface. The cover is directly hand-stitched onto the mattress to ensure it lives up to years of use. 
Double-sided for extra durability and support, the zoned Mirapocket support system ensures an even weight distribution and improved spinal alignment. By spending more on this mid-range, more sustainable mattress, you will undoubtedly save money in the long run and enjoy a much better night's sleep. At 28.5cm, it is by far the deepest, most luxurious model in our pocket sprung mattress reviews and a highly popular model from one of the most respected mattress brands in the UK. 
On the downside, this premium mattress is very heavy, so that you may struggle moving it alone, and as it does not have any handles, turning it every two weeks during the first six months of use may be a little tricky. As with all mattresses, you may observe a few centimetres difference between the stated dimensions and those of the actual model that you receive. 
Pros:
28.5cm depth
Ideal support for back and side sleepers
Eco comfort layer made from 100% recycled plastic bottles
Double-sided
1200 individual pocket springs
Cons:
It may be difficult to move alone
Lack of handles could make it difficult to turn
If you're looking for a pocket sprung mattress at an economical range without compromising quality, The Yaheetech mattress is what you need.
This 8.7 inches deep mattress is made from 2000 independent rust-proof springs that offer a medium-firm feel for you to sleep comfortably without any stress on the body. The 7-zone individual pocket springs are high-elastic and work to hug your body's shape for a high level of support to key pressure points such as the hips, shoulders, and back.
Topped with a comfortable and luxurious layer of memory foam, it actively moulds to the contours of your body for ultimate sleep comfort. This allows for even body weight distribution to reduce stress on the joints and relieve aches and pains. Another great benefit of this pocket-sprung mattress is the anti-roll, anti-interference, and motion isolation feature that helps prevent any disturbance between you and your sleep partner.
This mattress is covered in a luxurious Tencel soft cover that provides extra breathability for good airflow that wicks away sweat to offer you a more pleasant sleep experience. This natural fabric is soft to the touch, antibacterial, anti-mite, and comfortable on the skin.
However, please note that the memory foam layer is quite thin, which may not be enough for you if you like a deep foam layer on your mattress. Memory foam can also sleep a little too warm for some people, so if you often find yourself getting hot at night, this model may not be for you.
Pros:
7-zone pocket springs mould to your body
The memory foam top cushions joints for greater comfort
Antibacterial, anti-mite top cover keeps your bed fresh
Breathable design helps to wick away sweat
Rust-proof springs improve longevity
Cons:
Memory foam can sleep warm
The foam layer may be too thin for some people
If you're looking for something comfortable to sleep on, strong on edge, and relieve pressure buildup on hips and shoulders, then the Vesganttii pocket sprung mattress is for you.
Wake up refreshed with this 10.3-inch mattress that features a deep pocket layer inside. The 7-zone pocket sprung unit with heavy-gauge springs offers great support to the entire body so that you can sleep in the correct posture. It is working independently. The springs target the main areas of your body to support your hips, shoulders, and back throughout the night.
The individual pocketed responsive springs with eight active turns have excellent motion isolation, shock-absorption, and anti-interference design – great if you share your bed with a restless partner. Also, on top of pocketed springs is a thick layer of comfortable, breathable foam that hugs the contours of your body to prevent pressure on the joints. With the extra qualities of its hypoallergenic, soft Tencel fibre cover, sweat is wicked away from the body, so you don't build up a sweat while you sleep.
Furthermore, the tiny holes on the top layer surface offer increased airflow and breathability all through the night. This mattress provides a bigger sleep surface area and a medium-firm feel, though some people may feel that it is a little on the softer side than other medium-firm mattresses.
Though this mattress has been well-designed, it may lack enough supportiveness on the edges for some people. So if you're concerned about rolling out of bed, you might be better off looking for another option.
Pros:
Great motion-isolation which is perfect for those with restless sleeping partners
The foam layer cushions the joints and relieves pressure
Moulds to the contours of your body as you sleep
Its breathable design reduces your sleeping temperature
Cons:
It may feel too soft for some people
Edges of the mattress may not be supportive enough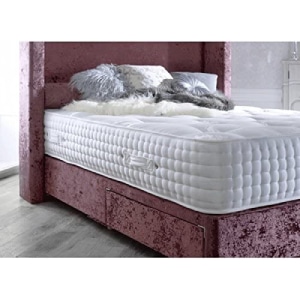 If you are looking for a pocket sprung king-size mattress, or a super king memory foam pocket sprung mattress, make sure you take a closer look at this hybrid mattress from the Sleep Factory. While this may not be one of the most famous mattress companies, the Sleep Factory has been quietly gaining a solid reputation for affordable hybrid mattresses made in the UK from quality materials.
Thanks to its additional natural fillings of cotton and wool with an air vent, this super king size mattress is also a good choice for hot sleepers, helping you regulate your body temperature. Rated medium-firm, the large number of pocket springs make this sprung mattress a good choice for pressure relief.
It measures 25 cm in-depth, the whole mattress is hand tufted for extra stability, making this one of the more durable mattresses than standard foam mattresses. Enjoy the comfort provided by the wool and memory foam layers combined with the support of a full pocket sprung mattress for a cooler, more comfortable sleep. 
Bear in mind that, unlike latex mattresses, pocket sprung mattresses tend to be a little noisy, and this hybrid mattress is no exception. This could be improved with better edge support and thicker memory foam layers.
Pros:
25cm depth
Individually encapsulated pocket springs
Memory foam and wool filling
Medium to firm comfort rating
Hand-tufted for durability
Cons:
It may be a little noisy
Edge support could be improved
If you are looking for the best pocket sprung single mattress, the Dosleeps 9 Zone Single Pocket Sprung Mattress makes a good choice for a comfortable level of medium-firm support. Whatever your favourite sleeping position, this hybrid mattress provides excellent support, ideal if you are looking for a firmer mattress for yourself or your child.
It measures 22cm deep. This single-pocket sprung mattress is a lot deeper than regular single foam mattresses. It provides you with more support all night long thanks to its innovative 9 zone support system. Made with 448 stainless steel springs, each compressed and sealed in fabric pockets to minimise noise and ensure independent motion. 
The upper memory foam layer gives you a soft, comforting sensation, while the Tencel lyocell fibre casing helps to regulate body temperature for a cooler night's sleep. At 16.5 kg, this pocket spring mattress is manageable to set up alone, and it also comes vacuum-packed and rolled for greater convenience. 
On the downside, this pocket sprung mattress could be improved by having better edge support, plus a little extra support all-around if you are looking for firmer mattresses. Alternatively, if you prefer a softer sleeping surface, you may wish to invest in an additional mattress topper.
Pros:
22cm depth
448 stainless steel wire pocket springs
2cm memory foam
Smooth Tencel fabric case
Lightweight 16.5 kg
Cons:
Could considerably improve the edge support
The foam layer may need adding to
The Inofia pocket sprung mattress combines the ultimate convenience with luxurious comfort and support you need for a restful night's sleep.
Inside the mattress, individually pocket high-gauge conical coil springs are made of durable stainless steel that adjusts to your body shape and weight. This gives the precise support you require every night for a stress-free sleep. The innovative pocket coil distribution creates motion separation that isolates movements so you don't disturb your sleeping partner with tossing, turning or bathroom visits during the night.
In addition to pocketed spring, this mattress utilises a combination of 8 comfort layers that include pressure-relieving memory foam, supportive high-density foam, and a sterile layer to provide you with maximum support and comfort. If you require a smaller or larger size, this mattress is available in single, small, double, and double with a 10-year guarantee from Inofia. Moreover, it also comes with a 100-night trial period – great if you like to try out a mattress before committing.
In terms of drawbacks, this model may be a little too thin on top for heavyweight sleepers, which may be able to feel the springs once the top layer is compressed. It may also lose its support faster than expected, so you may find yourself needing to turn it regularly to maintain the comfort level.
Pros:
Smart pocket coil distribution isolations motion to limit disturbances
High-gauge springs adjust to your body weight and relieve pressure points
Eight comfort layers hug your body contours
100 -night trial period so you can try before you buy
Cons:
It might be too thin on top for those who are heavy-set
May lose supportiveness relatively quickly and require frequent turning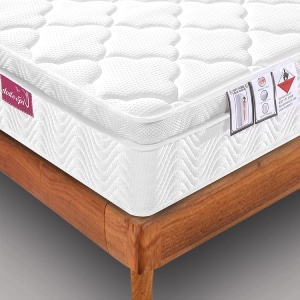 The pocket sprung mattress by DOSLEEPS features a unique 9-zone support design that includes more than 1000 individually wrapped springs.
Not only does this offers full responsive body support, but the 9.45″ thickness and medium firmness are also perfect for those who sleep on their back or side, as it helps to support the back in its natural position. Thanks to the stainless steel tempered wires coil springs, the mattress perfectly contours to the body shape and is ideal for those suffering from back pain.
 The DOSLEEPS mattress is designed to provide exceptional support and natural comfort. Its pocket sprung system holds each steel spring in its case to offer responsive support as you move, without any motion transfer or collision noise. This means you or your sleep partner won't be disturbed should one of you turn and toss during the night.
Moreover, the 3D advanced quilting pad with its double side X-90 mesh offers temperature regulating properties, great for wicking away moisture while you slumber. This helps to keep you dry and maintain a comfortable sleeping temperature without any sweat buildup on warm nights. In addition, the mattress features air vents to encourage air circulation, keeping yourself and the mattress feeling fresh.
On the downside, the quilted pad on this mattress may be too thin for heavier users, who might do better to get a mattress with a thicker foam top layer for enhanced comfort. It may also need to be aired out for a few days before use to dissipate any chemical odour.
Pros:
3D quilting pad adds comfort
Nine zones of support provided by more than 100 wrapped springs
Reduces motion transfer for limited sleep disturbance
Temperature regulating properties help you to keep cool overnight
Cons:
It may be too thin for heavier sleepers
Can have an odour when first opened
Our top double pocket spring mattress pick is the popular Inofia Hybrid 7 Zone pocket sprung mattress. 22 cm deep, this double mattress has all of the essential elements that you need in a mattress for a good night's sleep.
Thanks to its seven zone pocket sprung support system, enhancing correct spinal alignment and even weight distribution, this medium-firm mattress is a supportively comfortable choice complete with a soft, pressure-relieving foam upper layer. The breathable knitted top cover helps you to sleep cooler with less heat buildup.   
Available in single, double, king and a 120cm x 190cm size, the Inofia Hybrid 7 Zone Hybrid Mattress makes a good choice for almost all bed base sizes. With hassle-free returns and a 100-night trial, if you are looking for a cheap double pocket sprung mattress, this one could be well worth considering as an alternative to some more well-known mattress brands.
Unfortunately, the breathable fabric top could be tighter fitting, as it can create ridges after several months of use. Compared to some of the best hybrid mattresses, this model may not be quite as durable, although you do get a 100-night trial. 
Pros:
22cm depth
High-elasticity & high-density foam upper layers
Breathable knitted top cover
7-zone pocket spring support system
100 night test period
Cons:
Fabric upper could be better fitting
Foam layers could be much thicker
If you are looking for a single pocket sprung mattress for your spare room or occasional use. The BedStory UASH234E4 Single 3D Spring Pocket Mattress could be a good budget choice, especially if you prefer firm mattresses. 
With its soft memory foam comfort level resting on the lower level of supportive pocket springs, this 23cm deep single mattress provides medium-firm support for pressure relief with a soft upper. The knitted fabric upper adds to your comfort, providing extra cushioning and good breathability.
This mattress is also easy to set up and unpack. Suppose you are looking for a hassle-free way to replace an old single mattress online without wasting a day wandering around bedding shops. In that case, this pocket spring mattress by BedStory could be just what you need to complete your spare room renovation.
While this single pocket sprung mattress is rated as providing medium-firm support levels, it may be too firm if you prefer a soft mattress, or you may want to add a mattress topper for extra comfort as suggested by the manufacturer. Bear in mind that this mattress may be better suited to occasional use in your spare room rather than as an every night mattress. 
Pros:
23cm depth
Memory foam comfort layer
Supportive individual pocket spring
Breathable knitted fabric upper
Packed small for easy delivery
Cons:
It might be less suitable for side sleepers
It may need a topper
What Is a Pocket Sprung Mattress?
While it's obvious that pocket sprung mattresses are a very popular type of mattress, it's less obvious just what we mean when talking about actual pocket springs. Before we get into the detail of how to choose your new pocket spring mattress, let's take a closer look at the typical makeup of an average pocket sprung mattress compared to standard spring mattresses.
Pocket sprung mattresses are made with a large number of springs. Each spring is individually encased in its fabric pocket – hence the name. This keeps your springs consistently firm and prevents them from becoming entangled with one another. As each spring is compressed or released independently of the others surrounding it, pocket sprung mattresses can provide extra support.
Pocket sprung mattresses, much like traditional spring mattresses, need several layers of natural fillings, foam or latex foam to provide a cushioned layer to prevent your body from coming into direct contact with the springs themselves.
What Are the Benefits of a Pocket Sprung Mattress?
Pocket sprung mattresses have plenty of benefits compared to traditional spring mattresses, latex mattresses and foam mattresses. Here are some of the benefits you can look forward to when upgrading to a new pocket sprung mattress.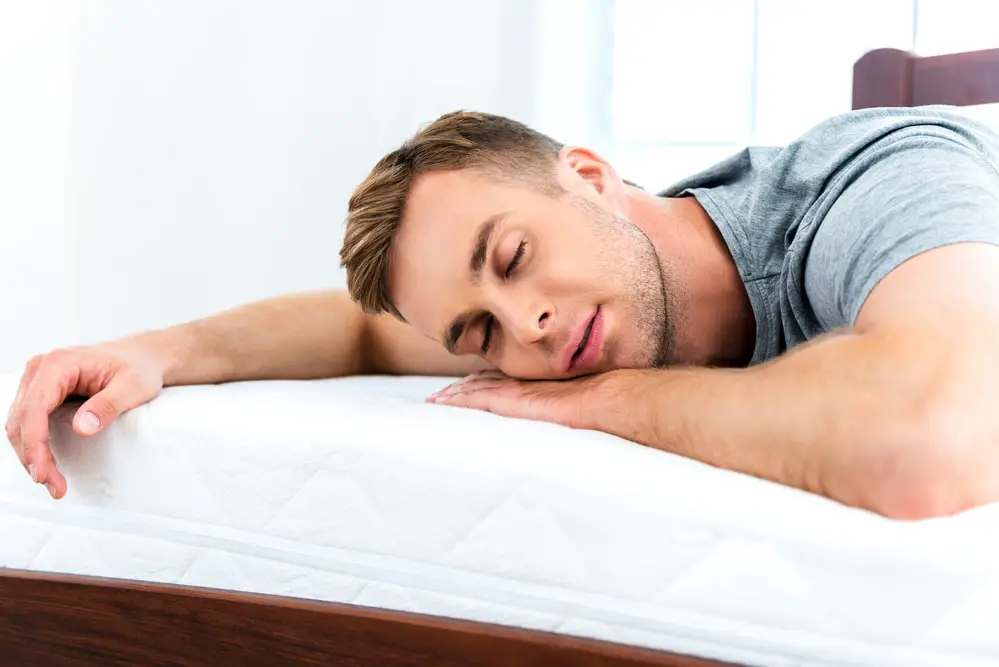 Full Body Support
Thanks to the hundreds of pocket springs in pocket sprung mattresses. You get full-body support from head to toe. Different parts of your body need different levels of support, and a pocket sprung mattress is an excellent way to provide your body with contoured support. 
Reduced Motion Transfer
If your partner tends to toss and turn throughout the night, or one of you has significantly different waking and sleeping hours, you should invest in a pocket sprung mattress. Pocket sprung mattresses are much better than foam mattresses at preventing motion transfer, so you're less likely to wake, or be woken by, your partner. For more information on how sharing a bed can adversely affect your sleep, check out this article from the Sleep Charity (formerly the Sleep Council).
Consistent Firmness
As each spring is individually encased, each and everyone is held at a constant state of tension. This ensures that your bed remains consistently supportive.
Longer Lasting Mattress
Pocket sprung mattresses tend to last much longer in better shape than memory foam mattresses tend to sag after short use. High-quality pocket sprung mattresses with their consistent firmness will likely outlast a memory foam mattress by several years.
Improved Pressure Relief
Thanks to every pocket spring functioning independently of one another, your pocket sprung mattress can provide you with better support levels, relieving common pressure points such as the hips and shoulders. Pocket sprung mattresses provide much better pressure relief compared to memory foam mattresses.
How to Choose the Best Pocket Sprung Mattress
With so many pocket spring mattresses to choose from, you may end up getting bogged down in sales talk and marketing when shopping for a new mattress. So, how do you go about choosing the right mattress for you? Here's our guide to choosing the best pocket spring mattress based on the most important selection criteria.
Size
While it might seem obvious that you will need to look for pocket spring mattresses that match your current mattress size, bear in mind that there can be some variations between brands, especially if you are considering an imported mattress. Our advice is to check the actual dimensions given for your mattress and to measure your bed base. While this might sound like overkill, as mattresses are big, bulky and often difficult to return, it's best to play it safe and spend 2 minutes measuring.
Cover Material
Some of the best mattresses come with hand-tufted covers for better stability and increased longevity. You'll want to look out for pocket mattresses with soft, breathable upper covers for a more comfortable night's sleep.
Comfort Layers
You can find the comfort layers of a pocket spring mattress between the cover and the layer of mini pocket springs. There is a wide range of options available, so take your time and consider your preferences. If you tend to sweat a lot in bed, natural fillings such as wool make a good breathable choice. Eco-friendly recycled fibre layers are also a good option.
For the uppermost layer, memory foam and latex are both popular choices, giving you a sink-in soft, comfortable surface that is, in turn, cushioned and supported by a lower layer of filling.
A sprung pocket mattress with a latex upper layer is often a more affordable and practical alternative to a full latex mattress. Similarly, opting for a hybrid model with memory foam is often a better alternative than selecting a standard foam mattress that could lack support and longevity.
Double-Sided
If you are looking for a long-lasting pocket sprung mattress, you may wish to invest in a double-sided mattress. Some models have the same construction on both sides of the springs, whereas others have one hot and one cold sleeping surface that you can flip to depending upon the season and whether or not you sleep hot or cold.
Is a 2000 Pocket Sprung Mattress Good?
When looking at new pocket sprung mattresses, 2,000 pocket springs are the maximum number you can get in one layer on a standard king-sized bed. Generally, double size pocket spring mattresses tend to have between 500-1000 pocket springs. Some higher quality pocket sprung mattresses may have more pocket springs. A single will have much fewer pocket springs than a king-size mattress, even if they are from the same range.
It is important to remember that once you already have a high number of springs, you are not providing extra support, merely better distributing the sleeper's weight. A heavier person will benefit more from a 1,000 plus spring count than a lightweight person as it will better distribute the extra weight over more springs. This means that each spring will be less likely to become fully compressed, allowing for better support and spring motion.
Conclusion
Comfortable, supportive and highly durable, if it's time for you to upgrade to a new mattress, a pocket sprung memory foam mattress makes a smart choice to improve your sleep quality. If you are stuck deciding, it's well worth taking another look at our editor's choice and arguably the very best pocket sprung mattress in the UK, the HomyLink Blacktree.
This medium-firm pocket spring mattress features three upper foam layers for comfortable softness and provides excellent back support thanks to its numerous pocket springs. Encased in a breathable, soft knitted fabric, if you are looking for the best pocket spring mattress on a low budget, the Blacktree by HomyLink makes an excellent choice.
Additional Resources
Tania is a full-time writer and home product enthusiast. She loves helping readers not only get the most out of their home but to also pick the right products for their needs.