Last Updated on March 1, 2022
Our editors independently research the best products online to produce this list. We may receive commission on purchases made from the links below but this will never affect our product choices.
---
Top 10 Best Mattress for Adjustable Beds
When it comes to picking the best mattress for adjustable beds in the UK, customers have many options. Though adjustable beds can be a little harder on some mattresses, a wide selection of memory foam, latex, and other pliable materials should mean you don't have to worry about your bed frame destroying your mattress performance.
Adjustable beds can be an excellent investment for people from all walks of life. You can get more support and relief from issues like back and hip pain in an adjustable bed. Many of these products also make it easier to maintain your independence when you have mobility issues.
Here are the most effective adjustable mattress options for a bed that adapts to suit you.
How we Compared Mattresses for Adjustable Beds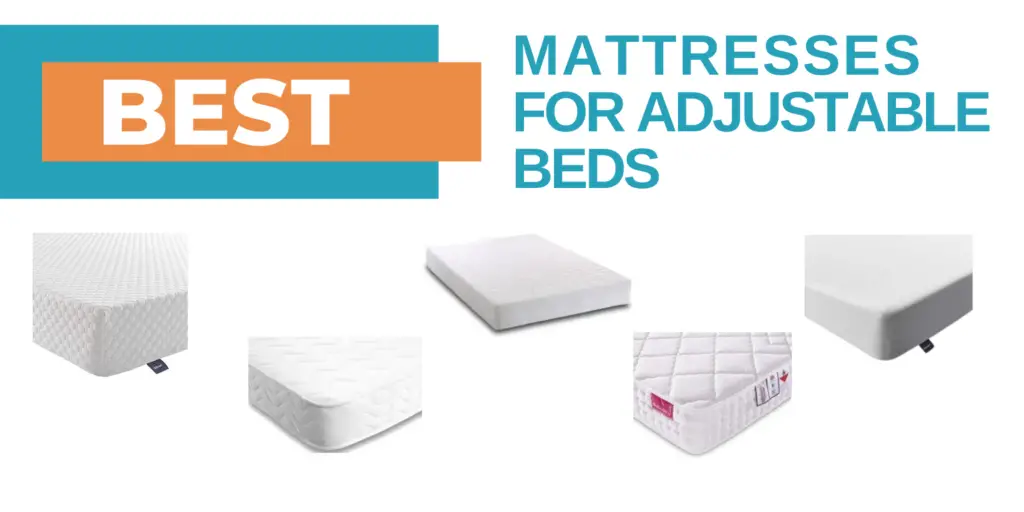 To find the right mattresses for adjustable beds we considered multiple factors, including:
Size
Stability
Surface
Material
Flexibility
Our team independently examined and compared hundreds of products to help satisfy different needs. We spent our time researching mattresses for adjustable beds and consulting customer reviews to ultimately bring you what, in our opinion, are the best options on the market right now.
To find out more about our editorial process, take a look here.
Mattress for Adjustable Bed Reviews
Despite common belief, pocket sprung mattresses can work just as well with an adjustable bed as the best memory foam mattresses. The DOSLEEPS 9-zone adjustable mattress could be the ideal pick for you if you're looking for extra support to help with painful joints or back issues. 
This innerspring mattress from DOSLEEPS is a great investment for any home with adjustable bed base concerns. Unlike traditional spring mattresses, the pocket springs in this mattress are individually wrapped for more flexibility when you're changing the position of your bed. The innerspring mattress also comes with a fantastic Tencel surface, ideal for absorbing moisture efficiently and regulating your temperature as you snooze.
The supportive pocket springs are all individually wrapped for customisable comfort. Each spring coil in the DOSLEEPs bed is made with high-quality stainless steel to maintain its shape over the years. The extra memory foam on top helps transform this product into a kind of hybrid mattress, so you have extra soft support around your hips, spine, and neck.
However, please note that it may take a while before the packing smell goes away. Also, some users have found it to be too firm.
Pros:
Pocket springs suitable for adjustable bed frame
Combines the stability of springs with the comfort of memory foam
Supportive surface with minimal motion transfer
Tencel surface helps to minimise sweating
90-day money-back guarantee
Cons:
It may be too firm if you're looking for a full memory foam mattress
It may take a while to lose its packing smell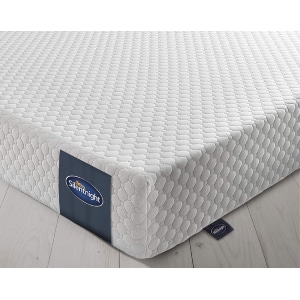 Suppose you're investing in an adjustable bed to help with issues like back and neck pain. In that case, it's important to ensure your choice of mattress is comfortable enough to deliver excellent support, and memory foam mattresses like Silentnight are one of the top picks for the best adjustable beds.
Unlike old-fashioned spring mattresses, this foam mattress from Silentnight will give you a unique, relaxing experience as you snooze in your adjustable bed. This memory foam mattress can mould to the contours of your body for excellent pressure relief, with three zones designed to deliver the right support to different parts of your body.
Not only is the Silentnight 7 zone perfect for your adjustable bed base, but it's also suitable for those with sensitivities, thanks to a fantastic anti-allergy design. The handmade memory foam mattress is neither too firm nor soft to support any body shape without excessive sinking.
On the other hand, please note that this mattress tends to be warmer and might not be ideal for some hot sleepers.
Pros:
Excellent support for pressure points
Easily reforms back into the right shape after use
Anti-allergy materials reduce sensitivity
Mid-level softness suitable for side sleeping
Zoned support for improved support
Cons:
Medium-firm feel might be too solid for some sleepers
It can be quite warm for hot sleepers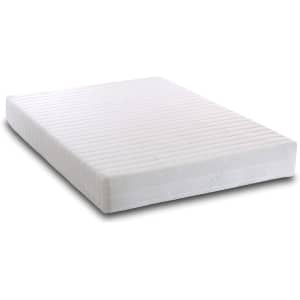 If you need a reliable single mattress for your single beds, the Visco Therapy mattress could be an ideal choice. 
This fantastic 3-zone mattress comes with a layer of extra-soft memory foam, so you can ease into sleep without any lumps or bumps to worry about. The Adjustable single bed is perfect for sore joints and great for orthopaedic support.
If you're looking for special mattresses to work on the best adjustable bed, the Visco therapy mattress could be a great pick. Designed to improve spinal support and blood circulation, the Visco therapy bed outshines other mattresses with a unique hybrid mattress design. You'll get an experience that's neither too soft nor too firm, with a soft knitted cover for extra long-term protection.
Like most of the top memory foam mattresses on the market today, this product comes pre-rolled and vacuum-packed, so you can easily get it upstairs and on your adjustable bed before leaving it to inflate to its full size.
Meanwhile, you may notice that it may take a while for it to inflate fully. Also, it may be a bit warmer and might not suit some hot sleepers.
Pros:
The excellent top layer of soft memory foam
Good for pressure distribution and spinal support
Soft knitted cover with kind-to-skin design
Flexible mattress for electric bed
Easy to move into your room
Cons:
It can take a while to inflate fully
Maybe overly warm for some hot sleepers
Mattress for adjustable bed reviews often focuses on memory foam products because they're so adaptable. Items like the Silentnight comfort mattress will easily snap back into shape after being bent and moved by an adjustable bed. 
Furthermore, this product comes with a fantastic foam filling to help minimise back pain and keep you comfortable when you're sleeping or watching TV.
Promising fantastic additional support for people with back, shoulder, and neck pain, the Silentnight memory foam mattress is ideal for pressure relief. There's minimal motion transfer, so it's ideal if you're sleeping with a partner on an adjustable base. Additionally, the anti-allergy materials used for this Silentnight bed will help you avoid watery eyes in the morning.
The Silentnight team will send your new mattress pre-rolled and vacuum sealed so you can get it set up in no time.
Unfortunately, this mattress may not be as firm compared to pocket spring mattresses. Also, it may not be the best option for stomach sleepers.
Pros:
Comfortable mattress suitable for an adjustable bed
Anti-allergen covering with protection from dust mites
Mid-level firmness for various sleeping positions
Mattress features exceptional pressure relief
Handmade in the UK with high-quality materials
Cons:
It may not be as firm as a pocket spring mattress
It may not be ideal for stomach sleepers
Another great option in our list of the best mattress for an adjustable bed in the UK is the Hybrid Mattress by Starlight Beds. 
This bed mattress integrates both springs and memory foam for a better night's sleep. The extra layer of memory foam offers amazing comfort and extra support for pressure points. This mattress features additional springs carefully designed to offer firm support for back pain issues.
One of the top adjustable beds on the market with a combination of memory foam and springs, the Starlight Beds hybrid mattress is suitable for people of all ages and a host of bed surfaces. You can use this product with your adjustable bed frames or an adjustable divan base, and rest assured, it can stand the test of time. There's even a hypo-allergenic coating to help keep you comfortable at night.
Whether used on a divan bed or another bed frame, the Starlight Beds solution will protect against aches, pains, and dust mites too. There are also many sizes available, from small double and shorty mattresses to extra-long singles.
Meanwhile, please note that this mattress is not as firm compared to some hybrid mattresses. Also, there may be some instances that you will feel the springs after using the foam for some time.
Pros:
Full range of size options to choose from
Offers great support for back pain
Works well with an adjustable divan or electric base
Protects against allergies
A layer of memory foam for extra comfort
Cons:
May is not as firm as some hybrid mattresses
It may be possible to feel the springs after a while
Another excellent choice for the best bed base and mattress combo with an adjustable bed is the Inofia double memory foam. 
This high-quality mattress comes with three layers of reflex foam to provide the best quality of comfort when you're sleeping or relaxing in bed. Key features of the mattress include a cooling gel comfort layer to avoid overheating.
It is designed to give you an undisturbed night of sleep. The Inofia double memory foam mattress can work perfectly with an adjustable base or divan bed. Three layers of memory foam will help soothe you to sleep while still giving the support you need to protect against the neck, back, and joint pain without the extra cost. There's a cooling gel comfort layer for distributing heat, and the memory foam is also US CertiPUR certified.
With the promise of no toxic materials or chemicals to worry about, you can rest easy with this fantastic reflex foam bed. There's also a range of colours to choose from, including the single and super king. Plus, the dark grey base looks great in any bedroom.
Unfortunately, some users have claimed that this mattress is not as stable as other mattresses, particularly the pocket spring beds.
Pros:
Full range of king size, single mattress, small double and double beds
Excellent memory foam performance
It soothes you to sleep with three layers of comfort
Suitable for an adjustable bed
The gel layer helps keep you cool
Cons:
May lack some of the stability of a pocket spring bed
It may not be suitable for every sleeping position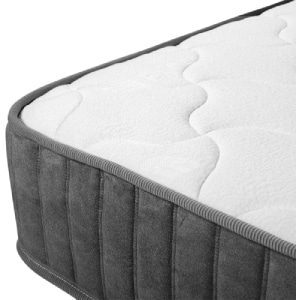 Available in sizes from single to super king, the Yaheetech mattress for an adjustable bed combines springs and memory foam for the best level of comfort!
If you want an adjustable mattress capable of offering the same firm support as a standard spring bed, this could be the ideal product for you. Because you're getting a mixture of foam and springs, you also get great airflow.
This hybrid mattress is one of the best products on the market for lifestyle beds, giving users a fantastic combination of memory foam comfort and strong spring support. The breathable materials throughout this bed will reduce the risk of potential overheating, unlike other mattresses on the market. You also get a medium level of firmness, so your bed isn't too soft or too hard.
The 11-layer support system built into the Yaheetech mattresses is ideal for a range of sleepers, and to prove just how flexible it is, these beds come rolled, and vacuum packed. One of the key features of this bed is how easy it is to transport the mattress upstairs and onto your adjustable beds. All that, and you get a great price too.
Unfortunately, this mattress does come with some disadvantages. A major concern among users is that they could feel the springs after using the foam for some time.
Pros:
Hybrid spring and foam performance
Breathable materials reduce the risk of overheating
Medium level of mattress firmness
Flexes just as well as the best adjustable beds
Easy to transport
Cons:
Maybe easier to feel the springs after a while
Vacuum packing may leave an odd smell on the mattress
If you're searching for the best hybrid mattress features for your adjustable bed, Homylink could have just the solution. 
This adjustable mattress comes with a 9-zone orthopaedic design, ideal for helping to shape the body in the perfect way for a good night's sleep. With this mattress, you get the benefits of pocket spring coils and foam in the same adjustable bed.
If you want a reliable mattress for an adjustable bed with the added support of pocket springs, the Homylink mattress could be a good pick. Not all mattresses can give you the best of both worlds like this one. Homylink includes hundreds of quality stainless steel springs individually distributed in your mattress to reduce motion transfer and noise.
The unique memory foam feature goes above and beyond the basics of standard foam or latex mattresses, too, with a massage function intended to promote blood circulation and keep you in great shape through the night. Air chambers between the springs help to reduce the risk of overheating in your adjustable bed. Plus, this product is built for flexibility.
One thing to note about this mattress is that it may have a strong and weird odour, which may take a while to go away.
Pros:
Excellent mattress combo of pocket spring and foam technology
Suitable mattress for an adjustable bed base
Massage memory foam improves blood circulation
Multiple zones for protecting and supporting the body
Natural fillings with no dangerous chemicals
Cons:
Can have a bad smell on arrival
Foam layers may be too thin for some users
This is another excellent product to try if you're looking for a single, double or king-size mattress for adjustable beds. 
The Vesgantti beds are designed with individually wrapped pocket springs to give you more support in the areas where you need it most. The key features of this mattress include pressure-relieving points around your neck, head, shoulders, waist and hips.
You can enjoy a better night's sleep in no time with this mattress, offering ultra-quiet performance with excellent shock absorbance and resilience. The bed can easily manage regular use, and there's even a 100-night sleep trial, so you can put the performance of your mattress to the test before you commit to your purchase.
If you're looking for an effective mattress for an adjustable bed, this mattress in a box could be a perfect choice. If you're concerned it won't work well with your adjustable beds, your worries will melt away as soon as you see your adjustable mattress packaged and rolled in a vacuum-packed easy-to-carry system.
Meanwhile, please note that this mattress may not have the standard UK sizes. Also, some side sleepers have complained that this mattress is too firm.
Pros:
Vacuum packed for easy transport to adjustable beds
Excellent flexible performance for adjustable beds
100-night trial
Ultra-quiet with shock absorption technology
Multi-layer breathable foam included
Cons:
May not have standard UK sizes
It may be too firm for side sleepers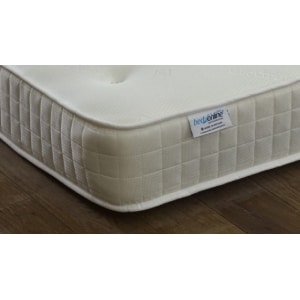 If you've been looking for memory foam adjustable beds until now, you may have noticed it's hard to find one that keeps you cool while offering the extra comfort you need. Fortunately, the BEDZONLINE hybrid adjustable bed mattress could be the answer to your problems. 
This high-performance mattress offers a combination of coils and foam for all the support and comfort you need. The open coil spring system in this mattress ensures you get the extra stability you need to protect against back pain and posture issues. In contrast, an additional layer of memory foam ensures you can sink into all the comfort your adjustable beds have to offer. Combining both materials means you get a great product with adjustable beds and is suitable for all kinds of sleepers.
There's a range of sizes available for the Ultracool mattress to suit your adjustable bed design. These beds also come with a stretchable cotton cover for long-term durability and performance. There's also high-side ventilation to improve airflow throughout the mattress.
Unfortunately, this mattress may come with some disadvantages. A major downside of this mattress is that it is not the best choice if you suffer from back pain.
Pros:
Combination of spring and foam support
Suitable for adjustable bed frame
Excellent ventilation for hot sleepers on adjustable beds
Long-term durability and versatility
Extra-soft cotton cover
Cons:
It might become lumpy after a while
It might not be suitable for sleepers who suffer from back pain
Do I Need a Special Mattress for My New Adjustable Bed?
Adjustable beds require specific types of mattresses to ensure they deliver the best results. An adjustable bed can damage the springs in your mattress over time the more you use it. Memory foam, latex, and other mattress options can be excellent for long-term durability. You can look at options with innerspring pocketed coils too.
What Kind of Mattress Is Suitable for an Adjustable Bed?
You can use all kinds of mattresses with an adjustable bed, depending on the kind of sleep experience you want. Most people will go with a latex or memory foam mattress because they're naturally more flexible and more likely to bounce back into shape after being moulded into different positions.
Are Pocket Sprung Mattresses Suitable for Adjustable Beds?
Pocket sprung mattresses could be an excellent investment for an adjustable bed, not confused with a traditional spring mattress. With pocket springs, all of the springs in your bed are positioned as individual components so that they can flex more easily.
Does an Adjustable Bed Mess up a Mattress?
If you don't have the right kind of mattress, it could be damaged by your adjustable beds over time. Make sure you think carefully about the right mattress for your budget adjustable bed before you invest in one.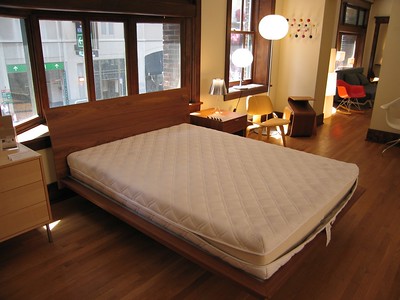 The Best Mattress for an Adjustable Bed
Choosing a mattress for your adjustable bed is an important part of ensuring a good night's sleep. The right pick also ensures you're not going to wear your mattress out over time whenever you adjust your bed's position. While there's no one-size-fits-all mattress, hopefully, this guide will help you make the right choice.
Our top choice when it comes to the best mattress for an adjustable bed in the UK is the DOSLEEPS 9-Zone Pocket Sprung mattress, which offers an excellent combination of foam comfort and spring support for people with back or joint issues. If you want the best of both worlds with springs and foam, this could be the ideal pick for you.
Additional Resources
Nicole has a passion for everything about the home – especially decor. She loves to add new touches and style to every part of the house. Join her as she documents her ideas at Home & Style.