Last Updated on February 15, 2022
Our editors independently research the best products online to produce this list. We may receive commission on purchases made from the links below but this will never affect our product choices.
---
Top 10 Best Body Pillows
Are you having trouble falling asleep? What you need is a body support pillow!
Finding a comfortable body pillow that helps you fall asleep with extra support is crucial for people with back pain, sciatica, gastric reflux, fibromyalgia, pregnant women, recovering injuries, snoring, and others who have difficulty sleeping at night. A body pillow helps ease back pain, align the spine, neck, hips, and offers support as you lie in bed by following the natural contours of your body from head to toe.
Since body pillows are a personal preference, this can make the process of finding the perfect, most comfortable one difficult. That's why we have listed the best body pillows in the market below to save you time. Enjoy the benefits of full-body comfort!
How We Compared Body Pillows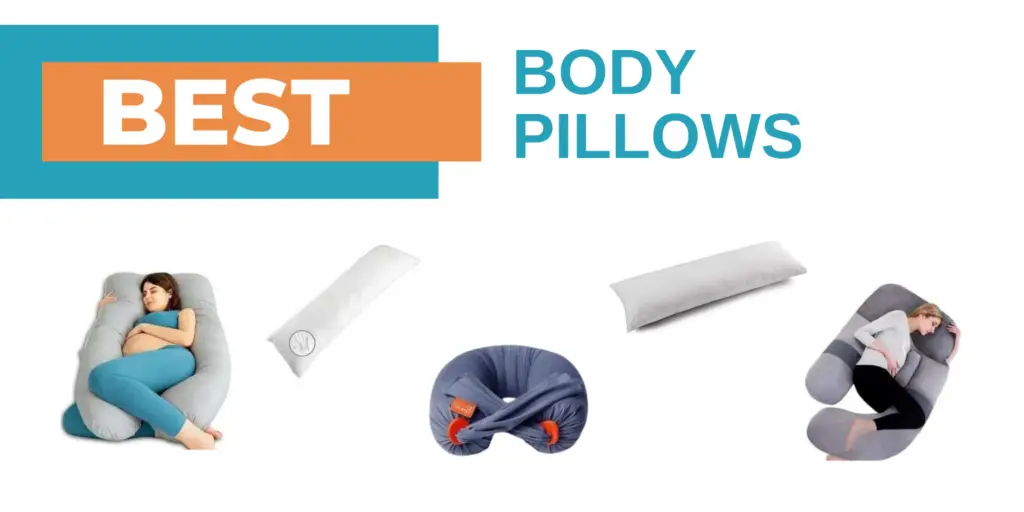 To find the right body pillows we considered multiple factors including:
Shape
Multifunctionality
Material
Our team independently examined and compared hundreds of products to help satisfy different needs. We spent our time researching body pillows and consulting customer reviews to ultimately bring you what, in our opinion, are the best options on the market right now.
To find out more about our editorial process, take a look here.
Body Pillow Reviews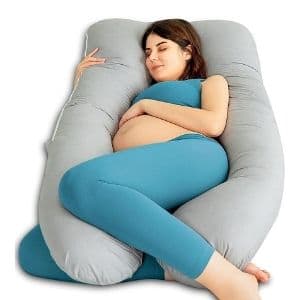 The Queen Rose Cooling U-shaped pillow completely eliminates the need for using multiple pillows to get a good night's rest. The pillow is uniquely U-shaped and packed with design features that make sleeping more relaxed and comfortable.
This full-body pillow has a unique bionic polyethene filling which is unscented, high density and über soft. With such premium material, this pillow is firm enough that it will support your legs, belly, neck, head, hips, spine, and back. The filling retains fluffiness for longer use and performance. Rest assured that you will be extremely comfortable with the Queen Rose pillow – it is very flexible, so you can snuggle any way you want!
This pillow works great for pregnant mothers as the 'U' shape is designed to follow the natural shape of the mother-to-be. You can comfortably rest when sleeping, feeding, reading, watching TV, etc., as this pillow will support you wherever you sit, whether that is on the bed, the sofa or the floor.
Along with body support, it helps you to relax, breathe and reduces pregnancy heartburn. Tucking the end of the pillow between your knees improves airflow and body alignment all night long.
It's even great for postpartum and nursing mothers as well. And people who suffer from pain such as hip, back, poor posture, athletes, people in physical therapy, or simply anyone who wishes to have a better night sleep.
As a bonus, the breathable cover is machine washable, so it has a zipper for accessibility. Moreover, there are lots of other cover materials to choose from with different colours; organic cotton, jersey, and velour. Queen Rose are also very customer-focused: they provide a 30-day refund or exchange if you are unsatisfied with the pillow.
From reviews, some customers found that the pillow was less stuffed with filling than they expected. Some customers found the pillow to be too large, but there are different size options available.
Pros:
U-shaped design
Soft cotton filling
Washable cover
Premium and non-allergenic material
30-day refund
Cons:
May need extra stuffing
May need to consider the size options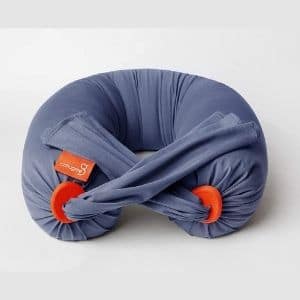 If you toss and turn all night to find a comfortable sleep position, the bbhugme best pregnancy pillow will provide the comfort you want. Find relief with a Scandinavian-designed pillow that is adjustable to your body shape throughout all points of pregnancy. This pillow can support you where you need it most; belly, lower back, ankles, knees, and pelvic pain can be alleviated.
The interior pillow is made with TOXPROOF certified material and expanded polystyrene beads, which help your body maintain its ideal and most comfortable sleep alignment. The lightweight and sweat-wicking material will help you to stay cool during the night. For ultimate freshness, the soft jersey cover is machine washable.
The bbhugme organic pregnancy pillow is recommended by midwives, so you can be confident that the bbhugme pillow will be good for your needs! This pillow offers mothers-to-be excellent comfort and support throughout pregnancy, especially for nursing. This pillow is used for a variety of different needs, but it's especially excellent for postpartum and those of you who experience pain or sleep problems.
Measuring approximately 150 cm by 20 cm, this pillow is ideal for any height; there is plenty of pillows for you to manipulate to your desired comfort.
You can get this pillow in many different colours to suit your preference or house style. The options are dusty blue and orange, dusty olive, dusty pink and vanilla, eucalyptus/coral or stone/plum. With such a variety, you are sure to find a colour to suit you.
Customers have pointed out that they found the pillow to be too firm even when adjusting, but this is relative to preference. Others found that they needed to replace the cover after a few months due to difficult stains, so this may be something to consider.
Pros:
Certified and safe materials
Works for all sleeping positions
Lots of colour options
Washable soft jersey cover
Ideal for any height
Cons:
It may be too firm for some people
You may need to replace the cover after a few months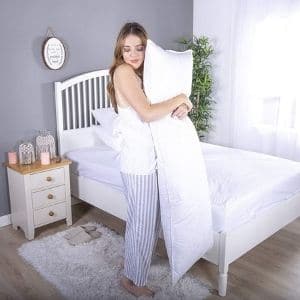 Find the support you need with the Adams body pillow that is designed to provide your body with comfort, relaxation, and support for nights to come. This 5ft pillow made in the UK is specially engineered to create the ultimate support as fibres cradle and conform to the contours of your body. Moreover, this pillow is filled with an innovative lofty filling that provides a delightful sleeping experience.
Orthopaedic support and maternity care are the targets for this pillow, but it works well for anyone wanting to get comfy! This bendy pillow will provide you with lumbar support when lying down or simply sitting.
Side sleepers looking for help to align and conform their spine into a more comfortable natural sleeping position will love this pillow. The oversized 19″ x 60″ design makes this a pillow capable of providing pressure-relieving comfort to the entire body. You can choose from various different lengths to fit your bed.
Don't worry about allergens here; it's 100% hypoallergenic. The breathable cover and fibre design allow unobstructed airflow for a cooler sleep. Inside, the pillow is stuffed with 100% polyester hollow fibre. Even better, you can wash the pillow and tumble dry.
From reviews, you may want to purchase a pillowcase to increase its durability and softness. With extended use, this product may lose its shape after a few months. If you are unhappy with this pillow, customer service is quick to help.
Pros:
Hollow fibre filling
Breathable material
Hypoallergenic
King-size
Suitable for all sleeping styles
Cons:
You may have to buy a pillowcase
May lose its shape after a few months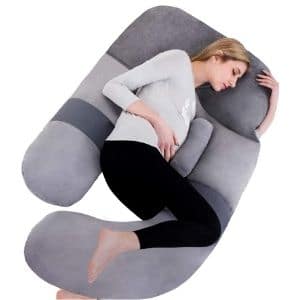 The AS AWESLING body pillow is our choice for the best pregnancy pillow. Unbeatably, it offers the ultimate comfort with detachable pillows. Position these pillows however you want around your body, or assemble the entire pregnancy pillow in the "U"/"D" shape. This pillow really cradles you and your baby!
There is an extra, smaller pillow included to support your baby bump and take the strain away. Or, you can use it for even more back support. This is a multifunctional pillow which means that you could use the pillows to prop up your book, iPad, notebooks, etc., on your knee, with support under your legs, too.
You can design the AS AWESLING to suit you specially. The cotton filling is easily removable, so you can reduce or increase the firmness. Durability is key to AWESLING: the inner cotton cover is high quality, and the outer cover is soft and hypoallergenic. The zipper ensures that the filling is easily accessible and that the cover can be removed for washing.
The AS AWESLING is a delight for any adult: this pillow will fully embrace you in any position, whether that be on your side, back or stomach. Even though it is titled the best pregnancy pillow, you could use it for post-surgery comfort to help you relax your healing body.
There are a few things to consider about this support pillow. One is that the strap that you can use to hold the pillows in a certain position is made of velcro, so some people found the stitching irritating. Others thought that the detachability of the pillows was inconvenient because it meant that the connecting seems were less supportive.
Pros:
Detachable pillows for optimal comfort
Quality filling and a soft
Washer-safe cover
Versatile use
Completely cradling
Cons:
The strap may be slightly uncomfortable
The pillow may move or be weaker where the attachments connect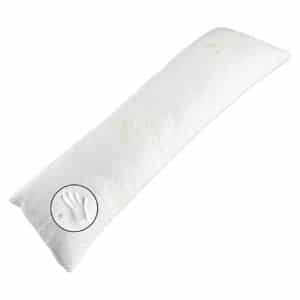 The Milliard Luxury Bolster/Full Body Pillow is a singular long pillow that measures 51 x 137 cm and is filled with shredded memory foam. If you are looking for a pillow that will compliment your bedspread without being too space-consuming, this is the right choice for you! Since it is as wide as a standard mattress, you can tuck the pillow behind your other pillows on the bed.
Ultra-soft, the cover is made of jacquard bamboo. It is even removable, so you can put it in the wash to keep it fresh. Furthermore, the cover is designed to not create wrinkles or creases in the skin.
For convenience, the product will ship vacuum packed, so we recommend that you allow 24 to 48 hours for the foam to expand for optimal cosiness for you!
You can customise the amount of filling since this pillow is designed so that you can remove or add as much as you want. Choose little stuffing for the pillow to softly contour to your body shape or lots of stuffing for firm support. There's no need to use multiple pillows here!
Some reviewers have suggested that you may need to fluff this pillow up as the memory foam stuffing may be clumped initially. This pillow is very large, so some customers felt that it was a little understuffed or too heavy for practicality. This is, however, down to preference.
Pros:
Customisable pillow with memory foam filling
It fits perfectly into your bed set-up
Washable cover
Wide design
Ship vacuum packed
Cons:
May need to fluff the pillow at regular intervals
It may be too large for some preferences
May need to buy extra stuffing if you prefer ultra firmness.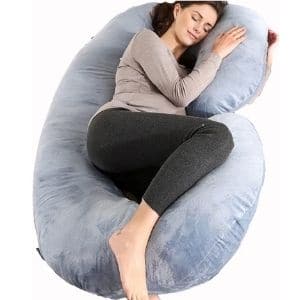 Have you been using one or more pillows for your head, one for your back, and one for your tummy or maybe in between your legs? Well, it's time to shift to a body pillow by Chilling Home. This will guarantee you a peaceful night sleep. Expertly designed with a "C" shape, this pillow works great to provide support during pregnancy, sports recovery, chronic back and knee pain, and poor sleepers.
The full-length 150cm by 70cm pillow promotes deeper comfortable sleep by keeping the spine, head, and neck properly aligned so you don't wake up with a stiff neck or backache. Plus, the pillow's unique design reduces pressure on the lower back and hips while supporting all the key joints, so you feel weightless.
This orthopaedic pillow uses 100% hypoallergenic cotton filling that easily moulds to support your body. Thanks to the 100% velvet material, the cover are super-soft to touch. The cover is also removable and machine-washable.
You should keep in mind a few reviews when considering which is the best out of these best pregnancy pillows. The Chilling Home best pregnancy pillow may be flattened over time, so you may want to re-fluff and stuff over time. You may get quite warm with this pillow due to the cover fabric. Another thing to consider is that some reviewers found the pillow to be smaller than expected.
Pros:
Multifunctional pillow
Hypoallergenic, skin-friendly materials
Ultra-soft velvet cover
Full length suitable for all
C-shaped
Cons:
May need to re-fluff or stuff over time
The cover material may be warm to sleep with
Pillow may be smaller than expected
Are you looking for the best pregnancy pillow that is shapable and customisable to your body? The Coop Home Goods body pillow uses the latest memory foam that provides comfortable support for all your pressure points. This 20″ x 54″ improves blood circulation that relieves leg swelling and pain while helps keep your hip and spine in a neutral position.
The cover fabric is made from a blend of bamboo-derived rayon and polyester. It not only feels super-soft to the touch but keeps you cool all night. Plus, the entire pillow and its cover are machine-washable. This CertiPUR-US certified body pillow will give you years of sleep comfort without losing its firmness.
Apart from mums to be, this full body pillow is comfortable for people who are recovering from injury or surgery, suffer from sciatica, arthritis, chronic pain, and need more comfort while sleeping. The Coop Home pregnancy pillows are perfect for nursing, reading, watching TV or daily relaxing.
You may find that this pregnancy pillow initially has an unusual smell. Coop Home recommend that you air in the sun for around 16 hours or place it in the dryer for 10 hours. Alternatively, you could also use a fabric freshener. You may also want to add extra stuffing for a firmer
Pros:
Memory foam and microfiber filling
Mite and dust resistant
CertiPUR-US certified
Polyester and viscose rayon cover
Machine washable cover
Cons:
May smell unusual on arrival
May need airing out or freshening
You may want to add extra stuffing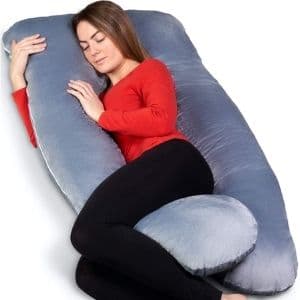 The Byre pregnancy pillow is engineered to perfectly contour to everyone's body type, providing exceptional support during rest or sleep. Align and cool your entire body with this maternity pillow: it distributes weight that naturally reduces pressure on hips, lower back, shoulder, and knees which improves spine alignment during sleep. This not only causes muscular relaxation but also promotes better blood circulation in the entire body.
As it has a soft, huggable design, it is likely to encourage the release of oxytocin hormone that relieves stress and relaxes the body by calming the nervous system. The pregnancy pillow effortlessly conforms to the body's every curve using the special shredded memory foam crumb filling. Besides this, the ideal size – 140 by 30 cm – is light enough to manoeuvre and fits comfortably in bed with two people.
This cover design by Byre is fully removable and made of breathable cotton in jersey grey. The zipped opening at one side allows for easy washing. Get a more efficient night sleep with the Byre support full-body pillow.
This maternity pillow is another design that arrives flat-packed and vacuum-sealed for transportation ease. Simply allow the pillow to expand for 48 hours after arrival and leave in a ventilated room to allow any unpacking smells to dissipate.
This pregnancy pillow may feel slightly lumpy and is considered to be very firm. Since the Bye design is very large, you may need a roomy bed!
Pros:
Shredded soft memory foam
Zipped opening for cover removal
Jersey cotton softcover
Conforms to body contour
Can improve spine alignment
Cons:
It may need ventilating
It may be slightly lumpy
It may be very large for sharing space on the bed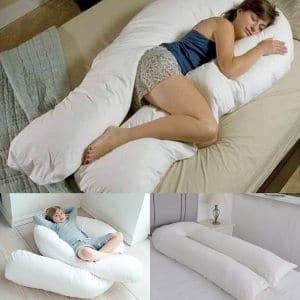 This 144-inch long and 18-inch wide pillow is a U-shape; it is the perfect choice for those of you looking for a pregnancy pillow that is giant, cosy and supportive! This maternity pillow is designed in such a way to provide relief in the areas expectant mothers need most: back, legs, and tummy. In addition, if you have arthritis, then this design will help you find comfort. The shape naturally conforms to your body's curves and aligns your hips to ensure neutral joint positioning.
You can convert this pregnancy pillow into a nursing pillow with its wraparound neck and back support. Also, it can be used to prop up your legs for post-delivery comfort and relief by placing it under the knees. Bendable and manoeuvrable, you can place the legs of this pillow in any position you want.
The filling is made of cotton blend filling of hollow fibre, but you might lose the plumpness over time. You also may want to watch out for any splitting in the seams, which can sometimes happen. Furthermore, since this pregnancy pillow does not come with a cover, you may need to buy one.
Pros:
Large size
Wraparound support
Plump and bendable
Cotton blend filling
Perfect for pregnancy
Cons:
May lose plumpness over time
You may see splitting seams after regular use
You may need to buy a cover
Without proper support during sleep, pregnant women can get very uncomfortable. You may find yourself constantly tossing and turning all night, trying to find the right position to alleviate back, hip and neck pain. A healthy solution to this is the KallySleep full body pillow. This orthopaedic body pillow is specifically designed to give pregnant women or those who have restless sleep the ideal support and positioning for a healthy and more relaxing sleep. It is easy to use and simply allows you to lie comfortably on your belly.
This body pillow is made using top quality material that will mould to your body shape. The interior is stuffed with hypoallergenic hollowfibre, and the pillowcase is super soft and breathable. As a multipurpose pillow, you can use the KallySleep as a feeding pillow, a nursing pillow, a pregnancy pillow, or simply a full body support pillow.
To avoid neck, shoulder, and back strain, KallySleep offers one of the best body pillows, and so it is a must-have for pregnant women to get a good night's sleep. You can even customise the design by choosing from the four colours: blue, grey, white and navy. This is removable, and you can put it in the washer.
You may want to consider the longevity of your body pillows, and the KallySleep has some reviews that suggest it may need replacing over time as the stuffing flattens. If this happens, you may need to do some extra fluffing.
Pros:
Orthopaedic, will mould to your body shape
Multipurpose
Range of colours
Hypoallergenic filling
Breathable pillowcase
Cons:
Over time, you may need to replace the pillow
Stuffing may separate over time, so it may need fluffing
How to Choose Your the Best Body Support Pillow
Choosing the best pillow for full-body support can be a lot of work. There are many options on the market, so it may become difficult to sift through all the information! We hope that after reading this guide, we have helped you to decide on a quality choice. Read on for a few pointers on what to consider before choosing the best pregnancy pillow for you.
Shape
Maternity pillows come in all sorts of different shapes and sizes. For example, you could be looking for a C or U shape or want a V-shaped pillow. Consider where you would like extra support to relieve aches and pains.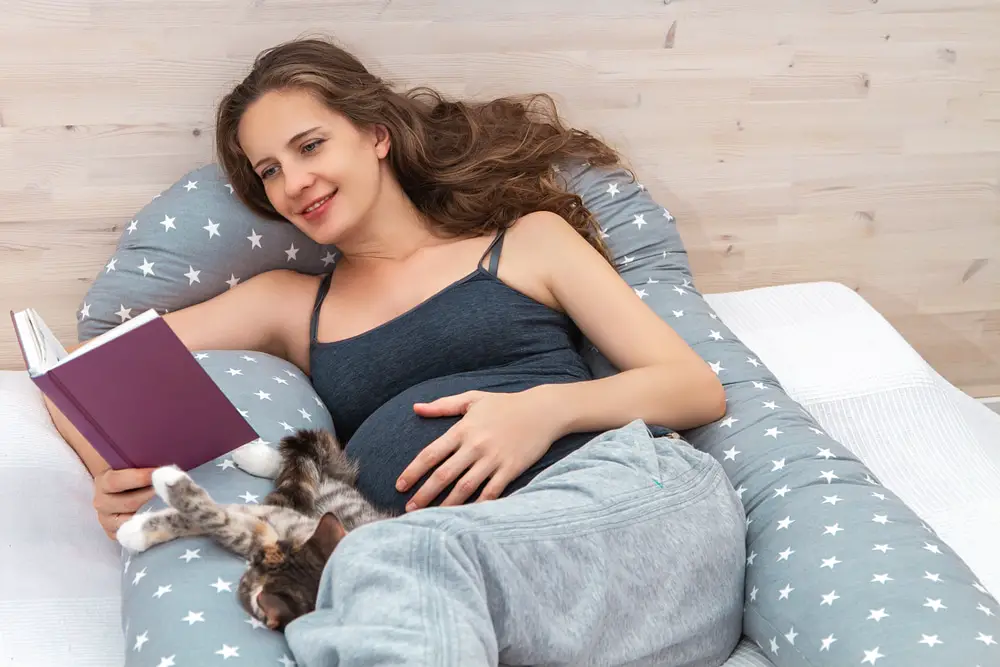 Multifunctionality
The best pregnancy pillow will be the one that you can use for all your needs. Will you use the pillow for side sleeping, instead of nursing pillows, for watching TV, or breastfeeding when the baby arrives? Think about how malleable you would like the pregnancy pillow to be.
Material
You may want to consider the materials used to create the pregnancy pillow. If you are sensitive, look for hypoallergenic materials so that you can get a good night's sleep. There are also options of cotton and velvet, depending on your preference.
Why Buy a Pregnancy Pillow?
Pregnancy pillows are wonderful at relieving the aches and pains that come with pregnancy or if you suffer from sleeping or body pain problems. If you want to have a good night's sleep without the trouble of placing multiple pillows around you that will move during the night, then buying a shaped pillow is going to be an excellent idea.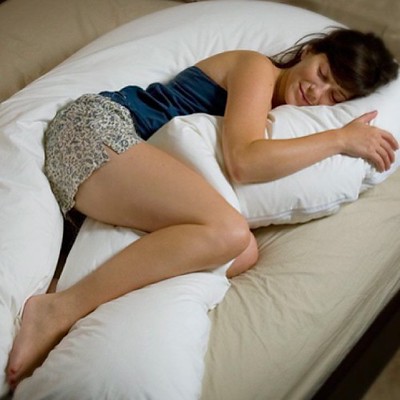 You can experience deep relaxation and feel the stress recede with the best pregnancy pillow for you!
Our Editor's Recommendation
With plenty of pregnancy pillows to choose from, our editor's choice must be the Queen Rose Cooling U shape pillow. According to reviews, this is the best pregnancy pillow for remaining fluffy and cosy for the longest period of time.
The U shape of this pregnancy pillow is expertly designed to give support and relief to your entire body. The curves mean that your belly will be optimally supported, and your spine will be aligned to decrease the chance of aches and pains.
This pillow is made of premium and non-allergenic material to appease all types of sleepers so that you can sleep deeply. Even more, the washable cover means that you can keep fresh while you sleep. If you are a hot sleeper, the material is sweat-wicking which will help keep you cool and peaceful.
Which do you think is the best pregnancy pillow? Let us know!
Additional Resources
Nicole has a passion for everything about the home – especially decor. She loves to add new touches and style to every part of the house. Join her as she documents her ideas at Home & Style.