Last Updated on February 28, 2022
Our editors independently research the best products online to produce this list. We may receive commission on purchases made from the links below but this will never affect our product choices.
---
Top 10 Best Mattress for Side Sleepers
Did you know that a significant proportion of the human population is a side sleeper? Resting on your side means that you should take care to find the correct mattresses for this position. There are certain mattresses best suited for side sleepers. If you have been picking your mattresses randomly without considering your sleeping position, it is time you rethink this.
Many side sleepers opt for a softer mattress because the shoulders and knees are cushioned, necessary for proper alignment. Heavier people, though, may choose a firmer mattress that will not change shape with pressure. Another important factor is the product quality, as some mattresses for side sleepers provide more cushioning and better support than others. The right mattress will provide pressure relief and optimal spinal alignment for you, no matter your body weight.
Choosing a great mattress is not a straightforward task. That is why we compiled our choices for the best mattress for side sleepers in the UK listed below to help you decide. If you are a side sleeper, it will benefit you to go through this review to know the appropriate mattresses available for you.
How we Compared Mattresses for Side Sleepers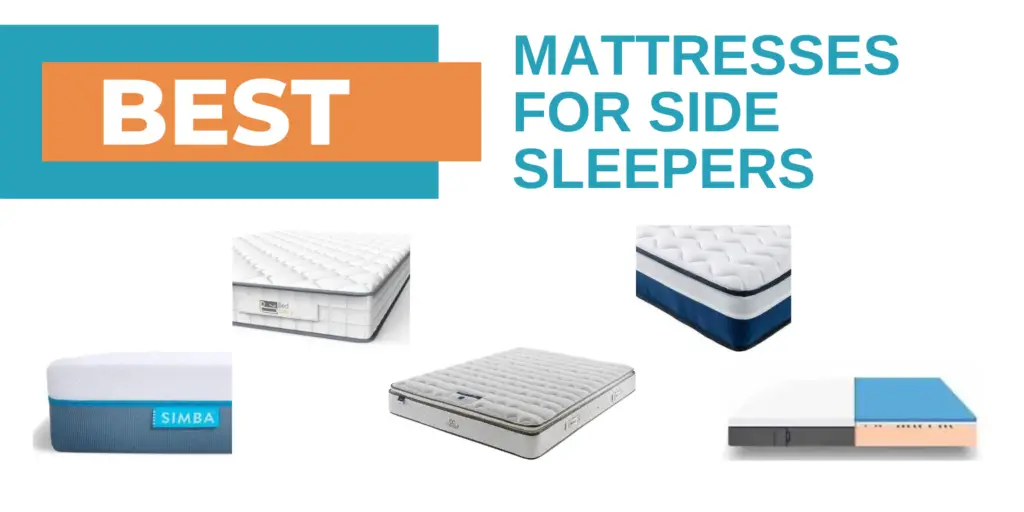 To find the right mattresses for side sleepers we considered multiple factors, including:
Firmness
Material
Longevity
Trial period
Our team independently examined and compared hundreds of products to help satisfy different needs. We spent our time researching mattresses for side sleepers and consulting customer reviews to ultimately bring you what, in our opinion, are the best options on the market right now.
To find out more about our editorial process, take a look here.
Mattress for Side Sleeper Reviews
There are many advantages attached to using the Emma Original double mattress that is why it is the first on our list.
One of its awesome benefits is that you get to sleep on carefully produced foam that does not smell strongly of toxic chemicals! This memory foam mattress does not contain any allergic substances. This is especially good if you are very sensitive.
The design of the Emma Original Double mattress features a layer of memory foam and a quilted fabric. It is equipped with several springs so that your weight does not compress it down. The mattress is also a fantastic design because the Airgocell memory foam layer is breathable and moisture-wicking.
Its motion-isolating feature means you will be less likely disturbed by partners who move a lot while sleeping. So, a good night's sleep for all involved! These reasons make the Emma Original our top choice and the best memory foam mattress for side sleepers.
Moreover, the mattress is quite wide, so you can stretch while sleeping. It is soft but firm and provides a very seamless sleep experience. The Emma Original comes with a 200 night trial period, as they understand that your body can take a while to get used to a new mattress.
Some customers of the Emma mattress have claimed that the mattress sinks after a few months, so it might need replacing after some time. Also, some found it to be too soft, but others have found it too firm, which means the firmness is down to personal preference.
Pros:
A soft but firm and supportive mattress
Breathable sleep surface and moisture-wicking
Airgocell memory foam layer
Safe and anti-allergenic
Cons:
May sink after a few months
Depending on preference, it may not provide sufficient support for you
It may smell unpleasant at first
A great feature of the Simba Hybrid mattress is that it will help to ensure that you are spine-aligned while you sleep. 
This mattress is equipped with springs that can adjust to suit your body shape to provide you with maximum comfort during your sleep. You will be less likely to wake up with back pain due to an improper sleeping posture with the Simba Hybrid.
You can sleep soundly and comfortably because this mattress is very effective at keeping away excess heat. In addition, the sleep surface of this wonderful mattress is made up of a layer of extremely soft hand-knitted fabric that provides you with the utmost comfort. This mattress is our choice for the best mattress for side sleepers with back pain, so trust in the comfort you will receive.
The Simba Hybrid is a safe option, and even if you are in doubt, you have nothing to lose as a ten-year warranty from the manufacturer fully covers the mattress.
From customer reviewers, you may experience that the edge support is lacking, whereas the centre has a stronger mattress firmness. The smell that comes with memory foam mattresses may take a few weeks to disappear.
Pros:
Breathable and convenient sleep surface
Produced from health-friendly materials
Designed with several springs that help to enhance your comfort while sleeping.
Super soft feel
Cons:
May rise in the middle, sinking towards the edges
The initial smell may take some time to clear
We can confidently assert that the Silentnight Sprung Mattress will guarantee your comfort! 
It has a generous thickness. In addition, the mattress is hypoallergenic, and you can sleep on it for long periods without developing any reaction.
The Silentnight Miracoil has an eco-comfort fibre layer made of 100% recycled bottles; it is therefore very sustainable and good for the environment.
Moreover, this mattress is quite firm and is suitable for heavy side sleepers. It makes use of a Silentnight patented Miracoil technology featuring a pocket sprung design to ensure that you get quality sleep. The top layer is a quilted cover that helps to increase luxury and comfort whilst also allowing moisture to evaporate naturally.
The Silentnight Sprung Mattress ranks among mattresses of the highest quality and will last you for a very long time. There is a five-year warranty from the manufacturer.
This mattress may be very firm, which was, for some customers, a downside, and you may want to purchase mattress toppers if it does not suit your sleeping preferences. Different sleeping positions can make a difference, so it is best to try out a new mattress for a few weeks.
Pros:
Eco-friendly and non-allergenic
Quilted cover enhance your comfort while sleeping
Very thick mattress
Sturdy for side-sleeping
Cons:
It may be quite firm
You may need to purchase a topper
It might be squeaky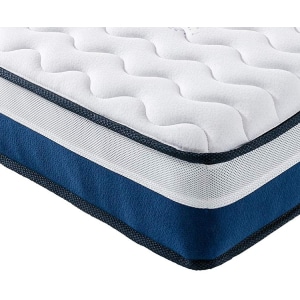 The Vesgantti Lavender 3FT Single Mattress is a versatile mattress that works well for all sleep positions, including side sleepers! 
This awesome mattress features an innovative polyester mesh; this mesh has air holes that create more breathability and reduce heat, thereby providing you with a great night's sleep. 
It is considered a hybrid mattress because it has layers of pocket springs and memory foam. This design features many individual pocket springs and is a medium-firm mattress. We think it is the best hybrid mattress for side sleepers.
Furthermore, this elite mattress will contour to your body whilst absorbing any noise or vibration. Thanks to this wavy line design, the Vesgantti also creates a cooling sleep environment, and you will no doubt enjoy your sleep with no interruptions.
This mattress is made with hypoallergenic materials. It is important to note that these materials are strongly resistant to fire, too. There is a 100-night trial option for you if you purchase the Vesgantti Lavender Single Mattress because it can take time to get used to a new mattress and try out your sleeping style.
Pocket sprung mattresses have many spring coils, so some customers have said they can feel the coils. Also, some customers thought the memory foam was not thick enough and decided to buy additional comfort layers.
Pros:
Polyester mesh for more breathability
Support foam and pocket springs
Durable, health-friendly materials used to produce the mattress
Noise and vibration absorption
Cons:
You might be able to feel the springs
You might need to purchase a topper
The BedStory Double Mattress has a mattress firmness that is top of the charts in the mattress market: it has enough elasticity for comfort in any sleep position. As a side sleeper, you will enjoy using this mattress. It comes with a ten-year warranty.
It is designed for two people to use at once, allowing you to enjoy the companionship of your partner. The pocket coil technology of the springs sees the mattress produce localised bounce, ensuring that you can move while sleeping without disturbing your partner's sleep.
This breathable mattress has an ultra-soft surface that is devoid of chemical smell and odour. You won't get any allergic reaction even if you are very sensitive. The soft surface makes this mattress attractive for side sleepers. In addition to the softness, this mattress is designed to provide targeted support to the body, especially for side sleepers. So, we believe that the BedStory mattress could be running for the best soft mattress for side sleepers in the UK.
The BedStory Double Mattress lasts for a long time, and even if you feel it doesn't, you can return it within the trial period, which is 100 days. It is produced from materials that are resistant to fire. These materials are also health-friendly and ensure that sleep safely and soundly without any interruption.
For this mattress, the edge support might not be as firm as expected. You could feel springs, as the foam support layer might be quite thin. Some customers experienced back pain and needed more appropriate cushioning.
Pros:
Makes use of breathable fabric
Mattress is non-allergenic
Durable and healthy to use
Super soft feel
Cons:
The edges may be softer
You might feel the springs
It may need more cushioning
The Lucid Gel Memory Foam Mattress allows you to relax without any effort. This 20 cm thick mattress does a wonderful job at keeping you supported and cosy as you fall asleep. 
If you are a side sleeper, you will surely like its features!
This mattress uses gel-infused memory foam, which means that it will naturally regulate temperature. Compared to other mattresses, the 5 cm gel layer will give you a cooler sleep. This is an ideal mattress if you find you tend to get too hot when sleeping.
This medium-firm gel mattress will hug your body shape so that you will experience pressure relief. These measures go a long way to relieve stress and keep you refreshed when you wake up. This is one of the best side mattresses for children because a child's lightweight will not cause indentations as much as a heavier adult.
Lucid only use CertiPUR US memory foam, so you can be sure that you are sleeping safely on the best foam mattresses.
You may find that the Lucid mattress is softer, and so depending on preference, you may find it too soft. Some customers thought this deep mattress dipped too much when laying on your side, so rolling over could be difficult.
Pros:
Infused with cooling gel
Materials are safe and non-allergenic
The mattress provides a high comfort environment for side-sleeping
Great for hugging the contours of the body
Cons:
It may be too soft
It may be difficult to turn over
The Silentnight 1200 Eco Comfort mattress is one of the best mattresses available for side sleepers for various reasons. 
This mattress is flexible as it can adjust to the structure of your body and provide pressure relief all over your body. There is a quilted sleep surface on both sides of the mattress, so if you want to flip the mattress for longevity, comfort it on both sides of this soft mattress!
It is an eco-friendly mattress. The Silentnight mattress does cost the earth to provide you with the best night's sleep. This mattress for side sleepers is made from chemical-free and hypoallergenic materials, ensuring you a fresh and restful night's sleep.
If you are a side sleeper, you don't want to miss out on the Silentnight 1200 Eco Comfort mattress. This mattress helps to keep your spine aligned, so it is particularly suitable for side sleepers.
The comfort layer is quilted, and so you may be perfectly warm, or you could get hot. Also, the packaging may cause the mattress to be a little dirty, as marks are passed on, but you can safely clean the mattress.
Pros:
Non-allergenic
Made from eco-friendly materials
Adjust to your shape to provide relief
Reversible
Cons:
May get hot from the quilted layer
May become dirty when delivered
The Molblly King is another one of the gel memory foam mattresses and is also considered the best mattress for slide sleepers in the UK.
However, it includes a zipped cover for the top layer that you can take off for easy cleaning. You will get your money's worth from this mattress. It is a great mattress that provides soothing relief and comfort, allowing you to rest correctly and keeping you refreshed after a long day at work.
This mattress has a depth of 20cm and makes use of a fresh cover that keeps away moisture, thereby preventing the mattress from mites' invasion as well as bacteria. This not only ensures the longevity of the mattress but also keeps you safe and protected from infection.
The materials used to produce the Molblly Gel Memory Foam Mattress are breathable and hypoallergenic. You will be supported at all your pressure points and rest peacefully in all sleeping positions. Molblly has over 12 years in the mattress industry, so that you can trust them for high quality.
Since this mattress arrives air-tight packaged in a box, you may have to wait 72 hours for any odours from the packaging to disappear and for the mattress to flatten out. Some customers think that the mattress is too soft for side sleepers, so it moulds to their body too much and over time, the mattress may sag in the middle.
Pros:
Produced from non-allergenic materials
The zipped top layer, easy to clean
Soft gel-infused memory foam
Odour free materials
Cons:
May have temporary leftover smells from the packaging
It may not be very firm
Over time, this mattress may lose its effectiveness and might need replacing
Now let's look at the features of the Vesgantti 4FT6 Double, also a great mattress choice for side sleepers.
This is a hybrid mattress made of double springs and memory foam. This mattress is quite durable, and purchasing one would be a good long-term investment.
The Vesgantti mattress is a sprung mattress which means that it has several springs acting as shock absorbers to ensure that it is firm. This helps to reduce bounce, which in turn enhances your comfort.
The additional foam means that your pressure points will be relieved. Also, the hypoallergenic fabric cover means that you can have optimal airflow as a side sleeper.
With brilliant shock and vibration absorption, this means that you will not be disturbed by a tossing and turning partner. You can get a restful night without worrying if your partner will wake you.
This pocket sprung mattress is medium-firm, but some customers have said that they can feel the coil and sometimes roll towards the middle with this soft mattress. Also, you may need to replace the mattress after a few months if you experience permanent indentations.
Pros:
It contains several springs that make it firm
Foam layers
Made from durable materials
Hypoallergenic materials for better airflow
Cons:
You may feel the coils
You may roll towards the middle
You may need to replace the mattress if permanent indentations occur
Our final best mattress for side sleepers in the UK is another Molblly design. 
This is the Super King option, and it is perfect for side sleepers, too. The mattress is firm yet soft. You won't feel any discomfort while sleeping on it for extended periods.
Like its sister design mentioned earlier, this mattress has many structured layers of gel memory foam. The open-cell foam means that the material is more flexible and will provide you with more soft comfort to relieve your pressure point(s).
Furthermore, the foam structure allows for a cooler sleep experience because heat can dissipate easier. This is also the reason why this mattress provides higher breathability. If you have quite a sweaty sleep, this is no problem because you are provided with a hypoallergenic cover layer that is removable and washable. Very convenient!
The manufacturers of this great product are so confident in their ability that they have included a ten-year warranty on the product. It is unlikely that you will need it, however, because the quality is fantastic!
Some customers think that this mattress is too firm, but that perhaps makes it a suitable candidate as the best mattress for heavy side sleepers in the UK market because you don't have to worry about sinking in. Since this product arrives compressed for travel, you may have to wait a few days for the mattress to expand to its full size.
Pros:
Uses breathable foam

Removable hypoallergenic cover
It comes with a ten-year warranty
Flexible structure
Cons:
It may be too firm
It may need some time to expand
It may not expand to full advertised size
What to Know Before Choosing the Best Mattress for Side Sleepers in the UK
Side sleeper mattresses are super important so that you can sleep deeply and restfully. You want to wake up in the morning feeling refreshed and energised. Side sleeping means that you need to look at the best mattresses to provide support, especially for spine alignment.
When you are sleeping, this is the time when your body completes most of its healing processes. So, sleeping is very important. Below, we have compiled a list of the things to look out for when finding the best mattress for side sleeping.
Firmness
Mattresses for side sleepers come with different levels of firmness depending on the mattress type. If you opt for a soft mattress, you may find yourself cosy and sleep well. However, if a mattress is too soft, you might experience aches and pains for some people.
You could get a medium-firm type of mattress. This offers the best of both worlds and is likely to meet your needs.
Alternatively, you can choose a very firm mattress. This may be uncomfortable at first, but it will last you much longer in the long run. You could buy a mattress topper for the first few months while the mattress becomes accustomed to your weight.
Material
The mattress type also changes with regards to the materials used in it its manufacture. Everyone has different preferences for the material of their mattress.
You can choose memory foam, which is soft and will hug your body shape. There are also gel-infused foam options on the market, which proposes to be even softer!
The traditional mattress is a pocket sprung, which will react to weight distribution. It is great for side sleepers because the springs will support your body and correct your alignment.
You can also get hybrid mattresses that combine springs and foam! If you can't decide on a type, why not opt for both?
Longevity
The ideal mattress will support you for years. It is important to look at reviews and awards to ensure that your mattress will last you a long time without comfort being compromised.
Some people choose to buy a very firm mattress because naturally, mattresses tend to become softer as they are consistently slept on over the years.
Many mattresses now can be flipped over, so you can use the mattress for twice as long.
Trial Period
It always takes time to get used to a new mattress because your body may have been accustomed to the previous one. The new materials and firmness of a mattress may take time for your body to adjust to it. That is why it is important to check if the mattress you are buying has a trial period. That way, if you don't like it, you can return it.
Our Choice
Finally, we must present our choice for the best mattress for side sleepers in the UK stores have to offer. Side sleeping is one of the most common positions for sleepers, so we would like to help you find the best mattress. Our choice is the Emma Original Double Mattress.
This mattress is top of the market: it is a memory foam mattress not made with toxic chemicals! The soft-to-touch mattress (medium-firm) will help you sleep with the correct spine and body alignment so that you won't wake up with aches and pains.
You can sleep without overheating due to the breathable and unique Airgocell design, which will keep you fresh throughout the night. One of the best features is that the Emma Original is motion-isolating, so you can sleep without being disturbed by anyone sharing the bed. This is a wonderful solution for so many!
Do you think the Emma Original Double Mattress is the best? Or do you prefer another? What do you look for when choosing a mattress? We'd love to hear your ideas! Let us know what you think in the comments!
Additional Resources