Last Updated on March 1, 2022
Our editors independently research the best products online to produce this list. We may receive commission on purchases made from the links below but this will never affect our product choices.
---
Top 10 Best Mattress Toppers
Having a lumpy or sagging mattress can stop you from getting a good night's sleep. Purchasing a new and luxurious mattress may sound appealing, but the cost of a new mattress may not be right for your budget at the time.
Instead of trying to scrimp and save for a new mattress or having to keep sleeping on the same uncomfortable spring mattress you have, you might want to consider a mattress topper. These budget-friendly and versatile additions to your bedding collection can quickly revitalize a worn-out bed.
Choosing your mattress topper will take some careful research and may even require some trials and errors, but once you find the best mattress topper in the UK that suits your needs and fits into your budget, you'll have much better rest every night.
In this article, you will find ten mattress topper reviews with a breakdown of their pros and cons. You'll also find an in-depth buying guide that can help you determine just which features are most important for you.
Hopefully, you will find the best mattress topper in the UK for you after reading this article.
How we Compared Mattress Toppers
To find the right mattress toppers we considered multiple factors, including:
Size
Thickness and density
Pain relief
Comfort
Warmth and cooling
Ease of care
Warranty
Our team independently examined and compared hundreds of products to help satisfy different needs. We spent our time researching mattress toppers and consulting customer reviews to ultimately bring you what, in our opinion, are the best options on the market right now.
To find out more about our editorial process, take a look here.
Mattress Topper Reviews
This memory foam topper is one to consider if you are looking for an extra layer of comfort, as well as some cooling effects if you are prone to night sweats. The foam is 50mm thick, which gives you a sizable thickness for such a budget-friendly price.
It includes a hypoallergenic bamboo cover which is easy to remove and wash as needed. You'll also find it includes four elastic straps as well as an anti-slip layer to prevent the topper from scooting off the mattress if you are prone to tossing and turning.
The gel-infused memory foam is known as Hydro-foam, and it provides excellent cooling properties. If you struggle with overheating while sleeping, the Panda topper's open-cell technology can provide excellent heat transfer and airflow to keep you much cooler at night.
The only downside is the foam will soften up as it gets warmer, so if your mattress sags in the middle, the topper will reflect the same issue.
Pros:
50mm thick
Has open-cell cooling technology
Made from sustainable materials
Includes a washable, hypoallergenic cover
It comes with a 30-night guarantee
Cons:
Corner straps may slip off if you move around a lot
The foam may need a couple of days to decompress
Next on our list is another great product from Inofia.
Inofia has created this memory foam mattress to be very effective at keeping you cool while sleeping. Several independent studies have shown that cooler sleeping temperatures provide a more restful night. If you are prone to waking up due to overheating or night sweats, this mattress topper could be the solution.
Made from two independent layers of gel-infused memory foam, you'll not only get highly comfortable body-contouring support but also heat whisking features to keep your body temperature regulated throughout the night. 
Inofia has also offered a 100-night trial period for their memory foam mattress topper. If you find that it does not live up to its promises or just doesn't give you the restful sleep you were hoping for, the company stands behind its guarantee. 
On the other hand, several users have complained that this topper is quite difficult to turn over. Also, it might be larger than advertised.
Pros:
80mm thick
Two-layer gel-infused memory foam
You can easily roll it up and move it
It comes with a 100-night guarantee
Cons:
It might be difficult to turn over
The size of some toppers might be one to two centimetres larger than advertised
If you've struggled to stay cool at night, this ultra-soft dual-layer mattress topper might be the best one for you. It's 40mm thick, giving you plenty of comfortable padding over your existing mattress, and with its dual-layer, it's almost like having two mattress toppers in one!
It includes elastic straps on each corner to help keep it in place, and it's fully machine washable, which is somewhat rare to find in a cooling mattress topper. You'll find this mattress topper in a variety of sizes to fit almost any mattress, whether you have a double, king, super king or emperor size.
Since this mattress topper is made for comfort, it's extremely soft and may not be the best mattress topper for someone that needs a lot of physical support on their joints, spine or shoulders. However, if you are looking for an affordable foam mattress topper, you may want to consider giving this one a try.
Pros:
40mm thick
Mesh walls to help with breathability
Easily straps to your mattress to prevent movement
It is machine washable
Cons:
It might be too thin for larger individuals
It might be quite soft for those needing firmer support
When it comes to finding the best mattress toppers made from cotton, this may very well be the one to consider.
The Merous Quilted and Fitted is a topper quilted to add structure. Also, it looks good and is made with a cool feeling top surface to help you sleep better at night. If you are a hot sleeper, this is a great deep-filled mattress topper for you.
It's not only a very budget-friendly mattress topper, but it also includes a full 30-day guarantee from the manufacturer. If you aren't seeing an improvement in your sleeping quality, you can return it for a no-hassle refund.
This mattress topper is machine washable making it easy to keep clean, and it's easy to put on and remove from your mattress at any time. You won't be struggling with any straps on the corner as it includes a full deep pocket cover. This is our choice for the best king-size mattress topper.
Meanwhile, please note that this topper may not provide enough joint support.
Pros:
Budget-friendly mattress topper price
A great option for hot-sleepers
Machine washable for high levels of hygiene
30-day money-back guarantee
Cons:
It could take up to four days for decompression
May not provide a lot of joint support
If you need a highly supportive topper for chronic joint or back pain, the Impress may be just what you are looking for.
Its high-density memory foam is 25-70mm thick depending on your needs and provides excellent levels of support for all areas of your body. Whether you need back, neck and shoulder support or have hip and pelvis pain, this mattress topper could provide the relief you need for a good night's sleep.
Silentnight's mattress topper offers a high level of body contouring and prevents movement from being transferred to or from your partner. You'll be able to squirm around without bothering your bedmate. 
This topper includes a removable cover that you can be toss in the wash anytime you need to freshen up your bedding. The topper itself is just what you want in a memory foam addition to your mattress as well, including being allergy-friendly. 
Meanwhile, this topper may not come with elastic straps to keep it secure on your mattress. Also, some users have claimed that it takes a while to decompress.
Pros:
25-70mm thick
Reduces movement transfer to your partner
Machine washable cover
Hypoallergenic and resistant to dust mites
Cons:
It may not have elasticated straps to secure it to your mattress
It can be quite slow to decompress
If you've struggled with allergies or have sensitive skin affected by some foam mattress toppers, you may want to consider the Deep Sleep mattress topper.
This is arguably the best double mattress topper for individuals that suffer from allergies. It's made from fully hypoallergenic materials that won't cause additional dust, dander or skin reactions.
It's also fully machine washable, which makes it easy to keep your bedding clean, whether you're using it at home or on a guest bed. It's made from a polyester and cotton blend and offers a generously filled dual-layer design for extreme comfort levels.
Please note that a common problem that users have with this topper is that it is thinner than other brands.
Pros:
Dual-layer design offer comfort and air circulation
Made from hypoallergenic materials throughout
Includes a strap on each corner to keep the topper in place
It comes with a 2-year manufacturer warranty
Cons:
Somewhat thin compared to other brands
It could take a fair bit of fluffing before use
One of the biggest benefits of egg crate memory foam mattress toppers is the fact that they can help relieve specific pressure point problems. For example, if you have a spring in your mattress that always seems to poke the same nerve in your spine, using an egg crate memory foam mattress topper can instantly put an end to it.
Whether you have an old mattress or the best mattress in the world, using this Bedsure double-size foam mattress topper can add an extra layer of comfort when you need it most. This memory foam mattress topper uses high-density foam, making it excellent for larger individuals or those who want a firmer surface to sleep on.
Additionally, you'll find that even though this is a high-density foam, it offers a great amount of air circulation, helping keep you cool during warm nights. The cover is easy to remove and can be machine washed to make upkeep a breeze!
Unfortunately, if you are a side sleeper, this topper may not be the best choice for you.
Pros:
70mm thick
Uses egg crate foam for pressure point relief
Stays in place on your mattress with straps
Removable and machine washable cover
Cons:
It may not be the best for side-sleepers
It could take up to four days to decompress
If you're looking for the best mattress toppers made from memory foam, don't overlook this Recci brand mattress topper. It's extremely well crafted from high-quality memory foam and offers 50mm of thickness to help you get a great night's sleep.
It's made with advanced heat insulation technology to help whisk heat away from your body and keep you much cooler throughout the night. If you're often bothered by night sweats, this is the best memory foam mattress topper to put an end to that.
The cover is removable and can be machine washed. There is no need to hassle with dry cleaning or other more difficult cleaning methods. Additionally, you'll find this mattress topper is certified by CertiPUR-EU and OEKO-TEX for material content and durability.
Meanwhile, the main disadvantage of this topper is that it could take days before it fully decompresses.
Pros:
50mm thick
It keeps the sleeper cool at night
Removable cover for easy cleaning
Double certified for safety and durability
Cons:
The odour may be strong when unpackaged
Decompression may take three days
Stop wishing for a good night's rest, and get one with this thick memory foam mattress topper. 
The Bedsure 7cm Thick Memory Foam With Cover is made from high-density memory foam that helps regulate your temperature while you sleep. Additionally, it's great for helping with neck and shoulder pain for back sleepers.
While you cannot wash the foam itself, it includes a zippered cover that you can remove and wash with no fuss. This is a great single mattress topper to have on your bed or in a guest bedroom.
Unfortunately, the foam of this topper may lose its shape after continued use. Also, some users have complained that the manufacturing odour took a while to come off.
Pros:
70mm thick
High density and breathable memory foam
Contours to prevent muscle strain during sleep
The cover is easily washable
Cons:
The foam may not hold its shape long term
Manufacturing odour may persist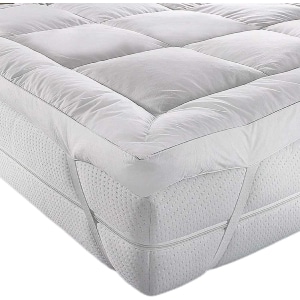 If you've been searching for the softest and most comfortable microfiber mattress topper, we have the perfect choice for you. GMtextiles has created this lovely box-stitched hotel quality topper to bring luxury comfort into your own home.
If your mattress is a bit too firm and doesn't offer the level of comfort you want, having this mattress topper can eliminate the need for a new bed. Instead, it's a very affordable way to adjust your mattress without replacing it.
On the other hand, this topper may not be the best option for you if you do not like polyester microfibre.
Pros:
50mm thick
Single, double, king and super king sizes are available
Box-stitched to prevent the polyester filler from shifting
Extremely soft and great to snuggle down in
Cons:
It may be too soft to add much support
Some may not like the 100% polyester microfibre
How to Choose Quality Mattress Toppers
Finding the best mattress topper in the UK can take a bit of research, but finding the right one can instantly breathe new life into an old mattress. If you've been struggling with needing extra support or find yourself getting too hot and sweaty during the nights, a good-quality mattress topper is the best option.
Purchasing a new mattress can be extremely expensive and may not be in your budget for a while. If this is the case, an affordable mattress topper can be the answer. While it won't restore an old mattress to its like-new condition, it can help relieve pressure points from poorly positioned springs or add extra firmness to an otherwise too-soft mattress.
Mattress toppers come in many sizes, from twin to super king, and regardless of the size of mattress topper you will be going with, one of the most important things to consider is whether or not it has support straps. Some toppers will have straps on each corner that help secure them to your mattress, keeping it in place and allowing you a comfortable night's sleep.
Differences in Mattress Toppers, Covers and Pads
Many covers can be placed on top of a mattress, and each one has a specific use. Make sure you know the difference, so you purchase what you need to get a good night's rest.
Mattress Topper
A mattress topper is a thick pad that can provide support to different parts of your body. It also adds an extra layer of comfort as you can select softer or firmer than your current mattress. 
Mattress toppers also have heating and cooling abilities as some can radiate heat back to your body or whisk it away. Mattress toppers that have a cooling effect are especially useful for sleepers that are prone to night sweats.
Mattress Protector
The entire purpose of mattress protectors is to protect your mattress from spills. Parents may also use a waterproof mattress protector to prevent stains from accidental bedwetting in a child's room.
In general, a mattress protector is very thin and does not add any extra padding or support when sleeping. It is an alternative style of fitted sheet that may or may not have waterproof capabilities.
Mattress Pad
A mattress pad normally adds extra comfort or warmth to a bed but will not be as much as a mattress topper can provide.
Mattress pads can also be waterproof to prevent spills or stains from getting onto your mattress. They are common for individuals with muscle aches and pains or joint issues, making a firm mattress feel much softer.
Different Mattress Topper Materials
You can find most mattress toppers in a wide range of materials, sizes and styles. Depending on your needs, it's important to know which material might work better for you. Each one has its own set of pros and cons, and while one might be perfect for you, another could be a terrible match. 
Memory Foam
As one of the most popular and commonly found materials for mattress toppers, traditional memory foam toppers are an excellent choice for people of all ages. A soft mattress topper is especially well-received for elderly individuals that need a bit more support and comfort around their hips and spine. Since memory foam distributes your weight evenly, pressure points will not become sore from jabbed into the firmer mattress below.
Memory foam mattresses can be extremely expensive, so it's not uncommon to purchase a standard mattress and invest in a memory foam topper instead. This is a great way to get the benefits of a memory foam mattress while remaining budget-friendly.
Another benefit of memory foam mattress toppers is that you can find them in a range of densities to suit your personal needs. High-density memory foam toppers are easy to find if you enjoy a firmer bed; low-density foam is also common if you prefer a soft bed.
Latex
Mattress toppers made from latex can be on the expensive side, so they may be viewed more as an investment than a budget-friendly purchase, especially if you will be purchasing a large-size mattress topper. However, you can expect a latex mattress topper to provide a high level of comfort and full-body support regardless of your sleeping position.
Latex provides support to all areas of your body and can help relieve pressure point pain. Unlike memory foam, latex will remain bouncy and regain its natural shape as soon as you stand up.
Feathers and Down
Natural goose or duck feather mattress toppers fall into the luxury category. These are not extremely common but not impossible to find either. However, they can be expensive depending on the size of the mattress topper you want.
A new mattress topper made from goose or duck feathers and down is extremely soft. If you enjoy sleeping on a firm bed, a feather or down mattress topper may not be the right choice for you as it will make your mattress feel softer.
In addition, feather and down is not hypoallergenic and can produce additional levels of dander. If you suffer from allergies, you would probably want to avoid this material.
Cotton, Polyester and Blends
A wide range of hybrid mattress toppers is made from polyester, cotton, or blends of polyester and cotton. Like the mattress itself, a natural mattress topper made from these materials can vary in price as well as style. You can find a variety of thicknesses but may not get the same support from them as you would from a latex or memory foam mattress topper.
One of the most significant benefits of cotton, polyester, or blended mattress topper is that you can find a new mattress topper to suit your price point, no matter what it may be. If you want a full high-quality cotton topper, you can find one to invest in. If you prefer to go much lower in price and find polyester or lightly blended thinner toppers, these are easy to locate as well.
Mattress toppers made from these materials are easy to clean and can usually be tossed in a standard washing machine. You won't need to do any special dry cleaning or hire someone to clean the machine-washable mattress topper as you may with large memory foam or feather toppers.
What to Look For in a Mattress Topper
With such a wide range of mattress topper materials and types, it may be difficult to decide what you are looking for. First, you should decide on the size. This may be the easiest decision to make but can help narrow it down to other aspects of the best mattress toppers.
Mattress toppers come in a wide range of sizes, including:
Single. Measuring 90 x 190cm in size.
Double. Measuring 135 x 190cm in size.
King. Measuring 150 x 200cm in size.
Super King. Measuring 180 x 200cm in size.
Emperor. Measuring 200 x 200cm in size.
Some sizes may not be available in some materials or maybe outside of your budget. For example, an Emperor size goose-down mattress topper can be extremely expensive, while the same size in a polyester blend may be much more affordable. 
Narrow down your size and material before moving into other considerations. Make sure your chosen size will fit your mattress perfectly, has elastic corner straps or an anti-slip base to keep it in place.
Remember that a higher price point does not necessarily mean the mattress topper will be the best one for you. You need to custom tailor the mattress topper to your needs and not just buy expensive mattress topper price you can afford.
Consider Thickness and Density
You can find most memory foam mattress toppers in sizes 2 to 8 inches thick, with 4 inches being the most commonly found thickness. Anything less than 2 inches of memory foam depth is falling more into the mattress pad range and may not be thick enough to provide the right level of soft cushioning. 
A thicker or deep mattress topper can be great for providing warmth while you sleep, but thick mattress toppers with cooling abilities can be found as well, especially when it comes to those that have a memory foam layer. Thick mattress toppers may not be the right choice for hot sleepers unless they are made with cooling gel.
In addition to thickness, you also need to consider the density you would like. Different densities have varying levels of provided support. A high-density memory foam mattress topper, for example, will provide a firm surface for sleeping. While it will conform to your body as memory foam does, it may not be as comfortable as you would like.
Lower density memory foam will be much softer and have a squishy feel to it. If the mattress below the topper is extremely lumpy, a low-density memory foam topper may not cover up these lumps, and you will still be able to feel them.
Balancing the density and thickness is important and may take some trial and error. If you can find a mattress topper that has an in-home trial period, it may very well be worth considering, so you have a chance to try the topper before you decide whether or not it will be suitable over the long term.
Understanding Different Densities
In most cases, density is measured in pounds per cubic foot but may also be displayed as kg/m3 depending on where the mattress topper manufacturer originates.
The most commonly found densities in a mattress topper vary from 4 to 6 pounds per cubic foot. This is an average level of density and normally works for most people. Higher density levels can provide much better support to your body, especially around the hips for side-sleepers, and bring a higher price point.
Three pounds or less per cubic foot of density will give you a mattress topper that is extremely soft but not very supportive. It's lightweight and great for adding to a guest bed or couch for visitors to sleep on.
4 to 6 pounds per cubic foot of density is the most common range of densities available. You'll find a nice balance of soft comfort and full-body support. It works great for side sleepers as well as back or belly sleepers.
More than 6 pounds per cubic foot of density are not as commonly found and may need a special order. This is a much more dense material that provides extreme levels of support for specific physical ailments or heavier people than average.
Consider Your Needs
Each mattress topper will have its benefits. You may notice one works great for adding extra support for your joints and spine, while another is made for sinking in and being warm and cosy. You may also find that one brand will come with a trial period to let you test the topper in your own home, while another might come with a better or longer warranty.
Before jumping in and making your purchase, be sure you know which aspects are most important to you.
Pain Relief
If you are looking for pain relief, memory foam and latex mattress toppers are the best ones to consider. You want something that is firm and adds proper support to all areas of your body. If it's the softest mattress topper you can find, you will sink, and your spine can become misaligned. This will lead you to wake up feeling stiff and achy.
Comfort
Comfort will depend on your personal preferences, and it may take some trial and error to find the best mattress topper in the UK. There are numerous styles, sizes and materials of mattress toppers on the market, but what is comfortable for you may not be comfortable for another person.
Consider whether you want a firm foundation to sleep on or whether you want to sink in and have the memory foam toppers mould to the shape of your body. If you want a firmer sleeping experience, look for a high-density foam or other material to get the firmest mattress topper around. It will help support your weight and not sag under pressure. This adds great support to your joints.
Warmth and Cooling
If you typically wake up at night feeling uncomfortably warm, you may want to look for a mattress topper with cooling abilities. Some mattress toppers can help pull heat away from your body and provide better airflow around hot sleepers. This helps keep you cool and reduces the occurrence of night sweats.
Feather or down and wool toppers are commonly used for temperature regulation year-round. Still, you can find some memory foam and polyester blends with the same features through cooling gel technology. You'll find these all-season mattress toppers that can help keep you warmer in the winter and cooler in the summer.
Ease of Care
Many toppers are not made to be easily washed, while the lighter and more breathable mattress topper is. If you are concerned about hygiene and the cleanliness of your bedding, always be sure to find a topper that you can wash. Some may have special handling requirements or need dry cleaning, while others are thin enough to be tossed in your standard washing machine.
Warranty and Returns
A majority of mattress toppers come with a 2-year warranty. This gives you protection if the topper fails to perform as expected or starts to break down in a short amount of time. Depending on the company, the warranty they offer may be shorter or longer than the average two years. If warranty protection is important to you, always be sure to look into the manufacturer's warranty and its longevity. 
Returns are sometimes possible with select toppers. You may have a trial period of up to 30 days, and this gives you time to test the topper at home to see if it improves the quality of your sleep. If it doesn't, you can return the topper for a full refund.
Benefits of Having a Mattress Topper
Having a mattress topper can provide many benefits. It's not just a way to cover up an aged or sagging mattress; it can also have real benefits for your physical well-being.
Physical Body Support
If you suffer from pressure point pain, joint pain, back pain or other aches during sleep or after you wake in the morning, a mattress topper can put an end to that. Thicker mattress toppers offer much better support and are excellent for both side sleepers and back sleepers. This support works for all ages and life stages, including adolescents, elderly individuals, pregnant women, and more.
Temperature Regulation
If you often have night sweats or trouble regulating your body temperature at night, a mattress topper can help. A wide range of mattress toppers is made with cooling or warming features. When it comes to warming features, you'll not only get a thick and comfortable topper for your mattress, but you'll also notice your body heat is retained in the material allowing you to remain warm all night. Alternatively, you may overheat while sleeping and want something that helps keep you cool. A variety of mattress toppers can help whisk your body heat away from your body and allow better air circulation, leading to cooler and more comfortable sleeping temperatures.
Noise Reduction
Mattress toppers made from memory foam are great for individuals that share a bed with a partner. If your partner tosses and turns or gets up throughout the night, you may find your sleep is often disrupted on your normal mattress. Using a memory foam mattress topper, you will notice a huge reduction in how much movement is transmitted to your side of the bed.  
Reducing Allergens
Some mattresses may exacerbate your allergies by stirring up dust and dander when you move during sleep. For allergy sufferers, this can lead to a poor night's sleep and other health issues. Using a hypoallergenic mattress topper over your mattress can help reduce the number of allergens present while you are sleeping.
Conclusion
You may have thought finding the best mattress topper in the UK would be a quick and easy task, and it can be. But armed with the right knowledge of what is available on the market, you can quickly determine which topper will be the most suited for your needs.
Having the right mattress topper can bring new life into an old or uncomfortable bed. You can also enjoy a much better night's rest when your body is perfectly supported and temperature regulated throughout the night. 
When it comes to a great all-around mattress topper that provides superb levels of support and is also temperature regulating and made from sustainable materials, the Panda Gel-Infused Bamboo Memory Foam might be the best for you. It comes in various sizes and is budget-friendly if a new mattress just isn't in the cards right now.
Additional Resources