Last Updated on February 28, 2022
Our editors independently research the best products online to produce this list. We may receive commission on purchases made from the links below but this will never affect our product choices.
---
Top 10 Best Mattresses for Back Pain
When shopping for mattresses, many of us go for what we know or what we consider cheap. More often than not, this turns out to be detrimental.
Not only because we settle for low quality and uncomfortable mattresses but because we end up spending more money than expected when it comes to replacing these bad mattresses constantly.
If you are looking to buy a new mattress for your new house or replace an already existing one, there are a couple of things you need to consider. One key factor to consider is comfort. Comfort supersedes all other factors.
Bad sitting habits cause a strained back, or heavy workloads may lead to back pain. You spend more time in your bed than you do anywhere else in an ideal world, with the recommended sleep hours slated for eight to nine hours.
This is time for your whole body to rest, including your back. With long days at work or school, the last thing you want to come home to is an uncomfortable bed just because you are saving on cost. By comfort, we do not mean you go for an extra soft and fluffy mattress. This mattress lacks support hence being uncomfortable. Too firm is also not the way to go because you tend to be too stiff. This may seem like too much and may even deter you from buying a new mattress. But do not freight. We have your back, no pun intended.
We have taken the time to scour the internet for the best mattresses you can buy in the UK. These mattresses are not only approved by orthopaedics from all around the world but buyers as well, giving them top ratings. If you are in the market for a new mattress, read on to find the best mattresses for back pain in the UK.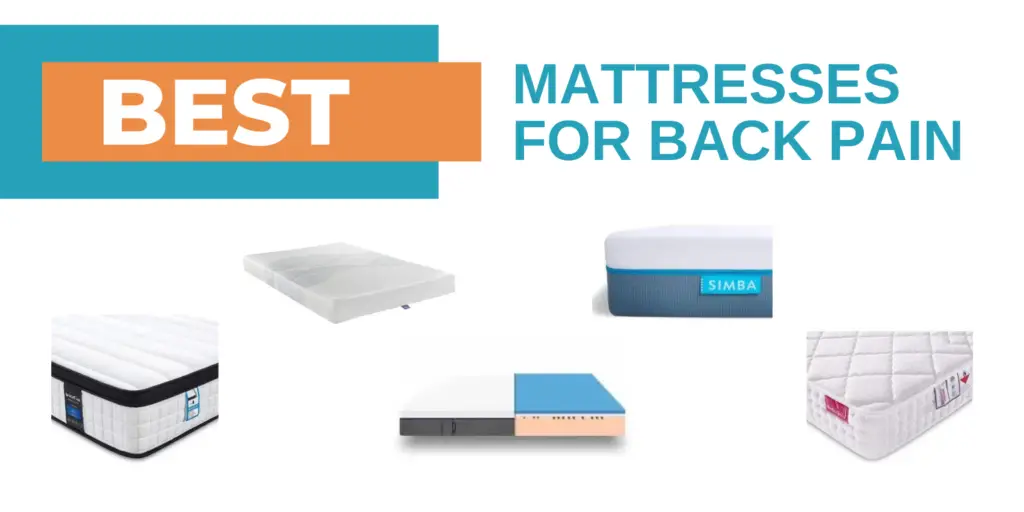 How we Compared Mattresses for Back Pain
To find the right mattresses for back pain we considered multiple factors, including:
Type
Firmness
Comfort and breathability
Spinal alignment and support
Our team independently examined and compared hundreds of products to help satisfy different needs. We spent our time researching mattresses for back pain and consulting customer reviews to ultimately bring you what, in our opinion, are the best options on the market right now.
To find out more about our editorial process, take a look here.
Mattress for Back Pain Reviews
When it comes to shopping for amazing products, we often opt for brand names. So why not do that with mattresses? 
If you are to opt for a brand that has received not only accolades and recognition but also top reviews, then the EMMA Original Small Double is the mattress for you.
The EMMA Original Small Double is a foam mattress that promises and delivers the perfect support and comfort without compromising your back's overall support.
This mattress, made to withstand your maximum bodyweight, offers maximum adaptability. This is made possible using a combination of breathability and decompressing capabilities.
This is made possible by the Airgocell-layer fitted to the mattress and visco-elastic memory foam, paired with a layer of supportive polyurethane foam. We are all proud to buy from our home country, and the EMMA mattress is made in the UK.
This mattress is perfect for any sleeper, so this three-layer mattress provides the ultimate lower back pain relief and support, whether you are a stomach, back, or side sleeper. When you purchase the EMMA Original mattress, you get a 200-night trial and free delivery. This mattress is the best mattress for lower back pain.
However, please note that this mattress may retain some body heat. Also, it may not have great edge support.
Pros:
Has three comfort layers to improve pressure distribution for firm support
It's ideal for all body types and sleeping positions
Features a supportive layer of polyurethane foam for extra support
It comes with a removable and machine washable top cover
Offers superior pressure point relief
Cons:
This Emma mattress may retain some body heat
The initial odour may not sit well with some users
It may lack the best edge support
Whenever you spend money on a product, you always hope to get the best of both worlds, meaning that you get value for your money and quality. And when it comes to mattresses, nothing is better than the Simba Hybrid premium mattress.
Simba Hybrid mattresses have, over the years, received recognition and accolades from over 100,000 users who have gone to give it more than 200,000 stars on different platforms. It has also received a top commendation from Good Housing Institute, T3 Best Buy, and Ideal Home.
This hybrid mattress features 2,500 Titanium Aero Coil pocket springs in a responsive form for a good night's sleep.
The foam is made with a patented system of Aerocoil springs that reduces the amount of heat that this mattress holds at night, allowing it to be breathable with proper air circulation.
With a ten-year guarantee on your mattress and 200 days, trial Simba Hybrid covers all bases of ensuring that your satisfaction is a priority.
It is made with modern and state-of-the-art technology. This mattress does not compromise on quality and comfort. This has been made possible using data gathered from body profiles from more than ten million sleepers all over the UK.
Meanwhile, some users have complained of a chemical smell, which might be an issue for you. Also, you may find it a bit too bulky.
Pros:
It has a cleverly layered system designed for active cooling and maximum airflow
This hybrid mattress is suitable for every sleeping style
Features a high definition foam with edge support
Includes a breathable sleep surface for enhanced sleep quality
It comes with a flexible zone base and springs to allow independent movement
Cons:
The lingering chemical smell may not sit well with some users
Some users might find this mattress to be too bulky
The supplied cover might be too fragile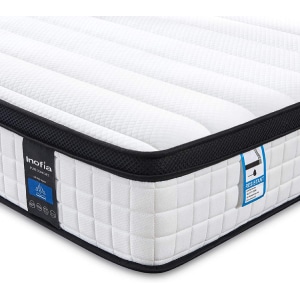 Nothing screams the best value than a product whose company's priority is customer service. This is why we also think that the Inofia Double Memory Foam Sprung can be the best mattress for back pain in the UK.
For the past couple of years, Inofia has proven to be a gift that keeps on giving. With push firmness guaranteed, their top seller is the Inofia Double Memory Foam Sprung supportive mattress.
And before you check out because of the mention of memory foam, hear them out. This mattress made its debut in 2019, and unlike most memory foam mattresses on the market today, this mattress stands out. It comes in a beautiful and ultrasoft cover that features a black and white colour combination.
This is paired with an amazingly designed memory foam, and knitted cover with an Airy Mesh Fabric placed well on the side.
Unlike traditional memory foam mattresses, the memory foam used in the Inofia Double Memory Foam Sprung is made using an updated Wave Memory Foam.
This is layered under the standard memory foam. This, in turn, gives you maximum support without restricting your movement and make a firmer mattress.
This mattress is made to feature an extraordinary pocket spring technology that guarantees durability to increase efficiency. This, in turn, delivers motion separation for your back support as it relieves your back of any pressure.
On the other hand, it does not come with a removable cover. Also, you may find it a bit too soft and lacks support.
Pros:
It has an extraordinary pocket coil technology for good spinal support
Features an airy mesh design on the side for extra breathability and comfort
Includes a motion separation system for a great night's sleep
Can adapt to every body shape providing the perfect level of support
It's ideal for absorbing bounces to minimize motion transfer
Cons:
The lack of a removable cover may not sit well with some users
Some users might find this mattress to be too soft and unsupportive
This hybrid mattress may sink or dip in places
The next on our list for the best mattress for back pain is the Silentnight 3 Zone. Let us tell you why.
There is no doubt that when memory foam first rolled out, people considered it the best thing that could ever happen for furniture, pillows, and even mattresses. However, one big problem presented itself when it came to memory foam, and that was breathability.
But over time, companies like Silentnight have improved memory form and, in turn, have created some of the ideal products on the market today. An excellent product example is the Silentnight 3 Zone Memory Foam, a mattress for back pain.
This memory foam mattress features layers of plush and comfortable layers of foam that mould after the contours of your body and offer relief from pressure and pain.
The three zoned support on the Silentnight 3 Zone Memory Foam mattress are key in evenly distributing pressure and relieving pressure from your back, shoulders, and hips.
This mattress's fabrics are made using Purotex fibre, which protects your lungs as well as your back and joints. This fibre is vital in preventing allergies and also prevents dust mites.
The medium comfort option for this mattress ensures that the Silentnight 3 Zone Memory Foam is neither too soft nor too firm, making it a perfect choice for side sleepers.
However, please note that it might have a strong smell, especially when it is new. Also, some users have complained that it loses its body support over time.
Pros:
Has three zones to offer support to key body areas
It's suitable for side sleepers
It comes with Purotex fibres for allergy and dust mite protection
Offers perfect pressure point relief
Handcrafted in the UK
Cons:
Some users may find the odour of this mattress to be too strong
This foam mattress might lose its body support over time, causing lower back pain
Some users might find it to be far too thin and soft
How many layers of comfort are enough for a supportive, comfortable, good night's sleep? If your answer is nine supportive, cosy layers, then you are right.
As a mattress for back pain, the DOSLEEPS Double 4FT6 9-Zone Pocket Sprung is made using nine layers or zones using an individual spring coil pocket. Each spring is made of tempered stainless steel that is made into bucket shape spring shapes.
This mattress's springs are compressed and properly sealed into individual fabric pockets to reduce noise caused when the springs touch. This system also reduces and eliminates any motion disturbance, pressure points, and lower back pain.
The surface of this mattress is made of a smooth fibre that is made of TENCEL Lyocell. These fibres absorb moisture and reduce friction. These properties are coupled with a natural thermal body regulating mechanism that keeps your body and skin cool and dry.
The individually wrapped springs provide support for your body, contouring your body perfectly. This is further emphasized by the zero-transfer motion provided by this mattress. These springs add to the DOSLEEPS Double 4FT6 9-Zone Pocket Sprung's memory foam stability and comfort.
You get up to 87% of pressure and pain relief on your neck, hips, and spine. This is whether you turn all night or not.
On the other hand, some users have found the springs of this mattress to be too noisy. Also, it may lose its support over time, which you should carefully consider.
Pros:
It comes with nine zone support system to eliminate pressure points and lower back pain
Has smooth Tencel fibre surface that supports the body's natural regulating mechanism
Can perfectly contour each person's body shape for a peaceful, undisturbed night
It reduces pressure on the neck, spine and hip area
Features a stainless-steel construction
Cons:
Some users might find this mattress not to be quite firm and supportive
This mattress may not withstand the test of time
Some users may find the springs to be too noisy
The Vesgantti 4FT6 Double is an orthopaedic mattress that keeps your spines properly aligned as well as relieves pressure from the seven different pressure points on your body. These are your head, neck, shoulders, waist, hips, legs, and feet.
This mattress features individually wrapped springs that give you maximum supports. Its breathable multilayer foam is hypoallergenic, non-toxic, and baby-friendly. The ventilation provided by this mattress keeps your body sweat-free and dry to ensure that you are always comfortable.
The Vesgantti 4ft6 Double has, over the years, garnered notoriety because of its excellent performance as a stable shock absorber. This is because of its efficient and effective noise absorption capabilities. The medium firmness of this mattress guarantees that you have enough support on your back without having to deal with unwarranted firmness or sunken spots because it is too soft.
With 100 nights trial, Vesgantti is sure that you will have no problem or discomfort; hence, it guarantees free returns if you do not like the mattress after 100 nights. Unlike other store mattresses that are just rolled up, this mattress comes in a box. It is vacuum-sealed and packed into a box for easy transportation.
However, you need to be careful with the springs as they might get damaged easily.
Pros:
It includes an excellent shock-absorption and resilience system
Can increase air circulation to keep your body comfortable and dry when sleeping
Offers great support to relieve seven pressure points of your body
Has a distinctly medium firmness for a restful night's sleep
This orthopaedic mattress keeps your spine aligned
Cons:
It might require 72 hours for the mattress to fully expand
The springs may get faulty or damaged easily
Some users may find this mattress to be relatively soft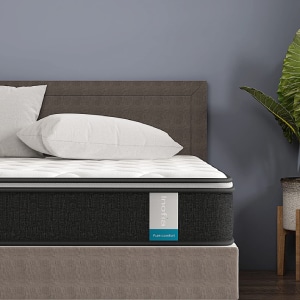 The point of getting a mattress that is geared towards dealing with your back pain is getting one that relieves pressure on your body. The Inofia Sleep Memory Foam Pocket Sprung mattress offers all these plus more.
Voted one of the best pressure relief mattresses globally, the Inofia Sleep Memory Foam Pocket Sprung features a layer of a well-designed moulding memory foam that gives your body the support it needs all night. This is enhanced by the pressure relief on all your crucial body parts, including your neck, head, legs, hips, and back.
The conical pocket springs found in this mattress are meant to adjust to accommodate your body individually. The nine zones in this mattress provide you with a more than perfect night's sleep by aligning your spine hence reducing pain to your upper and lower back.
The cover on the Inofia Sleep Memory Foam Pocket Sprung is a soft quilted cover. This is meant to provide proper air circulation even when you are face down on the mattress. It is also packed with microfiber filling that adds to the cosiness and breathability.
This mattress is vacuum-packed and fitted in a box for easy and flexible transportation. When unwrapping it, be careful since it bounces out.
However, although it mostly depends on preference, the memory foam layers might be thinner than you have expected.
Pros:
Features nine different zones to ensure a supportive night's sleep
This mattress features unique conical pockets springs that individually adjust when sleeping
The included microfibre cover offers an extra layer of cosiness
It comes with breathable memory foam for a refreshing night's sleep
Offers excellent pressure relief for different sleeping positions
Cons:
Some users may find the memory foam layers to be exceptionally thin
This foam mattress might not withstand the test of time
Some users may find it to be too uncomfortable after some time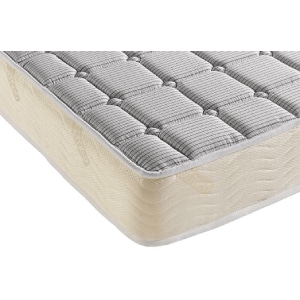 Italy has introduced the world to some of the fastest cars, best wines, and amazing pasta dishes, but it still has more to offer! Dormeo Memory Plus is an Italian memory foam mattress that has, over the years, been delivered when it comes to comfort.
With Dormeo Memory plus, you are introduced to a world of comfort and proper rest. This mattress is made with comfort as the cornerstone.
As a mattress for back pain, it is a go-to for anyone looking to get a mattress that adapts flawlessly to their body shape and temperature because it is made with cutting-edge technology.
It is made with a deep layer of Ecocell and a well-fitted memory foam with 50% more density than other memory foams on the market. This mattress is built to reduce or eliminate any pressure, soreness, and pain in your back and joints.
A carbon fibre layer is added to act as a barrier against dust and other particles for extra comfort. This, in turn, leaves you with a clean mattress.
A sanitization protection layer is also infused into the mattress to give you maximum antimicrobial, antibacterial, and anti-dust mite protection. With a no-flip approach, the Dormeo Memory Plus is easy to change with its rotate design, and when transporting it, its vacuumed state allows it to shrink, making it easy to carry.
However, it is important to note that some users have claimed that this mattress becomes uncomfortable over time. However, this also depends on how you care for your mattress.
Pros:
Has a sanitized protection against bacteria and dust particles in the air
The Ecocell foam cover creates a balanced, supportive and ventilated sleep experience
It reduces motion transfer
It comes with an extra thick layer of memory foam for extra support and comfort
This mattress can remember its shape returning to its original form night after night
Cons:
This mattress may get uncomfortable after some time
Some users might find this mattress to be of poor quality
This mattress may not be ideal for chronic back pain
Unlike most medium-firm mattresses, the HomyLink 3FT Pocket Sprung Memory Foam mattress is firmer or harder.
This medium-firm mattress is designed with a modern and customizable spring system and features ergonomics and regional distribution. It makes it the best orthopaedic mattress in the market and the best firm mattress for back pain.
These features allow this mattress to distribute pressure throughout your body optimally. This paired with elastic memory foam, the mattress provides outstanding support using the supportive hrx foam, comfort, and a well-done form-fitting capability. This allows you to enjoy a good night of sleep, and in the morning, you are ache-free.
This pocket sprung mattress has four main layers. These include the first layer, the breathable knitted covers with a 3D surface with massage-like properties. This cover is well ventilated and provides humidity control during those hot nights.
The second layer is the way form that also packs a lot of massage properties. This is where your body's curves and form start moulding into the mattress. The third layer uses the memory form followed by the responsive and independent pocket spring system.
Please note, though, that this mattress might be too soft for you. Also, this might not be the best choice if you suffer from chronic back pain.
Pros:
Features an ergonomic design for correct spinal alignment
It's made of natural hypoallergenic materials for safe use
It comes with a full-sized pocket springs system to relieve pressure
The memory foam layers can adapt to body temperature and weight
It can provide the targeted support to body shape and proper natural spinal alignment
Cons:
Some users might find this mattress to be too soft
It may not be ideal for chronic back pain sufferers
Some users might find the springs to be quite noisy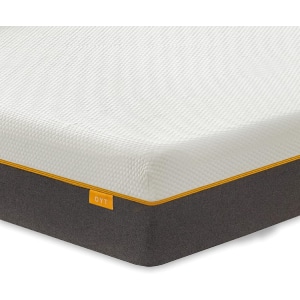 Have you ever seen a beautiful bed with an ill-fitting mattress? It may be that the mattress is too big for the bed or it is too small. 
So, how to deal with this kind of problem?
The best way is to ensure that your mattress's measurements are suitable for your bed.
The OYT King Memory Foam mattress is a 5ft by 6ft mattress that measures 150cm in length, 200cm in width, and 20cm in height. This mattress is made of a 20cm memory gel foam fitted with a double layer foam system.
These layers are vital in improving and maintaining support and controlling the heat distribution. The layers are 16cm of a high-density base that is paired with a 4cm layer of a certified memory gel foam. The OYT King Memory Foam mattress also comes with a soft cover layer that is hypoallergenic and washable.
Once you get the OYT King Memory Foam Mattress, you might have to wait for 48 to 72 hours before using it. It is because when packed, the mattress is vacuum-sealed.
And for it to properly swell and restore its proper size, you need to wait. If the weather is cold, it may take longer. A ten-year warranty is provided for this mattress.
However, if you are large, this mattress might not be ideal for you as it is quite small.
Pros:
Offers medium firmness for correct spinal alignment
It comes with a soft hypoallergenic cover layer that is washable
It has been designed with double layers all-foam system to improve the sleeping style
It includes specialized foams that reduce motion transfer
This mattress features high-density base support for ultimate comfort
Cons:
Some users might find it to be relatively small
This mattress may lack the sink support foam
Some users might find this mattress to be of poor quality
Which Sleeping Position Is Best for Back Pain?
Back pain can affect anyone and at any stage in their life. In the past, many people associated it with athletes and older adults. But over time, it is clear that anyone can be the victim of back pain from toddlers to teens.
When sleeping, you are advised to make sure you are comfortable, but the wrong mattress can be what is causing your pain. But how do you determine if your sleeping position is ideal for your back pain?
Well, before you decide on positions, you need to know how you sleep. You can either set up a recording device to monitor your position or go into a sleeping clinic.
To determine what works for you, you need to consult a professional. This is so that the professionals can diagnose your back pain and give you pointers on the best position for your pain.
However, regardless of the best position for your back pain, there are a couple of things you need to consider. These are:
Alignment is Key
To effectively minimize the strain to your back that leads to pain. You need the right mattress that offers supportive spinal alignment. Regardless of your sleeping position, you will always need a pillow underneath your head and your shoulders.
The pillow you choose should be comfortable, but it should be of medium thickness and easily bend at the neck to allow even alignment for your spine.
Getting In and Out of Bed
Getting a good mattress is the beginning of a less strenuous night. The joy of finally getting to bed after a long day at work or school is overwhelming.
You just want to jump into bed. But jumping might not be the best thing to do. If you suffer from back pain, you want to avoid stressing your spine. To properly get into bed, make sure not to dive into bed, and if your bed is too high, consider getting steps or a lower bed.
Getting out of bed is the flip side of this coin. If you have to jump out of bed because it is too high, you need to reconsider your bed's height. Jumping from bed causes strain on your back which causes back pain.
When getting in and out of bed, make sure not to turn and twist haphazardly. This also includes sitting. Gently and calculated movements and motion reduces strain to your back. Also, reduce how much pressure you apply to your back.
What to Look For When Shopping for the Best Mattress for Back Pain
Here are some of the essential factors to consider when shopping for your ideal mattress.
Mattress types
When selecting your ideal mattress, it's always important to consider the type of material the mattress is made of.
Bear in mind that many mattress types have expanded their reach primarily by offering more dynamic performance and durability to the user. Moreover, these beddings. have become more accessible and affordable with the rapid growth of the mattress industry. But this still begs the question, which are the best mattresses for bad backs?
Foam Mattress
An all-foam mattress is generally made of foam with no coils. Foam firmness in mattresses tends to provide above-average contouring to the body's motion isolation and pressure relief.
A foam only mattress is ideal for couples and side sleepers. It is noteworthy to mention that memory foam is the commonly used type of foam in these mattresses. This is mostly applicable in an orthopaedic mattress for back pain. Memory foam has not always made the best mattress for back problems, but over the years, it has improved.
Innerspring Mattress
Innerspring mattresses come with a coil-based support system and a few other layers of materials. Bear in mind that while it offers support while sleeping, innerspring mattresses lack pressure relief.
And their sleeping surface tends to be bouncier with limited motion isolation. This type of mattress is usually a to-go option for most budget-conscious shoppers.
Hybrid Mattress
Hybrid mattresses are generally made of two central elements: an ER spring support core and a substantial foam for comfort in a hybrid mattress.
The comfort layers on these mattresses consist of either latex, foam, or micro coils. A Hybrid mattress tends to provide a blend of bounce and contouring with low heat retention.
Moreover, they are ideal for natural sleeping positions, depending on how the mattress is built. This makes a hybrid mattress the best mattress when shopping for a mattress for back pain.
Latex Mattress
Latex materials usually are a to-go option for eco-conscious shoppers. Since they are typically made of organic or natural latex, not only do these mattresses come with unique bounce-back technology, but they can also withstand the test of time while offering moderate contouring.
A good point to note is that latex mattresses do not make for the best hard mattresses. A hard mattress for back pain is made of foam and innerspring.
Airbed Mattress
These types of mattresses are built with an air chamber as their support core. Airbed mattresses typically come with a remote or smartphone-controlled pump that is built into the mattress. The pump is used to remove or add air with the push or dial of a button.
So, if you're looking for a mattress that has the utmost firmness and flexibility, then you should go for an airbed mattress.
What to Consider Before the Best Mattress for Back Pain in the UK
Firmness
Firmness is another essential factor that you should consider when selecting your preferred mattress. Bear in mind that if you suffer from back pain and sleeping discomfort, it's advisable to get a firmer mattress since it helps reduce discomfort and improves sleep quality.
However, note that the right firmness of a mattress depends typically on your preferred sleeping position.
Additionally, always consider your body weight when selecting the best mattress for your back, since the heavier you're, the more support you require to maintain the natural curve of your spine and vice versa.
Comfort and Breathability
When shopping for the best mattresses for back pain in the UK, it's always advisable to factor in comfort and breathability. Since it is not just about whether the mattress is supportive or how it properly aligns your spine, it's worth mentioning that a comfortable mattress allows one to get a good night's sleep.
Furthermore, it's always important to consider the breathability of your preferred mattress if you usually feel too warm at night.
Since a breathable mattress helps regulate the temperature during warm summer and cold winter nights. Moreover, it's always recommended to settle for a mattress made of natural or synthetic materials that are breathable since they usually increase and improve your sleeping experience.
Spinal Alignment and Support
Finding the best mattresses for back pain means selecting one that offers the right amount of spinal support. Bear in mind that a good mattress shouldn't leave your spinal area and surrounding muscles struggling to maintain a neutral position when sleeping.
Conclusion
Mattresses are the closest things we have to ultimate comfort at the end of a long day. Good mattresses are not only a great addition to your home, but they also make for amazing gifts. If you are not sure what to get your friends and family for the upcoming holiday season, then you should consider a mattress.
Our top choice for the best mattress for back pain in the UK is our Editor's Choice, the EMMA Original Small Double. This mattress embodies everything you might want when it comes to the best mattress money can buy. Not only are you guaranteed value for money, but you are also given a decade-worth guarantee of excellent quality.
Additional Resources
Nicole has a passion for everything about the home – especially decor. She loves to add new touches and style to every part of the house. Join her as she documents her ideas at Home & Style.