Last Updated on March 1, 2022
Our editors independently research the best products online to produce this list. We may receive commission on purchases made from the links below but this will never affect our product choices.
---
Top 8 Best Mattresses for Sciatica
Sciatica is a painful and unpleasant experience. It affects the sciatic nerve in your back and results in severe back pain. One of the prominent predicaments resulting from sciatica is sleeping soundly. This is because you will feel pain in the nerve when moving, and a poor-quality mattress can exacerbate this.
As a result, if you suffer from this ailment, getting the best mattress for sciatica in the UK could help you. You can find a range of special mattresses designed to help those with sciatica still have a comfortable and trouble-free sleep. To help narrow down your list, we have listed eight awesome options below!
How we Compared Mattresses for Sciatica
To find the right mattresses for sciatica we considered multiple factors, including:
Size
Firmness
Comfort and breathability
Thickness
Springs support
Our team independently examined and compared hundreds of products to help satisfy different needs. We spent our time researching mattresses for sciatica and consulting customer reviews to ultimately bring you what, in our opinion, are the best options on the market right now.
To find out more about our editorial process, take a look here.
Mattress for Sciatica Reviews
Our first pick for the best mattress for sciatica in the UK is the EMMA Original 135×190 memory foam mattress. This mattress has various ergonomic features that should help improve your sleep quality and reduce back pains.
For example, the mattress will adapt to your body shape due to the decompressing Airgocell layer and the visco-elastic memory foam. This should greatly reduce pressure on your spine and give the support needed.
It is also suitable for any sleeper regardless of sleeping on your back, side, or stomach. We also like that it has a temperature-regulating top layer which should reduce sweating and stop you from getting too hot at night. This mattress is also available in various sizes, from small to the super king at 180x200cm.
Although this is an excellent mattress, you may notice a strange, persistent chemical smell on delivery, but this should go away eventually. Also, the mattress may take longer than expected to expand after delivery.
Pros:
It has a breathable Airgocell layer that helps your body adapt to the shape of the mattress
The memory foam should provide a pain-free sleep
Suitable for any sleeper, including back, side, and stomach
The top cover of the mattress is temperature-regulating
It is also made from multiple layers to provide excellent support
Cons:
You may notice a strange smell on delivery
You could find that the mattress does not expand properly after delivery
You will love the Simba Hybrid model if you don't mind a traditional spring mattress. 
It has a layer of 2400 Simba Titanium Aerocoil springs that act as mini-bellows, prompt airflow, and give additional stability. Surrounding this, layers of high-definition foam and open-cell foam further improve comfort.
You can expect a great night's sleep from this mattress, and the different layers should also combine to help reduce pressure on your spine and sciatic nerve. Also, this intertwined layered system will help provide active cooling, keeping you cool during hot weather.
The mattress is available in various layer designs – from the basic 5-layer design to the deluxe 10-layer design. The 10-layer deluxe option is great for ultimate comfort and back support.
This is a decent mattress, but some may not like that the basic model does not have a removable top layer, and it can only be hand-washed. Also, there may be a strong chemical odour initially – don't worry, this will eventually fade.
Pros:
It uses a combination of springs and foam
The super-light spring layer helps reduce heat and improve airflow
It also has a breathable sleep layer that further regulates temperatures
Can choose from different layer configurations for sciatica care
The grey fabric can be cleaned by hand
Cons:
The top cover may not be removable for the basic options
You might notice a strong chemical odour on delivery
Next on our list for the best mattress for sciatica in the UK is the Starlight Beds mattress.
This mattress is available in various sizes. The smallest is suitable for a single bed, and you can get anything up to a large 5ft king-size mattress. All of the mattresses are deep at 7.5 inches, which will help absorb your body weight and provide a comfortable sleeping experience.
The double memory fibre layers and European engineered spring layer will greatly reduce pressure points on your spine for those suffering from sciatica. Also, the top layer has a deep-quilted cover. This will make the mattress feel snuggly and keep you warm during the winter months. Also, the quilted cover layer will help absorb heat during warmer temperatures, so you don't sweat excessively.
This deep mattress is also made in the UK and complies with UK and EU regulations for domestic use.
The Starlight Beds is a great mattress, but it does take a long time to unfold and rise after delivery. As it is medium-soft, it may not be the most comfortable or suitable for heavier people.
Pros:
Combines springs and foam for ultimate comfort
The deep quilted top layer offers maximum comfort
The top layer also helps absorb excessive heat and maintain temperatures
The memory foam is made from recycled materials
Also, the 3D woven structure inside the mattress helps improve airflow
Cons:
You may find that it takes longer to rise when delivered
It may not be suitable for heavier people
The DOSLEEPS Double Mattress is also a great choice for many reasons.
It features a unique 9-zone design and support system. This includes a layer constructed from a series of individual spring pockets. The springs are made from stainless steel and are sealed in fabric – this helps reduce the noise when the springs are compacted.
This spring layer, combined with the extra memory foam, is perfect for relieving back pressure and ensuring your sciatic nerve is not aggravated. We also like the top Tencel layer that helps absorb moisture and support your body's temperature regulation.
While the springs do much of the work to give you comfort, the top memory foam layer also helps greatly. This can reduce pressure on your spine by up to 87% and also help reduce body turn if you move while sleeping.
This DOSLEEPS double mattress is not without its potential flaws, however. You may have to rotate the mattress to find a suitable sleeping position, and you may find that it can sag a little and is not the firmest at its edges.
Pros:
Special 9-zone support system perfect for reducing back pressure points
Has Tencel fibre layers that effectively absorb moisture
The coils do not transfer motion which should help improve sleep quality
The memory foam layer can reduce up to 87% of spinal pressure
Made from high-quality materials
Cons:
You may have to rotate the mattress to find the most comfortable position
It may not be the firmest at the edges
The HomyLink mattress has a hybrid design using coiled springs and memory foam. There is a 3D knitted breathable fabric layer on the top, which helps control your body temperature but is also comfortable to sleep on.
Next, two foam layers are followed by a cotton pad layer. These provide initial support for your back and spine. Underneath this, there is the spring layer. This is made from a series of individually wrapped springs. They are wrapped in fabric to reduce noise and offer additional comfort in combination with memory foam.
This foam and spring combination should stop any pressure points forming on your back and reduce stress on your sciatic nerve. We also like that the top layer is anti-static and wear-resistant.
Although this is a great double mattress, you will find that it takes at least one day to spring back after unpacking. It can also take longer than two days in some instances. Also, some people may feel the spring layer through the mattress.
Pros:
It has a 9-zone orthopaedic design for maximum comfort
All materials are fresh and non-toxic to reduce the chance of irritation
Has convoluted wave foam that promotes blood circulation
The design of the mattress will also help you keep your spine balanced
Has anti-odorization and anti-allergy properties
Cons:
This mattress may take one to two days to spring back into position after unpacking
You may be able to feel the springs through the mattress top layer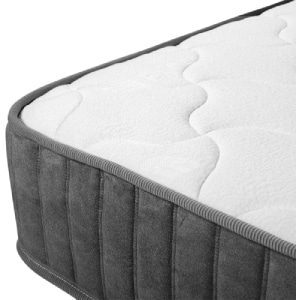 If you want a high-quality mattress for cleanliness and support, the Yaheetech 3ft Single Mattress is a good option. 
The top Tencel layer of this mattress promotes good airflow and is made from natural materials. It also has anti-mite properties and is soft to lie on.
Beneath the breathable top layer, you have a combination of memory foam and individual pocket springs. The memory foam should easily accommodate your sleeping position and mould to reduce backpressure. This should be aided by the coiled springs.
As a single bed mattress, this should be suitable for people of any size and age, and it comes vacuum-sealed so you can initially carry it in your house with ease.
This Yaheetech 3ft single mattress is a good choice, but at the sides where it is weaker, you may be able to feel the springs. Also, some people may find the top layer of this mattress not thick enough.
Pros:
It has a memory foam layer directly beneath the top layer
The memory foam will help reduce the backpressure
It also has a compact spring layer to reduce sleep motion
The Tencel cover offers good airflow and anti-mite properties
This mattress also has an antibacterial layer
Cons:
You may be able to feel the springs at the sides
Some may find the top layer of the mattress not thick enough
The Silentnight Pocket Essentials mattress is a quilted top-layer that is hand-stitched for maximum comfort too, which is great for those suffering from sciatica and those with sensitive skin. This is because the top layer has hypoallergenic properties and is also mite-resistant.
This mattress has a layer of Mirapocket springs which helps eliminate back pains and pressure. In total, 1000 springs should move independently and complement your body shape and movement. This is not a memory foam mattress; it only has the spring layer for comfort.
We like that it is an eco-friendly mattress made from sustainable materials, and it is also handmade in the UK.
This Silentnight mattress is not without its flaws, as some people have reported that the casing holding the springs has eventually broken, which can cause the mattress to misshape. Also, you may find that the mattress can develop grooves over time.
Pros:
The fibres are eco-friendly and environmentally friendly
It has a Mirapocket layer with 1000 pocket springs
The top layer has a soft-knit cover that feels cosier and more comfortable
Also is hypoallergenic to prevent skin irritation
This is a medium comfort mattress that isn't too soft or too hard
Available from small to super king size
Cons:
You may find that eventually, the inside spring casing splits
Over time, you may find that the mattress develops a groove
Our last pick is the Inofia Small Double Memory Foam Mattress. 
This mattress is only memory foam and does not have any springs. On the top, there is an elastic, breathable top cover. This can be removed, and machine washed. It also has hypoallergenic properties and is breathable.
The memory foam is gel-infused which helps control your body temperature. This will also help the mattress mould your body shape and eliminate pressure points on your spine. The materials used are all premium, and this mattress should last for a long time. It is also CertiPUR-US certified and free from any harmful substances.
We also like that you can buy this Inofia mattress in many sizes. It is available in a small single mattress, up to a super-king at 180x200cm.
Meanwhile, you could find that even after the allotted time, the mattress has not expanded properly. Also, some people have found that the mattress does not lie completely flat.
Pros:
Made from multiple different layers to improve comfort
The cooling gel inside the memory foam helps regulate body temperatures
You should be able to keep your spine aligned and reduce pressure points
Made without any harmful substances like mercury
It should be suitable for those who move during their sleep
Cons:
You may find that the mattress does not expand properly
The mattress may initially not lie completely flat
Conclusion
Choosing the right mattress if you suffer from back problems like sciatica is vital. The right mattress can make an incredible difference. It can also mean the difference between getting a good night's sleep and not. As a result, any of these mattresses listed above should be a good choice if you have serious back problems.
However, our pick for the best mattress for sciatica in the UK is the EMMA Original 135×190 Memory Foam. This mattress has some great features and is also available in sizes ranging from a single to a super king. The breathable layers and memory foam will help reduce spinal pressure and mould your body shape for sciatica sufferers. This should give you a comfortable sleep and help reduce pains even if you often move during your sleep.
Additional Resources
Nicole has a passion for everything about the home – especially decor. She loves to add new touches and style to every part of the house. Join her as she documents her ideas at Home & Style.